Result: Sunflower State Field Trial Association
Location: Abilene, Kansas
Post Date: Apr 24, 2019
Submitted By: Stan Wint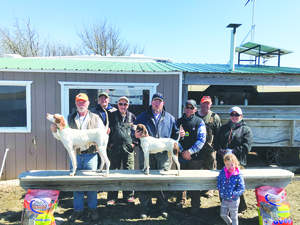 Open Derby Winners. From left: Joe Worsham with Worsham's Super Sport, Dr. Stan Wint, Dr. Pat McInteer, judge; Jay Lewis with Bocomo Cherry, Kirk Swanson, judge; Rodney Shoemaker, Tierra Hadley and Kiowa Hadley.
ABILENE, KAN. -- The Kansas Amateur All-Age Classic began March 28 at Holler Point Farm in Abilene, Kan.
Thirty-four amateur all-age dogs from Kansas, Colorado, Nebraska, Iowa, Missouri, Oklahoma, and Texas came to compete. The Sunflower Open Derby drew 16 fine youngsters.
Rodney Shoemaker and his wife Diane worked tirelessly to make this trial a success. Rodney planted birds, cooked ribs and chicken, laid out the courses, got the judges, and Diane handled the dog wagon and cooked a lot of tasty treats. They wanted to make sure people had a good time.
The weather did not cooperate. We had wind, rain, snow, cold, and finally a little bit of sun on the last day.
Bob Lais of Wichita, Kan., and Mitch Solt of Central City, Neb., gave their full attention in the All-Age Stake. Quail, prairie chicken and pheasant were pointed during the trial.
THE WINNERS
The winner of the Amateur All-Age Classic was S F Stetson, pointer male owned and handled by Larry Smith. He had a strong forward race with four well executed finds and a good finish. The second place dog was also owned and handled by Larry Smith and is no stranger to the field trial world. S F Bandwagon, former Purina Amateur Dog of the Year, had an excellent race with two finds and pushed the winner, making the judges' decision difficult. Dr. Pat Mclnteer handled Nemaha Boot to third place with a very creditable performance, always to the front and with one well executed piece of bird work.
Despite the inclement weather and unusual amount of mud for western Kansas, the camaraderie of this group of field trialers was good. Chicken and noodles were served for lunch on Friday, a fish fry Friday night, and bratwurst for lunch on Saturday with ribs and chicken on Saturday night. A good time seemed to be had by all.
A special thanks needs to go to Eddie Berendzen, Jay Lewis, and Kirk Swanson for helping plant birds, opening gates and just doing all the things necessary to make the trial successful.
The Sunflower Open Derby began on a crisp Sunday morning with the temperature dipping into the low 20s.
Judges for this stake were Dr. Pat Mclnteer of Falls City, Neb., and Kirk Swanson of Red Oak, Ia. These gentlemen have had many successful dogs which they raised and competed. We appreciate them evaluating the young dogs in the Sunflower Open Derby.
Worsham's Super Sport, a big white pointer by Touch's Knight Rider, owned and handled by Joe Worsham of Easton, Mo., had a nice piece of bird work and an exceptional race to place first. Joe's young dog has been a consistent performer this year and looks to have a bright future.
Sean Hauser brought Rocky Ridge's White Smoke from Manchester, Ia. The son of Wiggins Sand Man placed second with a strong forward race. In third place was Jay Lewis of Ashley, Mo., with Bocomo Cherry, a little dog with a great big heart and a lot of go.
Because of the large entry in the Kansas Amateur All-Age and a significant number of Derbies, the Flint Hills Amateur All-Age Classic was cancelled and will not be rescheduled this spring.
Thanks again to everyone who worked hard to make this trial a success and one of the largest amateur all-age classics in the Midwest.
Abilene, Kan., March 28
Judges: Bob Lais and Mitch Solt
KANSAS AMATEUR ALL-AGE CLASSIC [One-Hour Heats] -- 34 Pointers
1st--S F STETSON, 1674396, male, by S F Bandwagon--S F Rushhour. Larry Smith, owner and handler.
2d--S F BANDWAGON, 1656543, male, by Funseeker's Rebel--Deep Creek Rose. Larry Smith, owner and handler.
3d--NEMAHA BOOT, 1651910, male, by Nemaha City Slicker--Nemaha Tinker Bell. Dr. Pat McInteer, owner and handler.
Judges: Dr. Pat McInteer and Kirk Swanson
OPEN DERBY -- 16 Pointers
1st--WORSHAM'S SUPER SPORT, 1680553, male, by Touch's Knight Rider--Touch's Maswood Anne. Joe Worsham, owner and handler.
2d--ROCKY RIDGE'S WHITE SMOKE, 1679520, male, by Wiggins Sand Man--Wiggins Driving Bev. Sean & Deb Hauser, owners; Sean Hauser, handler.
3d--BOCOMO CHERRY, 1677071, female, by Westfall's Black Cloud--Bocomo Hot Dotty. Jay Lewis, owner and handler.