Result: Kanto Open Quail Championship
Location: Kanna River Field
Post Date: Feb 8, 2019
Submitted By: Chiharu Niwa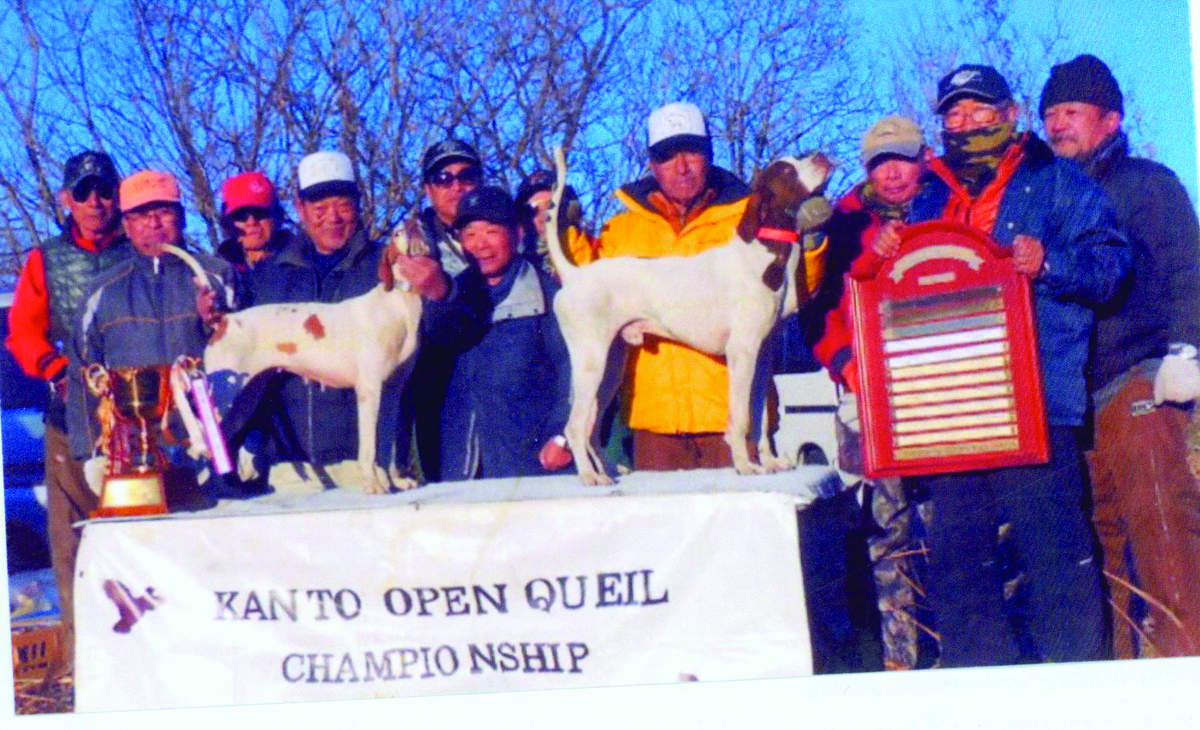 Kanto Quail Championship Winners. In foreground, from left: Mashu Elhew Romee with Junji Ishiguro and Casserole with Tatsuo Ishino. They are joined by trial officials and well-wishers.
KANNA RIVER FIELD, JAPAN -- The Kanto Open Quail Championship was held January 3 as planned. A wonderful new champion was named.
Thank you to Mr. Nakamura for helping a lot of supporters and providing a wonderful field.
The weather on trial day was sunny with a breezy north wind. The temperature was 41 in the morning, around 45 in the afternoon and the humidity was 31%.
As trial chairman I appreciate the club members and owners and handlers who supported me in putting on a successful trial.
The judges were Hiroshi Nakagawa (Ibaragi Pref.) and Kouzou Kikuchi (Tochigi Pref.).
The Winners
Awarded the championship title was Casserole, pointer male owned and handled by Tatsuo Ishino (Shizuoka Pref.). He was wide from the start and quickly discovered game, pointing with good manners and wonderful style in the right back of the course at 13. After his first find he went on to finish the hour with six finds and a powerful run.
Runner-up Mashu Elhew Romee, pointer female owned and handled by Junji Ishiguro (Saitama Pref.). Elhew Romee had a good start, pointing birds at 15 and showing good manners. She hunted and carded three more mannerly finds to earn her win.
Kanna River Field, Japan, January 3 -- One Course
Judges: Kouzou Kikuchi and Hiroshi Nakagawa
KANTO OPEN QUAIL CHAMPIONSHIP [One-Hour Heats] -- 9 Pointers and 2 Setters
Winner--CASSEROLE, 1658011, pointer male, by Caladen's Railway Max--Struttin's Pat. Tatsuo Ishino, owner and handler.
Runner-Up--MASHU ELHEW ROMEE, 1661799, pointer female, by East Coast Pete--Bosohachiman Guard Rail Berry. Junji Ishiguro, owner and handler.