Result: Region 12 Amateur All-Age Championship
Location: California City, California
Post Date: Feb 8, 2019
Submitted By: John Beauchamp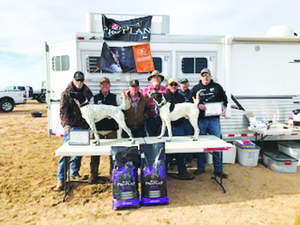 The Winners. From left: Judge Greg Knight, Bruce Hale with Hale's It's Only Money, Ed Mayhew, Glenn Johnson, Terry Erickson with Hale's Main Event, John Beauchamp and Judge Ric Peterson with plaque.
CALIFORNIA CITY, CAL. -- The Region 12 Amateur All-Age Championship kicked off following the Region 11 Amateur All-Age Championship on Sunday, January 13, on the California City, Cal., grounds. The bad weather we had for the Region 11 Championship cleared out overnight.
We started with thin overcast skies and reasonable temperatures. For awhile it looked like we were going to have an excellent day for running dogs, and it was close to that. We picked up some wind as the day progressed. All in all a good day to be there.
The Championship drew a disappointing eight pointers. In past years we have had twice that so the downward trend is quite concerning. The Region will be entertaining changes to the format, date, location and any other ideas that will put us back on a growth curve or at least back to a stable number of dogs for the trial. It takes almost as much planning and work to put on a small trial out here in the West as it does a big trial. But small trials are harder on the crew and those who try their level best to provide a good field trial experience. Enough said.
For this year's running the course was changed at roughly the mid-point to make use of some ground that hadn't been used in past years. Shake it up a bit and balance each hour leg a little better. The first half from cast off remained almost the same, although we moved the course to the east side of the big drainage and rode the feeder arroyos coming into the drainage. Then at about the mid-point, instead of angling right or southwest, we turned east. This allowed the use of both sides of the large drainage framed by small hills. This area is more protected from the wind and we believe will be better for the liberated birds and was very nice for showing a dog. Both courses had ample acreage for dogs that wanted to run around.
In the judges' saddles were Ric Peterson of Scottsdale, Ariz., and Greg Knight of Cucamonga, Cal. Both men are well-respected veterans of the desert and we were lucky and thankful to have them. Although it was a low draw the judges had some performances fitting of awarding.
THE RUNNING
Almosta's Mighty Mouse (Moe/ Beauchamp) ran hard but was too lateral today, loose on her bird, and picked up at 50. Scentseeker (Gator/Hale/Dixon) started forward and fast and had a find at the first set of rocks.
Tucalota's Rebel Touch (Sassy/Mayhew) ran a nice brace and used the full length of the course but needed a bird. Smith's Silverado Hope (Smith) started strong, shortened by 45 and did not have bird contact.
Hale's Main Event (Champ/Hale) had a strong overall performance and made use of the full course rolling out. Champ had a clean find on the hillside past the corner, all in order. Champ also backed Bandit on the hilltop and was awarded the runner-up title. Tucalota's Rebel Rush (Bandit) scooted around well for Mayhew but had some trouble with some birds up on top of one of the rocky hills.
Almosta's Wile E Coyote (Will/ Beauchamp) rolled out nice and pointed in rocks along the southern edge of the course; no birds produced. At 35 Will was standing again; after relocation a dead bird was recovered. Hale's It's Only Money (Cash) laid it down for the full hour. Finishing forward well into the flat. Cash had two clean finds to claim the championship title.
Region 12 extends a big thank you to the Antelope Valley Bird Dog Club. They carry the lion's share of the work in prepping for and executing the two championships over there and they do a fine job of it.
Glenn Johnson manned the dog truck for us and always had dogs ready and was in position for pickups when necessary; it don't get better. We had a hot lunch daily and plenty of water in the field for man and animal.
And we would be really in the ditch without our sponsors. Mr. Greg Blair with Purina has helped us year over year and what boost to the effort. Covering the ad cost and being willing to supply the winners with dog food certificates is outstanding. We give the winners some pretty nice plaques, but what they want is the certificates for the Purina food. Joining in support of our efforts this year is Jim Morehouse with SportDog which supplied us with a collar for the winner which is much appreciated. Greg and Jim, thank you!
California City, Cal., January 12
Judges: Greg Knight and Ric Peterson
REGION 12 AMATEUR ALL-AGE CHAMPIONSHIP [One-Hour Heats] --
8 Pointers

Winner--HALE'S IT'S ONLY MONEY, 1661655, pointer female, by Hale's Main Event--I B Homerun. Bruce Hale, owner and handler.
Runner-Up--HALE'S MAIN EVENT, 1625121, pointer female, by Erin's Stoney River--Erin's Butterfly. Bruce Hale, owner and handler.