Result: Region 2 Amateur All-Age Championship
Location: Lacey Twp, New Jersey
Post Date: Mar 26, 2021
Submitted By: Lloyd Miller
The Region 2 Amateur All-Age Championship was hosted by the English Setter Club of America and ran on the state Wildlife Management Grounds at Greenwood, located in Lacey Township down the road from Whiting, N.J.
This year the stake was held to honor longtime field trailer Dr. A Hunter Wilcox.
Louise Wilcox hosted a wonderful dinner to dedicate a beautiful trophy in Hunter's honor commissioned by Region 2. To kick off the dedication, Joe Cincotta read the inscription on the trophy and thanked Louise for her generosity and for all the years she shared Hunter with us. Louise said a few words to those in attendance and it was an emotional gathering for so many. Louise spared no detail in hosting a wonderful event to celebrate Hunter with those who called him friend on the grounds he was passionate about. He will be missed and remembered but never replaced.
Our judges were Wayne Horner and Lisa Pollack, both of nearby Medford and longtime members of the English Setter Club of America. The Amateur Derby was judged by Marcus Ramseur of Sicklerville and Chris Cantanzarite of Scenery Hill, Pa. We thank them for their time in the saddle and attentiveness throughout. Their decisions were well received.
We also like to thank Purina for their continued support of this Championship, Classic and supporting stakes. Purina's support continues to make this trial a great success.
In addition, thanks go to the owners and handlers for continued patronage of this event. Finally, I would like to thank Joe Cincotta who served as chairman this year, in addition to Norman and Matt Basilone, Bob Brooks who handled the dog wagon, Louise Wilcox who prepared the judges' books and other club members who worked behind the scenes to make this one of our most successful trial.
REGION 2 AMATEUR ALL-AGE CHAMPIONSHIP
The Region 2 Championship with a very good entry of 23 dogs and began Friday, March 26, and concluded Saturday afternoon. The championship title went to Backcountry Bruiser, white and orange pointer male, owned and ably handled by Chris Cantanzarite. Bruiser ran in the 7th brace and ran a wide searching forward race with stylish quail finds at 16, 35, 45 and 54 minutes.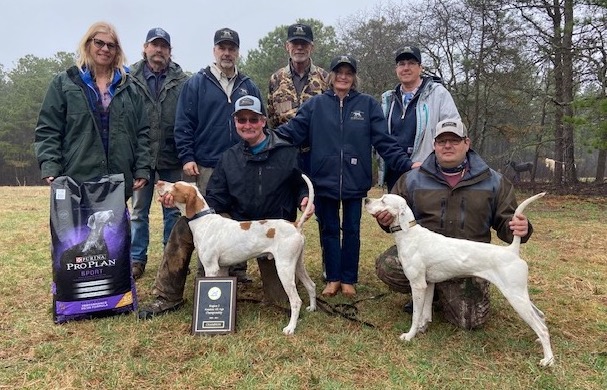 Runner-up was Navajo Cody, also a white and orange pointer male, owned by Camille Masiello and Sal Morelli of White Plains, N.Y., and handled by Joe Lordi, Jr of Atco, N.J. Cody scored four good finds at 14, 24, 33 and 48. He also had a nice wide forward race with excellent bird work. Cody ran in the 10th brace Saturday afternoon.
Others that completed the hour in order of running are the following.
In the first brace, Miller's Locked and Loaded (Brian Sanchez) had finds at 4, 10, 17 and a divided find with bracemate, Hank (setter male with Bo Mamounis handling), at 48. Loaded also had two backs at 27 and 37.
In the second brace, North Country Girl (Dave McKay) had finds at 4, 27, 36, 43, 49 and 59 with an unproductive at 32. In No. 3, Earl, pointer male (Mamounis) had an unproductive at 22 and backed bracemate, Springflow Backcountry P (Catanzarite) at 49 and 56. Springflow also scored finds at 16, 23 and 28 for a total of five good finds in the hour. It was a nice performance.
In the fourth brace, Urban Fantasy (Marcus Ramseur) had an exciting very wide and swinging with handled all-age race but could did up two finds at 21 and 41. In the 9th brace Calico's Guns and Roses (Alex Smith) scored finds at 5 and 29. Finally, in the 12th brace, Ivy had an unproductive at 5 and a good stand at 12.
Lacey Twp, N. J., March 26 -- One Course
Judges: Wayne Horner and Lisa Pollock
REGION 2 AMATEUR ALL-AGE CHAMPIONSHIP
[One-Hour Heats] -- 20 Pointers and 3 Setters
Winner--BACKCOUNTRY BRUISER, 1672645, pointer male, by Erin's War Creek--Backcountry Tornado. Chris Catanzarite, owner and handler.
Runner-Up--NAVAJO CODY, 1668520, pointer male, by Great River Ice--Blaze's Isis. Camille Masiello & Saverio Morelli, owners; Joe Lordi, Jr., handler.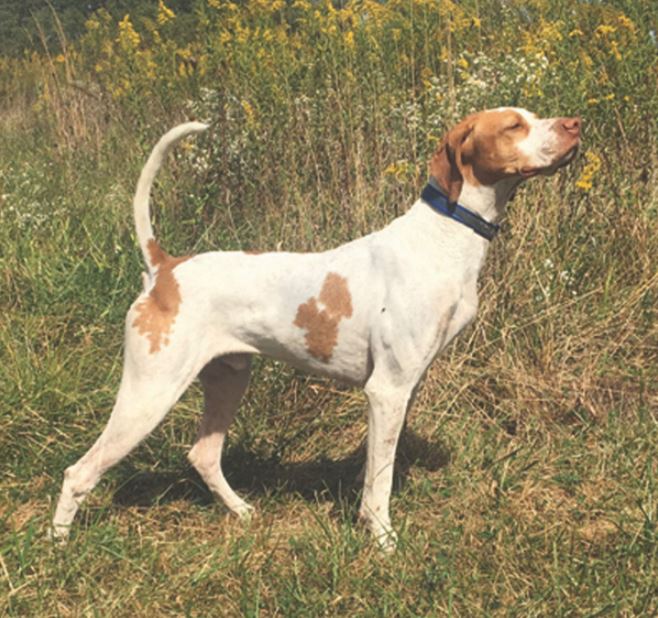 AMATER DERBY
The English Setter Club of America which hosted the Region 2 ran a companion Amateur Derby on Sunday morning following the conclusion of the Championship.
Taking the first place was Miller's Strolling for Gold. pointer female owned by Allen Linder of Livingston, Tenn., and handled by Brian Sanchez of Central Islip, N.Y. Second went to Miller's Southern Gossip, pointer female also owned by Allen Linder this time ably handled by Tom Tracy of Lebanon, Conn. Third was B K Red Solocup, pointer female owned by David O'Brien of Marlborough, Conn., and Brian Sanchez and handled by Brian. All three dogs had very classy races and multiple finds on quail.
A good stake to get dogs qualified for next year's Championship.
Judges: Chris Catanzarite and Marcus Ramseur
AMATEUR DERBY -- 6 Pointers

1st--MILLER'S STROLLING FOR GOLD, 1690151, female, by Miller's Upgraded Version--Erin's Little Rose. Allen R. Linder, owner; Brian Sanchez, handler.
2d--MILLER'S SOUTHERN GOSSIP, 1690150, female, by Miller's Upgraded Version--Erin's Little Rose. Allen R. Linder, owner; Tom Tracy, handler.
3d--B K RED SOLOCUP, 1690308, male, by B K Pablo Escobar--B K Miss Millie. Brian Sanchez & David O'Brien, owners; Brian Sanchez, handler.