Result: Round Pond Field Trial Club
Location: Leslie, Georgia
Post Date: Mar 5, 2022
Submitted By: Cayla Key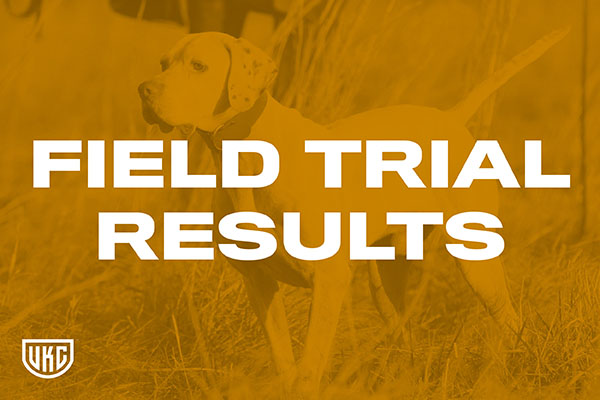 LESLIE, GA. -- The Round Pond Amateur Shooting Dog Classic was held in its usual time frame, the third weekend in January.
Round Pond Plantation in Leslie, Ga., was in wonderful condition. There were plenty of bobwhite quail throughout the entire plantation. Tracy Swearingen and Neil Walker did a great job getting the grounds ready for this trial. Many thanks to the Swearingen family: Tracy marshalled every brace and Al Swearingen drove the bird buggy.
Thank you, McArthur Heard, for keeping the dirt roads closely monitored so all the horses and dogs were safe.
I would also like to thank Purina for all that they do for our sport. Christy Swearingen and Debbie Hofer helped prepare all of the meals. We would also like to thank the Walkers for allowing us to keep this trial on their beautiful grounds. If it wasn't for them, we wouldn't be able to put on this wonderful trial.
The judicial saddles were occupied by two well-known and very successful men in the bird dog world, John Mathys and Jim Tandy. This great duo judiciously watched all the contenders during the whole trial. Their time and effort to come out and judge was greatly appreciated. Also, would like to thank Cayla Key for riding and reporting this trial.
THE WINNERS
Panther Creek Rose, pointer female owned and handled by Frank Rutland, was declared winner with four finds. She had finds at 3, 5, 33, and 40. Her performance kept you high up in the saddle as she impressed everyone with each step she took. The judges never wanted to take their eyes off of her. Each step displayed strength, high style, and lots of class. She hunted diligently and pointed birds with a strong style and perfect manners. At the end of her performance, the bar had been set and a true winner was on top.
Panther Creek Marlin, pointer male also owned and handled by Frank Rutland, was declared second with six finds. At breakaway he chalked up a divided find with his bracemate at 7. He stood with great class and manners. He chalked up more finds at 9, 17, 40, 43, and 49. At 43 he had a divided find with his bracemate. He had a solid drive hunting with each step he took. He was all class with an overall commendable performance throughout his hour. He had impeccable manners and stood handsomely. He backed his bracemate at 35.
Cold Creek Hank, setter male owned and handled by Ian MacTavish, was third with three finds. He rendered an outstanding performance on the ground. He suffered an unproductive at 45. He put on an excellent race with finds at 7, 55, and 58. He displayed excellent manners. He also backed his bracemate at 28. He had a strong, forward race and with pleasing bird work.
Thank you to everyone that came out and supported this trial. Thank you, all the handlers and scouts that came out to participate. We couldn't do this without you all.
Leslie, Ga., January 14
Judges: John Mathys and Jim Tandy
ROUND POND AMATEUR SHOOTING DOG CLASSIC
[One-Hour Heats] -- 29 Pointers and 3 Setters
1st--PANTHER CREEK ROSIE, 1691574, pointer female, by Panther Creek Merlin--Pineywood's Belle Aire. Frank Rutland, owner and handler.
2d--PANTHER CREEK MERLIN, 1665826, pointer male, by Old Road Cody--Cold Creek Ms. Kay. Frank Rutland, owner and handler.
3d--COLD CREEK HANK, 1678604, setter male, by Cold Creek Kevinator--Cold Creek Black Majic. Ian F. MacTavish, owner and handler.