Result: Western Iowa Pointing Dog Club
Location: Raymond, Nebraska
Post Date: May 30, 2019
Submitted By: James Douglass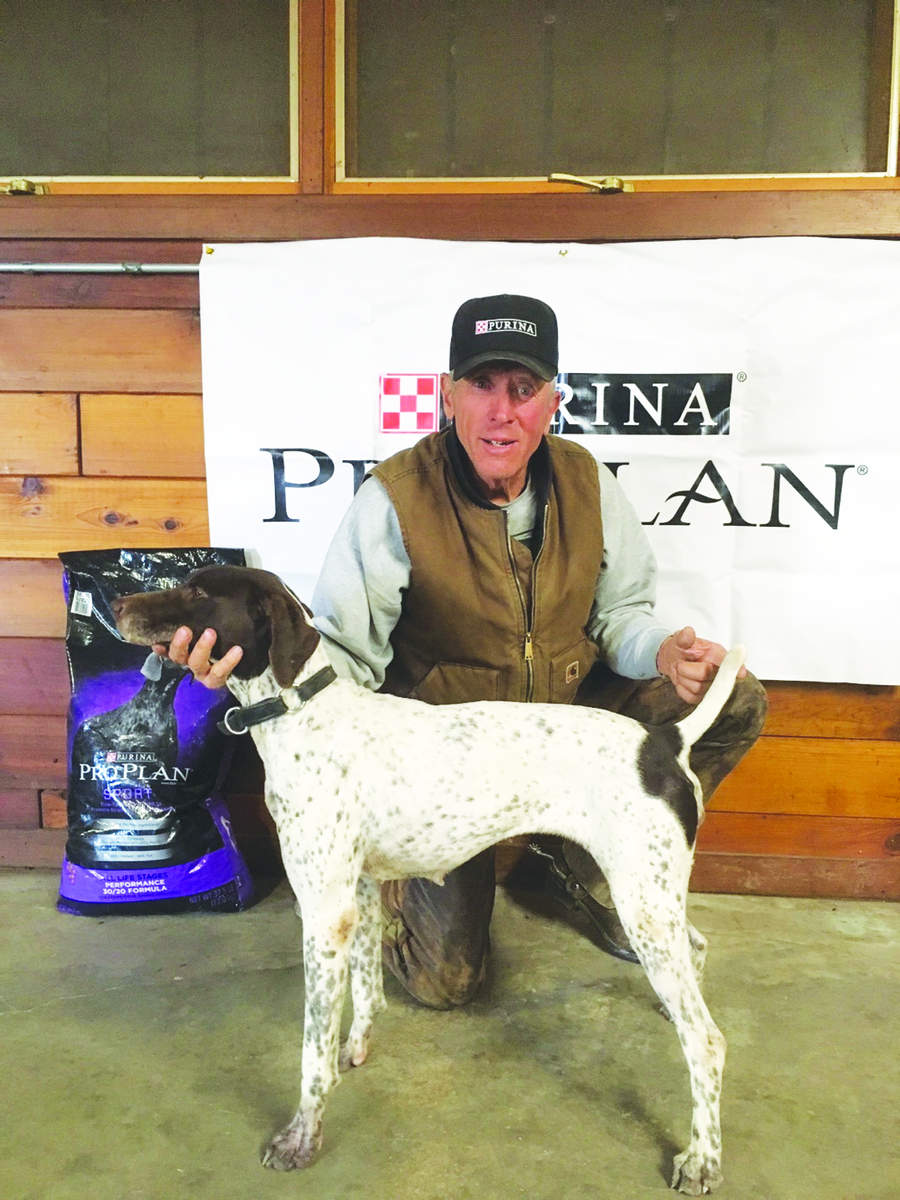 P J Wildfire's Little Lexi First in the Open Shooting Dog, with owner-handler Larry Loftin.
RAYMOND, NEB. -- We would like to thank all who came and supported our March 28-31 spring field trial. We deeply appreciate all the support we had and sincerely hope to see you again!
This was the first year that we were able to offer a four-day trial event at the 900 plus acres of the Chet McClain Field Trial Grounds at Branched Oak Lake northwest of Lincoln, Neb. With a four-day event format, it was our intent to provide a high-quality venue for everyone who wants to participate.
The four days included three days of AKC stakes and a one day Field Dog Stud Book (American Field) recognized stakes.
This year's weather was something else. Winter did not want to quit. Because of the dicey weather, our trial was the first to be offered in 2019. All of the earlier trials this year were snowed out.
Our weather was a somewhat mixed bag. Thursday and Friday we had light rain, and Saturday and Sunday were 50-60 days with relatively clear skies.
During the trial we ran 120 dogs with very competitive entries from across five states. An ample amount of birds was released throughout the event, scenting conditions for the most part were great, and the dogs didn't have any trouble finding birds.
We would like to also thank our sponsor, Purina, for their continued support of our local club. Purina has been outstanding by their ever-present support of providing dog food and samples.
I would also like to thank the many people behind the scenes, both prior and during the trial. A big thank you to all for the generous help with judging, planting birds, dog wagon, awards, and doing whatever else needed to be done.
Our personal thanks to Judges Stan Truksa, Trisha Moorberg, Scott Roker, Margo Bailey, Ned Myers, Jessica Mackey and Jeff Schnipkoweit for their tireless efforts and many hours in the saddle.
My special thanks to Dale Renick, our outstanding bird planter, and Rita Douglass for running the Kawasaki Mule dog wagon and for providing some excellent meals.
Again, my thanks to everyone involved; the trial ran smoothly with plenty of time for socialization and camaraderie, making it a very enjoyable weekend.
Raymond, Neb., March 31 -- One Course
Judges: Scott Roker and Jeff Schnipkoweit
OPEN DERBY -- 2 Pointers, 2 Brittanys, 2 Vizslas and 1 German Shorthair
1st--CUTTIN WILD'S HANK, 1680725, German Shorthair male, by Lambourn's Slick Shot--Cuttin Wild's Lil Angel. Chuck Costa, owner; John Holcomb, handler.
2d--HIGHLANDER'S CELTIC CREED, 1677861, pointer male, by Erin's Redrum--Erin's Moonshine Molly. James Douglass, owner and handler.
3d--COUNTYLINE'S FULL THROTTLE, unreg., Brittany male, by Glade Run Irish--Driving Miss Daisy. Stan Truksa, owner and handler.
Judges: Jessica Mackey and Stan Truksa
OPEN SHOOTING DOG -- 4 Pointers and 3 German Shorthairs

1st--P J WILDFIRE'S LITTLE LEXI, 1663717, female, by P J Wildfire's Little Bud--Lone Creek Sweet Anna. Kirk & Larry Loftin, owners; Larry Loftin, handler.
2d--RINGAFIRE'S KENTUCKY BLEND, 1672120, pointer male, by Pete's Greystone Bud--Sinbad's Rebel Rail. David Taylor, owner and handler.
3d--RINGAFIRE'S HIGH VELOCITY, 1671586, pointer female, by Pete's Greystone Bud--Sinbad's Rebel Rail. David Taylor, owner and handler.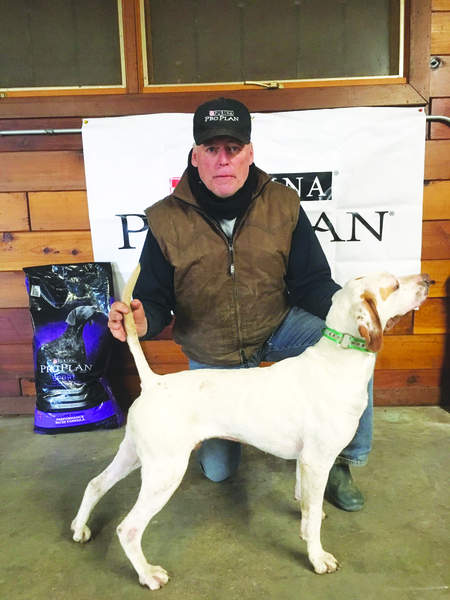 Highlander's Celtic Creed, second in the Open Derby, with owner-handler James Douglass.