Result: U. S. Complete Great Lakes Regional Walking Shooting Dog Championship
Location: Highland, Michigan
Post Date: May 30, 2019
Submitted By: David A. Fletcher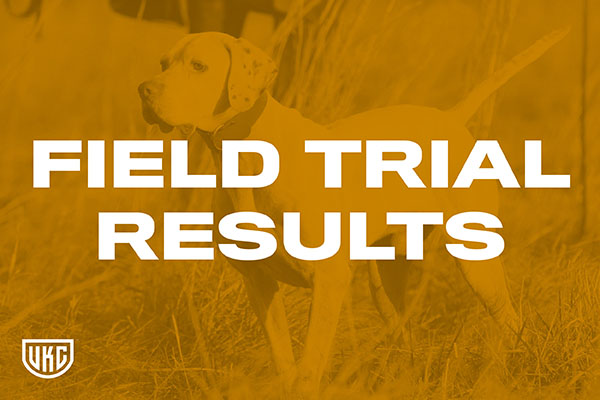 U. S. Complete Great Lakes Regional Open Walking Shooting Dog Championship Winners. From left: Dave Fletcher, Dr. George Najor, Jim Cipponeri, Robert Ecker with Miss Penn Star, Richard Hollister, judge; Bill Nelson with Highbank's Down'N'Dirty and Bryan Wood.
HIGHLAND, MICH. -- Michigan's Grand Valley Field Trial Club hosted the U. S. Complete Great Lakes Regional Walking Shooting Dog Championship for the eighth time April 25-26 over fine courses at the Highland Recreation Area, near Milford, Mich. An entry of 33 -- 18 setters and 15 pointers -- competed for titular honors.
The new champion, Michigan dentist Dr. George Najor's pretty setter Miss Penn Star, ran early in the stake, notched four great quail finds, along with an outstanding hunting effort, and convincingly captured the championship title, handled by Robert Ecker.
Runner-up Highbank's Down'N'Dirty also scored a very well accomplished find, and added a great ground effort to set aside any other dogs vying for a placement. The pointer female was handled and bred by her owner, Michigan's Bill Nelson.
Although the winning dogs had little trouble finding quail and handling them superbly, that was not the case with many in the starting field. There were some points of feathers only, where a predator had likely taken a bird.
Several dogs ran enthusiastically, so far into the front of course they were difficult to keep under judgment. Unproductives, despite thorough flushing attempts, became "non flushes" in very thick clumps. Scenting did not appear to be overly favorable for the two days of competition.
Weather, however, was not a problem, temperatures in the 50s and 60s, overcast skies becoming sunny at times with only infrequent rain sprinkles. Quail were a bit difficult to flush, but when they took wing flew strongly.
Thanks to Robert Ecker for transporting the birds from Zukovich Gamebird Farm in Pennsylvania. Marty Zukovich has been a reliable supplier for the Grand Valley Club.
Grand Valley Club stalwart Jim Cipponeri is the driving force behind all the trials hosted by this time-honored Michigan Club. He successfully hosts the Great Lakes Regional Walking Shooting Dog Championship almost every time he petitions for it. He organizes the event, draws the entry slips and many times marshals and plants birds. This season Paul Tutro took over the bird planting, working two full days to look after this most necessary duty. Dave Fletcher made and brought the winners' ribbons, took the pictures and was trial reporter.
Many people pitched in to help . . . Tom Vanecek always one of the workers as is Bryan Wood announcing the braces. Lunches are simple, ten minutes drive away in Milford . . . Little Caesars Hot and Ready Pizza, and trialers consume this food at a record pace. Thanks to Purina for financial support and product; they have helped this club for many seasons.
Judges this year were William Klenner of Belleville, Mich., and Richard Hollister of Roscommon, Mich. Bill has been competing his dogs in trials in Michigan and nationally for fifty years or more and his trophy room has a host of ribbons and silverware. Rich Hollister trains and handles professionally, also breeds winning dogs from his Dun Roven kennel near Roscommon, Mich. Rich also furnishes judges' horses for many Michigan trials. Both judges have vast experience and at the starting line spoke about championship performance and proper scouting. Both judges enjoyed their evening meals at Sparky's with club officials.
The Winners and Others
Four finds and a very good hunting effort set a benchmark for this Championship.
Miss Penn Star was as right as she could be this early morning brace. She has a long list of wins in field trial competition starting with eleven Derby wins, 15 shooting dog wins, two classic placements and a Futurity fourth. She also boasts four championship titles and four runner-up titles.
Her prime achievement was a championship title in the Northern Michigan Grouse Dog Championship in 2016.
Her owner Dr. George Najor spotted the youngster in a North Carolina trial, purchased her and carried her home.
Highbank's Down'N'Dirty is a promising youngster bred by her owner Bill Nelson of Memphis, Mich. She is sired by Bill's great winner Nelson's Van Max; her dam is Highbank's Sugar Coated, both within the Nelson kennel. She will be three in August of this year.
Down'N'Dirty had a lone find of great merit and a consistently hard hunting effort that carried her from one birdy looking covert to another. She has two previous shooting dog placements.
The Running
Maximum Resistance (Ecker) pointed feathers at 25, added an unproductive and was leashed at 30. Indian Creek Alibi (Malzone) hunted hard and deep . . . admired by those who watched but an unproductive came at 50.
Upper Ammonoosuc Sadie (Ecker) and Hifive's Passin Time (Malzone). After a couple of unproductives Sadie was leashed. "Country" took to the far reaches of the course, pointed, but could not relocate at 30 minutes and was also taken up.
Miss Penn Star (Ecker) put on a show with four great finds, a very hard hunting effort and a good finish. She set an early mark that was never equaled. Out of the Shadows (Wheelock) logged two backs, consistent in hunting the full hour.
Indian Creek Bocephus (Malzone) was another far reaching bird dog. He had two finds but was mainly out of touch and was taken up. Rusty (Vanecek) was also taken up.
Upper Ammonoosuc Violet (Ecker) had a nice back, a pair of unproductives and was leashed. Erin's Deja Vu (Malzone) had a nice find, ran and hunted extremely well but a slower pace in the final minutes hurt her chances for a placement.
Both Faith's Maximum Justice (DeLong) and Attitude's True Grit (Ecker) had good work on quail, Grit also with two backs. Grit may have been closest to the winners and Justice was not far behind.
Brodie (Vanecek) and Nick of Time (Ecker) hunted hard and with lots of speed. Both were lost to judgment.
Bo of Piney Woods (Ecker) and Nobody's Shadow (Wheelock). Wide and deep describes this pair, both taken up short of the hour.
Both Indian Creek Perfect Storm (Malzone) and Islander (Ecker) started well, wide casts, but we eventually had another pair lost to judgment.
Pure Confidence (Malzone) and Sterlingworth Jack (Ecker) were another twosome with their running shoes on. Retrieval devices were called for.
Herschner's Grouse Gunner (Chaffee) and Texas Free Mason (Ecker). The former pointed in very thick cover at 30, added an unproductive later and was withdrawn. Free Mason needed the retrieval unit late in the hour.
Erin's Hollywood (Malzone) started slowly, picked up noticeably after the half but was up at 40. Bud of Piney Woods (Ecker) was gone early.
Both Sterlingworth Judge (Ecker) and Highbank's Back'N'Black (Chaffee) were scouted early, Judge gone for the duration and Black misbehaving on a quail at 22.
Highbank's Down'N'Dirty (Nelson) and Rock Solid Casey (Ecker). The former logged a hardworking hunting effort, looking in every birdy cover on his course. He had a nice find late in the hour. Casey hunted well without birds and was leashed near time.
Boston (Ecker) and Snyder's Pioneer Scout (Chaffee). Boston hunted widely early in the hour as did Scout. Handlers took them up near time.
Sunrise Star (Ecker) and Indian Creek Courageous Cat (Malzone). The final brace did not bring forth a challenge to performances already witnessed. Both were gone much of the hour.
Highland, Mich., April 25
Judges: William Klenner and Richard Hollister
U. S. COMPLETE GREAT LAKES REGIONAL OPEN WALKING SHOOTING DOG CHAMPIONSHIP
[One-Hour Heats] -- 15 Pointers and 18 Setters
Winner--MISS PENN STAR, 1645604, setter female, by First Up--Smoke Rise Faye. Dr. George Najor, owner, Robert Ecker, handler.
Runner-Up--HIGHBANK'S DOWN'N'DIRTY, 1674795, pointer female, by Nelson's Van Max--Highbank's Sugar Coated. William Nelson, owner and handler.