Result: Western Brittany Open Shooting Dog Championship
Location: Madras, Oregon
Post Date: May 23, 2019
Submitted By: Jim Hammett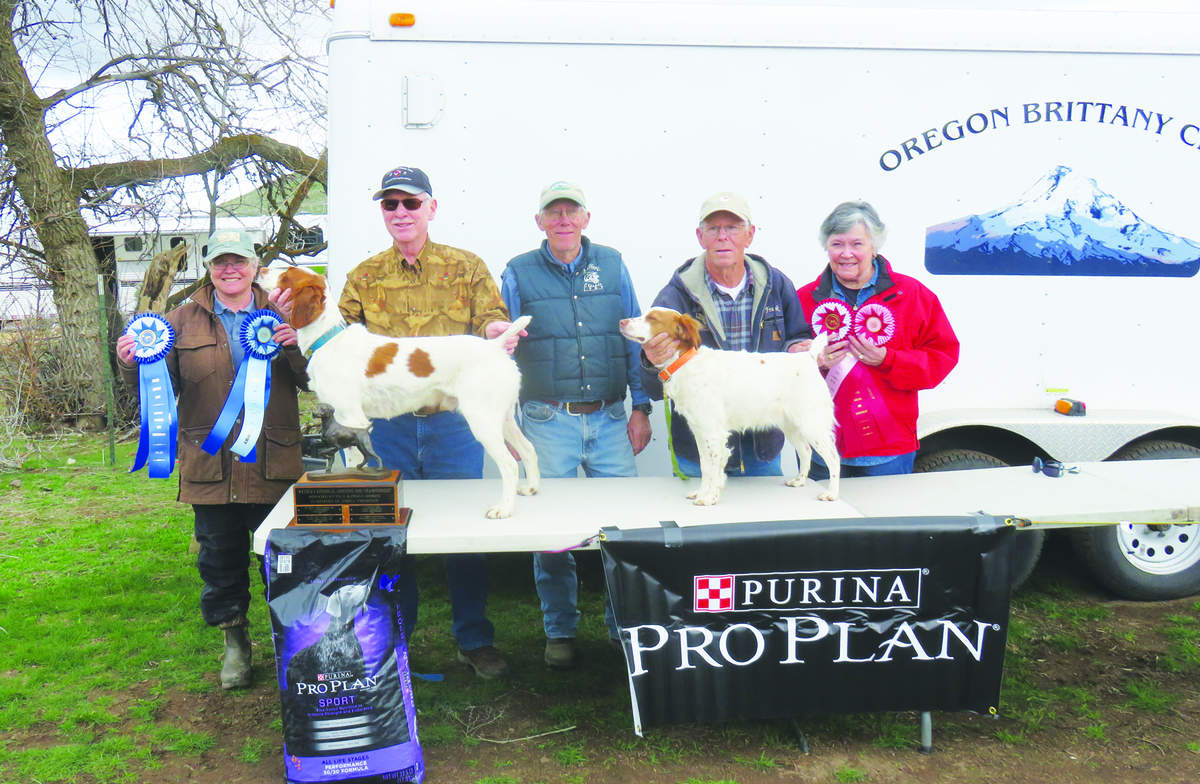 The Winners. From left: Leslie Andreas, judge; Cedar Creek Hawkeye with Joe Waitman, Dr. Ray Calkins, judge, and Frank and Judi Bright with Spanish Corrals Chica Nevada.
MADRAS, ORE. -- The Western Brittany Shooting Dog Championship was held April 1-2 in Madras, Ore. A great field of some of the finest shooting dogs in the Western Region competed under cloudy, cool and often rainy conditions.
The judges were Leslie Andreas, making the trip from Saskatchewan, and Dr. Ray Calkins of Shearwood, Ore.
We wish to thank the Crooked River National Grasslands for providing a great venue under permit and Purina for their continued and valued support.
The trial broke away at 8:00 a. m. on a cool, damp morning. The weather stayed cool for the duration, which pleased the dogs and chilled the handlers, judges, and gallery.
THE RUNNING

Whiskey Shadow of Fenway (Matt Smith) and Sonny's Hot Summer Breeze (Paul Doiron) got off to a good start with a big and fast breakaway. At 14 Fenway was found standing. Breezy came in for an excellent honor. Fenway left before his handler could get to him, apparently in chase, and his handler picked him up. Breezy went on for a good point at 20 with all in order, but was seen in pursuit of a flying bird at 35 to end his bid.
Christie's Im a Jakester (Jake/Steve Ball) and Leona Valley's Sonny Red Side Up (Doiron) were both fast and ran big. Jake was picked up for chasing a bird at 18. At 20 Red had an unproductive, stylish points at 35, 40, 45, 50, 53, 58, and a stop to flush at 52. Red finished well but never was able to really open up between finds.
Both Shiloh's Last Dash of Flash (Wayne Hale) and Quail Rock Too Tough (Duke/Doiron) ran fast and stayed to the front. At 35 Dash pointed at the far edge of the course, very intense and stylish. At 45 Dash and Duke had a divided find. At flush Dash took a couple of steps forward. Duke remained statuesque. Duke went on to have one more find and finished to the front.
M T B Spicen Son Captain Ryan (Tom White) and Kiger Hills Dixie on Fire (Mark Shearman) moved well to the front at breakaway. Dixie had finds at 12, 14, 16, 22 and 45. The fourth find was on the edge way out in the top of the bowl. It took four relocations but remarkably Mark produced a bird and all was in order. Dixie finished with an unproductive at 55. Ryan had his first point at 46, failed to please his handler with his bird work and was picked up.
M T B Zipnson Veni Vidi Vici (Vinny/Tom White) had his first point at 14 in the rock pile. Spanish Corrals Chica Nevada (Frank Bright) had a simultaneous nice find a little farther down course. Birds were produced in both cases and all was in order. Vinny made some big casts running a terrific shooting dog race. Chica was consistently forward with big casts and a fast stylish run. Vinny was picked up when he forgot his manners on his third find. Chica continued a great run and ended with three top-notch, stylish finds.
Cedar Creek Hawkeye (Hank/Joe Waitman) had a forward run with six high quality finds. His quality bird work, strong forward race and easy handle combined for an outstanding and winning run. He finished well forward on the course with energy to spare. Shiloh's Sailing the West Wind (Zephyr/Ted Foster) had four finds, ran well, but was loose and soft on his birds.
Spanish Corral's Cooper's Hawk (Joe Gower) and Zip's Moondance Kid (Skeeter/Larry Sandusky). Both dogs ran forward with plenty of speed. Hawk had his first find at 20, all in order. At 41 Skeeter was pointing with Hawk backing stylishly. At 49 Hawk took a strong leap at a bird at flush. Hawk finished the race but tired toward the end.
At 8 K Nines Finales Way to Go (Allie/ Doiron), as a bye, had a mannerly find in the rock pile. Allie made some huge casts, really opening up after the gate. At 17 Allie had an unproductive. At 21 she had a nice find, pointing very stylishly and all was in order at flush. She exhibited great ground speed, but at 32 Allie was in hot pursuit of a bird and was picked up.
Madras, Ore., April 1
Judges: Leslie Andreas and Dr. Ray Calkins
WESTERN BRITTANY OPEN SHOOTING DOG CHAMPIONSHIP
[One-Hour Heats] -- 15 Brittanys
Winner--CEDAR CREEK HAWKEYE, 1641599, male, by Spanish Corral's Sundance Kid--Zippity Dot. Joe Waitman, owner and handler.
Runner-Up--SPANISH CORRALS CHICA NEVADA, 1648460, female, by Spanish Corral's Sundance Kid--Midas Blazin Amber Skies. Frank & Judi Bright, owners; Frank Bright, handler.