Result: Egyptian Open Shooting Dog Championship
Location: Cutler, Illinois
Post Date: May 22, 2019
Submitted By: John Shure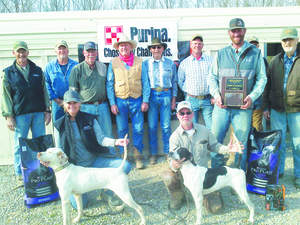 Championship Winners. Front, from left: Kay Morrison with Lancelot's Tall Knight and Jeff Wagoner with Zumbro Stinky Pete. Standing: John Lam, judge; Jim Lawless, John Hott, Chuck Stretz, George Hill, Scott Jordan, judge; Travis Gellhaus, unidentified participant and John Shure.
CUTLER, ILL. -- April 1 dawned under clear skies and moderate temperatures at Pyramid State Park, Cutler, Ill., for the renewal of the Egyptian Open Shooting Dog Championship.
First on the agenda was the Gail Neal Open Derby. Judges John Hott of Hoopeston, Ill., and Jon Lam of Makanda, Ill., presided over a seven-dog entry. With a strong race and one wild pheasant find pointer female Cheyenne Nation was named the winner for owner-handler Scott Jordan of White Bear Lake, Minn.
Second was awarded to Silver W Jill Z, pointer female owned by Debbie Ozner of Ochlocknee, Ga. Third place went to G H Storm Warning, pointer male co-owned by John Roswech of Chester, N. J., and George Hickox of Carson, N. D. The second and third place dogs exhibited excellent forward applications in their efforts for handler Shawn Kinkelaar.
Cutler, Ill., April 1
Judges: John Hott and Jon Lam
GAIL NEAL OPEN DERBY -- 7 Pointers

1st--CHEYENNE NATION, 1681417, female, by Strut Nation--Erin's Amazing Grace. Scott & Julie Jordan, owners; Scott Jordan, handler.
2d--SILVER W JILL Z, 1682062, female, by Ransom--Double Wild. Debbie Ozner, owner; Shawn Kinkelaar, handler.
3d--G H STORM WARNING, 1677453, male, by Sinbad's Bear--Miss Faye. John Roswech & George Hickox, owners; Shawn Kinkelaar, handler.
EGYPTIAN CHAMPIONSHIP
The Championship began in the afternoon of April 1 with Jon Lam and Scott Jordan occupying the judicial saddles. Both gentlemen are experienced, veteran field trialers, have previously judged this event and have demonstrated the knowledge and integrity so necessary for a judging assignment in a major championship stake. Their decisions were well received by all.
Running in the second brace Tuesday, April 2, and named champion was coming ten-year-old white and orange pointer male Lancelot's Tall Knight, handled expertly by Chuck Stretz for owner Dr. Richard Steckley of Wichita, Kan. Knight had an outstanding race punctuated by four evenly spaced finds. This worthy champion was statuesque on his birds, manners beyond reproach as befits a dog with his credentials.
Lancelot's Tall Knight has been remarkably consistent, always giving a good account of himself. His record includes runner-up wins at the Arkansas, Egyptian, Illinois and Missouri Open Shooting Dog Championships.
Competing in the 13th brace was the runner-up, Zumbro Stinky Pete, coming five-year-old white and black pointer male handled by Travis Gellhaus for owner Terry Reinke of Longmont, Colo. Rendering a strong forward effort, Pete pointed successfully three times and also backed his bracemate.
This win marked his fourth titular placement in the current season. Pete's career started in the grouse woods with Dale Windhorst of Osseo, Wis., but his potential was soon evident and he was placed in the ownership of Terry Reinke to be campaigned on the shooting dog circuit.
The Captain Unit at Pyramid State Park features three one-hour continuous courses over land that at one time was strip mined for coal. This includes a number of small lakes and ponds interspersed among farm fields and areas of heavy cover through which the courses navigate. It is an ideal venue for championship competition and this year proved no exception as weather conditions were ideal in spite of an unusually hard winter. There were ample opportunities for bird work and for handlers to show their dogs to advantage. Site manager Cha Hill had the grounds groomed and ready to go. His crew was very attentive to our needs and they deserve a big thank you for the excellent job they do in supporting field trials.
Our sponsors again this year, Purina and SportDog, provided dog food, hats, and electronic equipment. It bears repeating every year that there is a great debt and appreciation by this club for the contributions of these two fine sponsors. Purina representative Terry Trzcinski made the trek from the Chicago suburbs and as usual carefully scrutinized the work of the field trial chairman. SportDog was represented by that fine gentleman, Jim Morehouse of Arizona.
Our experienced volunteers were outstanding in accomplishing their goal to provide a quality event. Don Heisner drove the dog wagon, always in the right place when needed. Bird planting and marshalling with great expertise was the newly retired Jim Lawless. Excellent meals were prepared by Kay Morrison. Guarding the roads fell to John Shure. John Hott handled the marshalling duties and filled in where needed.
Those attending this year included handlers Jeff Wagoner, Shawn Kinkelaar, Chuck Stretz and Travis Gellhaus. Among those on hand to view the proceedings were Ron Ward, Zach Hilton, Dr. Bob Canada, Dr. Tom Jackson, Debbie Ozner, John Burkhart, George Hill and Mark Meier.
The Little Egypt Field Trial Club hosted a cookout on the grounds on Monday evening which featured delicious porterhouse steaks prepared by Jeff Wagoner and John Hott. Kay Morrison prepared the trimmings. Good fellowship was had by all.
In the clubhouse on Wednesday evening, Dr. Tom Jackson hosted a fine dinner from the famous Alongi's Italian Restaurant to honor our 2018 champion, Chelsea's Thunder Bolt. Due to illness, your scribe was unable to attend, but I am sure those in attendance had an enjoyable time.
Judges: Scott Jordan and Jon Lam
EGYPTIAN OPEN SHOOTING DOG CHAMPIONSHIP [One-Hour Heats] -- 26 Pointers and 2 Setters
Winner--LANCELOT'S TALL KNIGHT, 1625124, pointer male, by Sir Eaton--Katrina Wind. Dr. Richard Steckley, owner; Chuck Stretz, handler.
Runner-Up--ZUMBRO STINKY PETE, 1657915, pointer male, by Go Johnny Go--Beaver Creek Lucy. Terry Reinke, owner; Travis Gellhaus, handler.