Result: Chesterfield Field Trial Club
Location: Mcbee, South Carolina
Post Date: Mar 17, 2019
Submitted By: Ronnie Maxwell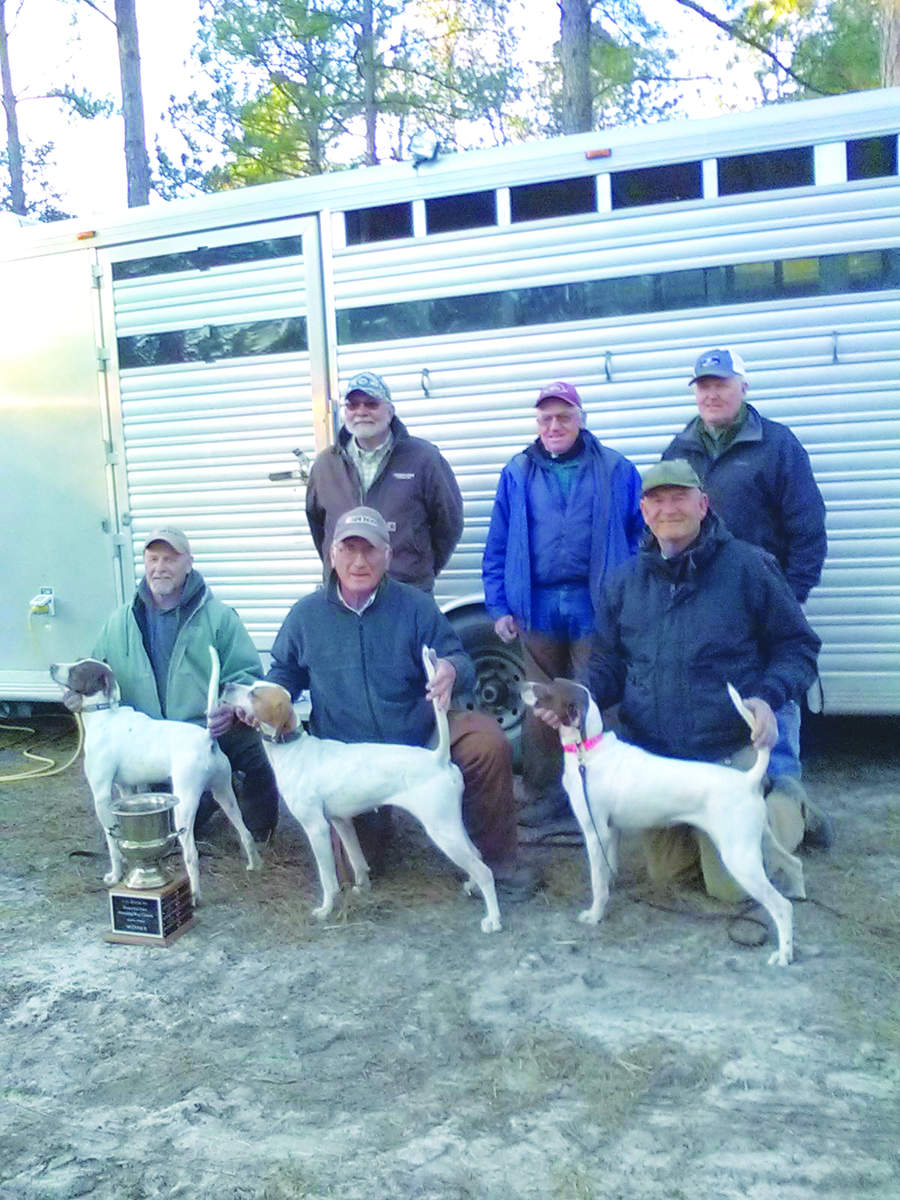 Amateur Shooting Dog Winners. From left front: Harbor City Cruz with Tom Brigman, Klee's
Full Moon Rising with Roger Duerksen and Bella Bulli with Ernie Saniga. Standing: Ray Joye, judge; Emsley Laney and John Ivester.
MCBEE, S. C. -- On January 25-27, Chesterfield Field Trial Club held the A. D. Hurst Amateur Shooting Dog and Jadie Rayfield Amateur Derby on Sawtooth Plantation near McBee, S. C.
Sawtooth is owned by John and Sue Ivester, and the club greatly appreciates them letting our club use Sawtooth for our trial. The Ivesters have graciously opened their facility to various clubs in South Carolina and our club has had our trial there for many years.
This year our club was fortunate to have Sportsman's Pride, producers of quality dog food for sporting dogs, as our sponsor. Sportsman's Pride is made by Sunshine Mills whose pet food line started in 1960. The company is headquartered in Red Bay, Ala. The company has been involved with field trials for many years and has been a sponsor of the National Championship in Grand Junction, Tenn.
Sportsman's Pride provided gifts and a special treat on Friday night when they provided a meal for everyone as southern as iced tea -- a fried catfish supper with all the trimmings. You could tell how much the field trialers enjoyed the meal because when the eating started everything got quiet.
Providing other amenities at the trial was the coach who provided a fine southern style chicken bog along with green beans and rolls, and Emsley Laney who brought sandwiches Friday and Sunday. Some trialers might have experienced problems at our trial but not having plenty to eat was not one of them.
Weather for our trial this year was good for the dogs and gallery. The early mornings were a little chilly with the temperature close to freezing, but the temperature would quickly rise to low 50s with moderate winds that mitigated against the early morning chill.
Since it is the responsibility of the judges to ensure the integrity of the trial, having good men riding in the judges' saddles is paramount. Our club was fortunate in securing two men who handled this task admirably. Ray Joye of Marion, S. C., and Steve Mills of Mayodan, N. C., judiciously evaluated each dog's bird handling ability, his manners around game and, by setting the correct pace, each dog could show his willingness to handle kindly. As testament to the good job the judges did, the two judges were invited to judge our club trial again next year. We are hoping they will be able to be with us again next year.
There were 24 dogs entered in the A. D. Hurst Amateur Shooting Dog held each year in memory of Mr. Hurst, a longtime member of the Chesterfield Club. I considered Mr. Hurst to be a virtual encyclopedia on field trials and bird dog breeding and always enjoyed riding in the dog truck with him. He imbued his son Alvin with the love of dogs and horses, and his son has been a member of the club for many years.
The Jadie Rayfield Amateur Derby is held in memory of Jadie, a longtime friend of mine and also a longtime member of the club. Jadie's favorite was the Derby, and he loved to see a big running Derby -- one you had to hold on to the saddle to keep up with. He passed down his love of bird dogs and field trials to his son, Jadie Jr., who learned the craft so well he has served as a judge of the National Championship held at Grand Junction every year. There were eleven dogs entered in the Derby this year.
First is the Amateur Shooting Dog was Harbor City Cruz, pointer male owned and handled by Tom Brigman. Cruz attacked the course with extreme enthusiasm. Four pieces of bird work handled to perfection along with a beautiful ground race earned him first place.
Second was Klee's Full Moon Rising, pointer female owned by Susan and Roger Duerksen and handled by Roger Duerksen. Full Moon handled easily with a far reaching, three find race, to garner her placement. Bella Bulli, pointer female owned by Ernie and Karen Saniga and handled by Ernie Saniga, was third. Bella handled kindly and had five finds, the last being extremely pleasing to watch as she masterfully located running birds.
McBee, S. C., January 25 -- One Course
Judges: Ray Joye and Steve Mills
A. D. HURST AMATEUR SHOOTING DOG CLASSIC [One-Hour Heats] -- 19 Pointers and 5 Irish Setters
1st--HARBOR CITY CRUZ, 1655653, pointer male, by Brown's Tom Tom--Erin's Lady Luck. Thomas E. Brigman, Jr., owner and handler.
2d--KLEE'S FULL MOON RISING, 1665988, pointer female, by Great River Ice--Moonlite Magic. Susan & Roger Duerksen, owners; Roger Duerksen, handler.
3d--BELLA BULLI, 1674898, pointer female, by Bully Bragg--Bullerina. Ernie & Karen Saniga, owners; Ernie Saniga, handler.
Amateur Derby Classic
Bittersweet War Cry, pointer male owned and handled by Ralph Gillota, had two finds that, coupled with advanced manners and exceptional ground race, earned him first place honors. Second was Mac's Silver Shadow, pointer female owned and handled by Tim McClurg. Shadow came to the line with hunting on her mind and had five well-handled pieces of bird work. Raag's Southern Swing, pointer male owned and handled by Ray Wheeler, had three pieces of bird work, the second of which was electrifying.
JADIE RAYFIELD AMATEUR DERBY CLASSIC -- 10 Pointers
and 1 Irish Setter
1st--BITTERSWEET WAR CRY, 1674743, pointer male, by Sugarknoll War Paint--Mohawk. Ralph Gillota, owner and handler.
2d--MAC'S SILVER SHADOW, 1678171, pointer female, by Mac's Silver Dollar--Miller's Amazing Grace. Tim McClurg, owner and handler.
3d--RAAG'S SOUTHERN SWING, 1678436, pointer male, by Ransom--Marques Lucky Star. Ray Wheeler, owner and handler.