Result: National Derby Championship
Location: Greensboro, Alabama
Post Date: Mar 5, 2022
Submitted By: Morgan Brewer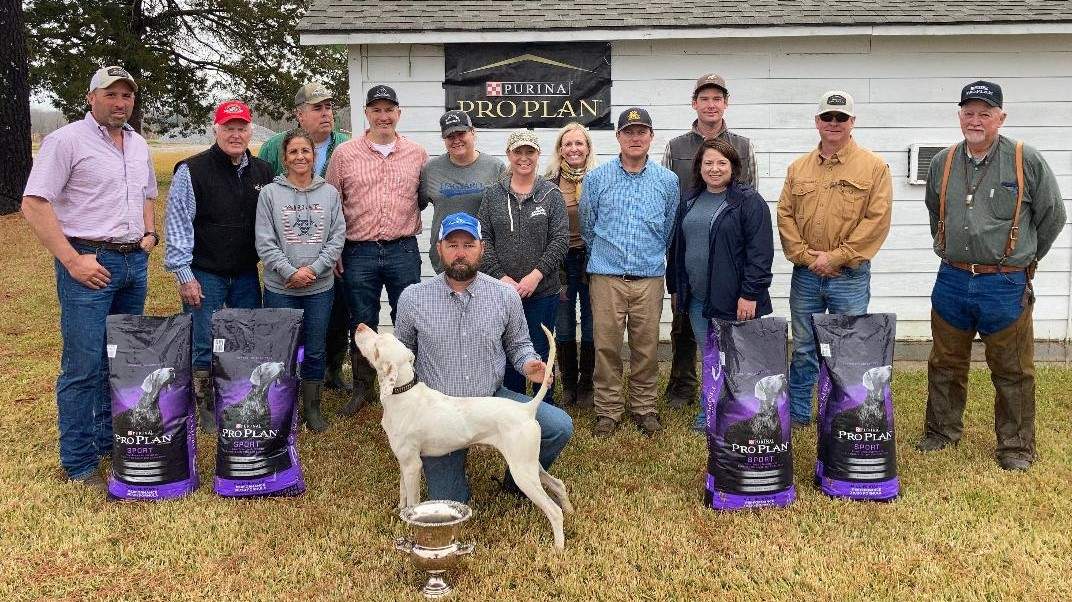 The Winner. Champion Rentz's Hijacked is posed by Scout Judd Carlton. Standing, from left: Luke Eisenhart, John Ivester, Lefty Henry, owners Claudia McNamee and Joe and Tricia Rentz; Morgan Brewer, reporter; Ruthann Epp, Todd Montgomery, Schley Rutherford, Jennifer McKemie, Judges Chip Pendergrass and Charles Morton.
GREENSBORO, ALA. -- The National Field Trial Club commenced the National Derby Championship on January 31 at the celebrated grounds of M. Barnett Lawley Forever Wild Field Trial Area in Greensboro, Ala.
This field trial sets the bar for the future of our beloved sport. If there are no competitive up-and-coming young dogs, what does this sport have? It was an honor to report such a prestigious trial and to say I am grateful to have had the opportunity to watch these amazing athletes compete would be an understatement.
This trial would not be successful without the continued support of its board. Ruthann Epp, Schley Rutherford, Bill Mason and Jennifer McKemie are all hands on deck allowing this field trial to run like a well-oiled machine.
Dog wagon driver of the year award goes to John Henry Kitchens; he guarded all of the road crossings, made sure the dogs arrived at every breakaway and provided much appreciated snacks and refreshments.
Sunday evening the judges prepared an old fashioned Louisana Crawfish Boil; it was phenomenal to say the least and those mudbugs were thoroughly enjoyed at lunch the following day. Monday evening the board brought out their culinary expertise with barbecued ribs accompanied by all the fixings. Tuesday evening there was a cocktail hour at the warden's house and the judges were treated to a fabulous dinner at the Red Barn. A delectable lasagna meal was prepared Wednesday night compliments of the board. A good time was had by all. Lunch was provided daily at the white house and it was a group effort by those who prepared it.
There are not enough thanks to Purina for sponsoring the trial, if trials did not have the support from Purina, they would not be possible. The Epp family donated the trophy for the champion and John Ivester donated the runner-up trophy. These trophies were certainly a prize for the winners.
A portrait of the winner by Alabama artist Mary McPherson was also included in the awards to the champion.
Without further ado let me give recognition to our honorable judges -- Charles Morton, Thomasville, Ga., and Chip Pendergrass, Dayton, Tenn. They rode hard and were very observant to every dog and handler.
THE WINNERS

It was 52 and raining when handler Luke Eisenhart turned Rentz's Hijacked loose for the tenth brace. Owners Joe and Tricia Rentz and Claudia McNamee braved the unfavorable weather to watch their orange and white pointer male cover the country of the cattle ranch.
Highjacked could have not run a more perfect race. He ran strong with a high tail. He had a picture perfect find at 30, an unproductive at 42 and a stylish find at 47. His stellar performance awarded him the title of champion.
It was 50 degrees when Phillips Linebacker was turned loose in the first brace of the trial. Handler Nathan Phillips co-owns Linebacker with Orrin Ingram from Franklin, Tenn. Linebacker, a stout orange and white pointer male ran a strong race with bird contacts at 34, 61, a divided find at 72 and a perfect find at 80. His commendable performance was awarded runner-up champion.
THE RUNNING
Rester's Cajun Justice (Luke Eisenhart), owned by Cecil Rester was in the first brace. Mr. Cecil rode in the gallery to watch his young pointer male on the beautiful 50 morning. Justice was braced with runner-up champion Phillips Linebacker. Justice had a divided find at 72 and the race was on for this shooting dog reporter.
Erin's Perfect Storm (Eisenhart) and Lester's Storm Chaser (Gary Lester) were in the second brace. The orange and white pointer males had a divided find at 2. Storm had a back at 34. Chaser pointed at 34; after a lengthy relocation produced birds at 38.
It was 66 Monday afternoon at breakaway when Touch's Too Much, handled by Ike Todd, and Erin's High Note, handled by Judd Carlton, came to the line for the third brace. The orange and white pointer males had divided finds at 47 and 68.
Smooth Talkin, handled by Ted Roach, and Erin's Grey Justice (Eisenhart) were in the fourth brace. Eisenhart picked up Grey Justice at 21 after he stepped on a stob at 21 coming into the "New Ground" of the area. Smooth Talkin had an unproductive at 26 and was picked up at 31.
It was 37 Tuesday morning when Haney's Storm Warning (Todd) and Supreme Confidence (Eisenhart) came to the line. Warning had an unproductive at 64 and a nice clean find at 72. Confidence ran a good strong race but was picked after not producing any bird contacts at the 78-minute mark.
Rester's Powered Up (Eisenhart) was braced with Dunn's Ever N Onward, owned by Will Dunn and handled by Tracy Swearingen. Powered Up had a great front running race but unfortunately didn't have any bird work. Onward went out of pocket and r the retrieval unites requested at 35.
Touch's Lone Dominator (Carlton) and Dunn's Sneak'n In (Swearingen) were turned loose No. 7 Tuesday afternoon; it was 66 with 15 mile per hour wind. Dominator laid down a good strong race but could not produce any bird work. Sneak'n In had owner and scout Will Dunn on his toes, the orange and white pointer male had a good race and picture perfect finds at 21, 34, and 76.
Beeler's Prime Design, owned and handled by Scott Beeler, and Dominator's Queen Bee (Carlton) were in the eighth brace. Design was getting it done coming into the New Ground when handler lost his voice and asked for the retrieval device at 45. Bee, a liver and white pointer female had one stylish find at 34.
Raining and 52 Wednesday morning at breakaway for the No. 9. The conditions proved to be unfavorable when Confidence was picked up at 22 after an unproductive and Racer was voluntarily picked up at 20.
Champion Rentz's Hijacked and Hauser's Rollin Thunder were in the tenth brace. Thunder, owned by Sean and Debra Hauser and handled by Will Dunn, was picked up at 30 after a breach of manners on a divided find.
Erin's Lost Creek (Eisenhart) and Knight's Little John (Todd) were turned loose for the eleventh brace. Creek had a find at 5, a divide find at 25 and was picked up at 65. John had a divided find at 25 and was picked up at 71.
It was 58 and raining Thursday morning causing a light rain delay, but a little rain wasn't going to stop these pros from running. Navajo Nation (Eisenhart) and Notorious Front Range (Carlton). Nation had two nice finds at 28 and 59 and was picked up at the 60-minute mark. Range had a back at 28, a find at 58 and was picked up at 73.
Southern Confidence (Eisenhart) and Knight's Hill Ray (Todd) were turned loose for the thirteenth brace. Confidence, an orange and white pointer male had a bird contact at 16, a back at 40 and was picked up at 43. Ray had perfect finds at 7, 40 and was also picked up at 43.
Erin's Southern Comfort (Eisenhart) and Marques Pistol Pete (Henry) followed. Comfort had an unproductive at 30 after a lengthy relocation and was picked up. Pete was picked up at 25.
The last brace of the trial is always the one that will keep a contestant on their toes. Dominator's Wild Bill (Carlton) and Erin's Code of Honor (Eisenhart) were in the No. 15. Bill, an orange and white pointer male ran and strong front running race and had one find at 6. Honor had a clean find at 40 and 50 and was picked up.
Greensboro, Ala., January 31
Judges: Charles Morton and Chip Pendergrass
NATIONAL DERBY CHAMPIONSHIP [Ninety-Minutes Heats] -- 30 Pointers
Winner--RENTZ'S HIJACKED, 1696866, male, by Redland's Jacked Up--F F Bit O'Honey. Joe & Tricia Rentz & Claudia McNamee, owners; Luke Eisenhart, handler.
Runner-Up--PHILLIPS LINEBACKER, 1695679, male, by Phillips Off Line--Phillips Silver Lady. Orrin Ingram & Nathan Phillips, owners; Nathan Phillips, handler.