Event: Cecil Proctor Open All-Age
Result: Oil Capital Field Trial Association
Location: Inola, Oklahoma
Post Date: Mar 19, 2022
Submitted By: Lynn Oxendine
Weather can be a fickle thing this time of year in Oklahoma, and it certainly was the week of February 27 as we gathered in Inola, Okla., on the famed McFarlin-Ingersoll Ranch, for the Lee West Open Derby and the Cecil Proctor Open All-Age stakes.
Late February snow was melting as we arrived on Sunday to wet, soggy grounds and roads that hindered the bird release and dog wagon, but a welcome week of sunshine and temperatures two afternoons above 80 changed all of that. From wet and cold to hot in 72 hours. Bird work was at a premium all week in spite of the efforts of the club members and a quality group of dogs and handlers.
A big thank you to our judges who rode and watched diligently and rendered good decisions.
Bob Barker and Barry Moore teamed up to judge the Lee West Derby which drew ten. First was won by I'm Gallant, handled by Randy Anderson. Gallant had a very fast, snappy forward race coupled with a clean find midway through the brace. He was the only Derby to find birds. Anderson was in the winners' circle again with Touch's Cocaine Blues, second. Allen Vincent handled the third-place winner, Wynona High Finance.
Special thanks to Bubba Spencer and wife Amy who made the trip from Tennessee to judge the Cecil Proctor Open All-Age. They were given a difficult task of having to place all three dogs based on their ground race, as birds proved impossible to find. Their decisions were well received and we thank them again for their time and diligence. We enjoyed having them in Oklahoma.
Andy Daugherty handled Westfall's Wheels Up, owned by Bill Westfall to first. "Wheels" showed he had some as he swept the big prairie pastures and finished strong.
Consistent winner Touch's Fireaway, owned by Greg and Carmen Adams placed second. Miller's L'eletto owned by Karen Concilio placed third. Both dogs were handled by Randy Anderson.
I would like to personally say thank you to all the individuals listed below for making this trial possible. The Ingersoll family for hosting us. Greg Blair and Purina for sponsoring the trial. All the owners and handlers who supported us. Mike Griffin, for a great job with the dog wagon, along with all the members of the Oil Capital Field Trial Association who labored to make this field trial a success.
Inola, Okla., March 2
Judges: Amy Spencer and Bubba Spencer
CECIL PROCTOR OPEN ALL-AGE [One-Hour Heats] -- 21 Pointers
1st--WESTFALL'S WHEELS UP, 1680653, male, by Westfall's Black Ace--Westfall's Quick Trick. Bill Westfall, owner; Andy Daugherty, handler.
2d--TOUCH'S FIRE AWAY, 1679602, male, by House's Ring of Fire--Touch's Maswood Anne. Greg & Carmen Adams, owners; Randy Anderson, handler.
3d--MILLER'S L'ELLTTO, 1691820, male, by Miller's Speed Dial--Bryson's Dialing Lady. Karen Concilio, owner; Randy Anderson, handler.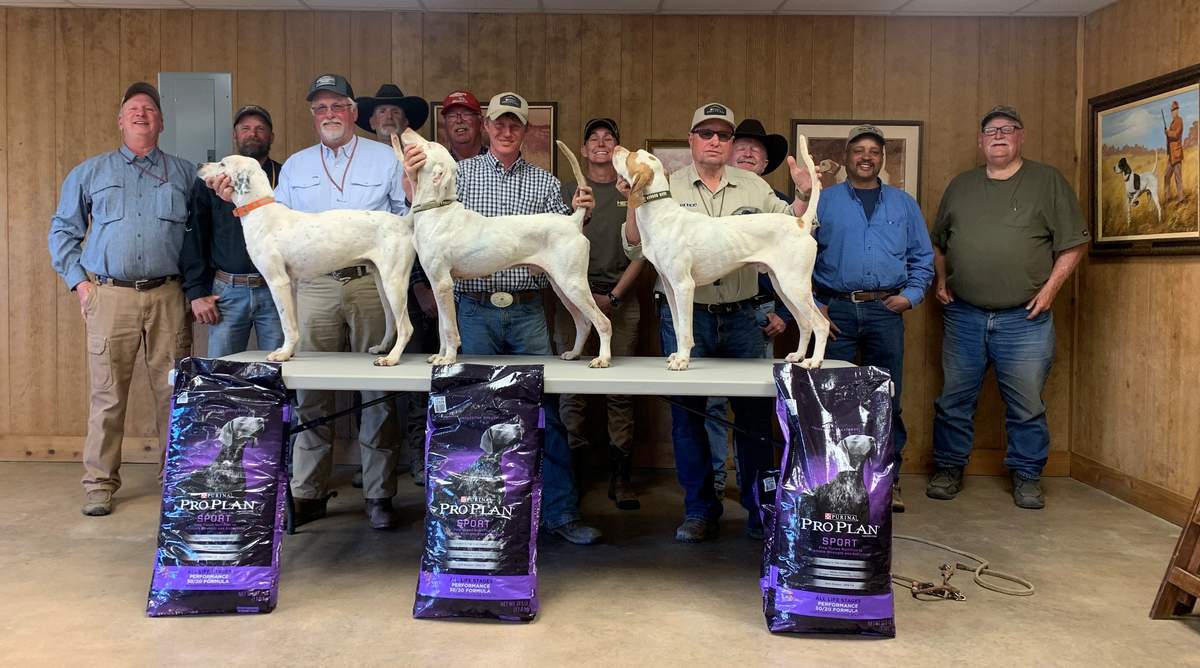 Judges: Bob Barker and Barry Moore
LEE WEST OPEN DERBY -- 6 Pointers and 4 Setters

1st--I'M GALLANT,1 696254, pointer male, by Valiant--Double Swami Dixie. Jay McKenzie, owner; Randy Anderson, handler.
2d--TOUCH'S COCAINE BLUES, 1697541, pointer male, by House's Ring of Fire--Touch's Lemon Drop. Matt Griffith, owner; Randy Anderson, handler.
3d--WYNONA'S HIGH FINANCE, 1696400, pointer female, by Attitude's High Finance--Erin's Little Rose. Bruce Sooter, owner; Allen Vincent, handler.