Result: Flashback-- A Profile from the Past Part Two -- Fishel's Frank
Post Date: Mar 23, 2022
Submitted By: Albert F. Hochwalt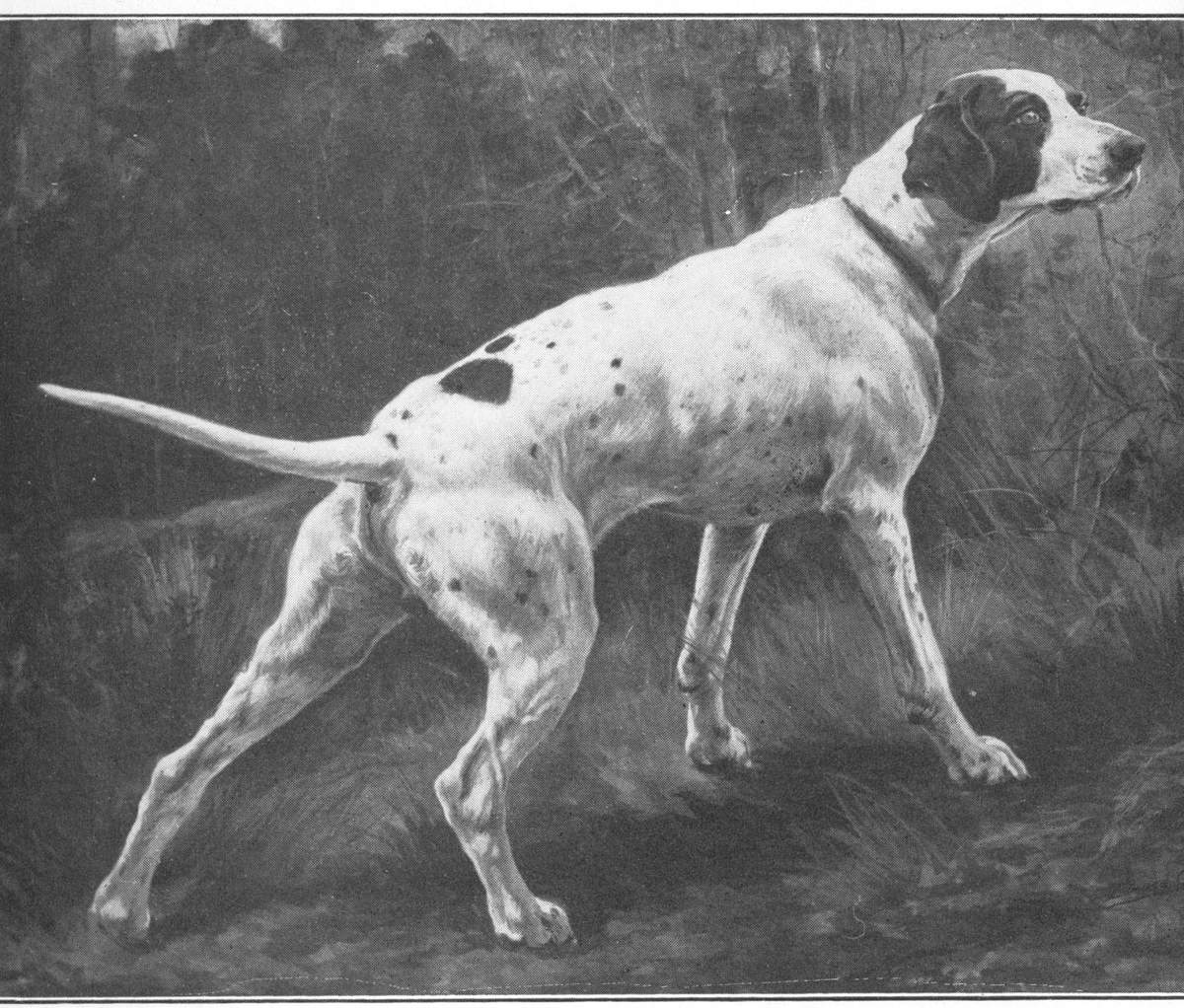 Fishel's Frank
FISHEL'S FRANK was whelped January 20, 1904 and came into the world at a time the the setting was most auspicious for a great stud dog to make the most of the opportunities, and to the credit of the dog and bis owner, U. R. Fishel of Hope, Indiana be it said, none were allowed to slip by.
Alfords' John had made his great record by this time and when Fishel's Frank began to attract attention of the public by his brilliant performances, there were any number of Alford's John bitches in existence. These bitches were the most desirable cross for Fishel's Frank, both as regards the right balance of temperament, as well as bloodline, for the fusion of these two prominent pointer produced a distinct outcross -- just what was needed at this period. However, if U. R. Fishel had not known that Fishel's Frank possessed the quality to make a great dog, or if he had been owned by someone who did not see fit to campaign him, the the story of the pointer would be an entirely different one from what it is today.
According to the official records, he was bred by J.A. Stamm of Hope, Indiana, but was Mr. Fishel who selected the dam which produced his great dog. Boy's Queen is her name. Mr. Fishel, a student of bloodlines, but what is more, understood the qualities that went to make up the proper combination for true balance, temperamentally and physically. He suggested the mating of Boy's Queen to his dog, Fishel's Rip Rap, a son of old Rip Rap.
Fishel's Rip Rap was a black and white dog, decidedly better in finish that his famous sire. His breeding was a combination of the best blood in America (at the time). Is it any wonder that this mating brought results?
According to Mr. Fishel's own statement, he was imbued with the idea of producing a pointer through this mating of Fishel's Rip Rap and Boy's Queen that would have the class and the heart to battle with the setters of that time. He felt that this was the kind of breeding that should produce results, and the mating being consummated he awaited the outcome.
Boy's Queen produced a litter eight. Two male puppies went to Mr. Fishel as his share. One of them was white and liver, the other white and black.
Just as soon as they were old enough to leave their dam, Mr. Fishel took his two puppies and placed them on a farm where they were allowed to grow up practically wild.
On November 1, when they were just a little past month nine months of age he brought them in, intending to send them to J. A. Gude of Bruceville, Indiana to try out. The night before the puppies were to be shipped, the white and black dog escaped and nothing was ever heard of him again. The white and liver was sent on alone. He was registered under the name Fishel's Frank; the white black puppy was called Fishel's Rip Rap II.
It did not take Gude long to recognize the brilliant quality of the puppy and he urged Mr. Fishel to campaign him in the Derbies of the following season. Mr. Fishel needed no urging, however, for this was just the opportunity he had been awaiting many years.
The public career of Fishel's Frank began on the prairies in September, 1905, where he won second in the Nebraska Derby. He was not placed again until January, 1906 when he won third in the United States Derby at Grand Junction. This was the sum total of his winnings as a Derby and perhaps the world at large was unaware of just how much dog Fishel's Frank was. Those who saw him run, however, predicted great things for him, for he was a dog of very high-strung, nervous temperament, fast, wide and independent. His very excess of energy made him at times difficult to control, but that latter character is the natural heritage of the class dog.
This overabundance of nervous energy sometimes lost him a race, but it did not lower him in the estimation of that part of the public which closely followed the field trials. Alford's John was, in a sense, phlegmatic and mechanical. Fishel's Frank, on the other hand, was spectacular. In action he impressed one with the fact that he put every ounce of his being into his work.
Having seen him in most of his races I can say from first-hand knowledge that some of this races were lost through sheer excess of animation. One of those instances was in the Ohio trials at Washington Court House in October, 1908. Fishel's Frank was in is first all-age year then and had just come back from the prairies where he won an equal third in the all-age stake of the Manitoba trials. Jack Gude was handling the dog and he knew his characteristics better than anyone. He was aware of the wonderful combination of antagonistic forces which Frank possessed and he knew his brilliancy would captivate the judges. He knew, also, that the dog might do something erratic at any moment, although by the time he came down to the Ohio trials in October of that year, Gude felt practically certain that he had him steady on his game.
As a rule, the first all-age year of any dog is enigmatical, for there is still much of the puppy in him. That was the case with Frank. The Ohio all-age stake consisted by 28 starters and it was a splendid one in which many celebrities participated, among them Caesar, Miss Ransom, Fishel's Frank, Pretty Peggy, Tip Fauster, Green River Kate and a host of others which are famous in field trial history.
The judges elected the first four dogs enumerated out of the 28 for a second series. There was considerable comment among the specters over this small second series, but these four dogs unquestionably stood far and away above the field -- one of the best selections I have ever seen in any field trial, I believe.
The judges were Herbert S. Bevan, A. B. Caldwell and W. J. Baughn, and if ever a trio of men handled a field trial well, they did this one, which is only another proof that if the right kind of individuals are placed in the judicial saddle, few rules are necessary as they will know how to handled any situation that may arise. It is a. novice who bungles a field trial judging, not the one who has one who has a theoretical knowledge which is naturally must be backed up by abundant experience.
The four dogs called back were braced as follows: Fishel's Frank with Pretty Peggy; Miss Ransom with Caesar.
The night before the running of the finals the order was posted that the dogs were to be at the starting place at 7:00 a.m. A few minutes after that hour the first brace was off.
Fishel's Fr nk went away with his usual snap and dash and for a few. mi Utes le looked very good to those in the gallery as he flitted far out on the horizon line. He skirted the edge of a subtle field, leaped a fence into a p[asture and made for a fringe of woods on the left. Suddenly he threw up his head, turned and caught the scent of quail. For a moment he stopped in order to make it out, then he drew of rapidly to the woodsline and stiffened into one of nis characteristic attitudes,
Jake Gude called point and rode up to his dog slowly with seeming unbowed ed conference in his staunchness. He dismounted thirty yards away, walked up to him and was about to flush when the judges ordered him to shoot. Going back to his horse to get the gun out of the scabbard he made a few jesting remarks to some of the spectators, but sills confidence was unshaken.
Just as Rude took the gun down and turned toward the dog, Frank bound forward, put up the bevy and chased it into the woods! His very action seemed to say: "If you think this is jest, I'll be party to it."
Never was a handler more surprised, never did a laugh go up among the spectators like on that occasion, for notwithstanding the seriousness of of it all, to Jack Gude who saw the money get away from him under his very own eyes, he, too, joined in the laugh which was at his expense. Jack Gude came back with Miss Ransom and won first. Caesar, in Billy Beazell's string, won second and Pretty Peggy, third.
The next week he went to Hutsonville, Illinois for the Independent trials and there Fishel's Frank again started to win, but this time Gude took no chances, but no doubt had given the dog a few lessons in steadiness. (As he expressed it, he "put numbers in Frank's head.")
There were thirty starters in that stake, and Fishel's Frank won first in practically a class by himself. He won on sheer merit. One week later the Illinois Field Club (also thirty starters) held its trial at Robinson, eight miles from Hutsonville, and again Frank won it. From here it was off to Newton, North Carolina after the postponement of the Illinois Championship on account of rainy weather. The race Fishel's Frank ran at Newton in the two-hour heat subscription stake I shall always considered the best of this career.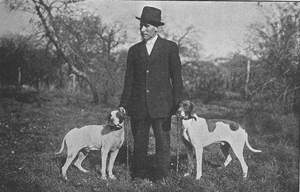 U. R. Fishel, Hope, Indiana, with Fishel's Frank (left) and Champion Comanche Frank