Result: Clarksville Bird Dog Club
Location: Huntingdon, Tennessee
Post Date: Jun 2, 2022
Submitted By: Lisa Suiter Little, Secretary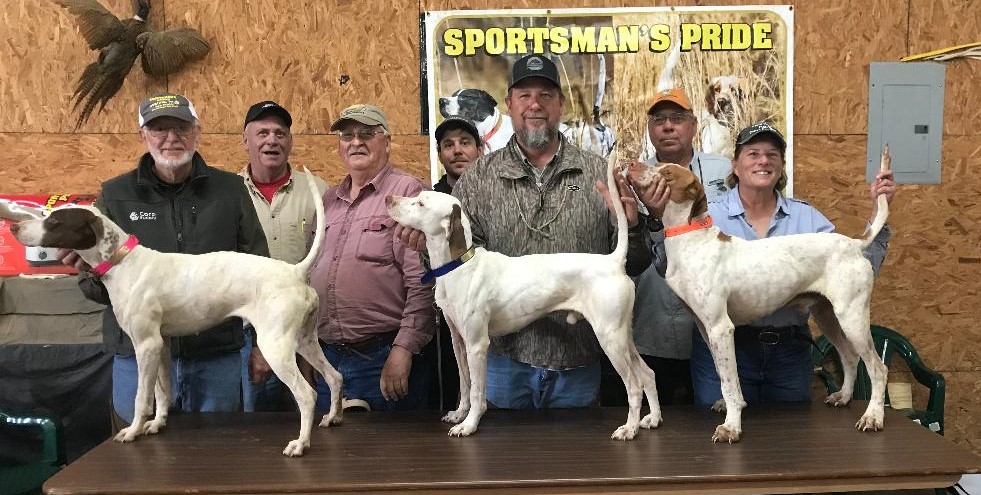 Amateur All-Age ; (L-R) Phillip Barnett with Rebel Dreams, Steve Towery, judge; David Williams, Brett Towery, judge; Scott Little with Southern Shadow T Rex, Brian Peterson, Angie Williams with Rebel Survivor.
The Clarksville Bird Dog Club held it's annual amateur field trial during the weekend of March 18-20, 2022. We have been blessed over the last 3 field trial seasons to relocate our trial to the Huntingdon, Tenn., owned by the family of David Williams. David, along with his wife Angie, sister Michelle, and other family members have worked hard to create some of the best grounds found in the Southeast. Many hours have been spent on creating a bird program with mowed strips, food plots, feeding schedules, and bird releases.
This amateur trial was sponsored by Sportsman's Pride through assistance with advertising costs and gift cards for stake winners. The company's continued sponsorship of Region 6 is greatly appreciated. We would be remiss if we did not thank all the handlers for their entries,
dog wagon drivers John Burrow and Dan Warrick, and Phillip Barnett for scouting for competitors. It takes a team of dedicated individuals to make a field trial a success.
The judges for the entire trial were Steve Towery and Brett Towery from Murray, Ky. This father and son team have spent many years together participating in the field trials of AFTCA Regions 4, 5, and 6, in addition to the Ohio Valley Circuit. Both men bring to the judicial
saddle experience as handlers, scouts, and judges. We are appreciative of the time they dedicated to giving each competitor their time and attention.
We were unable to get enough entries to host an Amateur Derby Stake. Many of our friends were competing at Pyramid State Park in the Central Region Super Qualifier for the U.S. Amateur All-Age Derby Invitational.
The Amateur All-Age Stake drew 6 entries of strong competitors. The stake began at 1 pm on Friday with wet grounds from heavy rainfall earlier in the morning. The afternoon temps reached highs in the mid70s with brisk winds blowing. Despite the challenges of scent conditions, multiple bird work occurred during each brace.
The honors of first place went to Rebel Dreams, a 3-year-old, liver and white female pointer. Lou is owned and handled by David Williams. Lou had 3 solid finds and was attentive to her handler during her 2nd hour course brace. Judges reported that she had the strongest ground race of the all the competitors in the stake. This young competitor is starting to get her stride and will be one to watch in the coming years. Securing the second placement was Southern Shadow T Rex for handler Brian Peterson and owner Lance Servais. Rex is a 4-year-old,
liver and white, pointer male that has garnered wins in the last several years in the Region 6 and Region 16 Shooting Dog Stakes. He is now showing his talents and versatility by competing in the All-Age stakes. Rex had 1 solid find and 2 backs of his bracemate Rebel
Dreams. Rex had a very nice forward race. Due to a family member's illness, Lance was not able to attend and was greatly missed. Third place was awarded to Rebel Survivor. The orange and white, 5-year-old, male pointer is owned and handled by David Williams. Solo is always a strong competitor. Solo had 2 nice finds and a good ground race during the first brace of the stake.
The Amateur Shooting Dog stake drew 20 entries. The stake began on Saturday morning with cold winds blowing, sometimes reaching up to 25 mph. Sunday saw a calmer day with temps rising into 80s. The winner of the stake was awarded to Warioto's Crazy Daisy for handler Scott Little. Daisy is co-owned by Scott and his wife, Lisa. The 6-year-old, white and orange female pointer, ran the first course on Saturday afternoon. Daisy had 2 solid finds, a strong ground race, and looked very stylish running on the field edges. Second place honors went to J Maple Jester and her handler Joe Hughes. Jes is co-owned by Joe and his wife Tessa who was unable to attend the trial. Jes a 6-year-old pointer, with bold orange markings on her white coat. She was always found to the front in her brace. Jes had 1 nice bird find and 1 back honoring her bracemate of the stake on the 3rd hour course. Garnering the 3rd placement was
Shearjoy's Landkreuzer, orange and white setter male. Tank is owned and handled by Betty Shearouse. Betty guided her dog to a solid ground race and 1 bird find during the 3rd brace on the third course of the grounds. This 3-year-old proves to live up to his name with his large body frame and endurance.
We would like to give an honorable mention to handler Brad Kennedy for competing in this trial. Brad suffered several broken ribs a month prior in a horse-riding accident. Brad impressed all of us with his ability to return to the saddle to handle his setter male, Swift Justice with 2 finds in the Shooting Dog Stake. It was glad to see Brad healthy
and competing again.
Again, we would like to thank the Williams family for the use of the grounds and facilities, the handlers and their canine competitors, and all that helped with the conducting of the trial. Due to an unexpected surgery, Michelle Williams Clark was unable to participate in the trial
events and we ask that everyone pray for her quick recovery.
Huntingdon, Tenn., March 18
Judges: Brett Towery and Steve Towery
AMATEUR ALL-AGE [One-Hour Heats] - 5 Pointers and 1 Setter
1st-REBEL DREAMS, 1687736, pointer female, by Dominator's Rebel Heir-Rebel Maiden. David E. Williams, owner and handler.
2d-SOUTHERN SHADOWS T REX, 1682853, pointer male, by Skyfall-Miller's White Wall. Lance Servais, owner; Brian Peterson, handler.
3d-REBEL SURVIVOR, 1680246, pointer male, by Rebel Pride-In Swami's Shadow. David E. Williams, owner and handler.
AMATEUR SHOOTING DOG [One-Hour Heats] - 14 Pointers and 4 Setters
1st-WARIOTO'S CRAZY DAISY, 166448, pointer female, by Boxwood Hotline-Sun Crest Showgirl. Scott & Lisa Little, owners; Scott Little, handler.
2d-J MAPLE JESTER, 1675700, pointer female, by J Maple Jake-Coldwater Queen Kate. Joe & Tessa Hughes, owners; Joe Hughes, handler.
3d-SHEARJOY'S LANDKREUZER, 1693124, setter male, by Shearjoy's Unforgiven-Erin's Smooth Sammy. Betty Shearhouse, owner and handler.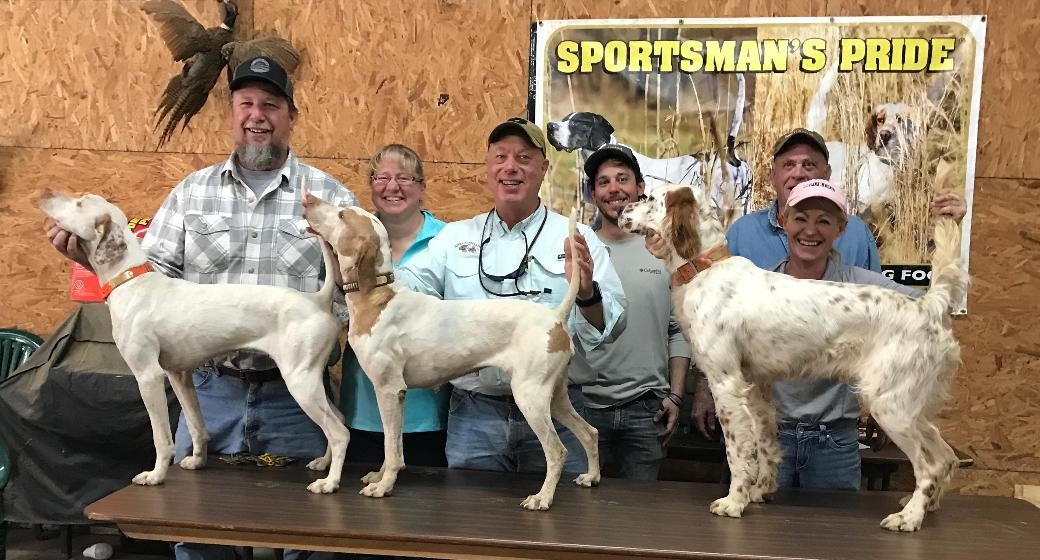 Amateur Shooting Dog: (L-R) Scott Little with Warioto's Crazy Daisy, Lisa Little, Joe Hughes with J Maple Jester, Brett Towery and Steve Towery, judges; Betty Shearouse with Shearjoy's Landkreuzer.