Result: Region 3 Amateur Shooting Dog Championship
Location: Hoffman, North Carolina
Post Date: Mar 3, 2022
Submitted By: Roger L. Duerksen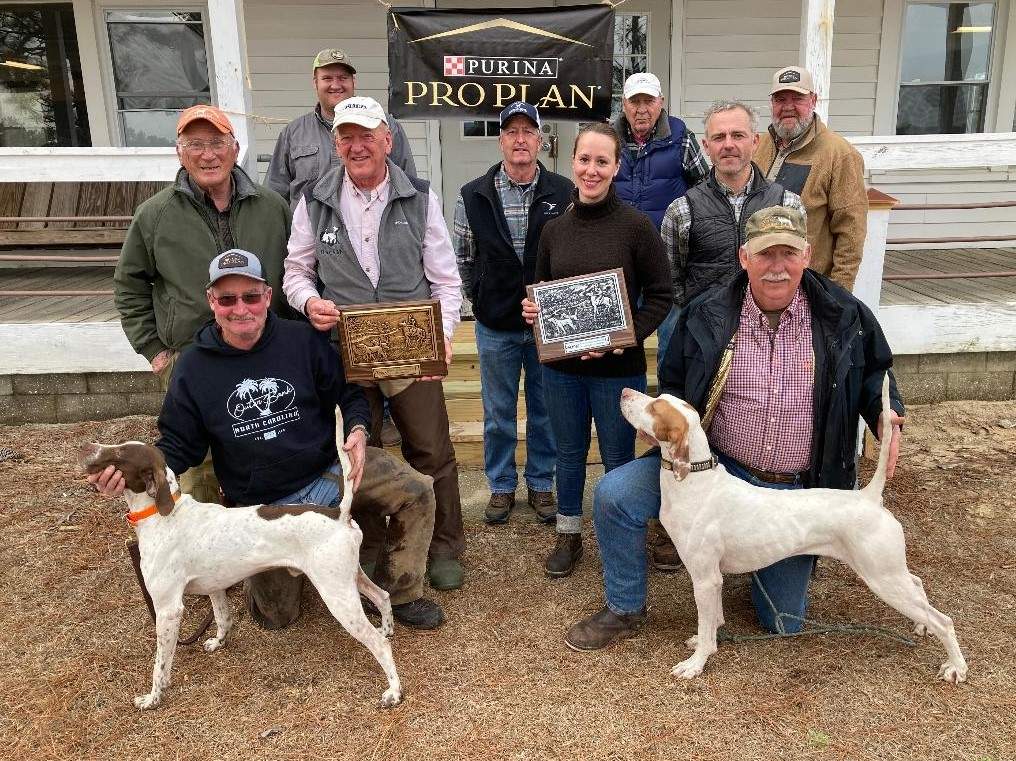 The Winners. From left: Chris Catanzerite with Springflow's Backcountry P and John Neely with Neely's Businessman. Behind: Roger, Duerksen, Judge Jeff Smith, Cecilia and Andrea Cerafolini. Back row: J. Brown, Judge Whitley Stephenson, Jim Emerson, Greg Robinson.
HOFFMAN, N. C. -- The Region 3 Amateur Shooting Dog Championship was held at the Robert Gordon Hoffman, N.C., field trial grounds on February 7-8.
The trial was buffeted by severe weather and weekday dates that affected the draw. However, the hardy persisted and the trial went on as advertised.
Jeff Smith of Chase City, Va., and Whitley Stephenson of Smithfield, N. C., judged.
Dinner was catered Monday night and Ginny Emerson provided lunch the following day.
THE RUNNING
A cold morning when the trial began, with intermittent driving rain. Temperature 35 .
In the first brace, One Last Time, pointer female with Nan Hilliard was scratched. Clayhill T Bone, Harry Cook's pointer male was picked up at 30.
Mac's Real McCoy, pointer male with Tim McClurg was picked up at 30. Setter male Bozeman Rex with Ben Dillard, had one find and an unproductive.
In No. 3, Lefever, pointer male with Gary Miller one find and two unproductives.
Chris Catanzarite's pointer male Springflow's Backcountry P, had one find, a rabbit find, and an unproductive in a big, forward race in miserable conditions to earn the top spot
In No. 4, Mohawk Mill War Eagle, pointer male for Harry Cook, suffered two unproductives. Sweetgrass Slim, David Huffine's setter male was up with a manners violation.
Jessie's Cold Shoulder, pointer male with J. Brown rendered a nice race, but had no birds. Bracemate pointer male Klee's Bud (R. Duerksen) finished the hour but without bird work.
Mowhalk Mill Good Advice, pointer male with Harry Cook notched one find. Barton's Gun Fire, pointer male with J. Brown was lost.
Brace No. 7 had Backcountry Missy, pointer female with Chris Catanzarite. She was lost. Neely's Businessman, John Neely's pointer male, had a big race and one covey find to earn runner-up honors.
Klee's King, R. Duerksen's pointer male had a big race then was lost at pickup. Cottonwood Banjo, pointer male with Tim Ruff tallied one find.
In No. 9, Suemac's Tiger Rose, Roger McPherson's pointer female had no birdwork. Backcountry Girlfriend, Chris Catanzarite's pointer female, had a pair of unproductives.
Chris Catanzarite was also in the final brace with Backcountry Bruiser. He was lost. Bracemate Luxy, pointer female with A. Cerafolini only had only an unproductive for her efforts.
Hoffman, N. C., February 7
Judges: Jeff Smith and Whitley Stephenson
REGION 3 AMATEUR SHOOTING DOG CHAMPIONSHIP
[One-Hour Heats] -- 18 Pointers and 2 Setters
Winner--SPRINGFLOW'S BACKCOUNTRY P, 1673025, pointer male, by Coosawhatchie Smooth Ride--Backcountry Bonnie. Rick Beinhauer & Chris Catanzarite, owners; Chris Catanzarite, handler.
Runner-Up--NEELY'S BUSINESS MAN, 1691539, pointer male, by Miller's Unfinished Business--Neely's Orange Crush. John Neely, owner and handler.