Result: Eastern Open Shooting Dog Championship and Art Hillhouse Amateur Classic
Location: South Hill, Virginia
Post Date: May 10, 2022
Submitted By: Jeff Smith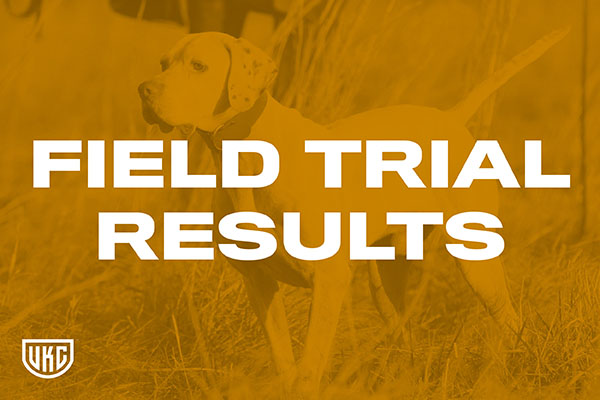 After an absence of a year as a result of the pandemic, the Eastern Open Shooting Dog Championship was renewed at the Dick Cross Wildlife Management Area in South Hill, Va. Sixteen dogs were drawn for the Championship with Bruce Conover of South Boston, Va and Gene Hogge of Smithfield, Va. judging.
The champion emerged in the six brace being handled by Matt Basilone. Smoke N Mirrors is a Pointer female owned by Rich Gillis and Stacey Goodie of Medford, N. J. She had four stylish finds, a good forward race with minimal handling. The Runner Up Champion ran in the third brace. Island Fantasy is a male setter owned by Pedja Kasic of Greenlawn, NY. "Bow" had two nice finds and a well executed stop to flush on a bird ridden up by handler Pat Casey. Bow finished the hour with a strong run to the front. The dog of note was Panloa's Lady Jane, a Pointer female handled by Steve Browder. She was braced with the Champion, had three finds and a non productive.
The Art Hillhouse Amateur Shooting Dog Classic followed the Eastern Open and also drew 16 dogs. Judges were Art Cohen of Skipwith, Va and Dr. Allen Dahl of Clarksville, Va. Alibi Girl, a female Pointer owned by Casey and Larry King of Shepherdstown, WV was named the winner. Alibi Girl was handled by Larry and scouted by Gene Hogge. She had two stylish finds and one unproductive. She ran strong to the front and finished very well. Braced with Alibi Girl in the first brace was Calico's Country Strong owned by Muriel and Bill Primm and Calico's Kennel of Jettersville, Va. She was handled to second place by Alex Smith and scouted by Tiffani Smith. She had on one find and one unproductive with a forward race and a strong finish. Third place was won by Dry Creek Ginger Snap, a pointer female owned by George and JJ Doyle of Union Level, Va. She was handled by Jeff Smith and scouted by George. Ginger had three finds, a unproductive with a forward race and strong finish.
The Association of Virginia Field Trial Clubs would like to thank the following: Greg Blair and Purina for their strong support of the trial; the Virginia Department of Wildlife Resources for use of the grounds; the judges, Gene Hogge and Bruce Conover in the Championship and Art Cohen and Dr. Allen Dahl in the Classic; Ellen Clements for the trophies and AF ad; Pat Casey for bird planting and setting up the course; Frank Henderson for manning the dog wagon; JJ Doyle for the lunches and dinners; and George Doyle for bird planting and dinners. If I missed someone, I sincerely apologize. A special thanks goes to the owners and handlers for entering their dogs.
We look forward to continuing the Eastern Open Shooting Dog Championship in 2023. The Region 3 Amateur Shooting Dog Championship rotates between Virginia and South Carolina on a yearly basis. In 2023 it will be held at Dick Cross in conjunction with the Eastern Open. We look forward to hosting the event.
South Hill, Va., February 28 - One Course
Judges: Bruce Conover and Gene Hogge
EASTERN OPEN SHOOTING DOG CHAMPIONSHIP [One-Hour Heats] - 13 Pointers and 3 Setters
Winner-SMOKE'N'MIRRORS, 1679185, pointer female, by Just Irresistible-A Whiskey Lullaby. Richard Gillis & Stacey Godie, owners; Matt Basilone, handler.
Runner-Up-ISLAND FANTASY, 1688852, setter male, by Islander-Richfield Oakley. Pedja Kazic, owner; Patrick Casey, handler.
Judges: Art Cohen and Allen Dahl
ART HILLHOUSE AMATEUR SHOOTING DOG CLASSIC [One-Hour Heats] - 16 Pointers
1st--ALIBI GIRL, 1667107, female, by Southbound Ben-Shadow's Carolina Molly. Larry & Casey King, owners; Larry King, handler.
2d-CALICO'S COUNTRY STRONG, 1679850, female, by Waybetter Rocky-Calico's Touch of Class. Calico Kennels, Bill & Muriel Primm, owners; Alex Smith, handler.
3d-DRY CREEK GINGER SNAP, 1674790, female, by Black River Hawk-Aries. George & Jeni T. Doyle, owners; Jeffrey Smith, handler.