Result: Victoire Nationale Derby Championship
Location: Ardmore, Oklahoma
Post Date: Apr 5, 2022
Submitted By: Jan Kilpatrick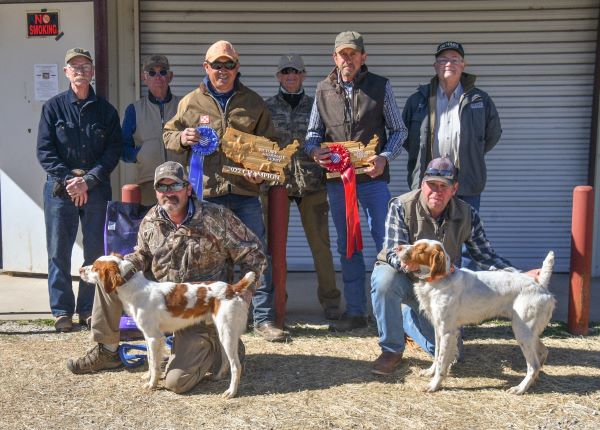 Victoire Nationale Derby Championship. First row: Andreas American Graffiti, scout Tom Tracy, Piney Run White Lightning, scout Richard Beaver. Second row: Steve Chang, Scott Johnson. Third row: Bob Rankin, judge Tom Milam, Jan Kilpatrick, judge Ken Windom.
The Victoire Nationale Derby celebrated its 48th renewal with fifteen promising juvenile dogs competing for the honors in this 2022 year. The start of this year's Victoire Nationale was delayed one day when a "Winter Weather Event" pushed through the Lake Murray Field Trial Grounds on Friday, March 11 bringing artic temperatures, snow and ice, and strong North winds. This weather event passed through not as bad as predicted so we broke away all bundled up at 8 am on Saturday morning March 12.
Once again, we thank Purina for their continued sponsorship and monetary support of this Derby Championship. Purina also donated ProPlan dog food to the winning canine athletes many of whom are fueled by this premium product every day to keep them performing at a peak performance level.
Judges Ken Windom and Tom Milam were looking for all-age potential with a forward course covering application at an extended range with a reasonable willingness to handle. Though they needed to see a dog point, broke manners were not essential. The two dogs adjudicated as the best exhibiting their criteria were:
The Recognized
Champion: Bottom dog Brace 4 Andre's American Graffiti "Andy", Handler: Steve Chang, Owner: Alan & Tina Morrison, Logan, Utah
Andy moved fast and forward hunting hard with purpose throughout his hour. Andy scored two well-spaced bird finds during his hour; a divided find at 21 and a small covey find at 56 both of which he handled with style and near broke derby manners. Andy's display of a fast intelligent forward race, coupled with his intense style on birds and strong forward finish earned him the well-deserved 2022 Victoire Nationale Championship title.
Repeat Runner Up Champion: Top Dog Brace 4 Piney Run White Lightning, "Buzz", Handler: Scott Johnson, Owner: John Chejne, Sire: Piney Run Jake Dam: Piney Run Candy
Buzz was last year's Victorie Nationale runner up Champion at the tender age of one year old. This year a more mature Buzz exhibited intense focus on the job at hand using his natural physical and mental ability to put down a fast forward intelligent run. Buzz scored three bird finds during his hour. First a small covey at 3, a divided find at 21, and a single at 38 all handled with intense style and good derby manners. At 49 Buzz spent a little too much time and energy trying to capture an armadillo which could have accounted for his somewhat diminished finish. Otherwise, it was an exceptional all age derby performance worthy of the RU Championship
THE RUNNING
Saturday March 12, 2022. Mostly sunny, temperature range 17 to 58, strong gusty SW winds 15-30 mph
Brace 1 Phillips' Sir Louie (Scott Johnson) and Roll On Tank (Steve Chang). The cold windy conditions put these two fireballs in rocket mode at the breakaway and neither were returned to judgement.
Brace 2 Jowill Sweet Mandolin Music "Manie" (Joe Williams) and Roll On "JJ" (Tom Tracy). Was looking like another breakaway runaway until JJ showed up to the front at 17 ready to go to work. Bird finds were posted for JJ at 17, 20 and 50 which he handled with close-to-broke derby manners. Overall JJ had an energetic race and finished the hour strong but his performance lacked directional consistency. Manie never showed up from breakaway and handler requested the tracking device at 20.
Brace 3 Diamond Hill Big Bang (Scott Johnson), and BYE
Bang ran solo this brace and put on quite the bird finding show with well-spaced near broke finds @ 17, 33, 47 and 53. Though Bang moved in a forward direction his range and race lacked the distance and speed expected of a future all age contender.
Brace 4 Piney Run White Lighting "Buzz" (Scott Johnson) and Andre's American Graffiti "Andy" (Steve Chang). Descriptions for this brace are in The Recognized section above.
Brace 5 Glade Run Duke (Tom Tracy) and Noble Southpaw (Steve Chang). Duke went missing early and Noble had a good early run but then had an extended absence, so both were ordered up by the judges at 45.
Brace 6 MK's My Lil Dandee (Scott Johnson) and Saradac's Diamond Facet (Lisa Pollack). Dandee and Facet broke away and headed towards Manck's Crossing. Both exhibited erratic ground races and shortened up considerably at the 45-minute mark, so judges ordered them up.
Second Day: Sunday, March 13, 2022, Cloudy, cold temperatures 35-37, south winds 10 mph.
Brace 7 C V K's Catching Fire (Tom Tracy) and Sniksoh Double Down (Scott Johnson). Down was a bird finding machine logging finds at 5, 13 and 23 but did not exhibit the all age race needed to overtake the leaders at this point so judges requested her pickup at 30. Fire went missing early and tracker was given to handler at 30.
Brace 8 Bullet's Mon Petite Lucy (Vic Carrington) and Wichita Hope (Scott Johnson). Breakaway at 9:45 had both girls surging to the front, separately but both determined to hunt hard and find some birds. Lucy was fast but not as forward as Hope who put down an admirable ground race but had no bird contact. Lucy got sticky and backwards and was lost at 50.
Ardmore, Okla., March 12
Judges: Tom Milam and Ken Windom
VICTOIRE NATIONALE DERBY CHAMPIONSHIP [One-Hour Heats] - 15 Brittanys
Winner-ANDREAS AMERICAN GRAFFITI, 1697074, male, by August Rush-American Honey. Alan & Tina Morrison, owners; Steve Chang, handler.
Runner-Up-PINEY RUN WHITE LIGHTNING, 1694531, male, by Piney Run Jake-Piney Run Candy. John Chejne & Connie McCaffrey, owners; Scott Johnson, handler.