Result: Gulf Coast Open Shooting Dog Championship
Location: Union Springs, Alabama
Post Date: Apr 11, 2022
Submitted By: Ali Blanton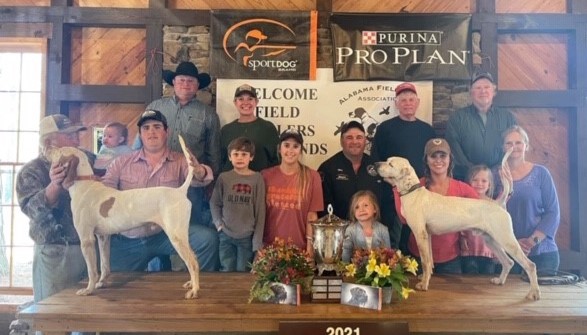 Front Row L-R George Tracy with Miller's Heat Seeker, Amelia Stewart, Jack Kimbrell, Wyatt Puckett, Madison McDonald, Mike Tracy, Casey Hollander with Cheyenne Jack, Briar Rose and Hadley May Hollander, Kay Lawless. Back Row L-R Roger Key (judge), Allison Stewart (reporter), Joe McHugh, Jim Lawless (judge).
The 2021 Gulf Coast Open Shooting Dog Championship began on Monday, November 29 at Conecuh Station in Union Springs, Ala. With each passing year, the hospitality shown by Becky & Tony Gibson only increases as does our gratitude for their hosting of multiple trials on their beautiful plantation grounds. Thank you to Bo Brewer and Anthony Martino and the entire Conecuh Station crew for managing the snappy pines. It is very evident that these men take pride in their work and it is because of their efforts that there are so many open opportunities to see the competitors doing what they love.
Thank you to Fay Duncan, George Cole, and Steve Hutto for rising well before the sun to prepare fresh, hot southern breakfasts each morning. Delicious lunches were prepared by Chef Ban Stewart. Along with Chef Mac Russell, Ban created a magnificent Wild Game Supper that was most certainly one of the culinary highlights of the trial. Lawton Huggins served up his famous Chicken Bog on Saturday night.
A gracious thank you to Bill Clem for driving the bird dog wagon and ensuring we all had plenty of snacks and drinks to enjoy between braces. The Club would also like to thank Purina for their gracious donations and support of this championship and the sport of field trials as well as Jim Morehouse, a longtime friend and supporter of field trials, for his donation for Sport Dog Training Collars to our winners. The champion of the Gulf Coast Open Shooting Dog has their name engraved on a beautiful silver trophy that was donated by Harold Ray Family in honor of Smith Setters.
Roger Key of Beauregard, Alabama and Jim Lawless of Sparta, Illinois presided over the running of the 76 bird dogs entered and gave each dog a watchful opportunity.
THE RUNNING
Miller's Just Plain Rowdy (George Tracy) carded a find at 15. A thick covey rose around him as he stood firm. Handler requested tracker in at Chopper Field's edge at 40. Hatters Storm Surge, setter male handled by Doug Ray, picked up early.
Nonami's Johnny Come Lately (PM/Pierce) requested tracker at 17 at Love Oak
Conecuh Station Trump (ESM/Bo Brewe) carded a find at 54 behind pond dam.
Absolute Dominator (PM/Ray) pointed at 7 below pond by Brother's Resting Place, relocated, and moved on. Charitable Deed (PF/Tommy Rice, Jr.) marked a covey at 11 with Dominator backing below Brothers Resting Place just before heading into the pines. Dominator carded a find at top of hill 18 with all in order. Dominator thanked the judges early.
Deed ended in front at time.
The Winner of the 2021 Gulf Coast Open Shooting Dog Championship was Miller's Heat Seeker, a strapping young orange and white pointer male, owned by Jack and Fran Miller, Dennis Hood, and Muriel and Bill Primm and handled by George Tracy, of Glenville, Pa. His race was strong and forward from beginning to end, making note able swings throughout the course. Heatseeker marked his first scent of birds at minute 6 with his bracemate backing. The long and lean pointer held a statuesque stance as a lofty covey rose to the air. Heat exhibited another handsome find at 25 on New Highway just below Lily Pad Pond. Dashing through the pines, Heat stopped 38 by Chopper Field for his 3rd find followed by a find at 45 in The Oak Bottom.
As we combed the Piney Ridge above The Lake Cabin, scout, Mike Tracy, spotted the champion on point at top corner of The Lake Cabin Dam, just before Big Open Field at 56. Birds were flushed for a fine finish to a beautiful hour.
Grand Prairie Thrill (PF/Rice) and Absolute Tornado (PM/Ray) broke away in The Big Open Field. Rice requested tracker at 20. Ray requested tracker at 40.
Faithful (PF/M. Tracy) and Dominator's Ghostrider (PM/Ray) broke away at Lily Pad heading west into the sun. Faithful carded a find at 1. Ray requested tracker at 11. Tracy thanked judges at 18.
Armstrong Mountain Dustie (PM/M. Tracy) and Showtime Dominator started a cool Tuesday morning. After dashing over both creek beds and rounding The Little Pond, Dustie pointed at 15 on right edge. A smart relocation proved successful. He marked birds again at 20 on the right just before The Ridge at Chicken House Gate with all in order followed by a nice cast over The Ridge. The bracemates stopped at 30 and took a sharp right off Exit Would Alley. Tracy decided to take Dustie on. Ray continued to hunt and suffered an unproductive. We turned into Chopper Field at 45. Dustie made mighty strides up the hill hunting the edges and looping back down, combing the hills at Love Oak. Scout heard calling point on far right hill near Rattlesnake Ridge with a nice covey rise to end the brace.
Hard Truth (PM/Ray) and Miller's Extreme Heat (PF/M. Tracy) broke away at Shop Road. Extreme Heat made lovely casts across road and looped back down hill. Truth pointed at 10 below Little Pond behind The Lake. After a lengthy relocation, Ray elected to moved on. Upon crossing over Big Open Field, Extreme Heat went down hill and pointed on right edge at 16 with success. Hard Truth suffered his second unproductive at 27 on loop before Busters Bottom and picked up. Over creek and into next field, Tracy called point at 38 on left edge rows and thanked judges.
Cape Fear Lucky Stripe (ESM/Ray) and Nella's Belgium Brew (Rice) took off into Pine Ridge above Brother's Resting Place. Both pointed on ridge just before South Pond Dam but relocations failed to produce birds. Nella pointed at 23 at Top of the Hill. Doug requested tracker at 28. Nella at carded a find at 33 corner edge of New Pond with birds up. She pointed again at 40 past Reflecting Pond on left just as course turns right but failed to produce birds.
Sue Macs Tiger Rose (PF/M. Tracy) pointed at 6 in Pines Curve but failed to produce birds. Handler thanked judges at 16. C S Lil Ann pointed at 44 at corner edge of Planted Oaks. Relocated and lifted birds. Lil Ann made a forward cast across Lake Dam and ended in front.
The 11th brace began at Big Open Field. Miller's Braveheart (PM/M. Tracy) was gone at fields edge. Hatteras Riptide, setter male (Ray), pointed at edge of pines just before Shop Road at 20. Determined birds were there, a couple relocations proved the handsome setter right. Riptide carded 2nd find southwest of New Road at 35 with all in order and 3rd find at Dove Fields at minute 42, looking so statuesque. He suffered an unproductive at 56.
Panther Creek Rosie (PF/Rice) marked birds at 2 across Creek Bed with all in order.
High Drive Fancy Pants (PF/M. Tracy) had an unproductive at 5, a find at 16 by water trough on corner of Exit Would Alley, a find at 25 on edge of property line. Bracemates shared a divided find at 42 on Raven's Ridge. Fancy Pants pointed at 50 with Rosie backing on Horseshoe Ridge, but unfortunately their efforts were unproductive. Crossed Rocky Creek and Rosie scored a handsome rise at 58.
Erin's Tough Grit (PM/Rice), had a find at 19. Grit and Osceola's Seminole Wind (PF/Tracy) picked up at 40.
C S Romeo (PM/Brewer/Ray), requested tracker at 14. Miller's Blazing Hot Chick (PF/Tracy), thanked judges at 27.
Oahe Buck (PM/Rice) suffered an unproductive 6 and picked up 43. Bronco Buck (PM/Tracy) picked up at 23.
L F Silverbell (PF/Ray) has a stop to flush at 23 on New Road Apple Annie's Sweet Delight (PF/Martino) showed in front. Requested trackers at 42
Miller's Record Heat (PF/M. Tracy), carded a find at 30 in pines below The Shop. Hillhavyn Drug Runner had a pleasing race and carded 1 find 52 with a lofty rise.
Neely's Business Man (PM/John Neely), pointed at 18 but only found feathers. Scout heard calling point at 45 over Little Green Field in the middle of pines. A relocation proved a lofty rise.
Miller's High Heat Index (PM/Tracy), failed to produce birds at 25 and thanked judges.
Fifty-four and sunny as Dragonfly (PM/Jim Hughes) rounded the corner at 8 by Little Pond and pointed with statuesque success. Dragonfly pointed at 28 off Exit Wound Alley but failed to produce. He carded a find at 45 down below Exit Would Alley. Birds kept rising!
Iron Bully (PM/M. Tracy), was up at 37.
Brace 20 broke away at Love Oak. Sandhill Mayberry (PF/M. Martino), pointed at 4 down hill as course turned left. Martino attempted a relocation but no birds were produced. Mayberry at had an unproductive 59 in the pines just before Little Green Field.
Bittersweet War Cry (PM/M. Tracy) showed in front.
Dubose's What a Dog (PM/Bobby Dubose) had an error and picked up by New Pond.
Bo Bunda (PM/M. Martino) had a successful find at 24 and an unproductive at 42 on New Road.
Miller's Strolling for Gold (PF/G. Tracy) pointed at 24 just off New Road. When handler signaled for relocation, she reveal she had a torn pad and her handler thanked the judges. Hillhavyn Good Time Rail (PF/M. Martino) ended her time at 26.
Dubose's Wonder Dog (PM/Dubose) carded a nice find at 2 by Red Hill with all in order. He pointed again at 8 but thanked judges after movement. Bella Bulli (PF/M. Tracy) suffered an unproductive at 12 and thanked judges at 29 in Piney Hill above Lake Cabin Dam.
Sunbelt's Repeat (PM/M. Martino), showed in front. C S Sam (PM/Anthony Martino) carded a notable find at 35 with a town of quail rising by Little Water Hole.
Backcountry Buddy (PM/M. Martino) marked birds at 6 just before Little Pond with all in order.
Bully Rock (PM/M. Tracy) at carded a find at 10 at the left edge of Pine Fork that led to old 1st course then at 13 on right edge before water trough. Dashing through the pines, he rounded Chicken House Gate Ridge in stylish fashion at 20. Handler called point in corner thicket of Chopper Field. Relocations did not produce birds. Bully made a strong cast across Rattle Snake Hill just beyond Love Oak.
C S Spur, liver and white (PM/A. Martino) and Erin's Big Casino, Black and white (ESM/M. Tracy) moved quickly and beautifully through Big Open Field down into valley. Spur carded a find at 12 with Casino backing on The Ridge. Bracemates ended their time in The Piney Ridge above Lake Cabin.
Panther Creek Merlin (PM/Rutland) carded a beautiful find at 34 just above Reflecting Pond in the Pines. Merlin hunted the cover nicely and ended in front.
Miller's Southern Gossip (PF/G. Tracy) picked up at 36.
Runner-Up went to Cheyenne Jack, a strong and noble pointer male, owned by Bill and Muriel Primm and Sal Moreli, handled by Mike Tracy and scouted by Casey Foster. Jack maintained a consistent forward race and made most graceful swings as he covered the countryside. Jack carded his first find at 29 and another find at 40 on Horseshoe Bend all in order. He shared a divided find with his bracemate at 50 just before Piney Ridge and was running full and forward at pickup.
Twin Willow Ice, a pleasing pointer female, handled by Hunter McDuffie, dashed down lane and pointed at 22 but birds did not show. Willow showed in front throughout her time and made lovely casts around the course.
Miller's Upgrading The Ante (PF/G. Tracy) and Town Creek Hardaway Rad (PM/M. Martino) crossed over Driveway and shared a divided find in pines just before Shop. Ante made an error in movement and ended her bid. Rad carded second find at 45 in the cover below Lily Pad.
Bail Me Out (PM/M. Tracy) carded his at 20 in pines below water tank on Exit Wound Alley. All fine through flush and shot.
The scout was heard calling point for C S Grace (PF/A. Martino) at 23 with all in order. Catching the front, she unfortunately marked flight. Climbing hill to Raven's Ridge, Tracy called point down hill toward power line at 50. A relocation lifted birds.
Sandhill Spud (PM/M. Martino) carded a find at 8. Spud ended his contention at 12 due to lack of manners. Miller's Unbridled Forever (PM/(M. Tracy) had first find at 10. The pointer dashed through pines and beautifully sailed up the hill and around the Chicken House Gate Ridge. Point was called again at 30 corner of water trough and Exit Wound Alley. He made beautiful swings through Chopper Field and up hill. Miller's Unbridled Forever made casts by Love Oak and around Rattlesnake Hill and was hunting in pines before Shop Road at time.
Smooth Talker (PM/Hurdle), and Miller's War Bonnet (PF/M. Tracy) bounded through hayfield and into Buster's Bottom. Smooth Talker hunted on right side in Tio Sento. Came down Pine Ridge and just below Cabin Lake, War Bonnet found birds at 49 and suffered an unproductive at 56. Smooth Talker suffered an unproductive at 52 below Little Green Field.
Rrenrav Mr. Tony's Shag, a handsome (ESM/M. Martino) made valiant strides from breakaway at Big Oak at Dove Field and was not seen again. Way Better Rocky (PM/M. Tracy) pointed at 11 just below Shop with all in order. Rocky pointed at 40 in Chopper Field with success
and again to left of Exit Wound Alley over hill at 54 but failed to produce birds.
S F Full Colors (PF/Hurdle) marked flight at 14 and called it a day at 25. Miller's Big Iron (PM/G. Tracy) requested tracker at 16.
Town Creek Hardaway Jill (PF/M. Martino), carded a find at 4 with all in order in cover just before intersection. Jill called it a day at 40. C S Code Blue (PM/Hurdle), had a productive find at 18 on left thick in cover just before Pop's Creek and again at 33 over Lake Cabin Dam just before Big Open Field. Blue relocated, lifted birds and finished in front.
Stride (PM/Hurdle), pointed at 3 just before Shop. Miller's Locked and Loaded, pointer male carded finds at 16 and 25.
The bracemates shared a divided find at 33 just over New Road. Both pointers pointed at 38 Stride was not pleasing to handler and ended bid.
Hillhavyn's Major Tom (PM/M. Martino) moved on birds at 10. Reedy Creek Dial Tone (PM/M. Tracy), thanked judges at 20.
Erin's Johnny Walker (PM/Hurdle), pointed at 6 below Exit Wound Alley but was not productive. He carded finds at 10 by Chopper Field and again at 36 in front of Love Oak. Ended in front Buster's Bottom. Hillhavyn Drug Money (PM/M. Martino), ended his bid early.
Union springs, Ala., November 29
Judges: Roger Key and Jim Lawless
GULF COAST OPEN SHOOTING DOG CHAMPIONSHIP [One-Hour Heats] - 70 Pointers and 6 Setters
Winner-MILLER'S HEAT SEEKER, 1674886, pointer male, by Just Irresistible-Miller's Bring the Heat. Muriel & William Primm, Dennis Hood & Jack & Fran Miller, owners; George Tracy, handler.
Runner-Up-CHEYENNE JACK, 1668503, pointer male, by Great River Ice-Blaze's Isis. Sal Morelli, Muriel & William Primm, owners; Mike Tracy, handler.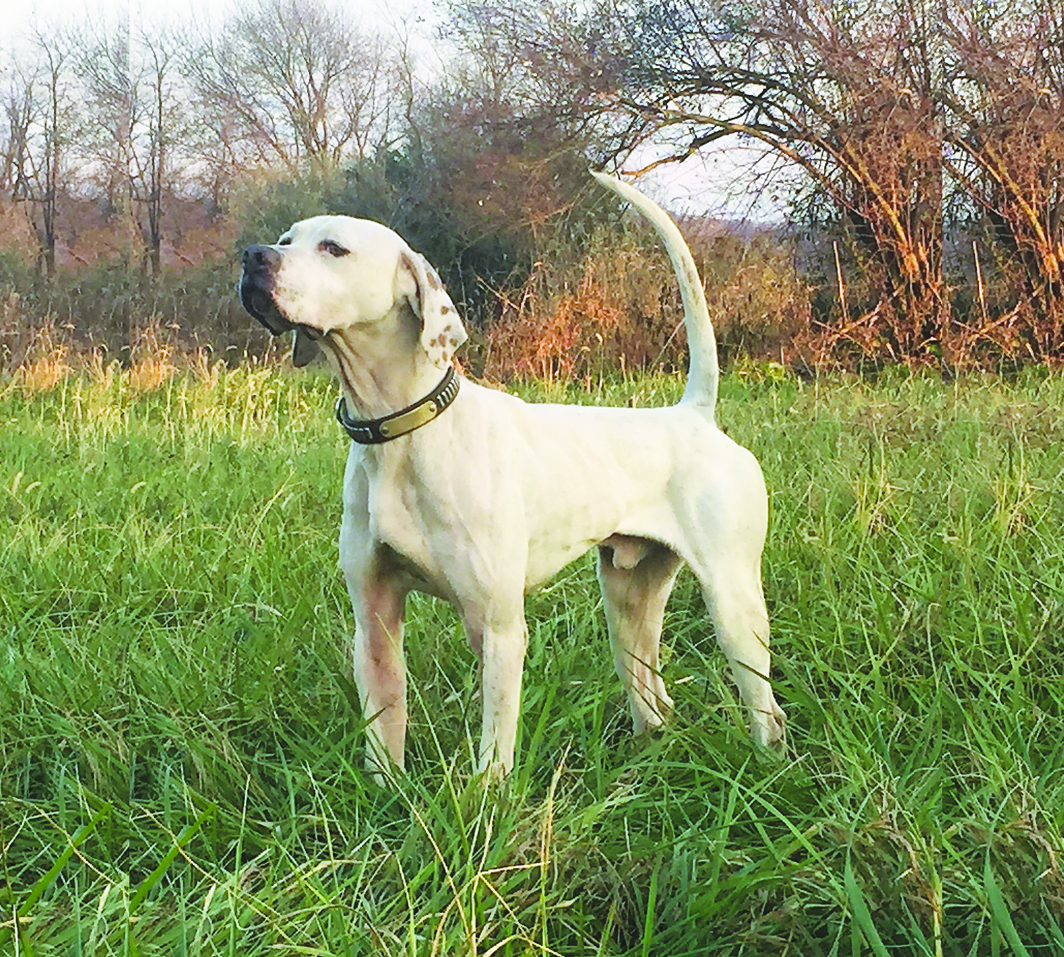 Cheyenne Jack Runner-Up in the Gulf Coast Open Shooting Dog Championship