Location: Lacey Twp, New Jersey
Post Date: Apr 25, 2022
Submitted By: Lloyd Miller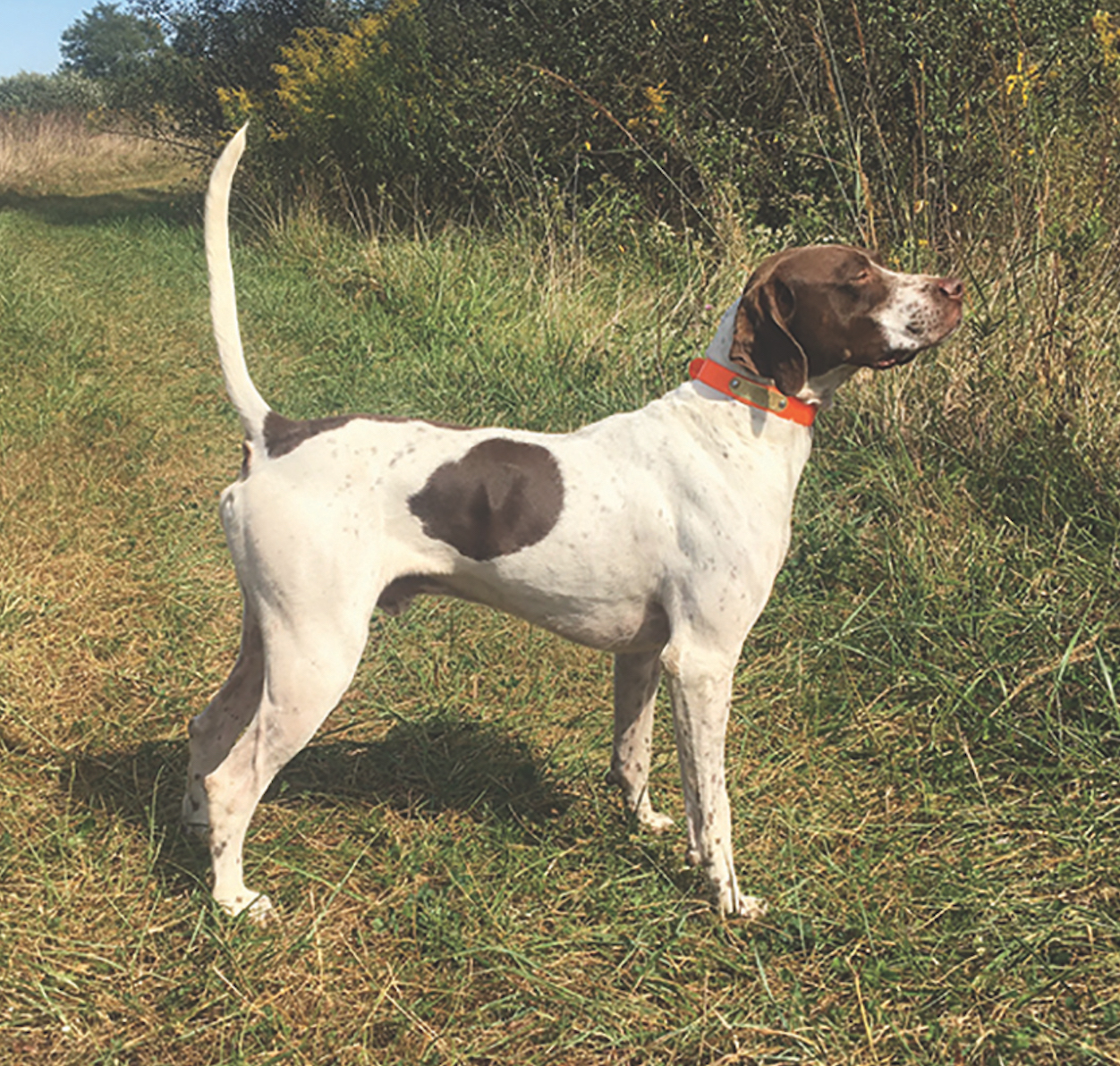 Springflow's Backcountry P Winner of the Region 2 Amateur All-Age Championship
The Region 2 Amateur All-Age Championship was hosted by the English Setter Club of America and ran on the state Wildlife Management Grounds at Greenwood, located in Lacey Township down the road from Whiting, N. J.
Our judges this year for the Championship were Bart Hastings of Seaford, Del., and John Frank of nearby Medford, N. J. Bart is a longtime field trailer and runs some really good dogs and judged in Delaware and Pennsylvania. John is a member of the English Setter Club of America and has judged locally and runs some really nice German Shorthairs. John is getting involved to help run some of the Setter Club trials and served as our trial secretary this year. We thank both of them for their time in the saddle and attentiveness throughout. Their decisions were well received. We also like to thank Purina for their continued support of this championship. Their support continues to make this trial a great success and the dog food to the winners was an added bonus. In addition, thanks go to the owners and handlers for continued patronage of this event. Finally, I would like to thank Joe Cincotta who served as chairman this year, and John Frank as secretary, in addition to Norman and Matt Basilone, Bob Brooks you handled the dog wagon, and other club members who worked behind the scenes to make this one of our most successful trials.
The Region 2 Amateur All-Age Championship with an excellent entry of 26 dogs began Friday, March 18 and concluded Sunday afternoon. The course this was a change up from recent trials here. Due to South side of grounds being burnt by the state this year, we used the outer north course followed by the inner south and inner north courses in continuous fashion. It turned out to be a nice flow to show the all-age dogs and get some really good bird work performances.
The Championship went to Springflow's Backcountry P, five-year-old white and liver pointer male, owned by Chris Catanzarite and Rick Beinhauer and ably handled by Chris. Backcountry P ran in the 7th brace and ran a wide searching forward race in warmer part of day with six stylish quail finds. Runner-up went to Miller's Unbridled Forever, an eight-year-old white and orange pointer male, owned by Great River Kennels of Central Islip, NY and Neil Walker and ably handled by Brian Sanchez. He scored on quail seven times coupled with real nice wide forward race running in the 12th brace on Sunday morning.
Others that completed the hour with some good performances of their own in order of running are the following.
THE RUNNING
Starting Friday afternoon in the 1st brace, Great River Yellowstone under the handle of Brian Sanchez scored three times on quail with one dug up find in deep woods to set the mark early. Backcountry Bruiser, last year's winner, tried to do a repeat for Chris Cantazarite with also a real good race and four strong stylish finds in the 2nd brace Friday afternoon.
The third brace was Limbsmoke Skeet Rock, white and orange setter male, for your scribe with four good finds and a big finish to end the hour and day Friday. Saturday was a warmer day and only the Champion as described above had a worthy performance. Sunday morning, we got back to some really good efforts.
In the 2nd brace Sunday (11th overall) Bo Bunda, pointer male with Chris Catanzarite, and Bella Bulli, pointer female with Ernie Saniga had a nice dual for the hour. Bunda scored five times and Bella had three finds and a back with some standout bird work with birds flying by closed to her stylish stand all in order.
In the 12th brace we had the Runner-up, Miller's Unbridled Forever, as described above and Calico's Over the Top with Alex Smith at the helm. Top ran a good race and scored twice but was out dueled this day by the eventual Runner-up who scored seven times in the hour. It was a good championship and we hope to see everyone back next year.
Lacey Twp, N. J., March 18 - One Course
Judges: John Frank and Bart Hastings
REGION 2 AMATEUR ALL-AGE CHAMPIONSHIP [One-Hour Heats] - 21 Pointers and 5 Setters
Winner-SPRINGFLOW'S BACKCOUNTRY P, 1673025, pointer male, by Coosawhatchie Smooth Ride-Backcountry Bonnie. Chris Catanzarite & Rick Beinhauer, owners; Chris Catanzarite, handler.
Runner-Up-MILLER'S UNBRIDLED FOREVER, 1661404, pointer male, by Just Irresistible-Miller's Bring The Heart. Great River Kennels & Neil Walker, owners; Brian Sanchez, handler.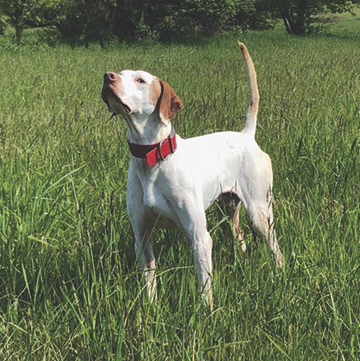 Miller's Unbridled Forever Runner-Up in the Region 2 Amateur All-Age Championship