Location: El Dorado, Kansas
Post Date: May 2, 2022
Submitted By: Jacob Starnes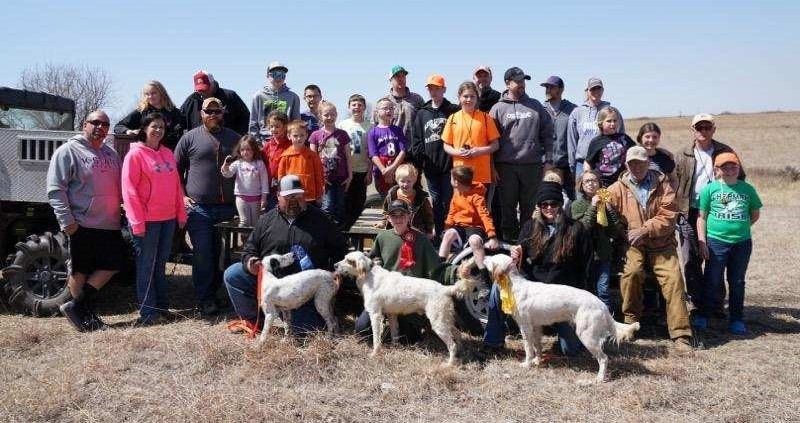 Amateur Shooting Dog: From left: Feldman's Piddly Nico with Travis Feldman; Gun's Pistol Pete with Kaulin Crook; Kuntree Klub Neo with Stacy Rein (With a Cadre of People).
April 2nd, 2022 Seasoned field trialers will often reminiscence about field trials, dogs and people that have bonded them to this sport over their lifetimes. Whether it was winning a championship, a special dog, the friendships formed, or even the tough breaks they've had over the years, they are all emotional bonds that resonate with them. April 2nd, 2022 was certainly a day etched in the memories of many in attendance as well as those competing.
The field trial put on by the South-Central Kansas Bird Dog Club, will be one to remember for quite some time. What began as a small pilot project by the club to recruit, encourage and provide opportunities for new field trailers, the SCKBDC sought out to host its first youth and amateur field trial. Organized to meet the needs of the youth and novice field trialers, it quickly turned into something more than our club could have envisioned. Reminiscent of the movie Field of Dreams, and the quote "IF YOU BUILD IT THEY WILL COME", the SCKBDC received an outpouring of support from the field trial community to help make this event a success. There are many in the field trial community that have a true passion for this sport, who want to see it continue to grow, and are dedicated to providing mentorships to all those who want to be involved in this sport. That passion was on display at this field trial, as there were many members in attendance who are pillars in the field trial community that helped build the foundation for several of the youth and new field trialers in attendance on this day. Starting with Kansas Field Trial Hall of Fame member, Mr. Bob Lais. His involvement and help for those in attendance was paramount, as he was one of the marquee people listed in our advertisement and in attendance. We would like to personally thank him for his presence, as well as being available after the field trial for the question-and-answer session. Other noted KFTCA HOF members in attendance were Mr. Chuck Maxson, Mr. Greg Gibson, and Mr. Bud Moore, who were often laughing and chatting with the youngsters and the new field trialers in attendance. Renowned Pro-trainers in attendance were Mr. Andy Neria (Tegridy Kennels), and Mr. Justin Crook (Powerhouse Kennels) with their families. At one point during the trial there were as many as 30-35 people in the gallery to watch and support the youth and amateur stakes. This speaks volumes to the commitment these individuals have invested into this sport.
We often talk about the fingerprints we leave on our dogs through our interactions and training with them over their lifetimes. But, in comparison the fingerprints left on the youth and novice handers at this trial, will cast the mold for generations to come. In ten, fifteen, even twenty years from now, many of us won't be able to remember what specific dog won a championship in 2022, but we will remember images from April 2nd, 2022. Frank Schoenborn walking hand in hand with his granddaughter Leah Schoenborn as they flushed a bird in front of Sue for the first time. Bob Lais' huge smile from the gallery as he watched his granddaughter Madison Lais handle Brody while she navigated him around the course. Chuck Kenney, walking with this daughter Madison Kenney while all of his family watched from the dog wagon. Justin Crook, cradling Lyla in the gallery while proudly watching Kaulin handle his dogs like a seasoned pro. Abraham Starnes, competing in his first field trial and getting to handle his own dog for the first time. Brad and Terry Taylor, watching Julia Taylor handle Budd in her first field trial. Mia Starnes' embarrassed face when she received a youth participation medal, (which may not have been age appropriate for a high schooler). Bob and Stacy Rein, and their dog Neo, competing in their first field trial and having success. Jameson Smith, handling Neo while his family watched in satisfaction. Clint Merritt hugging his son Landry after winning the youth stake. Travis Feldman and his dogs Nico and Gabby compete in the trial with dogs that demonstrated they belong in the mix. Rick Wheeler, and his Brittany Bessie that proved she has what it takes to get to the next level. Lastly, all of the kids playing in the creek and enjoying the outdoors without any electronics found in sight! Most at the trial said attending this event was more satisfying and enjoyable, than going to a trial that crowns a champion at a national event, and we'd have to agree. All of us are empowered to make a difference in this sport and to take someone under our wing to mentor. A mentor can be anyone. Even a person doing something as simple as saying hi or shaking the hand of a new person in attendance can go a long way. Letting them know they are always welcome in this community, you are available, and that we take care of one another because we are a family. A special thank you, and a debt of gratitude goes out to our Judges specifically, Bob Brown and Jason Patty. We also would like to thank Mr. Jason Patty and family for allowing the SCKBDC to host trials on the Skyview Setters Farm; Gretchen Patty and Audrey Kenney for preparing lunch provided by Skyview Wagyu. Chuck Kenney; Marshall, Bird Planter and Gallery wagon. Jacob Starnes for working to secure sponsorships and support for the prizes and giveaways used in this trial. Jacob Holem for taking pictures of our event. Frank Shoenborn for providing use of his Ranger, and John Starnes for helping out in many areas as well. As most know, amateur field trials rely heavily on donations and sponsorships from major organizations, and without these donations, hosting an event of this magnitude in our area would not be possible.
The SCKBDC was very fortunate to receive an outpouring of local and national support to help sponsor our event. These companies provide a direct, positive impact on the field trial community, and are dedicated to emphasizing their passions for the outdoors. We would like to thank the following sponsors for making our event a huge success: Purina Pro Plan, for continuing to support the NBHA and the and the Field Trial sport. With over 500 scientists, nutritionists, and vets on staff, Purina Pro Plan's relentless focus on nutrition, quality and safety is why Pro Plan remains the top supplier of performance nutrition for hard working, competing hunting dogs. Steve Snell and Gun Dog Supply, whose passion and commitment to the bird dog world is unrivaled, by providing quality do and field trial supplies with fast, friendly service. Gun Dog Supply continues to support the NBHA, and our competitor's year after year. Please show them your support the next time you are in the market for any of the products they sell. OnX Maps, onX products are built by adventurers, for adventurers. Our current suite of navigation apps includes onX Hunt, onX Offroad, and onX Backcountry.
We believe that every adventurer needs to know where to go, to know where they stand, and to be able to share their experiences. Mr. Mike Franklin of Mule Brand Clothing, by providing quality clothing at affordable prices made here in the USA hunters for over 38 years. Providing briarproof clothing and mix of outdoor clothing for all sorts of environments and conditions - from hunters in briars to hunters wading creeks to forestry personnel, farmers, motorcycle riders, and utility workers. Skyview Setters, who is committed to producing quality English Setters that excel in the field. Skyview Setters' breeding program produces classy bird dogs and companions. Whether in the field or at home, Skyview Setters are a pleasure to be around. SkyView Wagyu, Located in El Dorado, KS Skyview Wagyu offers Fullblood Akaushi cattle in a variety of different options suitable to your needs. Kenney Setters, Superior English Setters, with focus on breeding high quality puppies for performance in the field, and companionship in the home. The winners A picture-perfect backdrop of a day was in place for the field trial held on April 2nd, 2022 by the SouthCentral Kansas Bird Dog Club at the Patty Farm. A brisk morning, with highs in the mid 60's, and low winds out of the north, provided the ideal setting for these dogs. The following wins were recorded by these fine dogs, handlers and owners. Gun Dog 1. Nico - Travis Feldman 2. Pete - Kaulin Crook 3. Neo - Stacy Rein Youth Gun Dog 1. Chief - Landry Merritt 2. Neo - Jameson Smith 3. Brody - Madison Lais Puppy 1. Bessie - Rick Wheeler 2. Storm - Bob Rein 3. Dexter - Brad Taylor.
El Dorado, Kan., April 1 - One Course
Judges: Bob Brown and Jason Patty
NBHA AMATEUR SHOOTING DOG - 1 Pointer, 4 Setters and 1 German Shorthair
1st-FELDMAN'S PIDDLY NICO, 1697268, setter female, by Tomoka's Frozen Replica-Morris Flinthills Remi Teen. Travis Feldman, owner and handler.
2d-GUN'S PISTOL PETE, 1667396, setter male, by Barker's Big Coon-Carpenter's Daisy Duke. Colby Tackett, owner; Colin Crook, handler.
3d-KUNTREE KLUB NEO, 1698698, setter male, by Barbaro's Southern Buster-Rocky Mountain Morris. Robert Rein, Jr., owner; Stacey Rein, handler.
NBHA AMATEUR PUPPY - 2 Pointers, 2 Setters, 1 Brittany and 1 Irish Setter
1st-WHEELER'S BEATIFUL BESSIE,
Brittany female, by Jax's First Run-Muddy Creek Hammering Honey. Rick Wheeler, owner and handler.
2d-KUNTREE KLUB STORM, 1697491, setter female, by Caprock Stetson-Caprock Sunrise. Robert Rein, owner and handler.
3d-DEXTER REDDOG TAYLOR, 1695641, Irish setter male, by Waycross-Stilleto. Brad Taylor, owner and handler.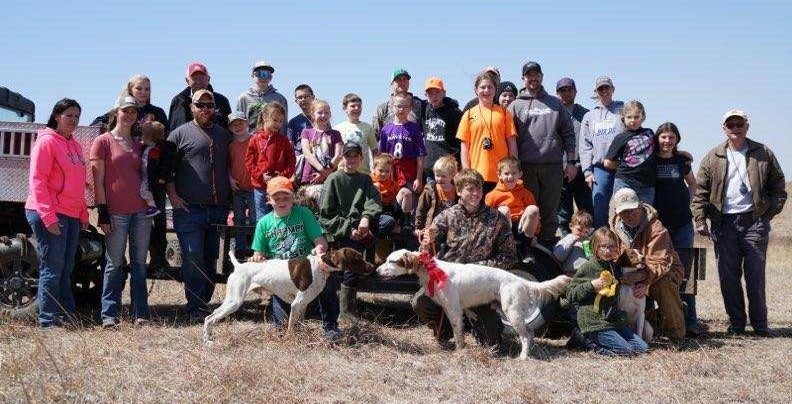 Youth Gun Dog: Left to Right - Chief - Landry Merritt; Neo - Jameson Smith; Brody - Madison Lais (With a Cadre of People).