Location: Union Springs, Alabama
Post Date: May 3, 2022
Submitted By: Lisa Littell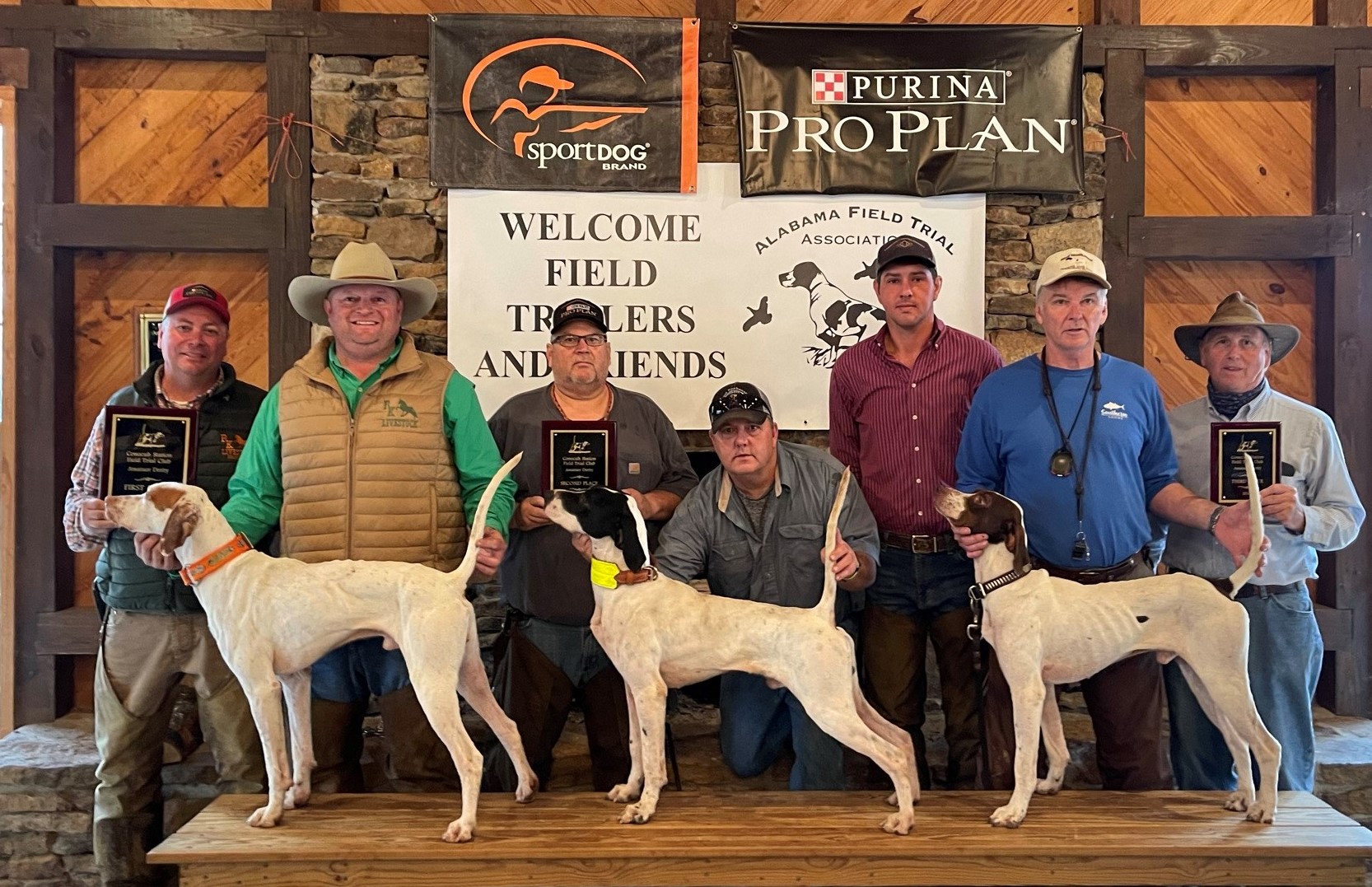 Amateur Derby. From left: Alan Atkins, Roger Key with Erin's Young Offender, Sean Hauser, Jerry Alden with Hauser's Rollin' Thunder, Harrison Lee (Judge), Darron Hendley with Pineywood's Legacy, Joe Varner.
The Conecuh Station Amateur Derby, held on the renowned Conecuh Station Plantation began on Friday, December 10, 2021. It was 62 degrees with a light mist after a heavy rain Thursday night. In an effort to avoid a washout in the big bottom we the first brace was turned loose at the intersection of Ravens Dirt Pit Road and the Sand Road. Harrison Lee of Pike Road, Ala., and Will Dunn of Lebanon, Ky., served as judges.
Darron Hendley handled the graceful Pineywood's Showstopper "Priss" Gabe Renfroe assisted as scout. Pat McPherson with his wife Mary as scout brought the promising ID Claire. Both dogs made the turn headed to Raven's Ridge. Halfway up the ridge, Priss locked in, and Hendley fired. Priss stopped again before The Turn in an attempt but none were to be roused. She went on and glided around The Turn like oil on glass. Claire popped out on Bird Alley and had a relocation on the left before the intersection of the Sand and Shop Roads but the birds were uncooperative. Claire made a swing by Redland Road, and Priss hunted deep, and we ended where we began. Out of sight at pick up, the officials waited patiently for Priss, but the tracker was ultimately relinquished. She was found on point to the far right towards Redland Road, no doubt hunting for the covey from her impressive limb find at the Conecuh Open in October.
The second Derby brace had the McPhearsons back on the line at the Chopper Field with Gusto, paired with past AFTA president Alan Atkins and Erin's Young Offender "Ty", with Roger Key scouting. Roger just finished judging the Gulf Coast Open Shooting Dog Championship the past Sunday. The Gulf Coast drew a record breaking 76 entries in this year's renewal, so no doubt Eagle Eye Key knew where to look!
Both dogs popped out at the green field headed toward the Love Oak and made their way down the course. McPhearson called point for his young Gusto at 12 on the hill just across the creek headed to the Love Oak, but unfortunately, relocation efforts went unheeded by birds.
Gusto hunted deep around Love Oak Ridge, and Ty made an impressive cast through to Silage Pit Road. Atkins shot for Ty at 14, and all was as it should be for this promising derby. Ty again made a classy showing through the woods headed to the Cabin Crossing. Ty made an impressive dash across to the lake and headed to the Old Ivey place like a dream. Gusto was out of contention at 25.
Sean Hauser and Jerry Alden travelled from Georgia to turn loose Maverick, and Hendley was back on the line with his impressive Pineywoods Legacy "Will". Maverick made a nice showing headed toward the north end of the Lake. Will was already cast at the South Pond Dam at 2. Maverick made a fine showing up the West Lake Ridge;the now piney wooded ridge West of the Lake was once a thriving hayfield.
Both dogs made the left turn at the South Pond dam. Will showed nicely headed towards the Bill Perry Bird Flush maverick had an impressive covey at 20 headed past the edge of the Sawtooth Oak Flat, and Will popped out at the crossroads. Time was called, and these two all-age derby contenders were up near Pickett's Big Oak.
McPherson with Ritz, and Hauser with Duke, turned Brace Four loose at Pickett's Big Oak. McPherson called Point for Ritz right of the breakaway to what was discovered to be Duke's provenance, and Ritz backed. Relocation was unsuccessful, but the birds eventually flew for the gallery. Both dogs made a nice showing in the Northeast Wood by Pickett's Road as we turned toward the shop. Both dogs showed promisingly at the intersection at the Water Tank Crossing. As we headed toward the Lilly Pad Pond and Bird Ridge, we suspect the dogs took a detour by Exit Wound Alley with Duke checking in near the New Pond Road. Duke ended with a beautiful find near Log Cabin Road. Ritz was seen at time.
Cinching the first place spot in the Derby stake was Erin's Young Offender, followed by Hauser's Rollin' Thunder with Pineywoods Legacy taking third!
The Amateur Shooting Dog Stake began Friday afternoon with Susan Wells handling One Penny Moore and Todd Montgomery with Sandspur Belle. With the sun starting to peek out, we were met with an unseasonable 75 degrees.
Susan called point for Penny at 5 at the top of the hill before Aunt Marie Law's Pond, but despite her stylish manner, suffered an unproductive relocation. She made a nice cast at the edge by White Sandy Creek at Jackson's Bottom. Penny found a nice covey as we entered Beaver Pond Bottom at 37. Susan again lifted her hat at 45 at the Egyptian Wheat as we entered the Original Omer Gibson Property, but despite her graceful stance went without game this windy afternoon. Todd was on his own, and after a picturesque effort on the North side of the lake, we were up at the Comer Green Hayfield.
Brace two loosed at the Comer Green Hayfield with Hutto and Towncreek Rebel flying solo.
After coming down with a non-serious illness, bracemate Panther Creek Rose was forced to scratch. Rebel had a nice find at 14 East of the Shop on the Tom Cope place. Staying to the front and minding his handler Rebel maintained a steady course, worked the cover and hunted diligently. The scout called point at 49 at Bird Ridge, but his game wouldn't fly, and Hutto called it quits.
At an eerie 72 degrees, rains were in the forecast Saturday morning, and Shenandoah's Rook card with Braden Renfroe and Jerry Alden with Maverick were on the line for Brace three. Both handlers called point at the right end of the Chute. Rook showed nicely headed to Raven's Ridge. Maverick, promising young derby, and aptly named.
Brace four turned loose at the Big Pine. Joe and Tricia Rentz brought Rentz's Tipped Up. Braden Renfroe brought Sandhills Buddin' Up. Joe had a good find on the left at 2 behind the Egyptian wheat. Braden's dog did not make the Turn, and the tracker was taken at 15.
Tricia called point at 16 off to the left, deep off the road across from the intersection of the Sand and Shop Roads, and Joe roused a magnificent covey. Joe called point at 25 to the left at the turn to the Chopper Field and scored big on relocation. Tip had a nice find at 40 to the left of the green field at Red Hill, followed by a nice cast across Love Oak Ridge with a huge covey at the top to a strong finish at the Cabin Crossing.
Brace five turned loose at the Cabin Crossing. In an effort to avoid the deluged big bottom flood we took the Comer Green Hayfield to the North Pond Dam and edged the top of West Lake Ridge and turned left down past the Cemetery. Susan Wells was running as a bye due to her brace mate's scratch and was up at Pickett's Big Oak.
With dangerous thunderstorms rolling in, the afternoon was called.
Strong rains through the afternoon and evening dropped the temperature to more December-like weather, and it was 44 degrees and sunny on Sunday morning. Justin Green and his Rose were solo in the Sixth, and she was off like a dash, and the tracker was retrieved at 23.
Brace seven loosed at the Big Pine with Justin Green and Speck meeting Touch's High Hope with Marty Robinson and ended at North Pond Dam
Ted Roach and Justin Green were on the line at the South Pond Dam for Brace eight with Speck and Erin's Johnny Walker. Green called point at 6 between the Cemetery and the Bill Perry Bird Flush but was unproductive.
Ted Roach with Meadowwoods Fast Break and Justin Green with Josie were styled up for a show after lunch. Both dogs stopped at 7 at Aunt Marie Law's pond Justin attempted to relocate but to no avail. There was vocal interference from a nearby canine, unrelated to the trial or grounds that was credited with the interlude. As we headed northwest towards the Airport, the dogs hunted east, and after strong efforts by both scouts, scout Morgan Brewer brought Fast Break around. Ted called point right before we reached Pickett's Road at 39 with a successful relocation.
The last Brace of the trial turned loose at the North Pond Dam. Marty Robinson and Braden Renfroe were on the line with Packin' a Punch and Twin Willow Passion "Dot", respectively. Packin' a Punch had an impressive effort but was up at 40
Team Cecil was on the way back from an impressive performance at the Invitational in Georgia, but Dot was here to represent! And represent she did! Dot swung the left edge of the Comer Gibson Hayfield with a good covey at 25 in the Egyptian wheat between Pickett's Road and the Twin Oaks. She scored another good find at 30 and relocation at 32 followed by another beautiful covey at 37 in the woods headed to Pickett's Bottom and again another at 43 at Pickett's Big Oak. Dead up in it in, she was strolling towards the Airport, slowing only to claim another covey at 55. She laid it back again, and time was called.
The final, and winning performance ensured Renfroe and Dot the number one spot, and Renfroe, former Alabama Youth Handler of the Year, had crossed nobly, and firmly, into a new league. Joe Rentz and Tip took second, with Meadowwoods Fast Break taking third.
We continue to be bereft of sufficient words to properly thank Tony and Becky Gibson for their continued efforts and support of field trials. Robert Moorer and the reporter, who were appointed to the board by Tony Gibson after the Conecuh Station Open, served as Marshals and handled the nitty gritty. Jayme Leigh Chittam again assisted with the drawing, which was held at the Union Springs Country Club the Tuesday prior. Breakfast was prepared each morning by George Cole and Steve Hutto. Scott Hasson and Selena Moorer put on a barbecue chicken dinner on Saturday night. The club provided sandwich trays for lunch of Friday, and Lawton Huggins prepared a delicious Saturday lunch. Joe and Shirley Varner provided the send-off lunch Sunday. Renee Peek secured plaques for the winners!
The club and participants would like to thank Purina for their support in providing the ad and dog feed for the winners.
Union Springs, Ala., December 9
Judges: Will Dunn and Harrison Lee
AMATEUR DERBY - 8 Pointers
1st-ERIN'S YOUNG OFFENDER, 1692325, male, by Erin's Redrum-Erin's Irresistible Bess. Alan Atkins, owner and handler.
2d-HAUSER'S ROLLIN THUNDER, 1690733, male, by Rocky Ridge's White Smoke-Gambler's All In. Sean & Debra Hauser, owners; Sean Hauser, handler.
3d-PINEYWOOD'S LEGACY, 1689944, male, by Panther Creek Merlin-Pineywoods Belle Aire. Darron Hendley, owner and handler.
AMATEUR SHOOTING DOG CLASSIC [One-Hour Heats] - 19 Pointers and 1 Setter
1st-TWIN WILLOW PASSION, 1675712, pointer female, by Lester's Prime Poison Lane-Sedgefield's Silverstone. Addison McDuffie, owner; Braden Renfroe, handler.
2d-RENTZ'S TIPPED UP, 1687037, pointer female, by Redland's Jacked Up-F F Bit O Honey. Joe & Tricia Rentz, owners; Joe Rentz, handler.
3d-MEADOWWOOD'S FAST BREAK, 1662989, pointer male, by Caladen's Rail Hawk-Caladen's Supremacy. Theodore Roach, owner and handler.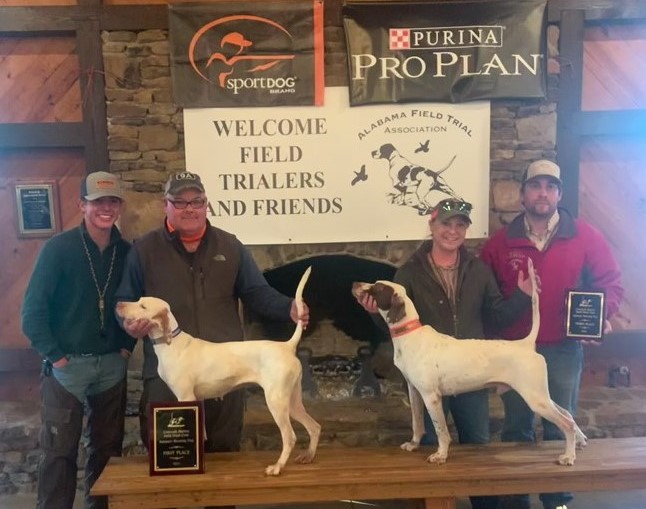 Amateur Shooting Dog Classic. From left: Braden Renfroe, Robert Moorer with Twin Willow Passion, Morgan Brewer with Meaddowwood's Fast Break, Ted Roach (Second Place not pictured).