Location: Waynesboro, Georgia
Post Date: May 4, 2022
Submitted By: Judge Mark Calder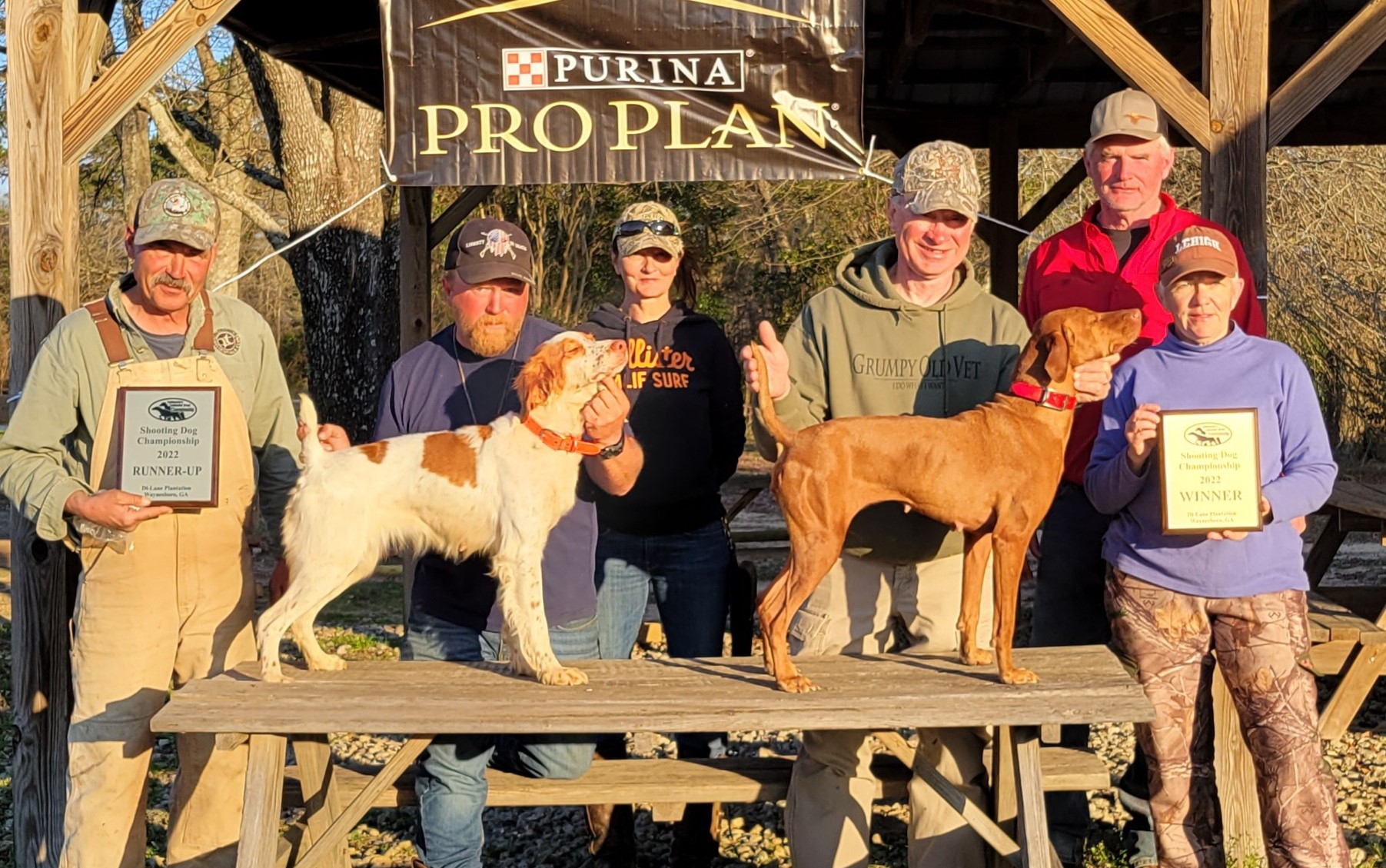 From left: Ben Lorenson, Kyle Merrill with Alpine's Mischief Manged, Meredith Mays judge, Chad Chadwell with Piney Run Candy, Mark Calder judge and Karen Concilio.

The Southeastern Continental championship drew 38 dogs of which 37 ran. The winning dog was Alpine's mischief managed (arya) handled and owned by Karen concilio. Arya ran in the 5th brace of the day. Arya was fast and forward throughout her brace. She was found by her scout Chad Chadwell at 19. She was found again by her scout on a wild covey at 38, with a large covey of birds making flight. Arya was found again to the front at 52 with another stylish find. Time was called at 60 minutes and after a prolonged search Arya was found standing to the front.
Runner-up was Piney Run Candy, a 3 year old brittany female, owned by Martha Greenlee and handled by Ben Lorenson and scouted by Kyle Merrill. Candy ran in the 11th brace as a bye dog. Candy ran fast and forward race. She was found at 9 by her scout Kyle Merrill. At 16 she was found again. After breaking away and making a large cast up the left side she was found standing again. Her credited 4th find showed her great bird manners and intensity as she stood through multiple birds walking in front of her. She finished strongly to the front to be found standing for her 5th and final find. She was a ensure to ride behind as she flowed through the course with a pleasing and mature pattern.
Wayneboro, Ga., February 18 - One Course
Judges: Mark Calder and Meredith Mays
SOUTHEASTERN CONTINENTAL CHAMPIONSHIP [One-Hour Heats] - 37 Entries
Winner-ALPINE'S MISCHIEF MNAGED, 1665247, Vizsla female, by Mackey's Trail Blazing Sitka-Vanguard's Stela the Tornado. Karen Concilio, owner and handler.
Runner-Up-PINEY RUN CANDY, 1689356, Brittany female, by I'm Your Man-Piney Run Sugar. Martha Greenlee, owner and handler.