Result: NBHA Southern Regional Championship
Location: Glenwood, Georgia
Post Date: May 9, 2022
Submitted By: Ray Brown
Championship Winners. Front, from left: True Confidence with Jillian Stuhr, Alpine's Mischief Managed with Jessica Rutland. Standing, from left: Andy Erne, Karl Forsberg, Bobby Phillips, Zach Erne, Garry Malzone, Darrell Gunby, Buck Daniels, Ray Brown, George Hickox (judge), Debbie Ozner (judge).
The 2022 National Bird Hunters Association, Southern Regional Championship began January 28, 2022, hosted by the AG Preserve Field Trial Club on their grounds in Glenwood, Ga. The judges for this year's event were George Hickox of Pittsburg, Pa., and Debbie Ozner of Ochlocknee, Ga. Both gave full attention to their officiating duties and their decisions were well received.
Landowners and hosts Darrell, Sharon and Payton Gunby warmly welcomed trialers with superb accommodations and hospitality. Each year Darrell continues to develop the grounds through continued clearing, fencing and water crossing improvements. A spacious clubhouse with restrooms, shower and fireplace had been opened just before this trial and served as a gathering point and social hub for participants and visitors. On Friday evening, we were treated to a delicious pork barbeque supper along with a gathering around the fire pit at the Gunby's nearby residence.
We especially want to thank the sponsors that help make these trials possible including Purina Pro Plan, Garmin, Gun Dog Supply, Mule Brand Clothing, OnX Hunt and Gundog Central. Gifts for this year's winners and participants were provided by Purina Pro Plan, Garmin and Gun Dog Supply.
Handlers from Georgia, Ohio, South Carolina, Tennessee and Georgia supported this year's running with 52 dogs drawn. Also, as we continue to grow older, it was especially refreshing to have a large contingent of "under 30 year old" handlers and scouts to carry on our tradition.
Championship Stake
The champion and runner up both came from brace 7 on Friday afternoon. Pure Confidence (Garry Malzone) is a liver & white pointer male owned by Ed Marron, John Bleeker, John Avanzato and David DeVries of Black Meadow Kennels and scouted by Jillian Stuhr. Last year on these grounds, he scored the RU-CH at the 2021 renewal on his way to achieving the NBHA National Open Dog of Year in 2021. The runner up, Alpine's Mischief Managed (Buck Daniels) is a vizsla female owned by Karen Concilio of East Dublin, GA and scouted by Jennifer Rutland.
Breaking away on a cool afternoon with sunny sky and light wind both dogs headed west into the open piney woods at the breakaway. Pure Confidence scored first with a single along the waterway edge at 5. Heading up a small hill, both dogs were found standing in sedge grass at 8 for a divided find. Both dogs proceeded independently through the recently cleared pines and on through the powerline cut. At 21, Alpine's Mischief Managed scored again with a single in the grass, all in order. At 30 both dogs were found to the front pointing in an old fencerow for a divided find. Next to score was Pure Confidence with a find on course left at 43 near camp with Alpine's Mischief Managed backing. Heading back west both dogs hit the pines and headed uphill on the right of course. When handlers topped the hill at 53 both were located on point with separate finds and multiple birds leaving on the flushes. With the dogs quickly watered the handlers turned loose and headed back into the open pines with both dogs continuing to hunt energetically and forward reaching until pickup was called.
Other entries that should be mentioned were Crow Creek Touch (Daniels), Home Cooking Ellie Mae (Forsberg), Larry Creek's Beau (Gunby), Caird's Lefty (Ridings), and Georgia Born Windstorm (Ridings).
Open Derby
There was a good entry of derbies this year ready to show off their potential. First place went to Chippewa's Dog of War (Zach Erne) with one find and a big forward race. Eshod's Sparks A Flying (Rebecca Avrett) captured second with a stop to flush and a nice forward race. Third place went to Dogwood Hills Sunrise Ruby (Buck Daniels).
Thanks again to the participants, landowners and sponsors for making this a successful event.
Glenwood, Ga., January 28 - One Course
Judges: George Hickox and Debbie Ozner
NBHA SOUTHERN REGIONAL OPEN SHOOTING DOG CHAMPIONSHIP [One-Hour Heats] - 30 Entries
Winner-PURE CONFIDENCE, 1660531, pointer male, by True Confidence-Richfield Rose. Black Meadow Kennels, owner; Garry Malzone, handler.
Runner-Up-ALPINE'S MISCHIEF MANAGED, 1665247, Vizsla female, by Mackey's Trail Blazing Sitka-Vanguard's Stella The Tornado. Karen Concilio, owner; Buck Daniels, handler.
NBHA OPEN DERBY - 14 Entries
1st--CHIPPEWA'S DOG OF WAR, 1691401, pointer male, by Miller's Speed Dial-Bonner's Snow Angel. Geoff Johnson, owner; Zach Erne, handler.
2d-ESHOD'S SPARK'S A FLYING, 1696974, pointer male, by Larry's Creek Beau-That's My Q. Dr. Kenneth Block, owner; Rebecca Avrett, handler.
3d-DOGWOOD HILL'S SUNRISE RUDY, 1Vizsla female, by Jessica Rutland, owner; Buck Daniels, handler.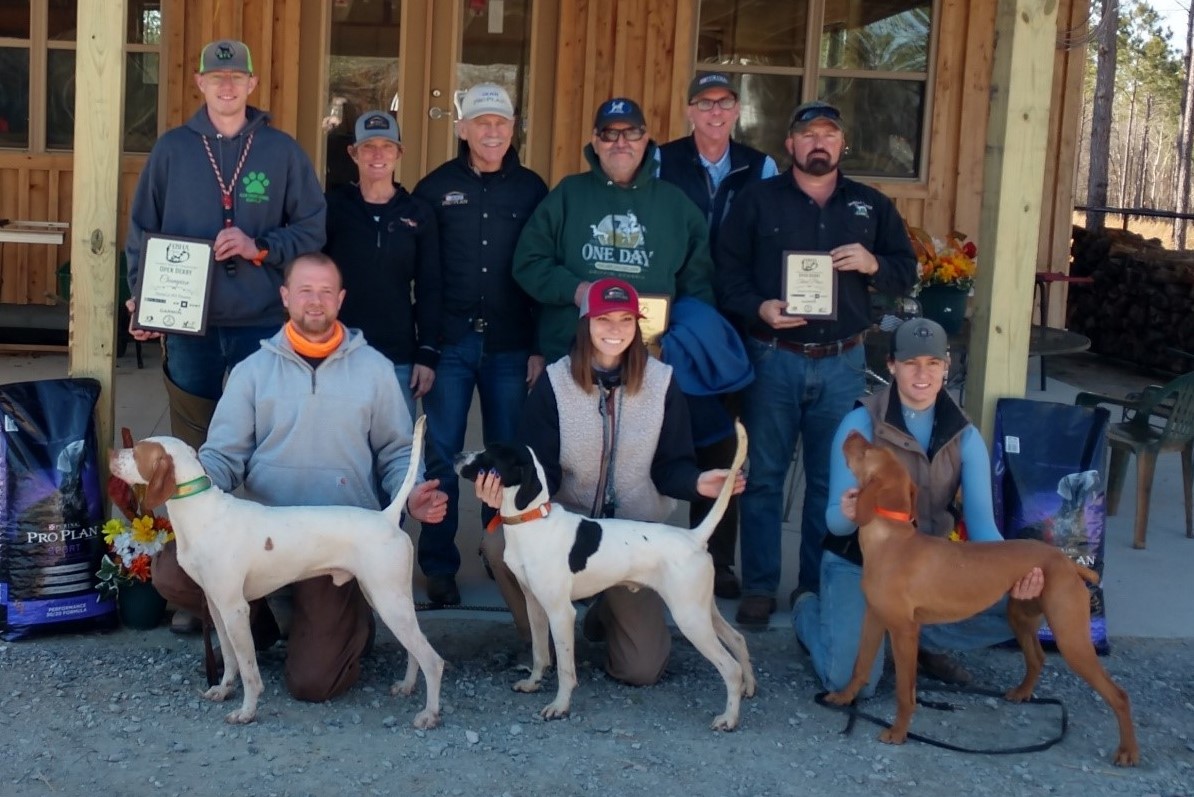 Derby Winners. Front, from left: War with Andy Erne, Sparky with Rebecca Avrett, Ruby with Jessica Rutland. Back row, from left: Zach Erne, Debbie Ozner (judge), George Hickox (judge), Ray Dohse, Ray Brown, Buck Daniels.
Judges: Ray Brown and Paton Gunby
NBHA OPEN PUPPY - 8 Entries
1st--ARCO, setter female, by Zach Erne, owner and handler.
2d-ESHOD'S VAN HALEN, German Shorthair male, by Rebecca Avrett, owner and handler.
3d-INDIAN CREEK PINEAPPLE, 1697900, pointer female, by Indian Creek Perfect Storm-Indian Creek Ramona. Garry Malzone & Jillian Stuhr, owners; Garry Malzone, handler.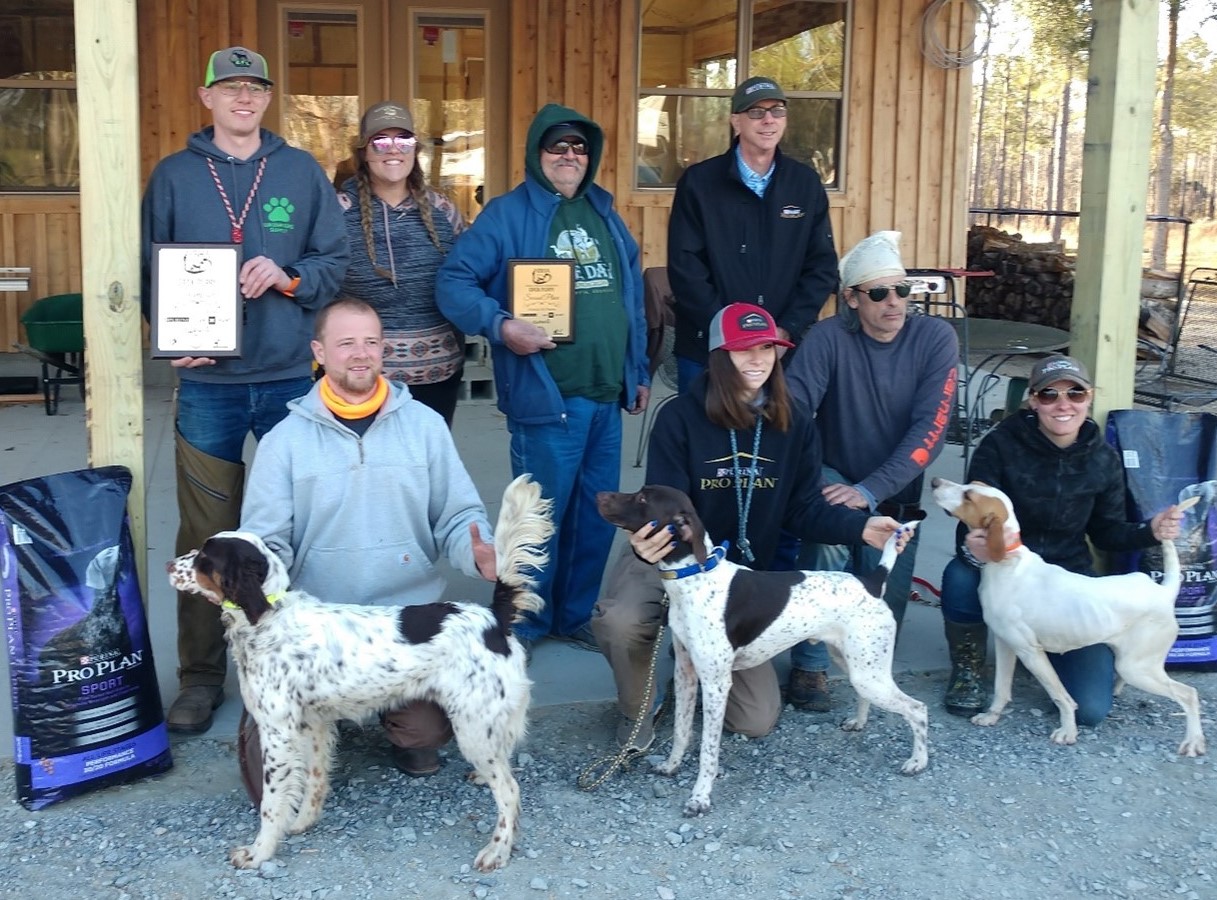 Open Puppy Winners. Front, from left: Arco with Andy Erne, Van with Rebecca Avrett, Garry Malzone, Pineapple with Jillian Stuhr. Back row, from left: Zach Erne, Payton Gunby (judge), Ray Dohse, Ray Brown (judge).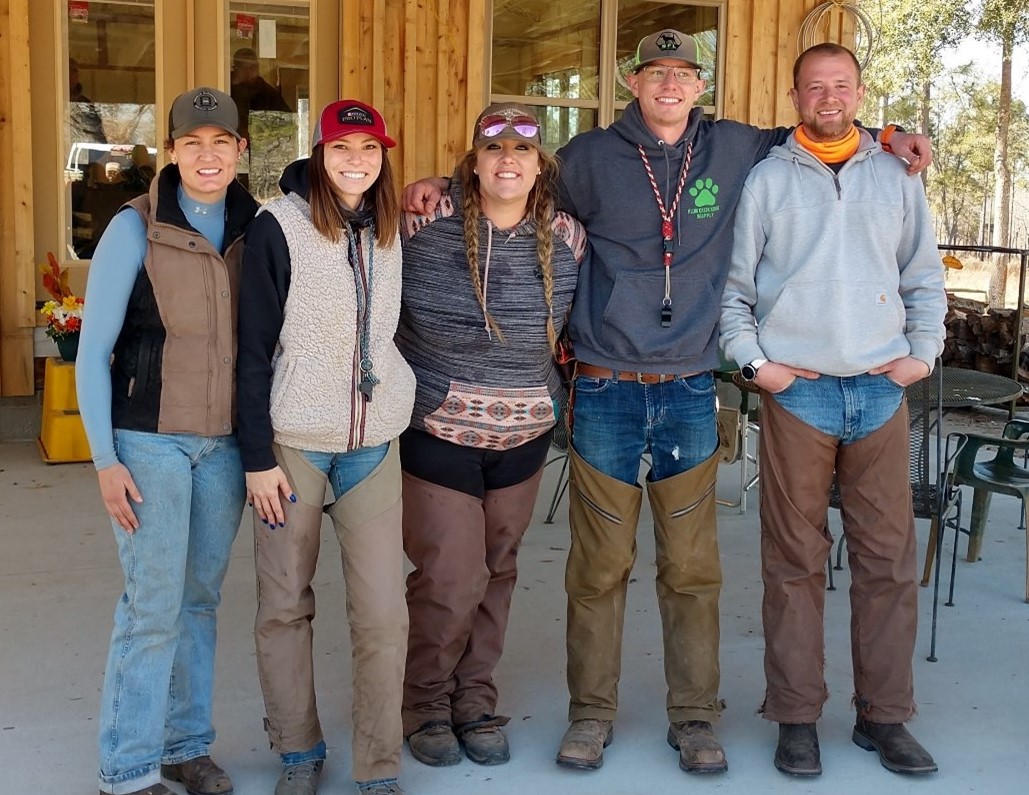 The "Under 30" Handlers and Scouts Club. (L-R) Jessica Rutland, Rebecca Avrett, Payton Gunby, Zach Erne, Andy Erne.