Event: Dave Pomfret Memorial Field Trial
Result: Chickahominy Field Trial Association
Location: Caret, Virginia
Post Date: May 21, 2022
Submitted By: Meredith Jones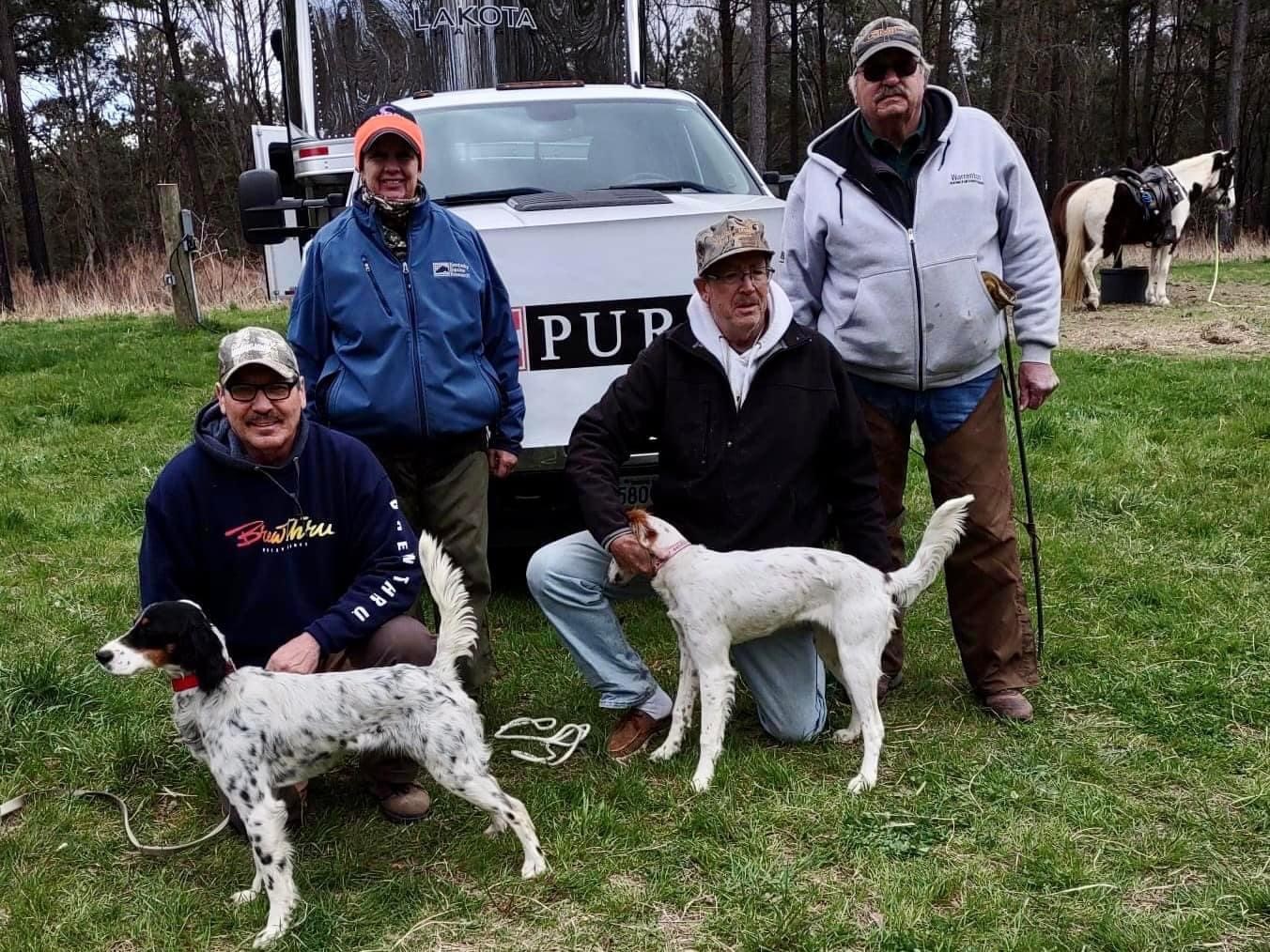 Am. Puppy Winners. From left: Back Creek Suzie with Stevie Graham, Willow Oak Star with Ray Forner, Mobjack Bunny Girl, not pictured. Behind: Judges: Sharon Townley and Phil Rutter.
It was a day "from all seasons", it was warm and it was cool, it was cloudy and it was clear, it was calm and it was windy and we had short spells of lite rain and even a lite snow shower after the trial, but most of all it was a lot of fun for all who attended.
We ran this trial in memory of Dave Pomfret, a professional trainer and the upland manager of the Blanfield Plantation Hunting and Shooting Preserve who passed away this past November. Dave had been a great friend and mentor to the members of the Virginia U. S. Complete Shooting dog Association.
This year's trial was chaired by our long time chairwoman, Sharon Townley. The successes of the Chickahominy organization have been greatly due to the hard work of Sharon and this year's success was no exception! Thank you Sharon! The upland manager at Blanfield, Grace Ann Lawson was our host and we thank her for all she did for us to accommodate our trial. Our judge panel consisted of Grace Ann, Robert Spillman, Phil Rutter and Sharon Townley. Danny Gooch planted birds for the entire trial and Kirk Regensburg drove the gallery wagon. Jameson Crandall was with us today and rode each brace and scouted whenever he was needed and kept notes for your reporter. Once again Judy Jones prepared a lunch, centered on her well known Chicken Casserole which was well enjoyed by all. Purina is the generous national sponsor of U. S. Complete and again this year they have awarded discount certificates to our winners. We thank them for all they do for U. S. Complete and for the coupons for our winners. We encourage you to support them with your purchases. We thank all these folks as well as all the others who helped in so many other ways for all their help making this trial the success it was.
The puppy stake was bested by a setter female named Suzie under the whistle of her owner Stevie Graham. Suzie ran with a high cracking tail coupled with a smooth fluid gait. She is quick on the high ground and seeks objectives that older, experienced dogs would. She keeps an eye on where her handler is and is always to the front of him. Second was Willow a young setter female handled by Ray Forney, a new comer to our circuit. Willow broke away fast and stayed to the front. She handled well and finished strong. Third was a setter named Bunny, handled by Arnold Ripley. Bunny had a snappy forward race.
In the derby, a setter named Bandit was handled to first place by her owner Trey Rector. Bandit was extremely stylish running and on point. Bandit handled well and had three finds and one back which were barely shy of being shooting doge broke. He was a pleasure to watch. The second place derby was a pointer female named Pocket owned and handled by another new comer, Holly Hatfield. Pocket stayed to the front with 5 derby finds. She pointed with high head and tail. She had a good race and handled well. Third was a setter male named Speck handled by Ashby Morgan. Speck had a big strong ground race coupled with two derby finds and one broke find.
Muggsy, Jimmy Crandall's black and white pointer male was named first place in the shooting dog stake. This dog scored four well-spaced finds, with plenty of style and a good forward shooting dog race. All four finds were with rigid intensity and high head and tail on all four. The second place dog was a pointer female, also from Jimmy's kennel named Mavis and handled by Jimmy. Mavis ran a big forward race on the edges and scored three stylish finds as well as a divided find with her brace mate. She handled easily for her owner. The third place dog, Rebel, a pointer male was handled by Ashby Morgan. After a huge break away and a wide, searching race Rebel had two finds and a back. He handled well and showed a classic style on point with high head and high and intense posture.
In memory of our friend and mentor, Dave Pomfret, we have started awarding the rotating Dave Pomfret Shooting Dog Trophy which will be awarded at each trial. This year the inaugural winner of the trophy was Muggsy, owned and handled by Jimmy Crandall!
Blanfield is about as fine a set of grounds as you can find to show a dog and we thank the Weat family and Grace Ann Lawson for allowing us to run the inaugural running of the Dave Pomfret Memorial Field trial at Blanfield Plantation.
Thanks to app for coming to the trial, either as an owner/handler or spectator. We hope you will be able to join us in the fall. Our current plans are to run the trial in later October at Blanfield.
Caret, Va., March 26 - One Course
Judges: Phil Rutter and Sharon Townley
Amateur Puppy - 1 Pointer, 5 Setters and 2 Brittanys
1st-BACK CREEDK SUZIE, 1696529, setter female, by Maximum Resistance-Deciding Point. Steve Graham, owner and handler.
2d-WILLOW OAK STAR, unreg., setter female, by Danny Brook-Cindy Lou Johman. David Raymond Forney, owner and handler.
3d-MOBJACK BUNNY GIRL, 1696350, setter female, by Erin's Wild Atlantic Way-Quickmarksman's Silky. Arnold Ripley, owner and handler.
Judges: Phil Rutter and Sharon Townley
AMATEUR DERBY - 4 Pointers and 3 Setters
1st-ONE ACRE WOOD BANDIT, 1694021, setter female, by Sunrise Star-Lucky Two Star. William B. Rector, owner and handler.
2d-R R'S BLUEGRASS UNBRIDLED, 1695111, pointer female, by Touch's Grey Street-Allwood's Shady Shay. Holly Hatfield, owner and handler.
3d-MOHAWK MILL GOOD ATTITUDE, 1691865, setter male, by Erin's Hidden Shamrock-Quickmarksman's Z Z Top. Gary S. Winall, owner; Ashby Morgan, handler.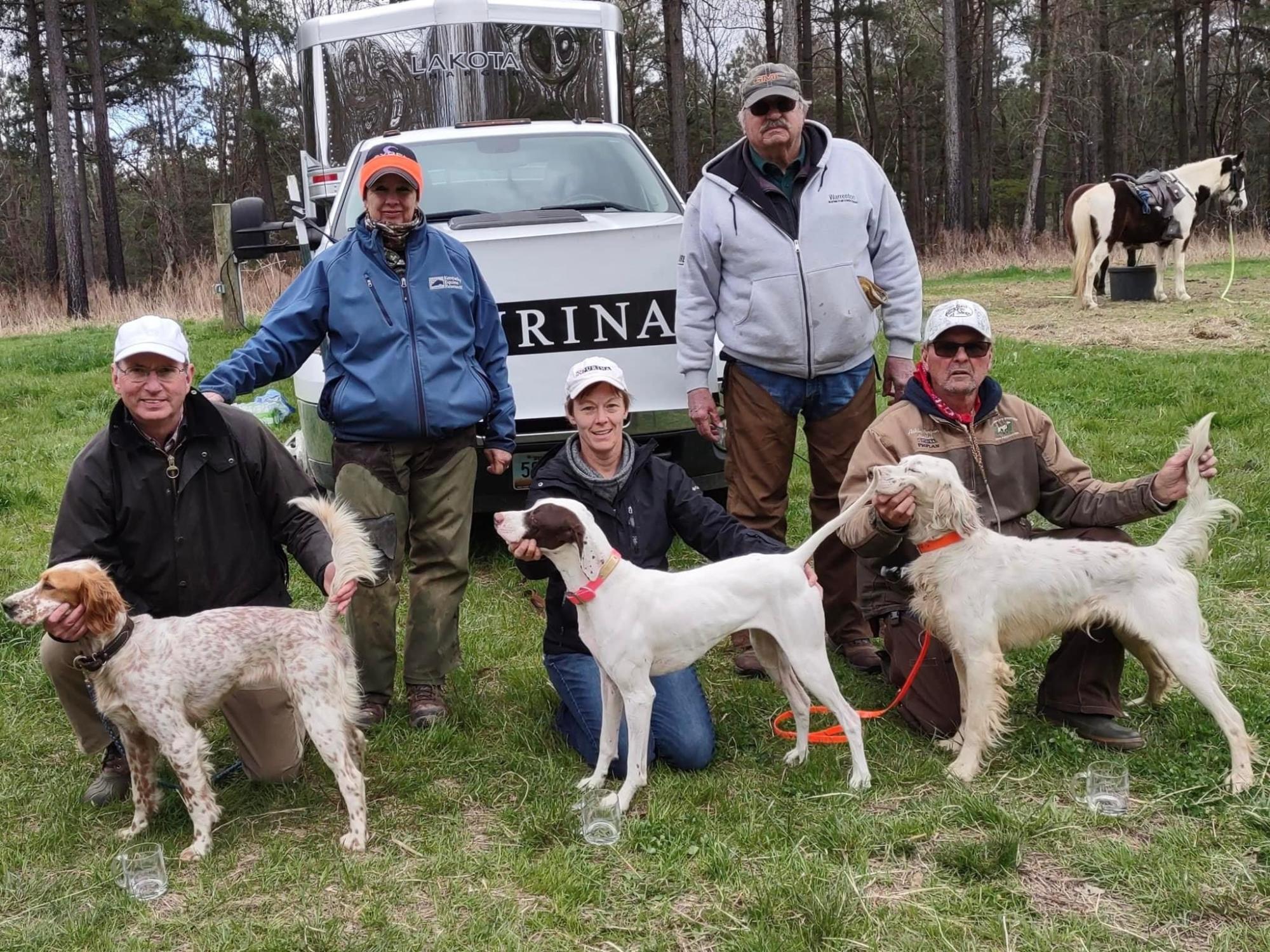 Am. Derby. From left: One Acre Wood Bandit with Trey Rector, R R's Bluegrass Unbridled with Holly Hatfield, Mohawk Mill Good Attitude with Ashby Morgan. Behind: Judges: Sharon Townley and Phil Rutter.
Judges:
DAVE POMFRET AMATEUR SHOOTING DOG - 9 Pointers and 4 Setters
1st-LANCASTER'S HIT MAN, 1679423, pointer male, by Waybetter Rocky-Calico's Touch of Class. James Crandall, owner and handler.
2d-SORROWS OF SATIN, 1681535, pointer female, by Mohawk Mill Pirate-Mohawk Mill Honey. Jim Crandall, owner and handler.
3d-MOHAWK MLL REBEL PIRATE, 1680375, pointer male, by pointer male, by Mohawk Mill Pirate-Arcanum's Southern Belle. Gary S. Winall, owner; Ashby Morgan, handler.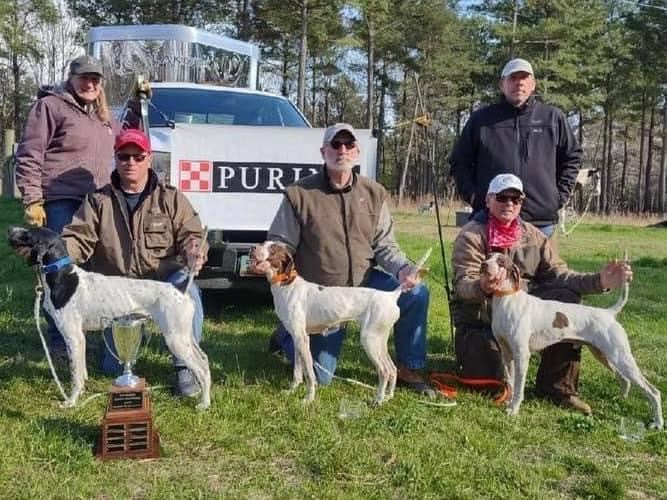 Dave Pomfret Amateur Shooting Dog. Standing: Grace Anne Lawson and Robert Spillman, judges. Kneeling: Jimmy Crandall with Mugsy (Lancaster's Hit Man), Kirk Regensberg with Mavis (Sorrows of Satan), Ashby Morgan with Rebel (Mohawk Mill Pirate Rebel).