Event: Dominator's Ghost Rider wins the 42nd Running of the
Result: Missouri Open Shooting Dog Championship
Location: Grovesprings, Missouri
Post Date: Jun 14, 2022
Submitted By: Tony King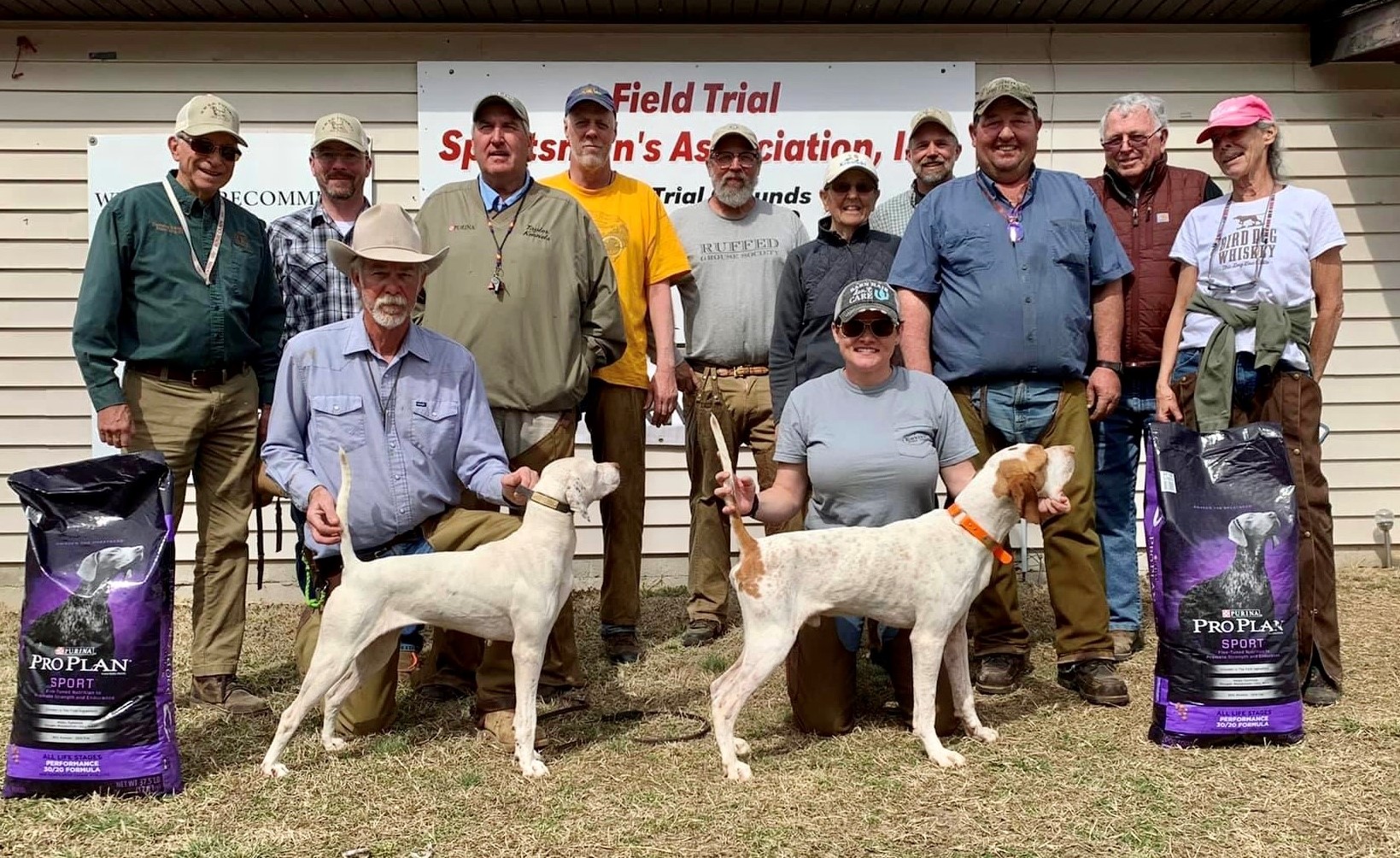 Front row, from left: Virgil Moore with Hale's High Flyer and Kaley Anne with Dominator's Ghost Rider. Back row, from left: Dr. Pat McInteer, Adam Delude, Eddy Taylor, Judges Mark Johnson and Jeff Stanton, Sherry Ebert, Tony King, Doug Ray, Bill Cignetti and Katie Lyons.
The Missouri Open Shooting Dog and Midwestern States Shooting Dog Board of Director's prides itself on offering an opportunity to participants for a level playing field, with impartial judges on one of the country's top field trial venues. The Sportsman's Association field trial grounds is located amidst the Ozark Highlands region near Grovesprings, Mo., in Wright County Mo. This setting features a 2,800-acre field trial complex that is home each year to many of the field trial sports largest and important titular stakes. The facility boasts 2 large gravel parking areas, 2 kennel setups, RV hookups, two horse barns, paddock style horse corrals, a club house for gatherings with sleeping quarters, and three - one-hour courses that provide ample opportunity to showcase the talents of any top notch field trial dog. The 3 courses vary in topography and habitat that allows handlers to show a field trial dog that not only runs but handles. The Sportsmen's Association also conducts an early season pre-release quail program to supplement the ongoing release of quail by field trial clubs. These features along with various amenities makes for a very enjoyable experience.
The judges for this year's renewal, were Mark Johnson of Albany, Wis., and Jeff Stanton of Ixonia, Wis. Although, I had never met either one of these gentlemen, I quickly came to appreciate their judging skills and enjoyed their company. The great thing about having Mark and Jeff judge both the Championship and the Futurity was they had never judged any of the dogs and had no preconceived opinions on any of the competitors' capabilities. Mark and Jeff paid close attention every brace and worked equally as hard throughout the entire stake. They maintained a consistent pace and rode hard when necessary. Also, I must say that when questioned about a decision or placement, they provided firm yet professional answers. Also their reasoning was supported and justifiable. Mark and Jeff are great guys and they give everyone a fair shake. You could not ask for a better, more competent pair to run a dog under.
The field trial world has givers and takers. As our sport evolves and society changes it seems the general trend is toward the latter. Field Trial clubs and club members that host field trials are givers! Hosting a field trial is grueling and not always the most rewarding or complimenting job available. The logistics require a large group of help but as we all know most field trial clubs have very few members that can dedicate time away from work and family to put on field trials for others to benefit. The Missouri Open Shooting Dog and MWSD Futurity is much in the same but each year our team works through it. I would like to take this opportunity to thank the following club members and extra volunteers that made this event possible. First and foremost - Adam Delude from Campbellsport, Wis. Adam travels 7 hours one way to take time off work in order to help with all facets of this field trial. Without Adam's help, this event would not be possible. Also, I would like to thank Harold Gearhart and Pat McInteer for stepping up in a big way and handling the dog wagon duties while Adam and I were handling other duties. Finally, I would like to thank Jerry Hailey for returning from vacation and jumping in the final two days to help Adam and I finish up the event.
When many of the handlers and contestants arrived at the grounds, they were greeted with remnants of a recent snowfall and colder temperatures but by the end of week Mother Nature decided to change her tactics and provided all involved with unseasonably warm and dry weather. This somewhat welcomed change provided a challenge to many of the dogs and horses that were used to the previously cold environments. It was interesting to see how the changing weather, scenting conditions and bird movement varied throughout the trial. In all, several championship worthy performances coupled with lots of bird work, interesting weather conditions and great camaraderie set the stage for a pleasurable week of running at this year's 42nd Missouri Open Shooting Dog Championship. 50 of the country's top shooting dogs were brought to line under the watchful eyes of judges Mark Johnson and Jeff Stanton. When the dust had settled, a brilliant performance by Dominator's Ghost Rider, piloted by Doug Ray for owners Harold Ray and Tony Gibson, earned this gutsy contender the 42nd Missouri Open Shooting Dog Championship title.
This year's runner-up honors went to Hale's High Flyer for handler Eddy Taylor and owner Dr. Jeff Hale. High Flyer's performance was exemplary in its own right earning this 5 year old gutsy female this year's runner up title. For those of us lucky enough to witness Dominator's Ghost Rider's performance in Brace 9 over portions of Course's 2 and 3, we knew we had witnessed a thing of beauty. Ghost Rider, call name Blaze, delivered what one could consider the perfect shooting dog performance. Blaze gave a beautiful, front running, 5 find bird finding clinic for handler Doug Ray and scout Kaley Anne. His application was always forward, it was smooth and had rhythm throughout. He was big enough for the country when he needed to be and provided the thoroughness of a veteran shooting dog. It seemed Blaze was on a mission with finds at 01, 05, 11, 21 and 23. His bird work was crisp and his style immaculate. There was no hesitation when Doug went into flush as the birds were always well located and never crowded. Blaze finished his hour as diligent as he started. His finish was not excessive but intelligent and shooting dog in nature pushing the front end and looking for more country to hunt.
In Brace 15, Dr. Jeff Hale's 5 year old pointer female, Hale's High Flyer and aptly handled by Eddy Taylor put down a quality performance that earned this gutsy female runner up honors. High Flyer (Betty), running in the third brace of the day with temperatures being unseasonably warm, showed grit and determination as she delivered a well applied, reaching shooting dog race. She produced evenly spaced finds at 10, 13, 30 and 53. Here application was strong and consistent. Betty was biddable throughout but did require a little scouting periodically. Her finish was forward and reaching as scout Virgil Moore and Eddy Taylor rode hard to get her with the call of pick up. As previously stated the ever changing weather played large role in many of the dogs being picked up early. From cold and snowy to unseasonably warm, this drastic change eliminated many of the dogs but not High Flyer. She seemed to be oblivious to the weather and was just as convincing as those dogs that ran in cooler conditions. Her efforts and performance were highly commendable allowing Hale's High Flyer to earn the runner-up honors.
During the running of the trial, there were approximately 52 pieces of bird work. These opportunities coupled with many great dogs afforded the judges several performances to sort through. Although Dominator's Ghost Rider and Hale's High Flyer set the bar high, it would be a mistake to not mention a few of the other championship contenders whose performances fell just short of the winner's circle.
The following dogs are in no particular order but rendered performances worth noting Touch's Big Whiskey, Blackhawk Doc, Pure Gossip, Bangert's Red Baron, Sun's Out Gun's Out, Tug of War, and Upfront's Southern Star.
In every field trial there are always naysayers and those who are willing to pick apart winning performances in hopes their contenders may be better. That is the nature of competition. Ultimately it is the decision of the two competent individuals sitting in the judicial saddles. Those of us with without a dog in the fight and riding with open minds knew that both Dominator's Ghost Rider and Hale's High Flyer met all the criteria and were well deserved in their championship placements.
This year's running of the 42nd Missouri Open Shooting Dog Championship should be remembered as highly successful event that provided ample opportunity for each canine competitor to showcase his or her talents. Weather conditions were challenging at time but as always bird work was plentiful. Of course, luck of the draw, time of day, and Mother Nature play huge factors but all in attendance would have agreed there were plenty of birds to point this year. As always, the Sportsman's Association Board of Directors had the facility and its grounds in wonderful condition!
The Missouri Open Shooting Dog Association would once again like to thank the Sportsman's Association crew, its sponsors, the judges, the dog owners, the handlers and all in attendance for making this renewal such a successful event!
Grovesprings, Mo., February 28
Judges: Mark Johnson and Jeff Stanton
MISSOURI OPEN SHOOTING DOG CHAMPIONSHIP [One-Hour Heats] - 40 Pointers and 4 Setters
Winner-DOMINATOR'S GHOST RIDER, 1679597, pointer male, by Just Irresistible-Pearl Again. Harold Ray & Tony Gibson, owners; Doug Ray, handler.
Runner-Up-HALE'S HIGH FLYER, 1676691, pointer female, by Hale's Kickstarter-Hale's Mae Do. Dr. Jeffrey Hale, owner; Eddy Taylor, handler.