Event: Region 3 (AFTCA) Amateur All-Age Championship(Feb 3, 2022)
Result: Region 3 Amateur All-Age Championship
Location: Hoffman, North Carolina
Post Date: Mar 3, 2022
Submitted By: Larry Cox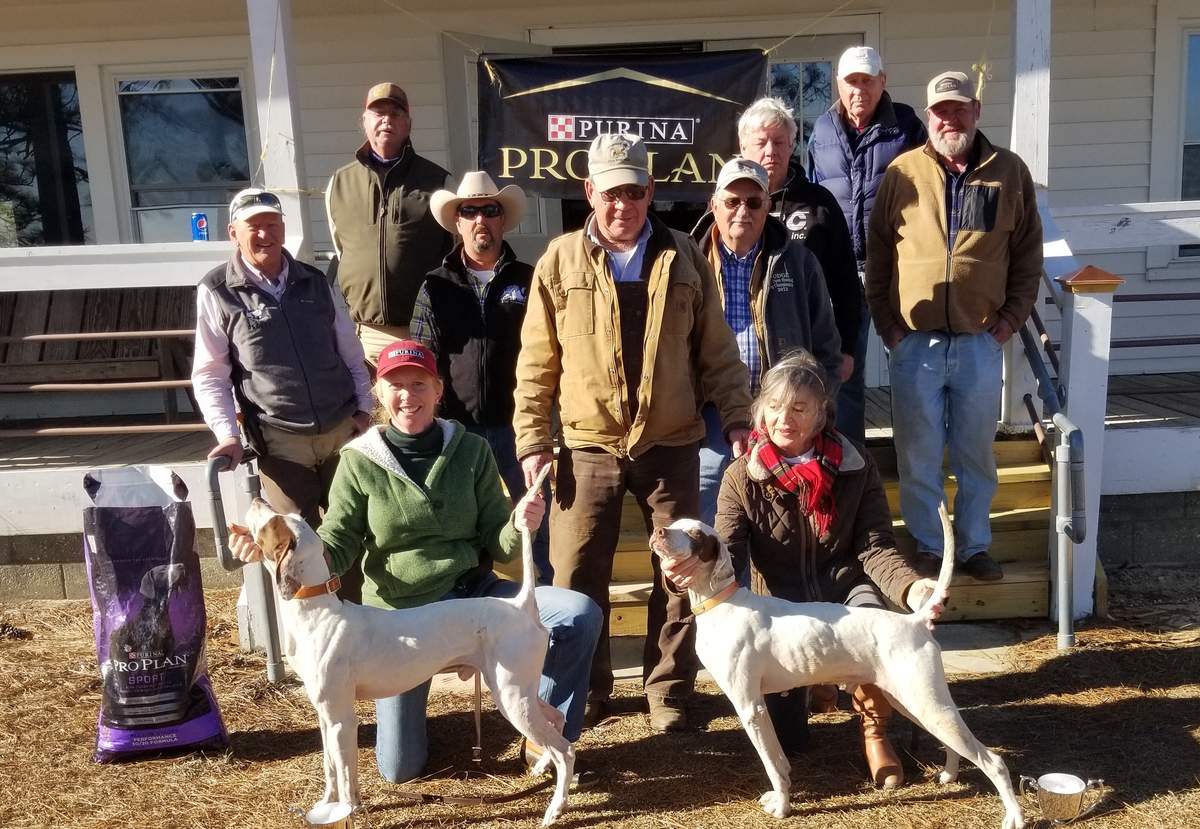 The Winners. Front, from left: Ellen Clements with Mohawk Mill Gangster, Gary Winall, and Louise Wilcox with Mohawk Mill Image. Behind: Jeff Smith, John Outlaw, (judge), Larry Cox. Back: Todd Williams (judge), Ben Dillard, Jim Emerson and Greg Robinson.
The Region 3 Amateur All-Age Championship started on February 4 under threats of bad weather, but luckily it did not materialize.
Thirty-three dogs were drawn to compete. In the sixth brace on the first day, Mohawk Mill Gangster, pointer male owned and handled by Gary Winall of Powhata, Va., gave them something to try to beat. None did.
Starting on the last half of the No. 5 course, point was called in the first 2 minutes with Gangster pointing and bracemate backing. On into the new loop and into the first area he was pointing for his second find; birds right where he indicated.
On around the horseshoe part of the new loop and just before entering the thick pines; on the right point was again called for his third find. He finished to the front as time was called.
The dog that came the closest to beating his performance was one of his kennelmates, Mohawk Mill Image on course No. 2 on Saturday with a good forward race and one covey pointed just past the main sand road crossing to gain the runner-up title.
Thanks to everyone that attended and to our attentive judges, John Outlaw and Todd Williams, whose decisions were well received.
Special thanks to Purina for their support to this Championship.
Judges: John Outlaw and Todd Williams
[One-Hour Heats] -- 27 Pointers and 6 Setters
Winner--MOHAWK MILL GANGSTER, 1685479, pointer male, by Mohawk Mill Pirate's Legacy--Katie Lee's Wild Side. Gary Winall, owner and handler.
Runner--Up-MOHAWK MILL IMAGE, 1657438, pointer male, by Mohawk Mill Pirate--Bevy's Mean Girl. Gary Winall, owner and handler.
View Event >