Result: Midwest Open Shooting Dog Championship
Location: Elk City, Kansas
Post Date: Jun 20, 2022
Submitted By: David Taylor
Championship Winners. Upfront's Southern Star with Virgil Moore, Tug O'War with Harold Gearhart, Shawn Kinkelaar, Randy Wilson, Chris Rider, judge, William Smith, judge, Tommie Smith.
The 35th running of the Midwest Open shooting Dog Championship and accompanying derby stake began March 8. Twelve juveniles were drawn for the derby stake and 44 shooting dogs were drawn for the championship.
Judges for both stakes were William Smith from Moscow, Tenn., and Chris Rider from Smithfield, Pa. Both men are well known and highly respected in championship circles. Both gentlemen have judged most of the major championships throughout the United States and Canada. William was accompanied by his charming wife Tomie.
Midwest Open Shooting Dog Championship
After the last brace was completed the judge's named Upfront's Southern Star, a repeat champion of this stake, as the 2022 winner. Tug O'War was named runner-up. Star is owned by Lance Schultz of Bismark, N. D. Tug is owned by Bjorn Peterson of Delano, Minn. Both dogs were handled by Shawn Kinkelaar and scouted by Virgil Moore. Both dogs ran on the second course that breaks away from the cattle pens at the base of the plateau. After a steep climb to the summit it extends across a wide expanse with a variety of objectives for dogs to reach to.
The decent follows a steep rocky path down to a creek crossing with a steep hill to the right. This side hill is often home to a wild covey. After crossing the creek two flat pastures extend to the second hour pick up site. Star was released near the cattle pens. She went under a fence to reach an edge that would carry her to the top of the plateau. When she went under the fence, she sustained a cut to her chest that would later require stiches. Kinkelaar checked the injury and sent her on. The injury did not impact her effort. She reached to the top of the hill and was out of sight. When she was next seen she had a covey pointed with impressive style and displayed perfect manners as Kinkelaar put the birds in the air. Star reached across the plateau and down to the creek crossing. Kinkelaar sent across the flat pastures and she finished demonstrating her strength, stamina, and desire.
Tug O'War ran a similar type of race. He reached up the hill and across the first half of the plateau covering lots of ground and showing a strong ground effort. His brace mate was running well for handler Gearhart and owner Luke Topp. Both dogs stood along a wooded draw 50 yards apart. Both handlers flushed birds in front of mannerly dogs and fired. Tug continued to deliver a forward race but stood a time and Kinkelaar was unable to produce birds.
There were fourteen dogs with mannerly bird work, some with multiple finds, and several dogs with strong ground efforts that could have mounted challenges to the placed dogs with some adjustment in their performances.
THE RUNNING
In brace one Touch's Shamless (Chuck Stretz) had mannerly finds at 5, 24, and 38. He backed his brace mate at 56. Ninnescah Ranger (Harold Gearhart) pointed at 39 but no birds were produced. At 58 Ranger suffered a breach of manners.
In the second brace Lester's Another Shock Wave, a new member of Kinkelaar's string was taken up early. Doc's Second Wind ran an attractive forward race with finds at 5, 47, and 53. Wind was handled by Eddy Taylor.
Sun's Out Gun's Out handled by Eddy Taylor had three finds and one stand where no birds were produced. Sun's race was stronger the second thirty minutes. Upfront McQuade had an error on game and was taken up.
In brace four Purse Gossip, the 2021 champion, ran a strong race but was lost at 42. Scott Hadley's Rim High Elhew ran a forward race handled game mannerly on two occasions.
Tug O'War ran in the fifth brace and was reported as runner up. Topp's First Junior was running a strong front-end race and stood mannerly for Gearhart to flush birds at 21. Junior was mounting a challenge for the championship but got behind a fence and Gearhart took his tracker just before Junior showed.
In brace six Oak Ridge Thor's performance was not challenging dogs already run and Kinkelaar took him up. Paul Ott's Fint Ridge Ranger didn't contact game and Gearhart took him up late in the hour.
In the next brace Too Hard To Suit pointed at 47 and Taylor produced birds and Suit was mannerly. Bud Moore's Shadow Mountain Gus was taken up after two stands where no birds were produced.
Brace eight paired Silver W Jill Z and Top's Hackberry Ice Chip. Jill was running a big race but was lost. Chip had a good race with one mannerly find.
In brace nine Chelsea's Mae West had a mannerly find but on her second stand at time Kinkelaar couldn't produce birds. Eddy Taylor's Mississippi Magdalene did not point game. Hale's High Flyer ran a strong forward race with a mannerly find at 10.
In the last ten minutes Flyer stood, and Taylor could not produce birds and her race shortened. Four Rose pointed a wild covey at 13 with good manners but the wind was impacting her race and Gearhart took her to the dog wagon at 22.
In brace eleven Hale's Smooth Touch was not pleasing Kinkelaar and was taken up. Flint Hill's Regal Riley and Gearhart had communication issues and he did not complete the hour. High Wall running in brace twelve had an error on game at 15. Purple Line Casper, a former Midwest champion, suffered a medical issue at 18 and was taken up.
In the next brace Baumester's Bar None had a find with everything in order just before the 45-minute gate. Stretz chose to take him up short of the hour. Game Sport had not contacted game and Gearhart picked up at 55. Upfront Southern Star was reported as Champion. Ninnescah Cooper was picked up at 9. Hale's Kickstarter, a former Midwest champion, and Thunder Wild Again were taken up short of the hour.
In brace 16 Honky Tonk Song ran a forward race completing some good casts but did not contact game and Hadley picked up near the end of the hour. Taylor put White Anarchy in the harness midway in the hour when no birds had been pointed.
Windy Ridge Sugar and Thunder Bolt Storm were taken up at the halfway point of the 17th brace when no birds had been pointed. Kinkelaar and Gearhart were braced together in the 18th brace. Both Anchor Down Sunny and Erin's Thunder Backus ran aggressive forward races. Neither dog had pointed birds and both handlers picked up late in the hour.
In the last brace of the championship Back Lash Doc had an error on game and Moore picked up. Ain't Waiting on You had a mannerly find late in the hour for Gearhart.
Elk City, Kan., March 8
Judges: Chris Rider W. J. Smith
MIDWEST OPEN SHOOTING DOG CHAMPIONSHIP [One-Hour Heats] - 43 Pointers and 1 Setter
Winner-UPFRONT'S SOUTHERN STAR, 1662579, pointer female, by Ransom-Double Wild. Lance Schultz, owner; Shawn Kinkelaar, handler.
Runner-Up-TUG O'WAR, 1668963, pointer male, by Sugarknoll War Paint-Nemaha Amazin Sue. Bjorn Peterson & Adam Hart, owners; Shawn Kinkelaar, handler.
Midwest Open Derby
Twelve juveniles were drawn for the Midwest Derby, eleven pointers and one setter. Erin's Thunder Backus sired by Chelsea's Thunder Bolt and co-owned by Dr. Tom Jackson and Jerry Moissen took the top spot in the stake. Backus was handled by Shawn Kinkelaar and scouted by Harold Gearhart. The attractive moving black and white male ran a tail cracking front end race and had a mannerly find early in the brace. Miller's Kickstarter Rose ran a beautiful front-end race for second place. Rose was handled by Eddy Taylor. Big Man On Campus owned by Tom Darden and handled by Kinkelaar ran a strong forward race for third place.
The venue for the trial was the Westfall ranch near Elk City, Kan., the championship committee appreciates Mr. Westfall for providing his ranch, ranch facilities, and equipment for the running of this event. Bill has been supportive of the championship from the beginning and has provided a home for the championship for over two decades.
Ranch manager Chuck Camfield has been associated with field trials for many years. He scouted for his father in law, Henry Taylor, who was a larger than life figure in the early days of the Midwest Association. Chuck always checks to see that everything is running smoothly and if anything is needed.
The championship is indebted to Greg Blair and Purina for their continued support of the stake. The company provides product to be awarded to the winners and provides funds for advertising.
The traditional championship dinner to honor the 2021 champion, Pure Gossip, was provided by owners Mr. and Mrs. Bob Reynolds and Mr. and Mrs. Chuck Stretz. Chuck has been Gossip's handler throughout her career. To date Gossip has won two championships and five runner-up championships.
Mr. and Mrs. Bob Reynolds have served this championship for over twenty years. Bob has announced that this was his final trial as chairman. He has been an outstanding leader and the association appreciates his service. Garvin Collins has attended each of the championships and has been Bob's right-hand man. Harold Gerhart says that he does the heavy lifting to make this trial a success and that is a true statement. Randy Wilson took over the meal preparation for the trial and did a fine job.
Bob has left the championship in very capable hands with the naming of Garvin Collins as chairman for the 2023 running of the Midwest Open Championship.
OPEN DERBY - 11 Pointers and 1 Setter
1st-ERIN'S THUNDER BACKUS, 1692320, pointer male, by Chelsea's Thunder Bolt-Erin's Bet On Me. Dr. Tom Jackson & Jerry Moissen, owners; Shawn Kinkelaar, handler.
2d-MILLER'S KICKSTARTER ROSE, 1690341, pointer female, by Hale's Kickstarter-Miller's Miss Kittie. Ronnie Miller, owner; Eddy Taylor, handler.
3d-BIG MAN ON CAMPUS, 1694291, pointer male, by Dragonfly-Cold Creek Ms. Kay. Todd Darden, owner; Shawn Kinkelaar, handler.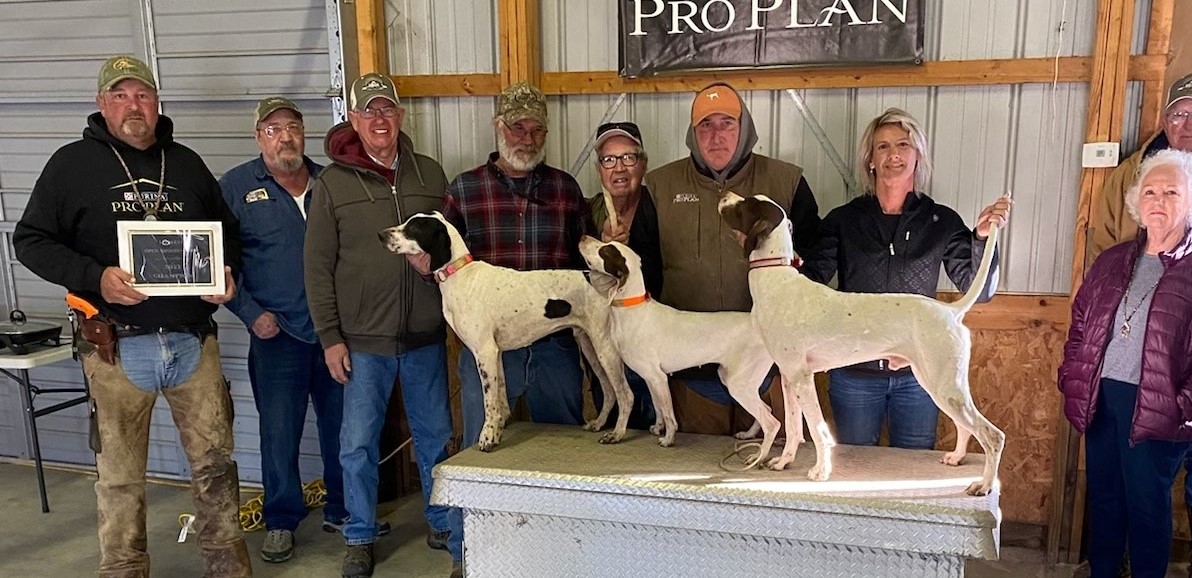 Open Derby. Shawn Kinkelaar, Randy Wilson, William Smith, judge, Erin's Thunder Backus with Harold Gearhardt, Garvin Collins, Miller's Kickstarter Rose with Eddie Taylor, Big Man on Campus with Laura Miller, Tommie Smith and Chris Rider judge.