Result: Region 17 Amateur Shooting Dog Championship
Location: Elk City, Kansas
Post Date: Jun 20, 2022
Submitted By: David Taylor
Trial chairman Luke Topp, with the support of the professional trainers that would be attending the Midwest and Jayhawk Shooting Dog Championships, scheduled the Region 17 Amateur Shooting Dog Championship between the two open stakes. This provided the opportunity for dogs to be run in three championships within a short period of time without extra travel. From the perspective of this writer observing professionals and amateurs working together to promote the sport was a unique and positive occurrence. The professional trainers gave of their time to judge, marshal, and attend to gates during the amateur stake. Harold Gearhart, Jeremy Gulick, Shawn Kinkelaar, Virgil Moore, and Eddy Taylor are to be commended for giving of their time to promote an amateur event.
Virgil Moore from Texas and Jeremy Gulick from Southeast Kansas rode the judicial saddles. These professional trainers gave every entry their full attention. Judging this stake was difficult because of the lack of bird contact. Only four dogs out of 36 entries had acceptable bird work. There were some strong ground efforts rendered without bird work and many stands where no birds were produced. With bird work at such a premium only a champion was named.
Oengus, Vizsla male, ran in the 15th brace handled by his proud owner Laura Miller. He was released on the second course and reached for the top of the hill. Miller called point at 12 for an intense Oengus and flushed his birds with everything in order. Released from this stand the attractive moving red dog ran a mostly forward race until pick up was ordered. Laura has been quite successful with her red dogs. Oengus's brother is the current Region 19 Amateur Shooting Dog Champion. Jay Lewis scouted the champion.
Bob Lais and Jim Lawless showed dogs on birds but no runner-up was named.
The Westfall Cattle Ranch provided three excellent one-hour courses for this trial. Mr. Westfall has allowed many championships to be contested at his Elk City, Kan., ranch. This championship with 36 entries and the 2002 championship with 72 entries have been two of the largest Region 17 Amateur Shooting Dog Championships held and both were run on these grounds. Area clubs greatly appreciate the use of the ranch and ranch facilities.
Ranch manager Chuck Campfield provides use of the ranch trailer to transport trial officials, handlers, and interested observers to and from the starting line. Chuck checks each day to be sure everything is going smoothly and is ready to help if anything is needed.
The trial committee is appreciative of Nutri Source for its support for this stake as well as the local trials in the area.
Region officers worked together to host a successful event. Region vice-president Rodney Shoemaker and secretary Diane Shoemaker took the entries and conducted the drawing. Region 17 president and National trustee, Luke Topp, chaired the event. He organized a group of individuals that gave of their time to host this trial. Paul Ott furnished a side by side to be used as the dog wagon and to plant birds from. Although David Merritt was not able to attend due to a health issue, he obtained the trophies. David has been a mentor to chairman Topp for several years. Mr. and Mrs. Jim Fry and Mr. and Mrs. Frank Schoenborn prepared food for an outstanding banquet.
Elk City, Kan., March 13
Judges: Jeremy Gulick and Virgil Moore
REGION 17 AMATEUR SHOOTING DOG CHAMPIONSHIP [One-Hour Heats] - 36 Entries
Winner-MILLSTAR'S SALTIRE, 1671543, Vizsla male, by Lundy's Red Bull-C K Millstar's Wee Dram. Dr. Laura Miller, owner and handler.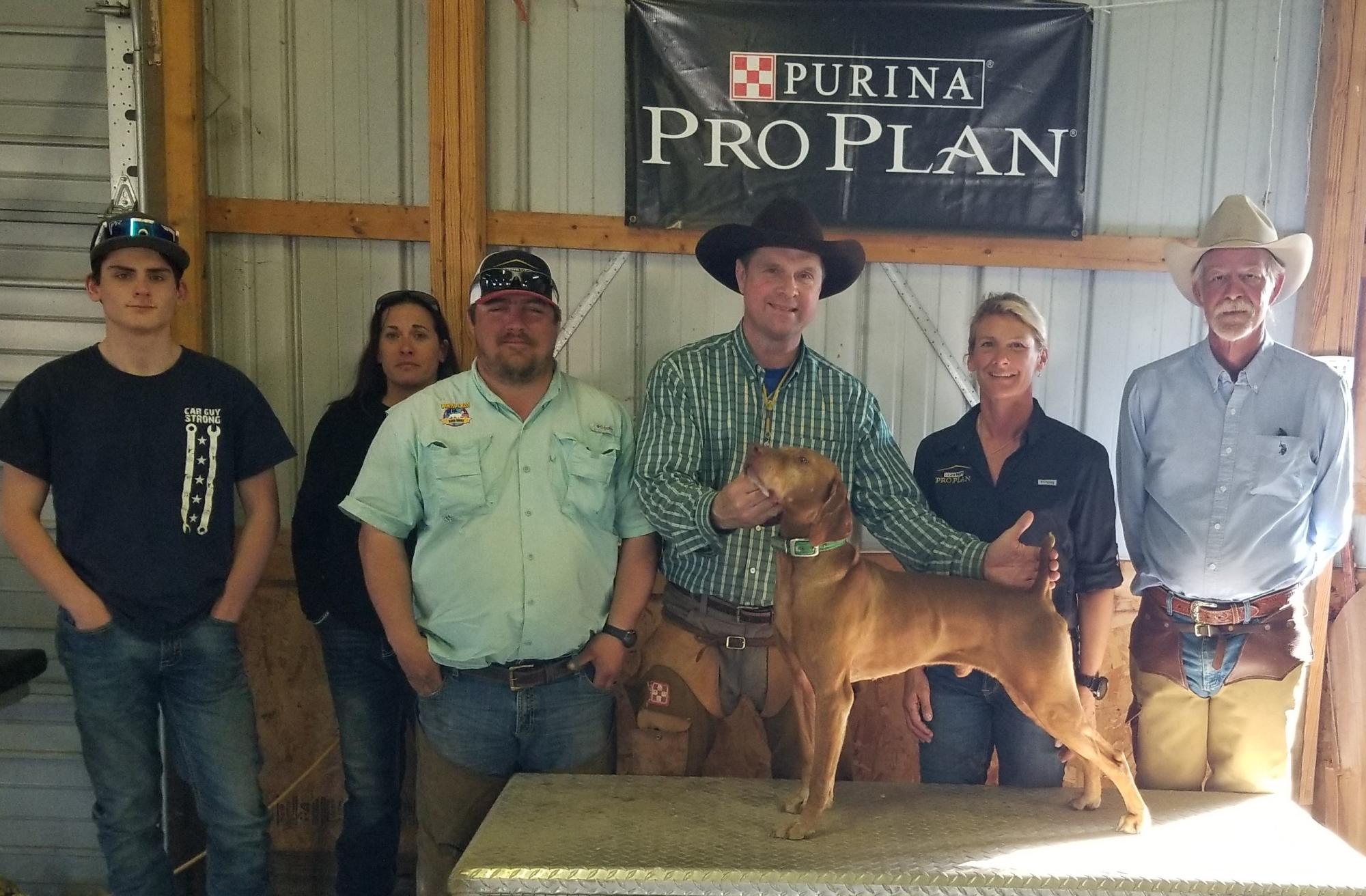 From right: Virgil Moore, Laura Miller, Dr. Hale with Millstar's Saltire, Jeremy Gullick, Tara Hadley, unidentified.