Result: National Amateur Chukar Shooting Dog Championship
Location: Maupin, Oregon
Post Date: Jun 21, 2022
Submitted By: Todd Schaaf
On March 19th the Pacific Coast Field Trial Club hosted the National Amateur Chukar Shooting Dog Championship. It was held in Maupin, Oreg., on the Historical Imperial Stock Ranch. The Imperial Stock Ranch has been a family owned and operated ranch for over 142 years located on more than 52,000 acres of Oregon's beautiful high desert. This year the weather was great nothing like the Monsoon wind storms we endured last year. Which made it much more enjoyable for our two great judges to watch 34 dogs. Our distinguished judges are our own Local Dan Hoke from Dunfur's Kennels and Greg Blair from Purina Dog Food. They both told me they had a great time watching 34 dogs and came up with a very deserving champion and runner-up.
Our champion was the top dog out of the 7th Brace Dunfur's Big Timber GSP male handled by Anthony Bucknam and owned by Mark Lund and his Father Lynn Lund. Timber had a great race he is a young dog. I personally have seen this dog already have 4 or 5 great wins already this year. He will go on to do many more great things. Congratulation to the owners and handler. See Champions run in Brace 7 from the Judge's perspective.
Our runner-up Champion the top dog from the 5th brace Miss Liberty Too GSP female owned and handled by Mark McFarland. Mark and Libby have been a great team for many years and it was wonderful to see them put down a race the was deserving of a Championship placement. Libby has ways been a very consistent competitor sometimes we can't always say the same about Mark but we can say he is always great to have around. Very proud of both of them. See Runner Up Champion race in brace 5 from the Judge's perspective.
THE RUNNING
Brace 1 : Mauck's Wyeast Owyhee Jack setter male, owned and Handled by Alex Mauck with Perkins Lakeside Wild Child pointer male owned and handled Chris Perkins. Wild Child started with a couple of really nice casts up the side draw above the fence. She came back down the draw and under the fence in time to not back Owyhee Jack at 7. Mauck having a hard time flushing because the bird had left and he had failed to notice. Judicial staff allowed him to fire and move on. Two minutes later Owyhee Jack was found standing. No bird could be found. Through Dave's Gate at 20 Jack opened up to the top of Natcher Butte. Coming back on his own. The nice work was negated by a breach of manners at 28.
Brace 2: Coulee Cruiser Setter Male owned and handled by Anne Tyson and Maybellene setter female owned and handled by Tom Griffin. Breaking away from the road above Green Valley. Coulee had a find down under a tree above the water trough. The bird was making a game of running around the tree and it was winning. Handler fired on the judge's advice. Maybellene and Coulee were gathered up and taken up the hill. In this Brace there was lots of miscommunications. You could say that everyone was involved. The dogs, the scouts, The Marshall and handlers. The wind was involved which made hearing and understanding difficult. Handlers elected to water their dogs and regain some sense of control. Now as the course goes through the Mad Hatter Gate, the course drifts to the right, but the land says go straight. Straight is where the dogs both went. Now point being called only the scout knew which dog was pointing so his handler came a running. Not my dog. Tyson arrived before the other dog got there in time to back. Tyson then flushed a nice pair of Huns. Both dogs hunted up the draw to the Original Gate.
Brace 3: Perkins Elhew River Rail pointer male owned and handled by Chris Perkins and IH Miller's Blindside pointer male owned and handled by Jared Tappero. This was a downhill breakaway to Dave's Gate. River Rail working the upper ridge nicely. The wind picked up and she shortened as she hunted into it. Blindsider got up high enough to get trapped behind a fence, which took a few minutes to sort out. River Rail had a not so pretty back at 15 to a very stylish Blindsider. Unfortunately, Blindsider moved up on the flighty pair of birds and handler reached for his roading harness. Judge advised Perkins that he was in a deep hole with the judges but he might get out with good work. At 30 River Rail was picked up.
Brace 4: A League of Her Own pointer female owned and handled by Amanda Schaaf paired with Vezeto's Alpine Redemption Vizsla owned and handled by Daniel Brooks. Alpine had a sporty find at 8 minutes above the windmill. A League was fast and forward as we moved up the draw above Dave's Gate. A League was found at 22 in a big batch of sage below the Rock Cliff. Alpine was in the area and came in presumably to back. Both dogs standing, Alpine was in his handler's hands when the judges got there. He may have grabbed Alpine a little soon because it appeared to the judges that maybe A League was hidden behind a big piece of sage brush. Live and learn. A League now making some good and smart moves up the side of Nachter Butte. At 35 she found herself in trouble for moving after a bird, ending her bid.
Brace 5: Featuring a very local Miss Liberty Too our runner-up champion owned and handled by Mark McFarland and Tians Butterbean Pointer Male owned and handled by Cliff Mesnard handling. ButterBean was fast and away up the next ridge in no time at all. The gallery having fun pointing him out. The wind was not our friend. Miss Liberty took the bottom of the draw towards Bakeoven to the end, her scout called point and we descended the grade to find her standing a pair of Huns. In the wind and under my breath I said, "Nice find." I thought to myself. Alex Mauck said, "Yes it was." Miss Liberty catching the front above the Cabin Pond, which is immediately where our group lost her. As we bumbled around, an interested gallery member somehow saw her under a big juniper. The single Chukar was flushed and a heavy breathing McFarland took her to the pond for water. ButterBean was on an excellent adventure of his own but often far up on a ridge looking back to gauge the next cast. Not enough can be said about what happened next. Both the Winner and runner-up made this move and it solidified their placements. Miss Liberty had a choice - run straight down the draw or take a side trip up the ridge and meet us 11 minutes later at the end of it. That is where birds live and that is where bird dogs should go. Back in Green Valley, both dogs took water at the truck. Just before Madhatter, Butterbean was still with us but listening a bit better. Miss Liberty was right and didn't come forward. The Scout found her pointing. McFarland on a pretty good Ranch horse making the ride in style. A shot as the Hun flew to safety at the 44-minute mark was memorable. ButterBean was bird less. At 55, Miss Liberty had a Chukar and a good finish.
Brace 6: Far West Builders Ace pointer male owned and handled by Mike Wilken and Love Train pointer female owned and handled by Tom Griffin. Love Train and Builders Ace were big off the line. Builders Ace make some bold moves that eventually got him, well, gone. Tracker was called for at 25. Love Train brought up at 15. Above the Cabin Pond, Love Train pointed a Chukar up where you should be thanking the bird planter at 35. She continued to make big moves until she was finally counted out.
Brace 7: Dunfur's Big Timber our Champion GSP male Handled by Anthony Bucknam Owned by Mark and Lynn Lund braced with Perkins Trace of Snow pointer male owned and handled by Chris Perkins. We broke from camp. It was an early morning after a late night. The dogs went forward without much urging. The handlers seemed calm. Probably not. Just as Bucknam was starting to handle, Big Timber was standing at 8 over by the windmill. The bird work was flawless. Turning up hill towards the Original Gate the pair made some really nice moves both left and right. Trace of Snow hitting up in the rocks. Big Timber just as impressive. Up past the barbed wire crossing, Big Timber on point again. A single Chukar produced and again excellent bird work. Across the face of Nachter Butte both dogs used the wind to their productive advantage. Probably the only flaw in Big Timbers race was the nonproductive at the 27-minute mark. Two things happened at 33; Trace of Snow had a non-productive and Big Timber had a find. At 36, Trace of Snow had a dandy find on a pair of Huns. Big Timber was making some really nice moves across a hillside and at 45 had another really good find. At 50, Trace of Snow was pointing again and Big Timber made an incredible back. The pair of Huns flew down the draw. Trace of Snow made a nice finish. Big Timber made the same incredible cast across the top of the ridge that the Runner-up made the day before. Fun brace, lots to talk about.
Brace 8: Saddled WhiteHorse GWP male owned and handled by Matt Solt, Aunt Trojie's Dirty Nike GSP female owned and handled by Larry Metter. Breakaway from the spring in Green Valley. Both down the valley with rocks above. WhiteHorse chooses the rocks. The pace is quick. If you were handling, you would ride too. Coming up the hill and hoping that the pair would be forward the handlers were sitting tall in the saddle looking for 'em. Nike was in front. Whitehorse was not in sight. Nike hunting diligently. The wind was strong. Whitehorse not found in judgement. In fact, she was found 7 hours later. Above Dave's Gate Nike was found standing, pretty. Continuing up the draw her range and pattern were the same as before. Nike finished with a nice find at 55.
Brace 9: Dunfur's Tuff Dixie GSP female owned and handled by Matt Solt was scratched as Matt Solt was looking for Whitehorse from the previous brace. Skydancers Gold Rush setter male owned and handled by Tom Griffiin. Breaking away above the Cabin Pond, Gold Rush made some big casts. Upon completing those casts he would come in for a bit. Then off he would go again. At 26 Gold Rush had what started as a non-productive that he turned into a find on Huns. At 33 near the windmill Gold Rush had a find on a single Chukar. For the next couple of minutes, it took the scout and the handler some time to get him to the front. When they did get him forward, he went and at 51 he was on point at Dave's Gate. Sent up hill to finish his time, he did go way up the hill and was found on point at time. The find never produced a bird.
Brace 10: Double M's Deliverance pointer male owned and handled by Cliff Mesnard and Snakebite NV pointer female owned and handled by Mel Lueck. This pair had running on their minds. Both making those casts that the gallery would get involved in. Across Nachter Butte the pair had some extended absences; this of course distracted from their efforts. Lots of country to look at but not a dog that we could see. Handlers asked for their respective tracking units.
Brace 11: Liberty's Lady Rising Sun GSP female owned and handled by Make McFarland and Skydancer's Deal Maker setter male owned and handled by Tom Griffin. Breaking away from the windmill, Lady Rising Sun lifted a Chukar and chased it. Her dismayed handler was well dismayed. This near the 7-minute mark. Deal Maker gave it his best for the next 12 minutes. His handler felt that he was not applying himself well enough to continue and wished to get his next charge out of the dog truck.
Brace 12: Touch's Ring of Fire pointer female owned and handled by Tom Griffin and Painted Owyhee Breeze pointer female owned and handled by Bridget Ledington. Ring of Fire was going hard off the line. A big breakaway and a bold move across the ridge was her next and last move seen under judgment. Tracker in use at 30. Breeze made some nice moves that made sense to the country. Following up those moves with a great move across Nachter Butte. A really good find at 40. Fatigue bringing her closer to the gallery. Another find at 57 was nice but diminishing range distracted.
Brace 13: Troji's Blazing Saddle GSP female owned and handled by Larry Metter and Touch's California Dream pointer male owned and handled by Tom Griffin. After a brief wait for lost handler, we broke way from the original gate. Metter handling his young Shorthair. Blazing Saddle had a really nice find at 28. Coming out of the Cabin Pond, she made some really nice moves above the valley, much like the winners. Above the rocks, east of Green Valley she had a find up in the rocks at 35. California Dream was attractive from the start. The Limb find at 15 coupled with a find at 23 above the Cabin Pond, got the Judges attention. Blazing Saddle had some things working for her. As time went on her youth started to show, see you next year. California Dream lost touch after the Cabin Pond. He was last seen on a far ridge. Tracker was handed to his handler.
Brace 14: Up n Adams Gaining Elevation Switchback GSP male owned and handled by Josh Miller paired with Tekoa Mtn Six Gun setter male owned and handled by Chase Cochran. The Gallery suffering from chionophobia on this brace. Six Gun and Switchback making some early moves that the judges were looking at. Six Gun with a find below the windmill at 6. We had ridden past him and the sharp eyes of Judge Blair saw him in the brush. Four minutes down range, Six Gun was standing again along the fence. All in order. At 16, Switchback was found standing above the first gate. The bird was a runner but the handler eventually got it to lift. Now at 25 and 26 this pair were standing different birds on different hills near Dave's Gate. The dogs stood well for the flush and shot. Crossing Nachter Butte, the pair hunted the whole face of the Butte at different ranges. Switchback with a find at 36 and Six Gun with a dead bird find at the same time. Six Gun needing scouting near the top of Lolly Pop Tree hill. The snow now coming down hard. Six Gun got out-of-pocket as they say. Switchback mostly forward but slowing as cover was disappearing. Tracker delivered to Cochran by judge.
Brace 15: MH Rockford Peach pointer female owned and handled by Matt Huston and Elhew Sea Me Charm Em pointer male owned and handled by Mel Lueck. Breaking away down Bull Hook Bottom, Peach was forward down the draw. Charm Em forward as well. As the gallery came around the spring bottom, Charm Em was forward, and Peach was not in sight. A sharp eye form the Judges panel saw a dog way up on a far ridge standing. A five-minute ride confirmed that Peach was indeed pointing. As the handler arrived Peach decided to move up and push the bird. Charm Em hunted the front with some predictability. Hunting the top of the ridge going down into Madhatter, a Hun was knocked by the gallery. The bird figured, "I'll fly down over that dog's head and see what trouble I can make." Charm Em looked at the Hun and honestly tried to stop to flush but then got over his duty and chased the wild bird.
Brace 16: Painted Owyhee Toad handled pointer male owned and handled by Bridget Ledington and Got Another Project pointer male owned and handled by Todd Schaaf. Above the Windmill, Project had a breach of manners at 4. Roading harness and a rope for Project. Toad had what the judges considered the best first 20 minutes of the stake. Toad had finds at 20, 25. All good quality finds. He made a great move across Nachter Butte, the Toad dropped down below the road down into the flat above the Original Gate to stick a Chukar. All good work. The bird under the juniper tree would not fly and blank was offered instead. At the 40-minute mark Toad had an indiscretion that both the handler and the judges were sicken by.
Brace 17: Mauck's Wyeast Owyhee Setter Male owned and handled by Alex Mauck, and Indian Head Whisky Pointer Male owned and handled by Jerad Tappero.
Both attractive to watch but had problems at the 10-minute mark of this brace and ended up on the end of a rope.
There is 'the old saying it takes a village to... In the case of putting on a field trail there has never been a truer statement. Lucky for me I have a great village. Without the help Dan Hoke, Chase Cochran, Mel Lueck, Barry Lueck, Emily Deasy, Josh and Alison Miller, 'Anthon Backnam and my very patient wife Amanda Schaaf and I can't forget Kate and Jason for the use of their Side by Side. None of this could be posable. Nor without great landowners like Blane Carver and his opening up his ranch to us. We are lucky to have companies like Purina. I can not say how much we applicate everything Purina does for the field trail community. The last group I would like to thank is everyone who came and participated in the championship see you all next year.
Maupin, Oreg., March 19
Judges: Greg Blair and Dan Hoke
NATIONAL AMATEUR CHUKAR SHOOTING DOG CHAMPIONSHIP [One-Hour Heats] - 7 German Shorthairs, 18 Pointers, 8 Setters and 1 Vizsla
Winner-DUNFUR'S BIG TIMBER, 1689498, German Shorthair male, by Dress Blue-Dunfur's Tule Moon. Mark & Lynn Lund, owners; Anthony Bucknam, handler.
Runner-Up-MISS LIBERTY TOO, 1668269, German Shorthair female, by Diamond Duke-Heidi Ho XXXIII. Mark McFarland, owner and handler.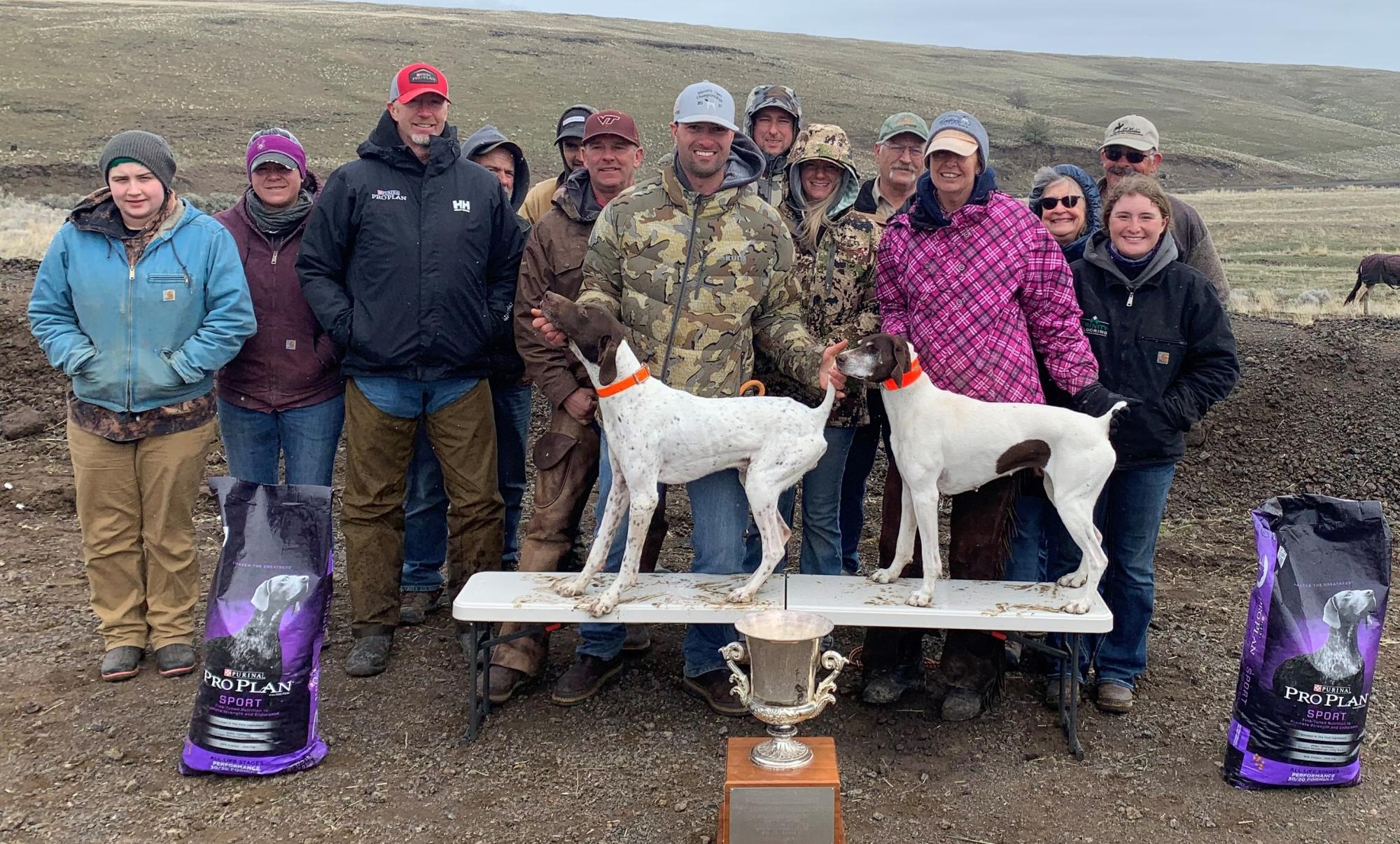 Front Row: Chase Cochran with Dunfur's Big Timber Mel Lueck with Miss Liberty Too. Second Row: Shannon Schaaf, Gregg Blare, Dan Hoke, Alison Miller, Jane McFarland, Emely Desey. Back Row: Bridget Ledington, Cliff Mesnard, Chris Perkins, Josh Miller, Jim Ledington, Mark McFarland.