Result: Region 5 Amateur Shooting Dog Championship
Location: Pinckneyville, Illinois
Post Date: Jun 22, 2022
Submitted By: Brad Hargis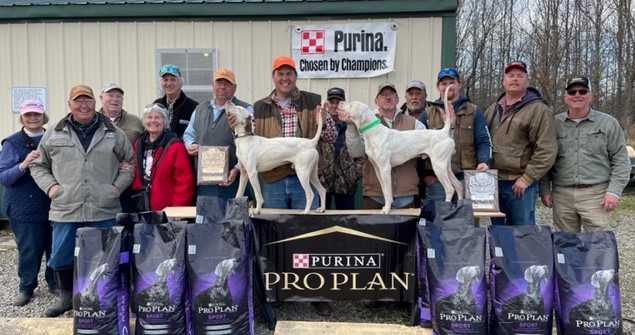 From left: Judy Reisner, Dr. George Irkhe, Doug Reisner, Ann Irkhe, Mark Johnson, Brian Peterson (O/H Champion), Lance Servais with Southern Shadow's T Rex, Mike Jackson, Brian Sheehan with Erin's Country Rebel, Brad Hargis, Sean Patrick Derrig (O/H runner-up), Judge Dereck Layne, Judge Jeff Blackwell.
The Region 5 Shooting Dog Championship was held March 25th thru the 27th at the always improving Captain's Unit at Pyramid State Park just south of Pinckneyville, Ill. Judges Dereck Layne of Chapel Hill, Tenn., and Jeff Blackwell of Shelbyville, Tenn., had an entry of 34 dogs to choose from. The champion, Lance's Southern T, handled by Lance Somebody put down his championship performance in the last brace of the trial on a sunny Sunday afternoon. The runner up champion, Erin's Country Rebel was handled by Sean Patrick Derig, Sean Patrick takes some teasing about being on the B-team but put down an A-team performance on this weekend. A trial this size as with any size trial takes good help and several people to pull it off. Break away for the first brace of the day may be at 8 a.m. but getting ready for the day starts at around 5 a.m. Jim Lawless was there in the dark each morning to help plant birds and then again on lunch break giving each dog in every brace a chance to find birds. Kay Morrison would then show up and start breakfast, biscuits and gravy, bacon, sausage, eggs, pancakes, followed up by lunch and dinner fixed by my wife Sherry Hargis, if you went hungry here you had no one to blame but yourself. Don Heisner, dog wagon driver supreme, was on hand to get the morning and afternoon braces on the dog wagon and to the starting line each day and also took time to run two dogs. Doug and Judy Reisner and Dr. George and Ann Irkhe helped hauling dogs and watching the road crossings to help ensure the safety of the dogs. A big thank you goes out to this group for all their help in making this a successful trial, Thank you!
Your 2022 Region 5 shooting dog champion Southern Shadows T Rex owned and handled by Brian Peterson was turned loose on Sunday afternoon in the last brace of the trial. T Rex was always to the front and hitting all the edges. His first find came at the 12-minute mark where 3 quail were moved. At 21 he was credited with a divided find with his brace mate Stellar's Natural Disaster, young pointer female handled by Mike DuVall. Mike's dog would go on to have 2 more finds and finish the hour. Rex would have 3 more finds at 36, 40 and the 54- minute mark and would also have a back at the 56- minute mark. Rex covered the ground well with good speed and finished the hour. Runner-up Champion Erin's Country Rebel ran in brace 8, the third brace Saturday morning handled by Sean Patrick Derrig. Rebel put down a good steady race with a strong finish. He had finds at the 11, 33- and 38-minute marks. Country Rebel stood tight on his second find as his brace mate failed to back and ran past him. Both the Champion and runner-up put on a performance that caught the eye of the judges earning these dogs the titles.
THE RUNNING
Brace 1 saw Glenmere's Amae Zing (PF/Jeff Haggis) and Touch's Flo Rider (PF/Mike Jackson) broke loose at 9 a.m. on Friday morning to start the trial. Glenmere's Amae Zing had 2 finds and Flo Rider and 1 find and a back, both dogs were picked up at the 50-minute mark.
Brace 2- Dr. Alan Dunbar turned loose ESM G F Texas Ranger and Frank Rutland released PM Panther Creek Merlin. Merlin had a back and after an absence the tracker was requested. GF Texas Ranger had 2 finds for Dunbar and finished the hour.
Brace 3-Dr. Brown scratched ESM Pioneer B which left John VanHorn and his PM Erin's Alibi to run as a by dog on course number 3. Erin's Alibi had two finds with nice style and finished the hour./
Brace 4- As during every lunch break at our trials the course was reseeded and readied for the afternoon running. Ten Oaks Annie (PF/Heise) was scratched due to unforeseen circumstances. ESM Beaucoup Creek Buck owned and handled by Don Heisner was turned loose on course number one and the afternoon running was off. Buck had finds at 5, 10, 36 and 47. Heisner's dog put down a nice forward smooth race and if could have come up with a stronger finished might have changed the final decisions.
Brace 5- Braced together were Dr. Marion Brown and Dr. Alan Dunbar, both releasing setter males. Dr. Dunbar's Grouse Feather Witcher ran a big race but had no bird work. Dr. Brown's Wibaux Sun B had an unproductive at 5 and a find at 23.
Brace 6-Erin's Southern Comfort and had 1 find early followed by an absence when Sean Patrick asked for the tracker at 20. Lawless Valentine PF a nice-looking derby age white pointer, had 1 find at 20 a UP at 40 before handler Jim Lawless decided to pick her up at 55.
Brace 7- In this brace was John VanHorn with PM Touch's Steely Dan Sean Patrick Derrig with PM Erin's Grey Justice. Justice finished the hour with one find. Touch's Steely Dan had 3 finds but went with the third bird and was picked up at 52.
Brace 8- This brace had your runner up champion Erin's Country Rebel braced with Adam Delude's PF Alliwoods Shady Shay. Shay failed to back and was picked up. Erin's Country was covered above.
Brace 9-Luke Topp with PM Topp's First Junior and Keith Lowry with PF Touch's Valiant Lady took off after lunch. Luke asked for the tracker at 47. Touch's Valiant Lady had a find at pick up time.
Brace 10-Jackson's Front Money , Mike Jackson, picked up early after one find and one back. Panther Creek Rosie, Frank Rutland's pointer female had a big race and a find at 45, finished the hour.
Brace 11-Mark Johnson's pointer female, Erin's Tin Lizzie had a breach of manners on her second find and Luke Topp's pointer female Topp's Ice Chip was gone after breakaway.
Brace 12-Sunday morning brought SM Beaucoup Creek Gus, Don Heisner and Burrow's Trip My Trigger, Scott Little to the line to start the last day of running. Little's pointer had a find at 45 and finished the hour. Mr. Heisner's setter Gus was left behind and later found on point.
Brace 13- The 13th braced paired Mike DuVall with his pointer female, Thumper's Anything But with Lawless Spec, Jim Lawless pointer male. DuVall's big running female had 3 finds, 2 backs and a nice front running race. Spec totaled 5 finds, taking on the edges and big open fields to the front. Spec's find at the 44-minute mark was deep in the woods, a very impressive dug up find. At pick up time Lawless pointer had crossed the road and was still going strong and Jim was not able to show him to the judges again. If Spec had shown at pick up time the judge's final conversation might have been different.
Brace 14-Scott Little's Wariotos Crazy Daisy, PF, finished the hour with finds at the 5- and 50-minute mark. Oak Grove Starlet, PF owned and handled by Doug Riesner was picked up shortly after breakaway.
Brace 15-Erin's Wild Rum, PM, Mark Johnson and Lester's Top Recruit, PM, Lance Servais broke away on a very sunny afternoon. Servais to early finds, one at the 7 mark and one at 9 in. Lester's Top Recruit then covered the ground and had another find at 40 and finished the hour. Mr. Johnson's dog had a find at 35 and a back at 40 and shortly after was picked up.
Brace 16-Brian Sheehan's pointer male Erin's Rebel Attraction went with a bird early and was picked up. Jim Lawless pointer female, Lawless Georgie Girl was gone at breakaway and was up at the 10-minute mark.
Brace 17-Brace 17 feature Southern Shadow's T-Rex, along with Stellar's Natural Disaster, their performance was covered earlier.
The Region 5 would like to thank all the handlers, judges Dereck Layne and Jeff Blackwell, Purina for the dog food donation to the winner and runner up and their continued support of field trials in general. A really big shout out to everyone who helped put this trial on, without your help this trial would not have been able to go on. I look forward to meeting up with newly made friends at future field trials.
Pinckneyville, Ill., March 25
Judges: Jeff Blackwell and Dereck Layne
REGION 5 AMATEUR SHOOTING DOG CHAMPIONSHIP [One-Hour Heats] - 28 Pointers and 6 Setters
Winner-SOUTHERN SHADOWS T REX, 1682853, pointer male, by Skyfall-Miller's White Wall. Lance Servais, owner; Brian Peterson, handler.
Runner-Up-ERIN'S COUNTRY REBEL, 1684352, pointer male, by Dominator's Rebel Heir-Erin's Miss Faye. Sean P. Derrig, owner and handler.