Event: Heartland Open All-Age
Result: Pony Express Field Trial Club
Location: Gentry, Missouri
Post Date: Jun 24, 2022
Submitted By: Steve Auxier
The Pony Express field trial club members consisting of Tommy Smith, Terry Doolittle, Larry and Linda Smith, and Steve Auxier came together and hosted a successful event! This year's event was not only highlighted by amazing performances but also maintained the camaraderie that everyone looks forward to each spring! We would like to thank in advance all the bird dog breeders, owners, handlers and all of the sponsors for this National Qualifying event!! Without their support this event would not be possible!! Sponsors for this year's event include Purina Dog Food, The Saddle Guy, and Good Life Fitness.
The Heartland Open All-Age commenced on over the rolling north Missouri countryside known as Smith Farms west of Gentry, Mo. The field trial venue owned by Mr. and Mrs. Larry Smith has been laid out with 4 continuing 1 hour courses to show case all age dogs.
For all spectators and owners present a Polaris ATV was provided for those in attendance that did not want to ride a horse to view the field trial. The Pony Express Field Trial club provided horse hay for the participants and all handlers.
Smith Farms has a pre-release quail program with habitat and food plots designed to provide sustain quail PLUS birds are released every day prior to the days running where every entry could have ample opportunity to find game.
The judges for this year's Heartland Open All-Age was Mr. Bill Mason and Mr. Lynn Oxendine. The Pony Express Field Trial Club is truly honored to have these fine gentleman in the judging seats. The judges had many great performances with multiple pieces of bird work and good races. The judges noted they enjoyed the field trial, grounds, nice dogs, hospitality from the Pony Express Field Trial Club and multiple bird contacts by all dogs.
Topping the strong field of 24 strong contenders at this year's Heartland Open All-Age for the judges, was the pointer male, Beeler's Texas handled and owned by Mr. Scott Beeler of Lancaster, Mo. Texas Jig scored 6 finds and a strong forward race showing his endurance with a large finish off in the distance! Daugherty handled Westfall's True Grit to score 2nd who recorded 7 finds! He was noted having an effortless ground performance. True Grit is owned by Mr. Ryan Westfall of Liberty, Mo. Taking the top 3 was Millers Speed Dial handled by Mr. Gary Lester for owner Mick Marietta. Speed Dial scored multiple finds with a smooth and consistent forward race! All the dogs were noted having good performances over the rolling hills at Smith Farms!
Gentry, Mo., March 23
Judges: Bill Mason and Lynn Oxendine
HEARTLAND OPEN ALL-AGE [One-Hour Heats] - 26 Pointers and 1 Setter
1st-BEELER'S TEXAS JIGS, 1686196, pointer male, by Dunn's Tried'n True-Yales Sunny Hill Dot. Scott Beeler, owner and handler.
2d-WESTFALL'S TRUE GRIT, 1663635, pointer male, by Erin's Brave Heart-Westfall's Irish Bell. Ryan Westfall, owner; Andy Daugherty, handler.
3d-MILLER'S SPEED DIAL, 1666636, pointer male, by Miller's Dialing In-Old Road Lou. Mick Marietta, owner; Gary Lester, handler.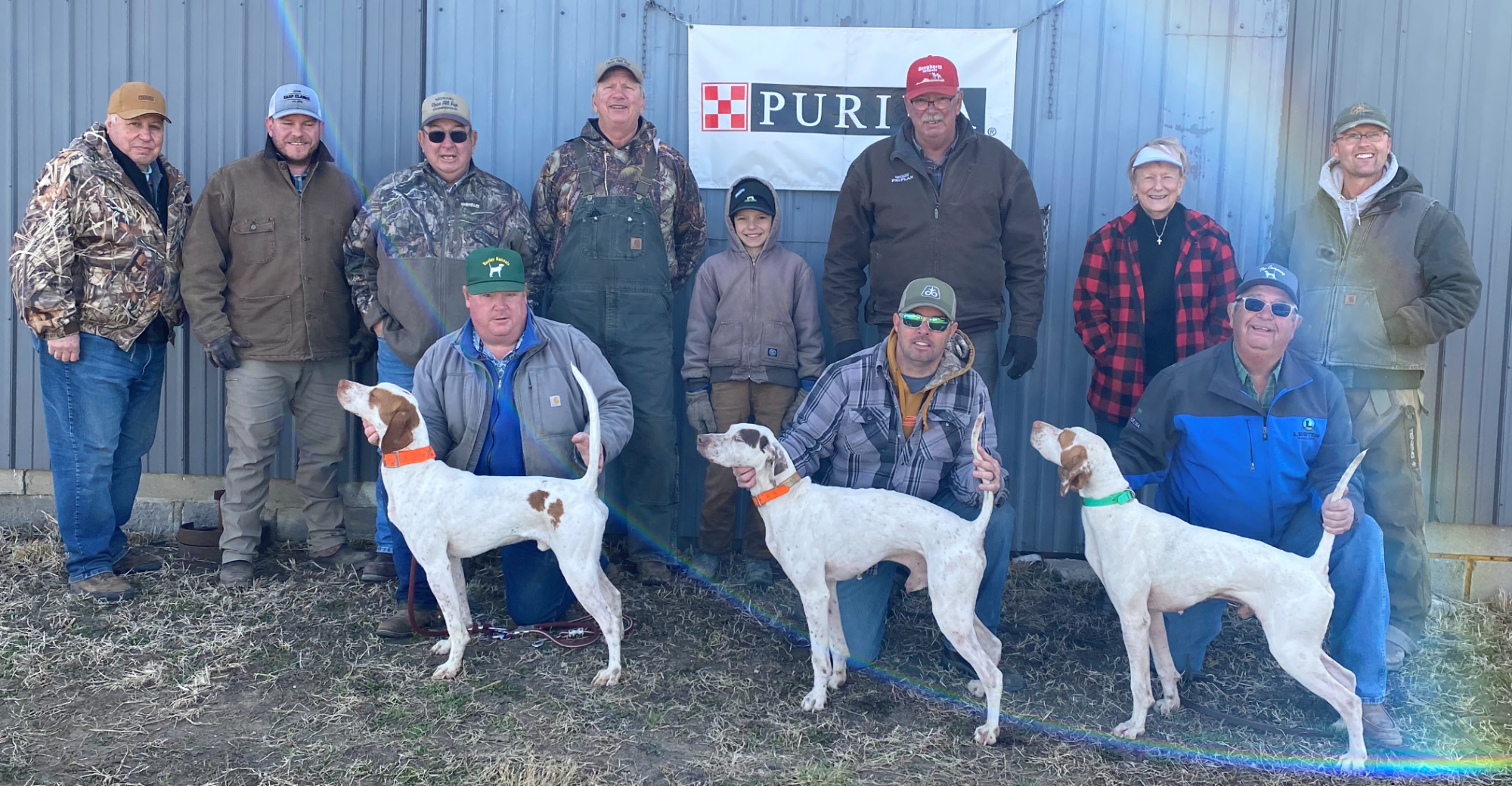 From left, back row: Terry Doolittle, Tommy Smith, Judge Bill Mason, Judge Lynn Oxendine, Thomas Smith, Andy Daugherty, Linda Smith, Steve Auxier. Front row: Scott Beeler, Ryan Westfall, Gary Lester. Dogs from left: Beeler's Texas Jig, Westfall's True Grit, Miller's Speed Dial.