Event: Oliver DeLuca Open Shooting Dog Classic
Result: Farmer Sportsmen's Field Trial Club
Location: Ionia, Michigan
Post Date: Jun 27, 2022
Submitted By: Bill Branham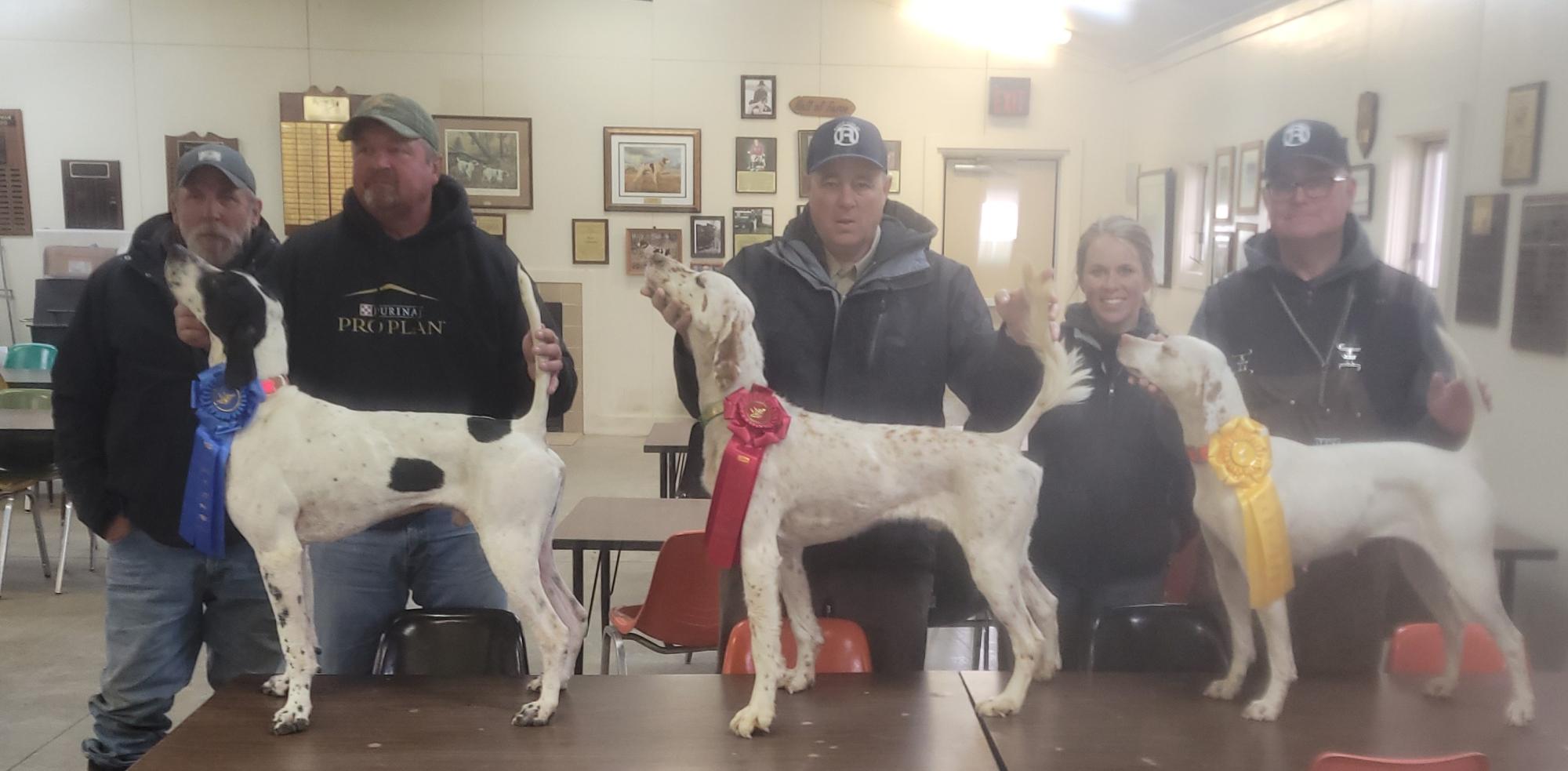 Bill Branham, Shawn Kinkelaar with Erin's Thunder Backus, Allen Dunbar with Grouse Feather Witcher Kelsey Hajek, Sandy Maclean with Wicked Quick.
Finally the Farmer Sportsmen's Club was able to hold the Oliver Deluca classic after two long years. It was held on April 14-17 at the Ionia field trial grounds.
The weather was not the greatest to say the least. It was rainy and very windy. The grounds had taken a lot of rain over the last several weeks and the courses were very muddy but we all made the best of it. It was great to see everyone that we hadn't seen in two years.
We would like to thank a few people who helped make this trial a success Purina is first and foremost for there dedicated support. I know it has been a long and difficult couple of years to say the least our hats our off. Also to all of the members who took time out of there busy schedules to come and help out to make this a success. Jeff Haggis made his way through the border to help out and Marshall. Sandy Maclean and Kelsey Hajek they did double duty besides riding and helping out they also provided a fantastic dinner on Friday night. The judges Blake Rizzo and Leroy long for there undevided attention to each and every Brace.
A very special thanks goes to Bill and Cindy Klenner. Cindy who has been the secretary of Farmer Sportsmen's Club for many years has decided to step down. And Bill who has been there to lend a hand where it was needed. They both have dedicated there time generously to the betterment of the sport they both will definitely be missed.
The winners of the Oliver DeLuca Open Shooting Dog Classic. First Erin's Thunder Backus handled by Shawn Kinkelaar. He had a far reaching run with multiple finds.
Second Grouse Feather Witcher setter male handled by Allen Dunbar Witcher had a very nice forward race with a couple of well placed finds and a back.
Third went to Wicked Quick pointer female handed by Sandy Maclean Quick put down a very pleasing race for her handler.
Ionia, Mich., April 14
Judges: Lee Long and Blake Rizzo
OLIVER DELUCA OPEN SHOOTING DOG CLASSIC [One-Hour Heats] - 13 Pointers and 2 Setters
1st--ERIN'S THUNDER BACKUS, 1692320, pointer male, by Chelsea's Thunder Bolt-Erin's Bet On Me. Dr. Tom Jackson & Jerry Moisson, owners; Shawn Kinkelaar, handler.
2d-GROUSE FEATHER WITCHER, 1688616, setter male, by T's Gunslinger-Wynona's Witchy Woman. Allen Dunbar, owner and handler.
3d-WICKED QUICK, 1674810, pointer female, by Dunn's Tried'n True-Dunn's Get Out Sue. Sandy MacLean & Kelsey Hajek, owners; Sandy MacLean, handler.
Judges: Bill Klenner and Shawn Kinkelaar
AMATEUR SHOOTING DOG - 4 Pointers and 4 Setters
1st--G F TEXAS DANGER, 1679543, setter male, by Hytest Palladin-Wynona's Shamrock Buffet. Allen Dunbar, owner and handler.
2d-WICKED HIPPIE, 1684804, pointer male, by Lester's Sunny Hill Jo-Wicked Quick. Sandy MacLean, owner and handler.
3d-GROUSE FEATHER WITCHER, 1688616, setter male, by T's Gunslinger-Wynona's Witchy Woman. Allen Dunbar, owner and handler.