Result: NGSPA Hawkeye Open and Amateur Shooting Dog Championships
Location: Raymond, Nebraska
Post Date: Jul 21, 2022
Submitted By: Jeff Wallace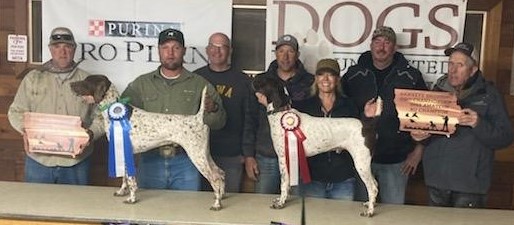 NGSPA Hawkeye Amateur Shooting Dog. From left: Mark Verdoorn, Chase Verdoorn with Snowy River's Strut'n N Cuttin, Judge Dr. Brent Hoehns, Kirk Loftin, Sherri Tangsrud with Twin Creeks Running Rocky, Judge Justin Hess, Larry Loftin.
The 2022 NGSPA Hawkeye Amateur Shooting Dog Championship was run starting Friday April 29 at the Branched Oak Field Trial Grounds near Raymond, Neb. Conditions were cool, in the low 40's-50's with light winds the first day. A severe spring thunderstorm overnight left us with some well needed moisture on the course, but also with 40 mph wind gusts making the second day of running quite a test for the competitors. Twenty dogs were drawn for this year's running. Slightly down in numbers, but excellent in quality. Judging this year's stake were Justin Hess of Exira, Ia., and Brent Hoehns from Knoxville, Ia. Both knowledgeable dog men and we appreciated their time in the saddle and close attention to the dogs. The old saying, "let the dogs run, and they'll sort themselves out" was definitely not the case in this year's renewal. The judges enjoyed several fine runs and were noted to be grumbling about how small the differences were between several competitors.
The Winners
This year's Champion was Snowy River's Strut'n Cutting (Spur) handled by Chase Verdoorn. Spur ran in the first brace of the event loosed with Covey Up's Rhetts Get Lucky (Rhett) handled by Ryan Griess. Both dogs were away quickly on a 40-degree overcast morning. Both dogs with separate finds at 9 on the buffet line. Rhett with well-located birds- perhaps a little loose at flush, Spur high and tight throughout. Loosed, Spur followed with two stylish finds at 15 and 21- one near the lone Cottonwood and another at the south end of mushroom draw, both perfectly handled. From there, Spur had a big move ahead with a find at 30 across the dry pond dam. He opened up across the main bottom and made a nice cast south on the first draw across the wooden bridge. He had an unproductive at 40, but scored another stylish, well-handled find at 52. Rhett had a second find at 50, all in order. Spur had a strong forward race, never came from behind, showing excellent style and impeccable manners on 5 well-spaced finds. A worthy championship performance.
Named runner-up was Twin Creeks Running Rocky (Rocky) handled by Kirk Loftin. Rocky was paired with Chase Verdoorn's Snowy River's Freak On A Leash (Korn) male. These dogs ran the second day with much windier/tougher conditions. Both dogs loosed on the back of the course and covering a lot of ground. A divided find produced a dead quail at 23 near the concrete crossing. Both dogs made big moves across main bottom, with Rocky found ahead at the buffet line standing at 34. Birds well located; manners excellent. Korn backing the find from long distance showing good style and manners. Both dogs hurried ahead and were found with a divided find at 43 on mushroom draw. Again, both dogs with good style and excellent manners. Both dogs making large moves back across the main bottom with strong finishes to the front across the wooden bridge. A nice race for both dogs in tough conditions, Rocky with a bit more aggressive race.
THE RUNNING
The Champion's brace was noted above.
The second brace paired Holcomb's Ava (Ava), handled by John Holcomb with The Kansas Wind (Mariah) guided by Ken Sanderson. Both dogs were loosed on the North side of the course with Mariah making a big move laterally and ultimately behind. She had a nice find requiring a tricky relocation at 12. She unfortunately got sideways, then behind again, with handler asking for the tracker at 28. Ava was forward throughout, but not as energetic as is typical for this shorthair and was picked up at 30 with no game contact.
The third brace included H's Am Cruiser (Cruiser) handled by Verdoorn and Snowy River's Prairie Storm (Stormy) handled by Mike Zimbelman. This pair was loosed past the rock crossing, with Cruiser pointed and Stormy backing at 7 on the north end of mushroom draw. Handler noted birds had flown on his arrival, but unfortunately not seen by judges. Further flushing attempt and relocation proved unsuccessful. Stormy had a find at 20 across the dry pond dam with Cruiser backing, all in order. Cruiser had two more finds on the back course, one at 43 and a second at 50 both showing extreme style. Stormy with a nice back on the find at 43. A nice brace of shorthairs, perhaps a bit lateral race at times.
Our fourth brace was run on the second day of the trial. A severe thunderstorm had moved through the area and left us with 30-40 mph winds. Snowy River's White Out (Willy), handled by Chase Verdoorn ran as a bye dog. He was loosed at the clubhouse, made a big move across the bottom, but unfortunately crossed the wooden bridge onto the back course. He was returned to the front by the 15-minute mark. He had finds at 30 and again at 40, he appeared a little cold, but all in order. This was followed by a nice find at 53 with a slight acceptable turn to mark birds. He finished nicely ahead.
The fifth brace included AO Keg Creeks Tripps To Win (Tripp), run by Alan Davison also as a bye dog. Tripp broke away running into the teeth of the wind, being loosed on the back course. He started with big moves and scored finds at 6 and again at 11, both on wet, poor flying birds. He handled both flushes with ease and looked nice on his birds. He crossed the cement bridge and came into the main bottom making a huge move up to the buffet line where he had a nice find at 22. His big race became a bit more erratic, and despite a 4th nice find at 36 was lost soon thereafter.
The sixth brace paired Rocky and Korn and is described above.
Pinnacle Dee's Mighty Mouse (Dee), handled by Kirk Loftin and LSV's Hammer Down (Hammer) directed by Jim Jorgensen were loosed on the back of the course. Both dogs moving quickly, Hammer scoring first with find North of the buffet line at 12. Dee in the area, but no infraction seen by judges, she was taken on and had an unproductive on the buffet line at 15. Quickly ahead, both dogs found standing at 20 in mushroom draw- all in order. Coming across the dry pond dam, Dee scored at 33 standing nicely, Hammer with a nice back with mild movement at flush. Dee made an absolutely huge move into the southeast corner of the big bottom as we headed across the wooden bridge. Hammer had a final find at 57, but was picked up for a bird flushing during a relocation attempt in the strong winds. Dee finished strong ahead.
Our eighth brace paired P J Wildfires Little Lexi (Lexi), handled by Kirk Loftin with Verdoorn's charge, Snowy River's Cuttin High Tide (Tide). Both dogs quickly across the main bottom with Lexi scoring first at 11 on the buffet line. Tide answered with a stylish find at 16 on mushroom draw. Both dogs were well ahead with a nice divided find at 26 on the hill past the dry pond crossing. Both dogs covered the bottom well and once across the wooden bridge scored a divided find at 33 near the base of the first draw there. Lexi scored again at 42, followed by Tide at 50 on the back turnaround portion of the course. A lot of bird work and all of it exceptional clean for both dogs. Tide's race shortened a bit late and had a non-productive near time. Lexi still staying to the front with a final find at 58.
The ninth brace included Hi-N's Allison Miranda (Allie), handled by Loftin and Snowy River's Bankin On Boz (Boz), handled by Verdoorn. Breaking away from the clubhouse, both dogs covered the bottom with a beautiful find at 6 by Allie and excellent back by Boz on the buffet line. Boz went wide near mushroom draw and had a true limb find pushing the edge of the course. This was followed by a second find at 20 on mushroom draw. Allie was a handful, but sent to the front for a nice find with an extended relocation at 26. Boz came into the situation and backed. Ahead, Boz scored on a "crash bird" found in the middle of the field as he was running ahead and was handled nicely. Both dogs crossed the wooden bridge and shared a find at 35. Boz worked ahead for the rest of the brace, shortening slightly near pickup with a non-productive at 58. Allie ran a bit too big today with handler asking for the tracker late after an extended absence.
The final brace included Uodibar's Robbi Jo (Robbi), handled by Loftin and Cajun's Firecracker (Kadie), handled by Bruce Bryant. Both dogs were loosed at the clubhouse and made big moves to the buffet line. Kadie was found standing with Robbi backing, but no bird produced. Ahead to mushroom draw, Robbi had a nice find at 15, all in order. Both dogs moving nicely across the dry pond dam with a divided find at 25, nice work by both charges. Across the wooden bridge, both dogs were making big moves, but a bit erratic. Robbi with an extended absence and her handler asked for the tracker at 54. Kadie doing well, but not enough to move the winners, elected to pick up at 52.
A championship doesn't run itself, and we had good help putting this event on. We would like to thank Jeff Wallace and Bruce Bryant for chairing the trial. Both men did a lot of work setting up things, putting out water, getting birds, getting meals, and keeping things running smoothly. A big thank you to Darren White, who helped plant birds during the trial. As always, we would like to thank our sponsors, including Purina and their generous Pro Plan contribution for the winners. We would also like to thank Dogs Unlimited for help with judge's gifts.
Raymond, Neb., April 29 - One Course
Judges: Justin Hess and Brent Hoehns
NGSPA HAWKEYE AMATEUR SHOOTING DOG CHAMPIONSHIP [One-Hour Heats] - 20 German Shorthairs
Winner-SNOWY RIVER'S STRUT'N N CUTTI, 1677989, male, by Snowy River's Full Strut-Cajun's Bad Habit. Chase Verdoorn & Mark Verdoorn, owners; Chase Verdoorn, handler.
Runner-Up-TWIN CREEKS RUNNING ROCKY, 1685652, male, by Twin Creeks Running Ruger-P J Wildfire's Little Lexi. Dr. Kirk A. & Larry Loftin, owners; Dr. Kirk A. Loftin, handler.
This year's NGSPA Hawkeye Championship was sponsored by the German Shorthaired Club of Central Iowa and held April 29th - May 3rd at the outstanding Branched Oaks Trial grounds in Raymond, Nebraska. The weather was more of a challenge for both handlers and dogs than prior trials. We were blessed with needed rain but it made for numerous challenges to complete the trial.
NGSPA HAWKEYE OPEN SHOOTING DOG CHAMPIONSHIP
We would like to THANK our Sponsors Purina and Dogs Unlimited for their continued support for our Championship along with a special thanks to our dedicated Judges Dr. Brent Hoehns, Justin Hess, Steve Auxier and Stan Truska. The success of a trial is dependent on the volunteers! We would like to thank Bruce Bryant, Jeff Wallace, Darrin White, Keith Bryant and Mike Zimbelman for all the help! I would also like to give a special thanks to Dr. Hoehns who graciously volunteered to scribe our Amateur stake.
The Amateur Shooting Dog Championship Drew 20 entries and judged by Justin Hess and Dr Hoehns. This years Championship was another extremely competitive stake with numerous high class impressive runs.
Snowy River's Struttin'N Cuttin "Spur" owned by Chase and Mark Verdoorn Handled by Chase was named Champion.
Twin Creeks Running Rocky "Rocky" owned by Kirk and Larry Loftin Handled by Kirk was named Runner up Champion.
The Open Championship Cast off Sunday afternoon with 23 entries. The weather changed from warm and windy on Sunday afternoon to full rain down pour by Monday noon causing a weather delay until Tuesday Morning. We finished the final 4 braces on Tuesday afternoon with no rain but a wet and muddy course.
Our judges commented on the total amount of impressive runs in the stake making their decision extremely difficult. Both our Champion and Runner up Champion ran extremely nice Shooting dog races. Both dogs used the extreme limits of the course to complete multiple impressive finds.
Pinnacle Dee's Mighty Mouse "Dee" Owned by Kirk Loftin and Dean Kephart was named Champion
Hi N"s Allison Miranda "Dee" Owned and Handled by Kirk Loftin was named Runner up Champion
Judges: Steve Auxier and Stan Truska
NGSPA HAWKEYE OPEN SHOOTING DOG CHAMPIONSHIP [One-Hour Heats] - 23 German Shorthairs
Winner-STONEY HILL'S PINNACLE DEE, 1694168, female, by Simons Gunner-Shadowrocks Mighty Mouse. Dr. Kirk A. Loftin & Larry Loftin & Dean Kephart, owners; Dr. Kirk A. Loftin, handler.
Runner-Up-HI N'S ALLISON MIRANDA, 1676665, female, by Hi N's Feed Jake-Chicoree's Sparkle In Her Eye. Dr. Kirk A. Loftin, owner and handler.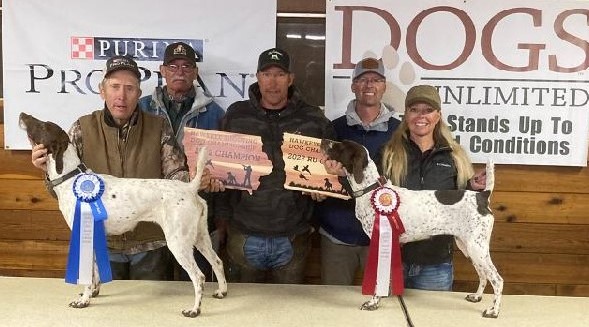 NGSPA Hawkeye Open Shooting Dog Championship. From left: Larry Loftin with Stoney Hill's Pinnacle Dee, Judge Stan Truksa, Kirk Loftin, Judge Steve Auxier, Sherri Tangsrud with Hi N's Allison Miranda.