Result: Venango Grouse Trial Club
Location: Marienville, Pennsylvania
Post Date: Jul 25, 2022
Submitted By: Joe Cammisa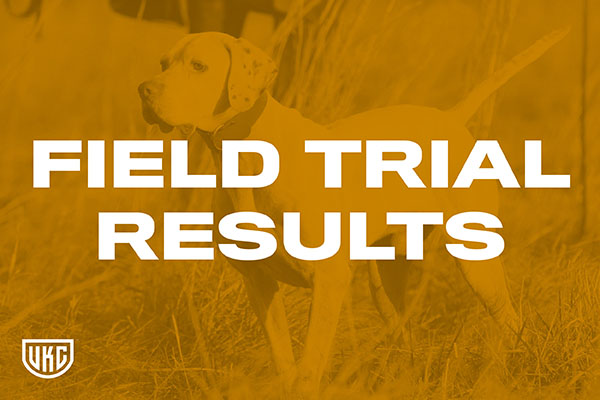 The Venango drew ten puppies and thirteen derbies for the companion stake to the Ontario Grouse Championship. The Venango derby ran on Friday April 8th and the Venango Puppy Classic ran on Saturday April 9th.
The event was ran in The Allegheny National Forest, Marienville Pa.
The Derby was hotly contested even though the weather was cold and wet according to judges John McKellop of Meadville, Pa., and Jim Winnen of Wattsburg Pa.
Queenie, setter female jumped out early to impress the judges and set the bar high and was unable to be topped. She took home the blue ribbon for her handler Scott Forman, showing off her application abilities, style, and fancy movement. Mark Hughes and Thunder Hills Ghost Rider, pointer male garnered the red ribbon in high fashion by covering the ground with style and speed. Dot and Marc Forman faired very well, working hand and hand, showing stylishly, and hitting all the objectives to round out the placements.
The Venango Puppy Classic was Judged by Scott Forman and Christy Helms, both of Prattsburg, N.Y. Klark, setter male owned and handled by Rob Matson ran the course like he owned it, showing off his running and handling skills to win first place. Second saw Leo, pointer male handled by Mark Hughes in a close second, pushing his way around the Lamonaville course with plenty of style and run. Mannie, Irish Setter female owned and handled by Al Fazenbaker sealed the deal for third with speed, style and biddability.
The Venango Club would like to thank Pennsylvania Grouse Trial Club President Norm Meeder, who was on hand to help with organizing and keeping the trial moving, along with Dave Duell, Secretary of the Pa Clubs who hosted the donuts, coffee, and lunches in addition to numerous other duties.
The Venango Club would like to thank our Sponsor, Greg Blair and Purina for their continued support to the game we all love.
Marienville, Pa., April 8 - One Course
Judges: John McKellop and Jim Winnen
OPEN DERBY - 8 Pointers and 5 Setters
1st-PINE STRAW FATBOTTOM GIRL, 1692898, setter female, by Erin's Hidden Shamrock-Pine Straw Sweet Tea. Michael Reaves & Dale Ash, owners; Scott Forman, handler.
2d-THUNDERHILLS STORM RIDER, 1693192, pointer male, by Thunderhills Pale Rider-High Desert Storm. Harry Tsepelias, owner; Mark Hughes, handler.
3d-WILD APPLE POP'S DOROTHY, 1696301, pointer female, by Wynot Atom-Wild Apple Snake Charmed. Daniel Steingraber, owner; Marc Forman, handler.
Judges: Scott Foreman and Christy Holmes
OPEN PUPPY - 5 Pointers and 3 Setters
1st-ANNA LAKE KLARK, 1695030, setter male, by Grouse Ridge Whitestone-Meredith Grade Annie. Robert Matson, owner and handler.
2d-PRETTY BOY LEO, 1688672, pointer male, by Grouse Hill Smokey-High Desert Storm. Theodoros Mappas, owner; Mark Hughes, handler.
3d-C C SPIRIT OF MARNOC, 1697073, Irish setter female, by Come Back Trump-Come Back Little Bit. Allen Fazenbaker, owner and handler.