Event: Western All-Age and Shooting Dog Futurities
Result: American Brittany Club Western All-Age and Shooting Dog Futurities
Location: Ritzville, Washington
Post Date: Jul 27, 2022
Submitted By: Jim Hammett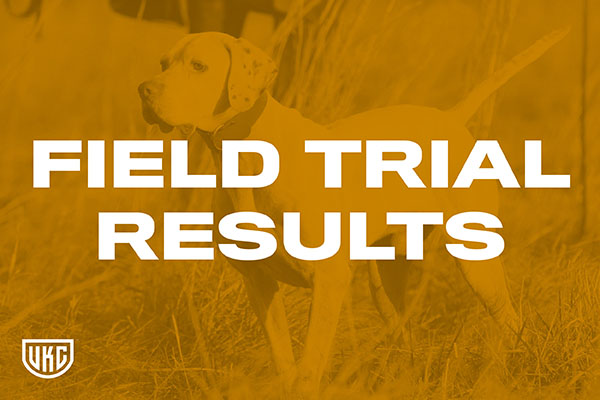 The Washington Brittany Club was honored to host the American Brittany Club 2022 Western All-Age and Shooting Dog Futurities in Ritzville, Wash.
Spring weather in eastern Washington can often be challenging, but April 14 proved to be downright brutal. Northeast winds exceeded 30 mph with intermittent sideways snow showers all day. Although the dogs did not seem to mind, horses, handlers, judges and this reporter suffered wind chill in the low teens and got pelted by grapple and snow. It was a great day to test foul-weather gear!
A big thank you to Purina for supporting this futurity. Their support, financially and otherwise, is greatly appreciated. The US Bureau of Land Management provided the permit for the use of our public land for the event, and their support is critical and appreciated. Also, much appreciation to the following Washington Brittany Club committee members whose diligence and hard work resulted in a successful and enjoyable event. John Henderson-Futurity Section Manager, Nancy Noble-Section Secretary, Shaun Hall-Field Chairman, Joe McCarthy, Marty Noble, Jim Hammett-Committee Members,
The all-age stake had six dogs; the gun dog stake 18. Judges for all-age were Tom White from Melba, Idaho, and Jim Cochran of Fall City, Wash. The gun dog judges were Anne Tyson from Ephrata, Wash., and R. J. Marquart of Moses Lake, Wash. All four judges are experienced trainers and handlers and have judged many stakes. Each of them endured exposure to the wind, snow, and the cold all day.
ALL-AGE RUNNING
Brace 1. Breaking away at 7 AM, the ground had a dusting of snow, making it hard to see white dogs at distance. Spanish Ranch's Ultimo (Timo) handled by Dan Doiron was braced with Redlines Trace of Smoke (Trace) handled by brother Paul Doiron. Both dogs pushed forward at moderate range. At the first gate, at 16, Timo disappeared for a few minutes, but was found standing on the far hillside by the bird planter. A bird was produced with all in order. Trace continued to run well and hunt but finished birdless. Both dogs finished strong and forward.
Brace 2. Mr. Staley (Doc) handled by Dan Campbell was braced with HVK Turn Back Time (Mick) handled by Paul Doiron. Doc and Mick had an initial collision at the breakaway, with Doc complaining about his right front leg. Dan told Dock to shake it off, which he did after a couple of minutes, and began to stretch out into several all age casts. Mick ran a shorter race but stayed forward. At 24, Doc had a find northeast of the bowl. He followed this with a second find near last chance hill at 28. Mick finished birdless.
Brace 3. High Lonesome Owyhee Storm (Storm) handled by Jim Hammett was braced with Smokin' Hot Ember (Ember) handled by Paul Doiron. Storm broke into a big, fast run at the start and was glimpsed twice at about 5 and 7 on the interior ridge forward 800 yards or better. At the second gate, he was again spotted at 13, running north, and turned and checked in with his handler. After the second gate, he motored out into the flat, making a very wide circle to the west. He made the turn, sped through the bowl and over the top heading north. By the time his handler topped the ridge north of the bowl, he was spotted well out in the flat running east. Making a quick check of last chance hill and approaching time, Storm ran back to the north and, much to the relief of his handler, slammed on point at 29 on top of a rocky bluff toward the end of the course. A bird was produced, and time was called. Ember ran a responsive, forward race, but her range was shorter, and she finished birdless.
Ritzville, Wash., April 14
Judges: Jim Cochran and Tom White
AMERICAN BRITTANY CLUB WESTERN ALL-AGE FUTURITY - 6 Brittanys
1st-HIGH LONESOME OWYHEE STORM, 1690909, male, by Redline's Tequilas Smoker-Sonny's Hot Summer Breeze. Jim Hammett, owner and handler.
2d-MR. STALEY, 1694752, male, by Beans Blaze-Janee's Rush'n Past the Limit. Daniel W. Campbell, owners; Dan Campbell, handler.
3d-SPANISH RIVER'S ULTIMO, 1691138, male, by Redline's Tequila Smoker-Sonny's Hot Summer Breeze. Daniel Doiron, owner and handler.
4th-REDLINE'S TRACE OF SMOKE, unreg., male, by Redline's Tequilas Smoker-Sonny's Hot Summer Breeze. William & Elizabeth Leffingwell, owners; Paul Doiron, handler.
SHOOTING DOG RUNNING
Brace 1. Elkhorn Mtn's Poetic Playboy (Apollo), handled by Tommie Dahl was braced with Shadywood Wolcott Quaxinelli Banks (Quax), handled by Joseph McCarthy. Both dogs ran a controlled shorter race, but handled well, with little noise. At 5, a bird was flushed, but which dog was responsible will remain a mystery. At 9, a second bird was flushed, but again was not associated with an observed point. At 21 and 25, Quax pointed birds with good style and forward to his handler.
Brace 2. Wind Mtn's Macsanko Sunrise (Missy) handled by Jason Sanko was braced with Warbonnet Wynd Swept Dunes (Dune) handled by Todd Breitenfeldt. By now the sideways snow had started and the wind was howling. Both dogs stayed forward, running a controlled moderate race. At 9, Dune had a find, but crept in and flushed. At 16, Dune was standing, and Missy came in and pointed the same bird. This created enough pressure that Dune broke and ended up with the bird in his mouth. At 18, a similar situation occurred, but both dogs held. Time was called as the dogs approached last chance hill.
Brace 3. Beans Blazing Ghost (Ghost) handled by Michael Stevens was braced with HVK Little Man Tate (Tate) handled by Paul Doiron. At 4, Tate put a bird in the air, but continued forward with a nice race. At 12, Ghost made a big cast forward and was found standing on top of the broad ridge, looking like a million bucks. Tate came in late and stopped with a beautifully executed honor. A bird was produced with Ghost giving chase. This find/honor was the visual highlight of this stake. Both dogs ran well and finished forward. If anything, Ghost ran a bigger race, but both dogs handled well and with little noise.
Brace 4. Shadywood Island Girl (Matia) handled by Sheryl Palmer was braced with P&P's Precious Gem Mica Pc's Shimmer of Finesse (Mica) handled by Allen Grogan. Both dogs were close working gun dogs. Mica had several lateral casts. At 13, Mica was found standing, but caught the bird before it flushed.
Brace 5. Firebrands One and Only (Skeet) handled by Jim Cochran was braced with Jalos O Too (Too) handled by Jim House. Skeet never really got going as was picked up at 14. Too pointed briefly at 8 but took out the bird and executed a great retrieve to his handler. Too showed lots of speed and drive. Unfortunately, there was more speed and drive at the birds than there was point for most of the brace and he ended up taking out several additional birds with no discernable point. His retrieves were excellent, however.
Brace 6. Wind Mtn's A Little Something Wicked (Liza) handled by Paul Doiron was braced with Elkhrnmtn's Warbonnet Prairie Huntress at Fireegle (Artemis) handled by Tommie Dahl. Liza ran hard to the front with some big casts and great ground speed. She finished with 3 finds, two within the last minute of the stake, and no more than 40 yards apart. Artemis was shorter but very responsive to his handler.
Brace 7. Painted Rock Loretta Lynn (Lorrie) handled by Jason Canales was braced with Caliah's Arctic Storm (Storm) handled by Brian Jean. At 6, Storm was standing, but chased prior to his handler's arrival. After this find, Storm made a huge loop to the south and east, taking considerable liberties with the course. Lorrie ran an exciting race with some big casts and ultimately five finds with good style. She handled well and needed a little help from her scout only once to get her back on course.
Brace 8. Caliah's Summer Phoenix Rising (Phoenix) handled by Mary Brown was braced with P&P's Precious Pc's Gem a Cut Above the Rest (Petra) handled by Paul Adamson. Petra ran a very consistent, forward race with an easy and quiet handle. Phoenix also ran forward nicely but was shorter and somewhat erratic. At 9, Petra had a find, with all in order. Phoenix came in and chased the bird but continued forward. At 22, Petra had a nice find on top of the hill below derby hill, finishing strong and forward.
Brace 9. Caliah's Journey in Autumn Wind (Journey) handled by Rhonda Jean was braced with Hall's Safari It's a Keeper (Lucy) handled by Shaun Hall. Journey started off well but was hard to handle and was ultimately lost to the south after a flush, requiring the scout to find and retrieve her. At 5, Lucy was standing, but did not continue to hold and chased the bird to the south. Lucy made a very nice retrieve after running down the bird. Lucy continued to run energetically showing great promise, but with more run than point or hold.
Judges: R. J. Marquart and Anne Tyson
AMERICAN BRITTANY CLUB WESTERN SHOOTING DOG FUTURITY - 18 Brittanys
1st-BEANS BLAZING GHOST, unreg., male, by Beans Blaze-Janee's Rush'n Past the Limit. Michael Stevens, owner and handler.
2d-PAINTED ROCK LORETTA LYNN, unreg., female, by Redline's Tequilas Smoker-Sonny's Hot Summer Breeze. Jason Canales, owner and handler.
3d-WARBONNET WYND SWEPT DUNES,unreg., female, by Alamaden's Under Lock and Key-Warbonnet Wynd Turing Firestar. Todd Breitenfeldt, owner and handler.
4th-SHADYWOOD WOLCOTT QUAXINELLI BANKS, unreg., male, by Timberline's Lone Ranger-Shadywood My Georgia Peach. Joseph McCarthy, owner and handler.