Result: 73rd Grand National Grouse Puppy Classic
Location: Oxford, New York
Post Date: Jul 28, 2022
Submitted By: Thor Kain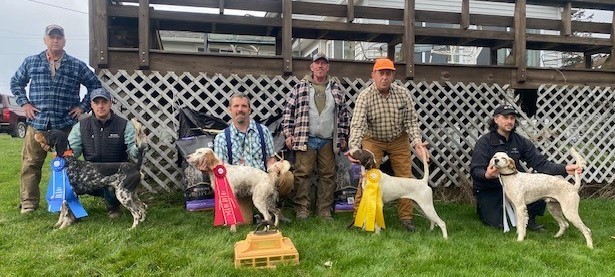 From left: Judge Pat Cooke, Thor Kain with Super Storm Hank, Adam Dubriske with North Country Soda Pop, Judge Scott Forman, John Capocci with Grouse Hill Rambo, Kevin Lahoda with Resin.
The Grand National Puppy Classic is back after a two-year hiatus. Pups eligible to run must be from litters nominated by the breeder for the Grand National Grouse Futurity. The owner then pays a forfeit fee and the nomination process is complete and the puppies can run in the Classic and then the Grouse Futurity in the fall when they are derbies. Litter Nominations have been down the last few years but several breeders continue to support the Futurity every year as well as others who have the occasional litter or are new to the Grouse Futurity. Lance Bressler, Watts/Brenneman. Ronnie Eldridge, John Stolgitis, Ken Moss, and John Capocci have all been the biggest supporters of the Futurity the last few years and for that we are thankful.
The running took place at historic and beautiful Grouse Ridge farm in Oxford, N. Y. If you've never been to this part of New York it's worth the trip. Rolling hills, old stone walls, overgrown orchards from yesteryear all set the stage for these scenic grounds. Pete Flanagan had the grounds in top shape and a course laid out that offered fields, thick grouse type cover, open hard woods and just enough turns to make sure the puppies would handle.
In the judicial saddle were two New York Natives who were both no stranger to the Grand National Puppy Classic and other grouse trial events, Pat Cooke of Rochester, N. Y., and Scott Forman from Prattsburgh, N. Y. Pat owned the famous multiple time champion, setter female, River's Edge Sadie and other winning dogs. Scott needs little introduction as he is an accomplished trainer/handler who has developed and handled many winning dogs and champions. Both men are respected judges and their decisions were well received.
Sixteen setters and ten pointers were drawn for this prestigious event. Handlers and owners came from PA, NY, RI, MI, NH, and CT to run their puppies. Winning the blue and the taking home the revolving trophy was Super Storm Hank, owned and handled by this reporter. Hank was bred by none other than Bob Watts of the Watts/Brenneman setter duo who have bred, owned, campaigned many a classy winning setter. Hank's dam, Deciding point was the product of the mating of two of the most successful and well known dogs Watts and Brenneman have ever owned, Pennstar and Straight Forward. Bob chose the big, hard charging male, Maximum Resistance when it came time to breed Deciding Point. This mating proved successful with several pups winning and showing potential to their owners. Hank ran to the limit fading in and off the bell. With a little work he could be shown out front and then put somewhere else for another move. He ran with speed and power and the judges commented that he set the bar high once he ran.
Second place honors went to female setter, North Country Soda Pop, proudly owned by Nick and Emil Hamel of NH. The Hamels entrusted their pup's development to New Hampshire pro, Adam Dusbriske who had Soda Pop ready to roll for the Puppy Classic. She ran with speed, style and went to all the places you'd have wanted to see a pup go. Soda Pop was bred by Lance Bressler of Curwensville, Pa.
The cross he has made several times to the famous Champion, Ponderosa Mac and his female, Hunter's Flight Risk has produced several winners, also including 4th place in this stake. Lance has an eye for producing quality dogs and these pups are no exception.
Grouse Hill Rambo, pointer male, bred, owned and Handled by John Capocci won the yellow ribbon with a solid effort. He's a big, strapping pup who runs with class and power. He was braced with the winner and handled with ease for John proving he was in tune with what John wanted. John has been around bird dogs for a long time. He owned the famous champion Grouse Hill Bell and many other champion dogs. It goes without saying if John is entering a dog, it's a threat to win. Rambo was from the mating of Ch. Bo of Piney Woods to John's winning female, Grouse Hill Prima. His future is bright and it looks like John will have another Champion once he graduates to adult stakes.
The Fourth place ribbon went to the eye catching setter male, Resin, owned and handled by Kevin Lahoda. Resin ran a hard charging, fancy race. He's a good sized male but moves over the ground with a light footed application. He too was bred by Lance Bressler from the successful CH Ponderosa Mac x Hunters Flight Risk. If Lance repeats this breeding, those looking for a winning prospect would be wise to give him a call.
Many thanks are in order for making this event a success. First, thank you to the Flanagan's for allowing us to use your beautiful grounds. Deb Nihart has always been a big help with Grouse Futurity events and she filled in where needed including a last minute trip to town to pick up supplies that were forgotten by this reporter. Thank you Deb. Kristy Forman, the lovely bride of judge Scott Forman was everywhere and helped with everything including keeping things moving and clean up duties.
Thank you Kristy for all your help. Bill Ballin marshaled the first few braces and kept a watchful eye on the event in order to make sure it ran smooth. Thank you Billy. Last but not least the Directors of the Grand National would like to thank Greg Blair and Purina for their sponsorship of GNG events. Greg is always available and the generous support they give is very much appreciated. We look forward to seeing everyone at the Futurity this fall.
Oxford, N. Y., Pa., April 15 - One Course
Judges: Pat Cooke and Scott Forman
GRAND NATIONAL PUPPY CLASSIC - 10 Pointers and 16 Setters
1st--SUPER STORM HANK, 1695853, setter male, by Maximum Resistance-Deciding Point. Thor Kain, owner and handler.
2d-NORTH COUNTRY SODA POP, 1694744, setter female, by Ponderosa Mac-Hunter's Flight Risk. Nicholas Hamel, owner; Adam Dubriske, handler.
3d-GROUSE HIlL RAMBO, 1696375, pointer male, by Bo of Piney Woods-Grouse Hill Prima. John Capocci, owner and handler.
4th-RESIN, 1696319, setter male, by Ponderosa Mac-Hunter's Flight Risk. Kevin Lahoda, owner and handler.