Result: Ruffed Grouse Field Trial Club
Location: Meredith, Michigan
Post Date: Jul 29, 2022
Submitted By: Bill Nelson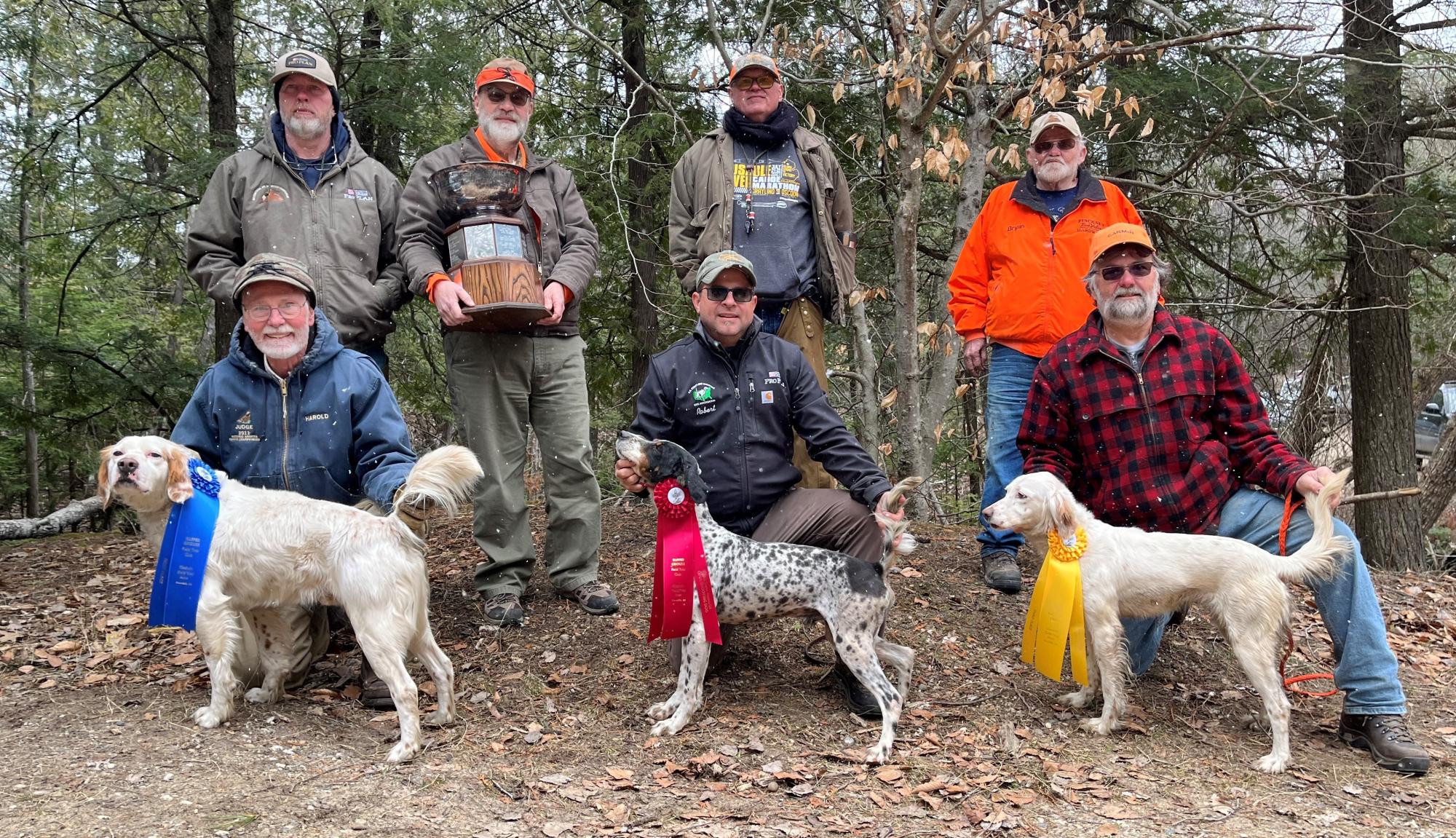 Open Shooting Dog: Standing; judge Bill Nelson, Jeff Secor(grandson of Jack Secor), judge Dave Heavlin, and Bryan Wood. Kneeling: Harold Holmes with Travel Alert, Robert Ecker with Sterlingworth Jack and Brent Peters with Centerfold Peach.
The Ruffed Grouse annual spring trial was a great success. Seventy-six dogs ran over 2 days on wild birds using multiple courses. Grouse and woodcock were seen on every course, giving each dog an opportunity to get on the podium table. Cool spring temperatures had dogs eager to hit the sparse spring cover. The perfect weather allowed handlers' dogs to reach out to the far objectives due to being able to see so much further in the spring timber. A special thanks to Purina for providing dog food for winners and participants. Thank you to all veteran club members and new members, and also to the Hollister clan for providing excellent horse power. It was nice to see so many dedicated trial enthusiasts make this spring trial a huge success.
Jack Secor Memorial Open Shooting Dog
This year's judges, Dave Heavlin and Bill Nelson, pronounced Travel Alert, AKA Buster, as the Jack Secor Memorial Open Shooting Dog winner. Buster had a strong forward ground race with 2 very nice grouse finds. His first find came at 17 in a grassy, open cover where he had a grouse pinned. Owner and handler Harold Holmes was quick to get bird to flight and Buster looked great through it all. Buster continued to drive forward hitting objectives and once again stopped at 24. "Doc" wasted no time and once again had another grouse thundering through the trees. Buster continued forward and finished strong.
Second place went to Sterlingworth Jack. Pro Robert Ecker handled this attractive forward going setter. Jack ran on Course 6 which allows a dog to run in more open cover with far off objectives and Jack took advantage, showing his independence to find game and was rewarded at 14 with a well located woodcock find. Ecker made a big flushing attempt and put the timberdoodle to flight while Jack stood proud through it all. Jack continued with good ground application to finish his brace.
Centerfold Peaches is owned and handled by Doc Holmes of Flint, Mich. Peaches broke away on Course 7 through a thick briar patch. Peaches had a grouse pinned at the 2 minute mark. Doc went in and flushed the grouse just out front of Peaches. All in order, Peaches drove hard to the front with little help from Mr. Holmes. She finished her brace strong, showing strong rapport with her handler throughout her brace.
Meredith, Mich., April 15
Judges: David Heavlin and William Nelson
JACK SECOR MEMORIAL OPEN SHOOTING DOG - 4 Pointers and 37 Setters
1st-TRAVEL ALERT, 1665621, setter male, by Moss Meadow Traveler-Wild Kat Run. Dr. Harold Holmes, owner and handler.
2d-STERLINGWORTH JACK, 1655602, setter male, by Shadow Oak Bo-Hunter Run's Dawn. Jim Millett, owner; R. J. Ecker, Jr., handler.
3d-CENTERFOLD PEACH, 1687669, setter female, by Hershner's Grouse Gunner-Call Me Maggie. Dr. Harold Holmes, owner and handler.
Ruth Stuart Puppy Classic
The Puppy Classic always draws a nice field of young prospects and this year was no exception. According to judges Mike Bentley and Ken Wreggelsworth, the placements were all well-earned. First place dog was Redoak Elhew Cash, owned by Ted Tamas and bred by Dave Havelin. Cash is a strongly built white and liver pointer who ran a strong forward race with very little handling from Mr. Tamas. Cash presented style, speed and independence which garnered him the win in the stake.
Second place dog was May's Legacy of Justice, owned and handled by Ken DeLong bred by Bill Nelson. Freedom's field trial career is off to a good start by placing multiple times in wild bird trials and walking trial events. Freedom again ran a far-reaching forward race. Proving he has what it takes to be on the winner's podium.
The third place dog Final Justice, owned, bred and handled by Bill Nelson. A littermate to Ken DeLong's pointer, Freedom. Final Justice ran a far-reaching forward race and finished strong to earn him a spot in the winner's circle.
Judges: Michael Bentley and Ken Wreggelsworth
RUTH STUART OPEN PUPPY - 8 Pointers, 1 Brittany and 1 German Shorthair
1st-REDOAK ELHEW CASH, 1696865, pointer male, by Texas Elhew Bodie-Trinity Maize. Ted Tamas, owner and handler.
2d-MAY'S LEGACY OF JUSTICE, 1695469, pointer male, by Faith's Maximum Justice-Chasehill Mighty May. Kenric DeLong, owner and handler.
3d-HIGHBANKS FINAL JUSTICE, 1699690, pointer male, by Faith's Maximum Justice-Chasehill Mighty May. Bill Nelson, owner and handler.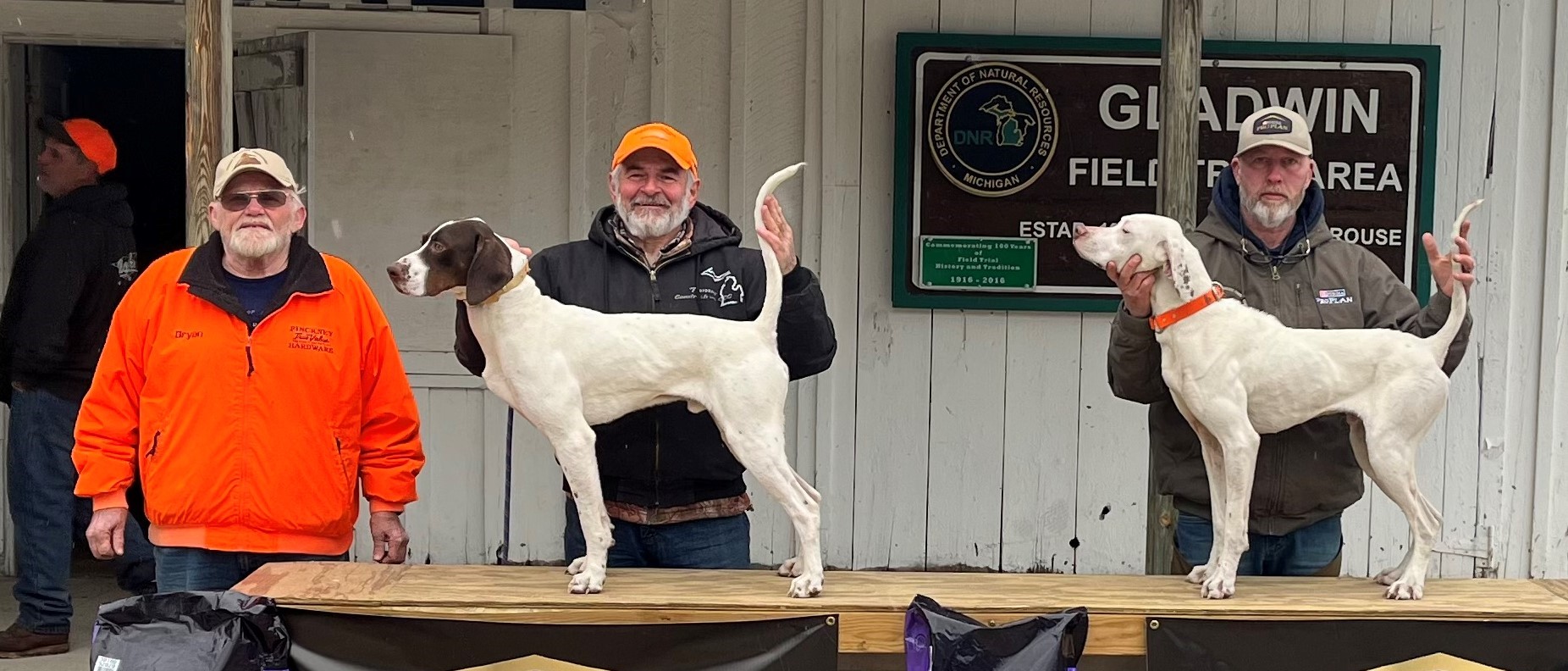 Puppy: Bryan Wood, Ted Tamas with Redoak Elhew Cash and Bill Nelson with Highbanks Final Justice. Missing: Ken DeLong with May's Legacy of Justice.
John R. Stuart Derby Classic
The Jack R. Stuart Derby Classic is held in honor of one of the founding members of the Ruffed Grouse Field Trial Club. This year's judges were Lonnie Rademacher of Lake Leelanau, Mich., and Paul Renius of Metamora, Mich. The winner of the event was Coleman's Dun Roven Kona, female setter, owned by Curtis Coleman and handled by Ricky Hollister. Kona drew course 10 and scored on a grouse after the turn from "heart attack hill" in some likely cover.
Second place was awarded to Meredith Grade Penny, female setter, owned by Dennis Keysor and handled by Tammy Chaffee. Penny ran on course 12 and pointed a tightly sitting woodcock near time.
Third was Highbanks Diamond Lucy, female pointer, owned and handled by Bill Nelson. Lucy was also braced on course 12 and placed based on a mature and searching race.
Judges: Paul Renius and Lonnie Rademacher
JOHN R. STUART DERBY CLASSIC - 1 Pointer, 12 Setters and 1 Brittany
1st-COLEMAN'S DUN ROVEN KONA, 1693253, setter female, by Dun Rovens Lucky-Dun Rovens Luna. Curtis Coleman, owner; Ricky Hollister, handler.
2d-MEREDITH GRADE PENNY, 1694628, setter female, by Ponderosa Mac-Eldridge's Beauty and Beast. Dennis Keysor, owner; Tammy Chaffee, handler.
3d-HIGHBANKS DIAMOND LUCY, 1691443, pointer female, by Chippoke's Bud-Chasehill Mighty May. William Nelson, owner and handler.

Derby: Bryan Wood, Ricky Hollister with Coleman's Dun Roven Kona, Dennis Keysor, Tammy Chaffee with Meredith Grade Penny, judge Paul Renius, Bill Nelson with Highbanks Diamond Lucy.