Result: Beaverton Grouse Dog Club
Location: Meredith, Michigan
Post Date: Aug 1, 2022
Submitted By: Tammy Chaffee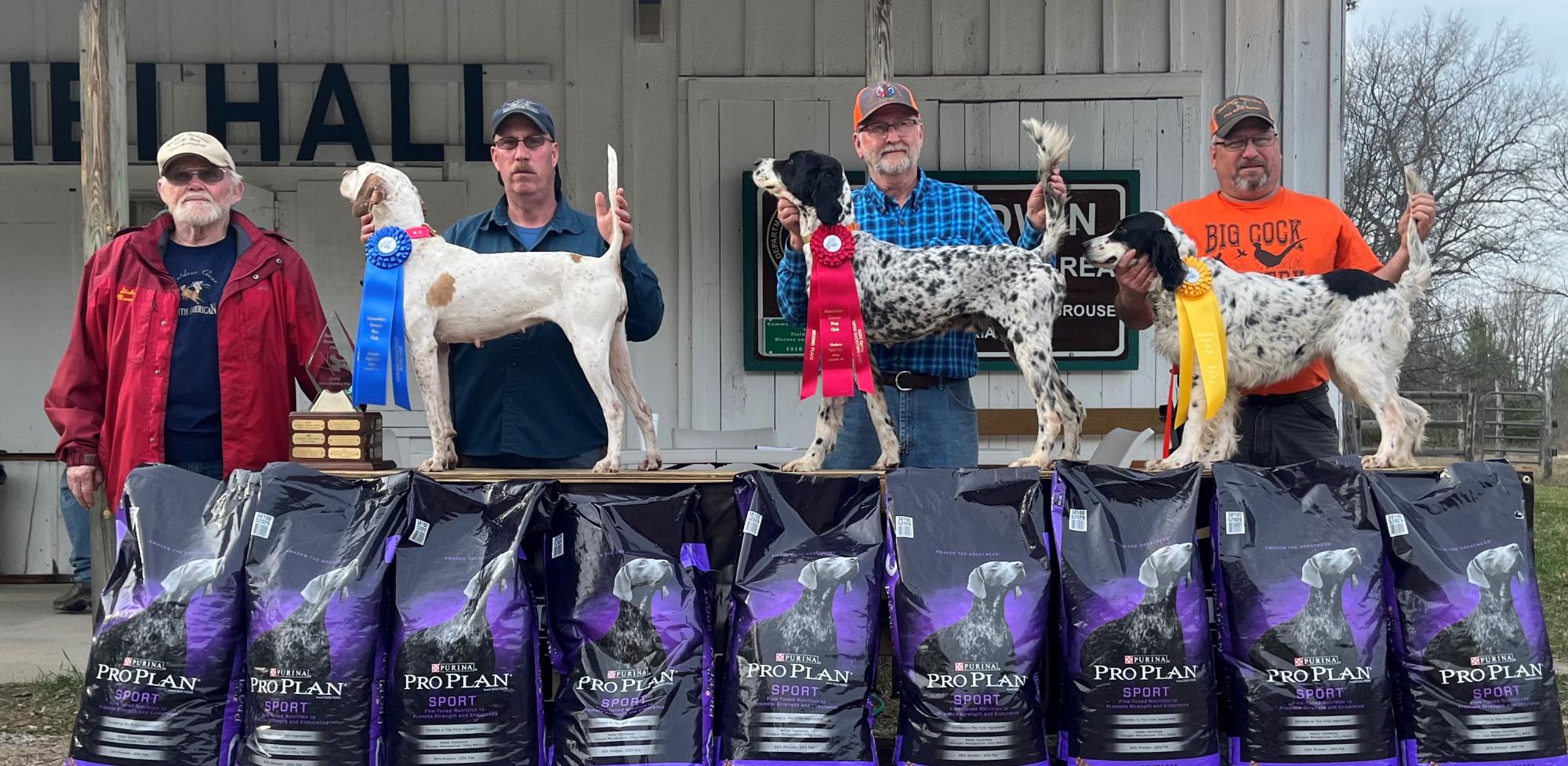 BGDC Spring Open Shooting Dog. Bryan Wood, Marc Forman with Shady Hills Zeena, Scott Chaffee with Flycast Rollie Fingers and Rich Hollister with Flambeau River Annie.
The 41st running of the Michigan Grouse Dog Puppy Classic, with the accompanying Eaton Spring Derby Classic commenced with the draw at the home of Secretary Tom Fruchey. In addition to the puppy and derby classics, participants entered 28 shooting dogs in the open shooting dog event and an amateur event sported 11 starters.
The festivities began on Friday morning at Alibi Hall in the heart of what is arguably the best wild upland game bird venue in North America, the Gladwin Game Refuge. This dedicated field trial acreage has the fortunate support of the current wildlife biologist Bruce Barlow, who has overseen the improvements to the grounds to the benefit of the field trialing community. Each year a contingent of participants gather during the long, hot days of July to clear existing courses and create new ones that take advantage of many poplar cuts as they reach the optimal maturity for grouse and woodcock habitat. Many thanks go to the Gladwin Game Refuge Grounds Committee and all the volunteers who put in the hours to make the refuge what it now is.
It definitely "takes a village" to run a wild bird field trial. Here in northern Michigan we are blessed to have a large village that keeps the events running smoothly. To name a few, from Bryan Wood, our field trial chairman keeping the braces on time to the Hollister family, Rich, Jenny and Ricky having safe and pliable horses at the ready. Many club members and non-members alike marshalled braces and moved vehicles. Wayne and Marlene Fruchey had coffee, donuts and other goodies ready at "donut junction" and a tailgate lunch at the tubes. Club President Ken Moss, Secretary Tom Fruchey, directors Shane Haskin, Roger Johnson, Denny Keysor, Brent Peters and Tammy Chaffee all did their parts to keep everything running smoothly and on time. Additionally, in recent years we have a number of very welcome new faces to our game and their presence and assistance is very much appreciated.
At the conclusion of the running on Saturday, the announcements for the open shooting dog, derby classic and puppy classic events were announced. Following the announcements, a steak dinner was provided at Alibi Hall, with chefs Ken and Mary Moss and Mike Singleton doing the honors. Many a story has been shared under the covered porch over a superbly grilled steak! This year the club was able to run an amateur stake on Sunday. During dinner, a Calcutta was conducted by Tom Fruchey as he auctioned off the amateur canine participants to the delight of all in attendance.
We would be remiss if we did not give a huge shout out to Purina and their rep Greg Blair for their continued support of our sport. A huge thank you to Purina and Greg!
The Running
The Michigan Grouse Dog Puppy Classic had 24 starters this year, the largest number in several years. Thanks to Jeff Sweet for managing the puppy braces and keeping us all in line! The classic was judged by field trial veterans Tom Fruchey and Tammy Chaffee. A daunting job to pick the best 3 of 24! The biggest challenge for the day was the very dry and warm conditions. After a full day in the saddle with a couple of breaks do to conflicts with the other stakes that were running simultaneously, the judges determined that May's Legacy of Justice, call name Freedom, proudly owned and handled by Ken DeLong, was the clear winner. This male pointer is mature beyond his youth and ran a large, animated and forward race. In second was Redoak Elhew Cash, another male pointer owned and handled by Ted Tamas. Cash ran to all the likely spots with bird seeking determination. Third was Speed Dialing Kaia, a female pointer owned by John Paul Jones and handled by Bruce Minard. Kaia ran an early brace and hit all the birdy looking spots.
The Eaton Spring Derby Classic commenced on Saturday at the conclusion of the open shooting dog stake. Judges Ken Moss and Shane Haskins were charged with reviewing an entry of 17 derbies. At the conclusion, they named Henry Danger, a young setter male owned and handled by Mark Kryzaniwskyj as top dog. Henry ran a super race coupled with a spectacular grouse find on course 11. In third place was Meredith Grade Kati, a female setter owned and handled by Mike Singleton who ran a fast and forward race on course 10 for her 30 minutes. Second place was withheld.
The spring open shooting dog stake began Friday morning at 8am sharp on course 1. Fifteen braces were run on Friday, with 3 braces rounding out the event on Saturday morning. Judging duties were handled by the very capable duo of Dave Hawk and Tom Vanecek. When the dust settled, the judges determined that Shady Hill Zeena, a female pointer, owned by Deb Nihart and handled by Marc Forman bested the field of 36 competitors. Zeena had course 7 and handled a difficult course with a forward and searching race that rewarded her with a grouse find just before the road crossing. Second was Flycast Rollie Fingers, a male setter, owned by Dr. Robert Haraden and handled by Scott Chaffee. Rollie ran a wide and open course 5 and while covering it all, pointed a tight sitting woodcock. Third was Flambeau River Meg, a female setter, owned by Joseph Colglazier and handled by Rich Hollister. Meg had the heavy poplar covered course 4 and through an extensive hunting effort, was rewarded with two grouse finds.
Sunday brought the hotly contested amateur shooting dog stake and was adjudicated by pro trainers Scott Chaffee and Neal Minard. At the conclusion of 6 braces, Ken DeLong's Brittany male, K-Del's Eagle Magnum Hot Shot (Shooter) was declared the winner. Shooter covered course 6 in a manner that was nearly perfect and punctuated it with a nice woodcock find. Second was veteran male setter Travel Alert, owned and handled by Harold "Doc" Holmes. Buster was set loose on course 5 and the judges were impressed with how he hunted out every nook and cranny. Third was Singleton's Ginger Ale, owned by Mike Singleton and handled by Ken Moss. Ginger hunted out the variable cover of course 7 with good application for her 30 minutes.
Meredith, Mich., April 22
Judges: Dave Hawk amd Tp, Vanecel
BGDC SPRING OPEN SHOOTING DOG - 6 Pointers, 30 Setters and 1 Irish Setter
1st-SHADY HILLS ZEENA, 1667955, pointer female, by Erin's War Creek-Brave Heart Cassie. Debra Nihart, owner; Marc Forman, handler.
2d-FLYCAST ROLLIE FINGERS, 1667526, setter male, by Jetwood-Fireside Drama Queen. Dr. Robert Haraden, owner; Scott Chaffee, handler.
3d-FLAMBEAU RIVER ANNIE, 1670685, setter female, by Grouse Buster's Zeke-Cornerwood Mya Storm. Joseph Coglazier, owner; Richard Hollister, handler.
Judges: Shane Haskins and Ken Moss
EATON SPRING DERBY CLASSIC - 2 Pointers and 15 Setters
1st-HENRY DANGER, 1696907, setter male, by Ponderosa Mac-Eldridge's Beauty and Beast. Mark Kryzaniwskyj, owner and handler.
2d-[Placement Withheld]
3d-MEREDITH GRADE KATI, 1692672, setter female, by Jetwood-I'm Blue Who. Dennis Keysor, owner; Mike Singleton, handler.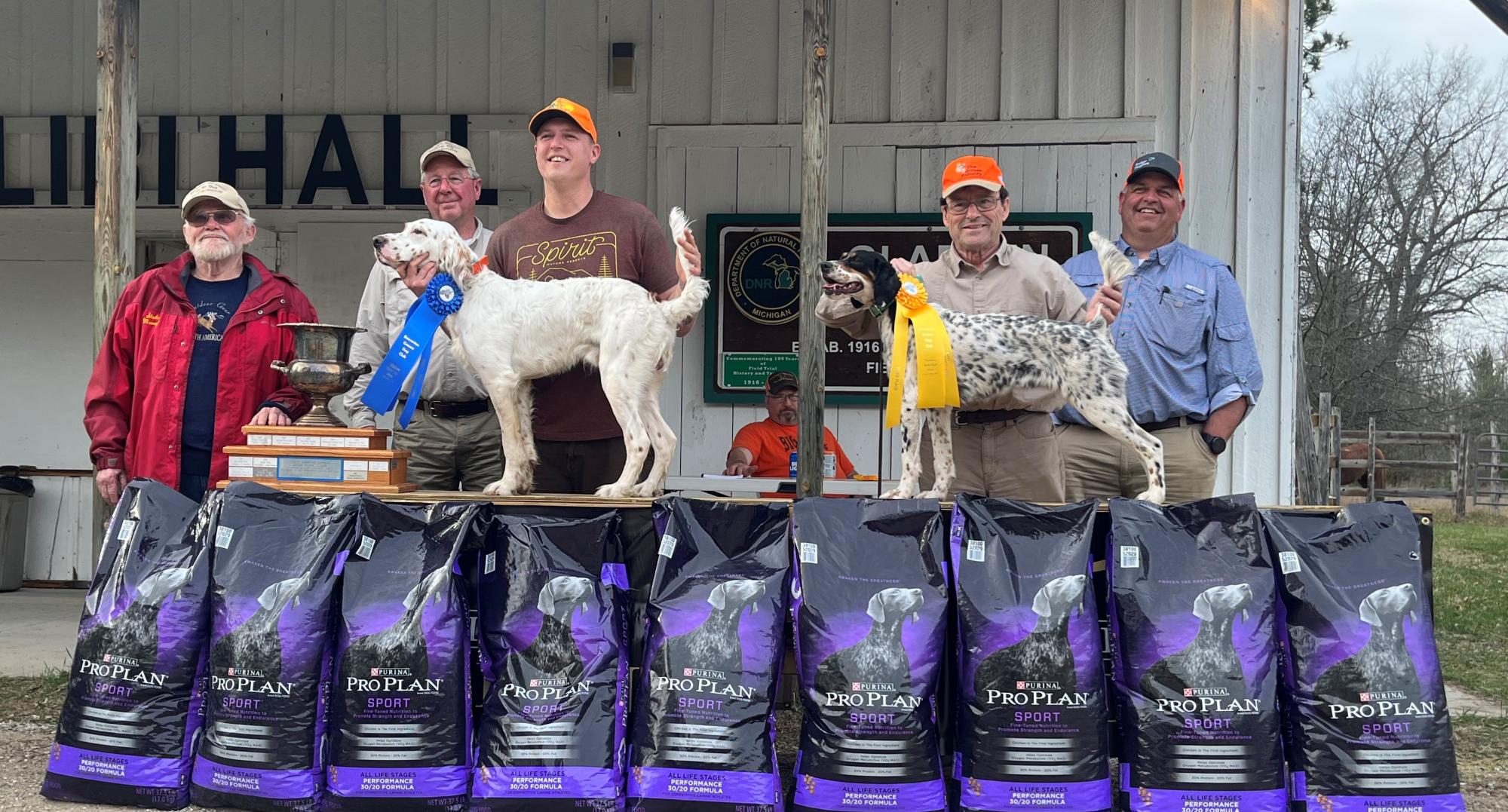 Eaton Spring Derby Classic. Bryan Wood, judge Ken Moss, Mark Kryzaniwskyj with Henry Danger, Mike Singleton with Meredith Grade Kati and judge Shane Haskins.
Judges: Tammy Chaffee and Tom Fruchey
MICHIGAN PUPPY CLASSIC - 9 Pointers, 12 Setters, 1 Brittany and 2 German Shorthairs
1st-MAY'S LEGACY OF JUSTICE, 1695469, pointer male, by Faith's Maximum Justice-Chasehill Mighty Man. Kenric DeLong, owner and handler.
2d-REDOAK ELHEW CASH, 1696865, pointer male, by Texas Elhew Bodie-Trinity Maize. Ted Tamas, owner and handler.
3d-SPEED DIALING KAIA, 1696795, pointer female, by Miller's Speed Dial-Phantom's Santo Sun. John Paul Jones, owner; Bruce Minard, handler.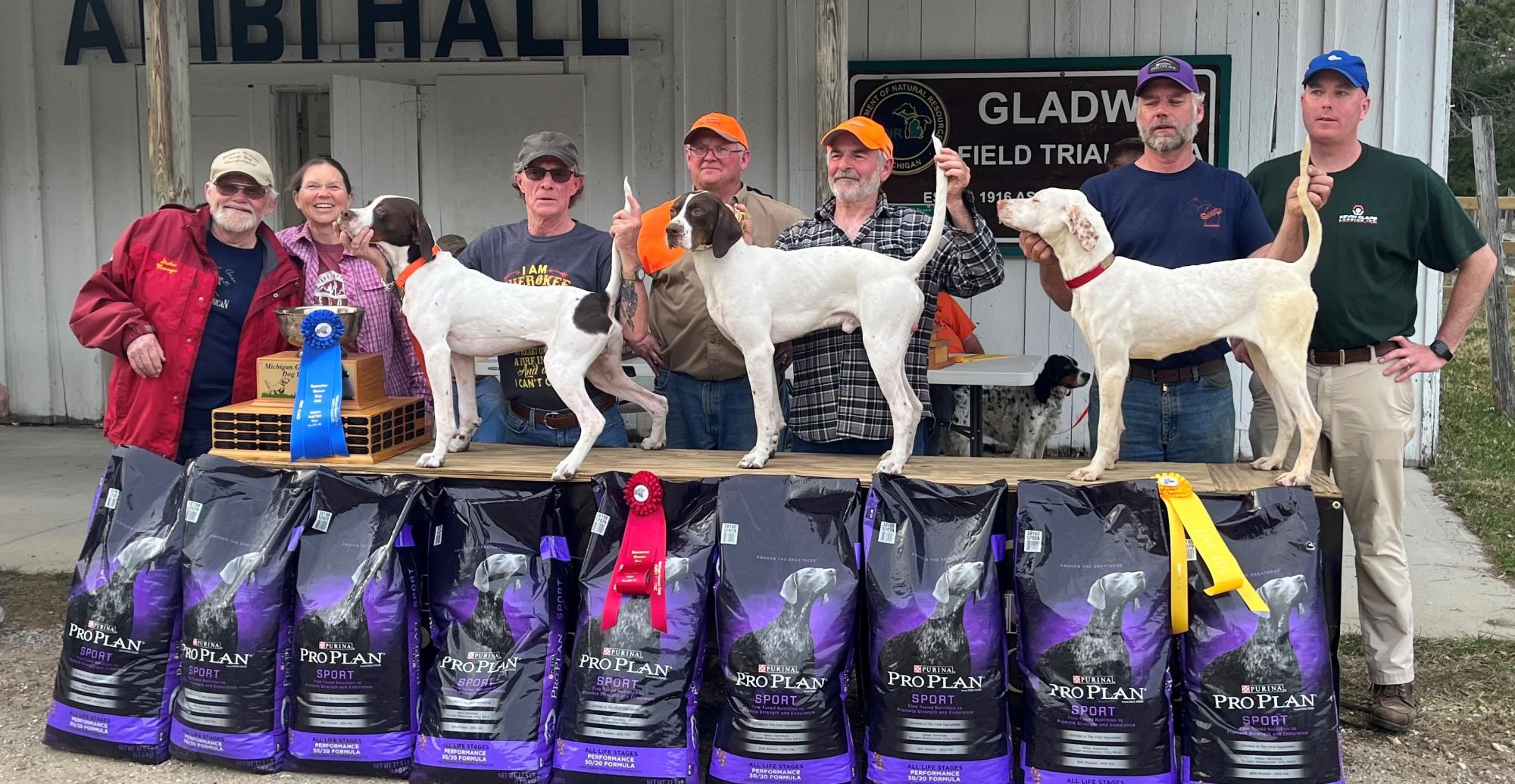 Michigan Puppy Classic. Bryan Wood, judge Tammy Chaffee, Ken DeLong with May's Legacy of Justice, judge Tom Fruchey, Ted Tamas with Redoak Elhew Cash, Bruce Minard with Speed Dialing Kaia and Jeff Sweet.
Judges: Scott Chaffee and Niel Minard
AMATEUR SHOOTING DOG - 10 Pointers and 1 Brittany
1st-K DEL'S EAGLE MAGNUM HOTSHOT, 1685770, Brittany male, by Magnum High Velocity-K Del;s Eagle Chance To Soar. Kenric DeLong, owner and handler.
2d-TRAVEL ALERT, 1665621, by Moss Meadow Traveler-Wild Katrun. Dr. Harold Holmes, owner and handler.
3d-SINGLETON'S GINGER ALE, 1678106, setter female, by Jetwood-Snyder's Oak Rose. Mike Singleton, owner; Ken Moss, handler.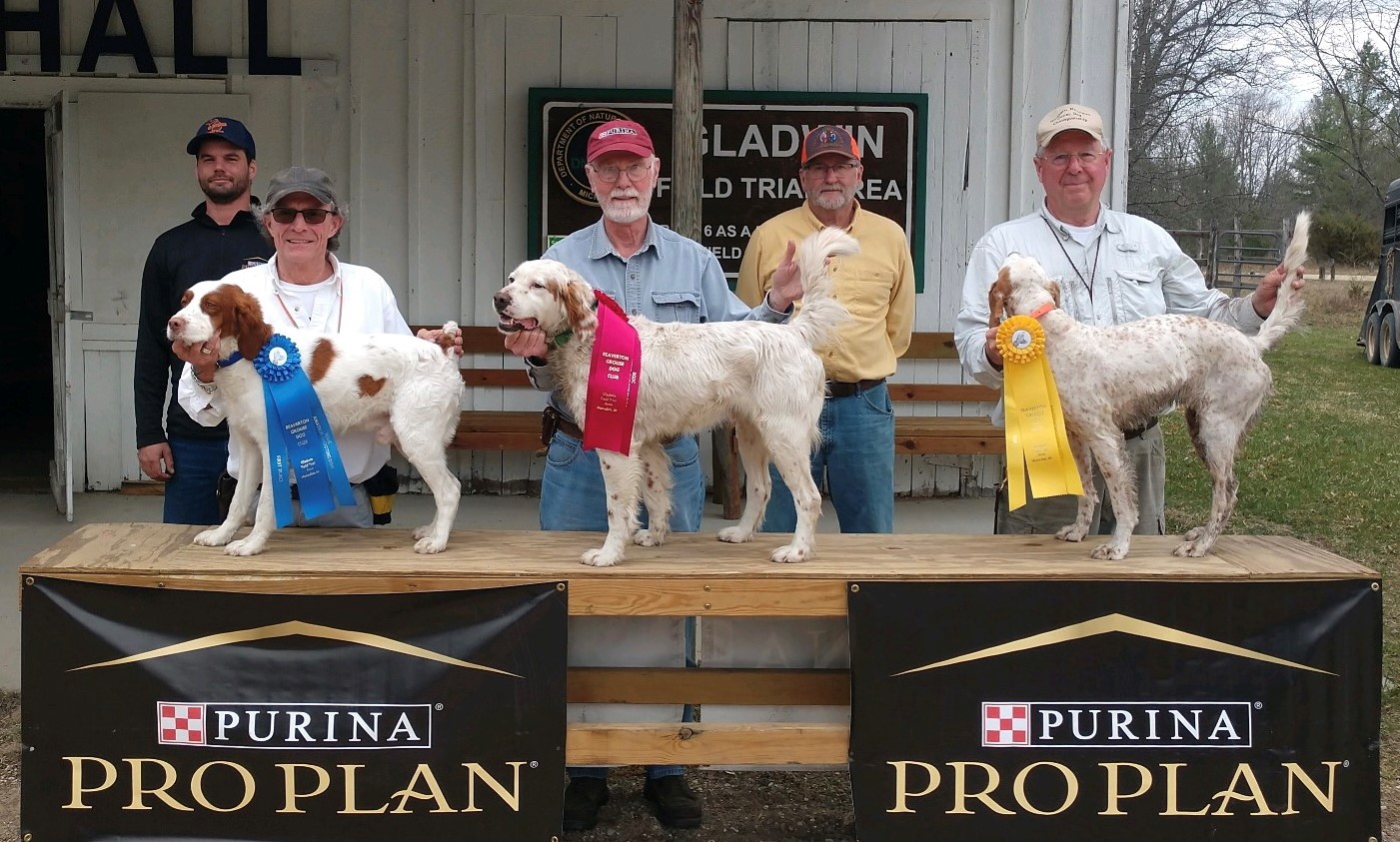 Amateur Shooting Dog. Judge Neal Minard, Ken DeLong with K Del's Eagle Magnum Hot Shot, Harold Holmes with Travel Alert, judge Scott Chaffee, Ken Moss with Singleton's Ginger Ale.