Result: Moose River Grouse Dog Club
Location: Moose Junction, Wisconsin
Post Date: Aug 3, 2022
Submitted By: Sigmund Degitz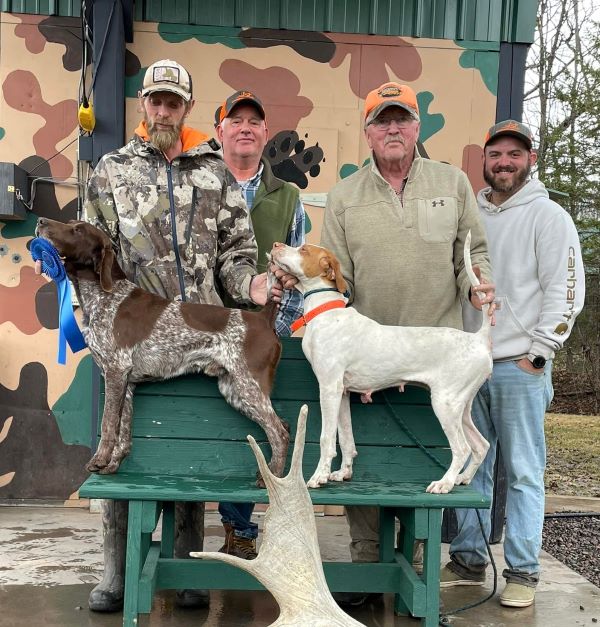 Open Shooting Dog Classic Winners. Jordan Pharris with Willow Creek N W Grouser, Judge Ben Mergans, Over The Hill Marry with Rod Lein, Judge Kyle Peterson.
The Moose River Grouse Dog Club held the 2021-2022 renewal of the Moose River Grouse Classic. The trial was held on Douglas County forestry land in far northwestern WI. These grounds were initially developed in 2008 and have continually been reworked and improved to provide ample opportunity for dogs to find birds and show well on the ground. Grouse numbers throughout the upper midwest have seen a significant decline in the past several years and these grounds have not been immune to these declines. However, because these grounds are situated in prime habitat there was an ample supply of birds to go around. Lunches were provided on the ground by club member Brad Holt. He put on a delicious spread for us all Saturday and Sunday. Every trial requires a dedicated group of club member to clear courses, marshal braces and assist with trial details. We would like to thank Bert Benshoof, Ed Graddy, Sig Degitz, Bill Frahn, Brad Holt, Greg Johnson and Tim Kaufman for all of their hard work.
Shooting Dog Classic
We were fortunate to secure two very qualified judges and would like to extend our appreciation for agreeing to judge this event. Conditions were very wet, sloppy and demanding on all participants especially the judges. Judges for the event were Ben Mergens of Inver Grove Heights, Minn., and Kyle Peterson Rush City, Minn. They were attentive, on their toes at all times and had a keen eye for the attributes that are necessary in a top-class shooting dog.
German Shorthaired Pointer male, Willow Creek N W Grouse, handled by Jordan Pharris was named winner of this year's classic. Grouser ran is the second brace on the first morning. Conditions were less than ideal with a thunderstorm and heavy rain moving through midway through the brace. This didn't prevent Grouser from pointing 4 grouse in his strong and forward hour. Second place went to pointer female, Over The Hill Mary handled by her owner Rod Lein. Mary pointed a woodcock early in the hour and capped off her effort with a grouse near time. She ran strong and was mostly forward. Earning third place was setter female Woods R Calling Sadie for handler Bill Frahm. Sadie ran a strong race and pointed 2 grouse and 2 woodcocks during her hour. Last year Sadie won Minnesota/Wisconsin Open and Amateur coverdog derby of the year so it was not a surprise to see her in the winners' circle.
Moose Junction, Wis., April 23
Judges: Ben Mergans and Kyle Peterson
OPEN SHOOTING DOG CLASSIC [One-Hour Heats] - 2 Pointers, 19 Setters and 1 German Shorthair
1st-WILLOW CREKE N W GROUSER, 1678906, German Shorthair male, by Northwaters Locomotion-Willow Creek's Allie Girl. Chad Hines, owner; Jordan Pharris, handler.
2d-OVER THE HILL MERRY, 1678045, pointer female, by Grouse Trail's Cracker Jack-Diva Dot. Rod Lein, owner and handler.
3d-WOODS R CALLING SADDIE, 1686894, setter female, by Pine Straw Smudge-Break Away Sugar. Bill Frahm, owner and handler.
Open Derby
We would like to thank our judges Jack Storer of Hudson, Wi and Larry Davidson of Chippewa Falls, Wis. Both men have been playing this game for a long time and we were fortunate to secure such experienced judges. They sorted through 28 starters and their placements were well received. First place went to Northern Lights Elara owned and handled by Sig Degitz. She was fancy, forward and strong on the ground and required minimal handling. She held nicely on a scouted grouse find until Sig arrived too flush in front of her proud stand. Seconded place went to setter male, McGraw Lake Ruger handled by Jeff Marek. Ruger hunted nicely and was found to the front waiting for his handler to flush the grouse. Nice piece of bird work! Earning third place was English pointer female, Northwoods Fallset Hope owned and handled by Mark Fouts. Hope is super nice on the ground. She was fast, fancy and always to the front. She had an interaction with a woodcock midway through the brace and pointed a woodcock just as time was called.
Judges: Larry Davidson and Jack Storer
OPEN DERBY - 28 Entries
1st-NORTHERN LIGHTS ELARA, 1697276, setter female, by Northern Lights Sirius-Lake Effect Tilly. Sigmund Degitz, owner and handler.
2d-MCGRAW LAKE RUGER, 1694364, setter male, by Rufus Del Fuego-Outcast Starburst. Jeff Marek, owner and handler.
3d-NORTHWOODS FALLSET HOPE, 1694804, pointer female, by True Confidence-Northwoods Comet. Mark Fouts, owner and handler.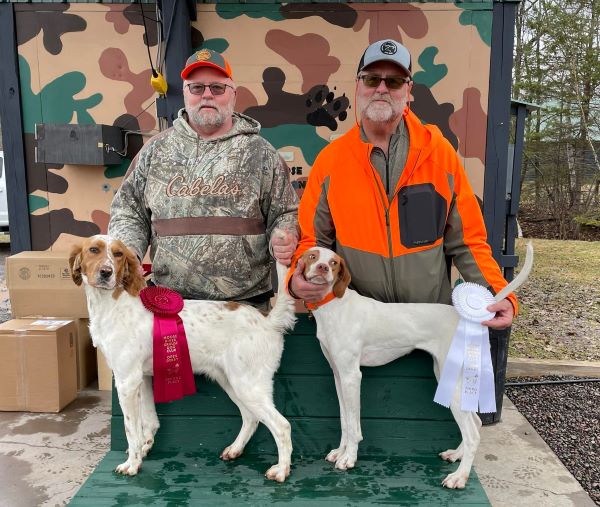 Open Derby. Second place McGraw Lake Ruger with Jeff Marek, third place Northwoods Fallset Hope with Mark Fouts.