Result: Region 13 Amateur All-Age Championship
Location: Ionia, Michigan
Post Date: Aug 8, 2022
Submitted By: Mathew Haggis
The 2022 region 13 Amateur All-Age championship ran the weekend of April 23 and 24 following the Michigan Open Shooting Dog Championship. After a 2-year hiatus due to the covid 19 pandemic the Ontario trials were able to continue in Michigan. Judge for this year's event were Marc McKinley from Conklin Mich., and Blake Rizzo from Ionia, Mich. Named Champion of this year's event was Haney's Storm Warning owner by Chris Cagle, Sr. and Chris Cagle, Jr., Handled by Chris Senior. "speck" ran in the heat of the day recording finds at 18 and 40. He impressed the judges with his perfect manners on his game and tremendous style. He stuck to the edges, hunting the likely bird spots and showed what it took to run an all-age race at Ionia.
Named runner up Champion was grouse feather Witcher owned and handled by Allen Dunbar. Witcher tallied finds at 5 ,15, 42 and 52. He put down a strong forward race and finished strong through the orchard.
Both champion and runner-up received engraved saddles bags provided by Haggis Saddles as well as dog dog food sponsored by Purina. Thanks to Greg Blair and Purina with sponsorship of this trial and all they dog for field trials.
Other notable performers were Wicked Quick, Grouse Feather Texas Ranger, Shagtime Buck, and named closest to the winners Wicked Hippie.
Special Thanks to Richard Lipksi who planted birds for the event and the the Cagles for delivering birds. Kelsey Hajek provided a delicious lunch on Saturday for everyone and Bill Branham was on hand to run the dog wagon. The trial would not have been a success without them.
Although a smaller than normal entry, the gallery saw some great performances with each dog having a fair and equal opportunity to point birds. We look forward to continuing the Region 13 trials at Ionia.
Ionia, Mich., April 23
Judges: Marc McKinley and Blake Rizzo
REGION 13 AMATEUR ALL-AGE CHAMPIONSHIP [One-Hour Heats] - 7 Pointers and 7 Setters
Winner-HANEY'S STORM WARNING, 1691416, pointer male, by Valiant-Haney's North Star. Chris Cagle, owner and handler.
Runner-Up-GROUSE FEATHER WITCHER, 1688616, setter male, by T's Gunslinger-Wynona's Witchy Woman. Allen Dunbar, owner and handler.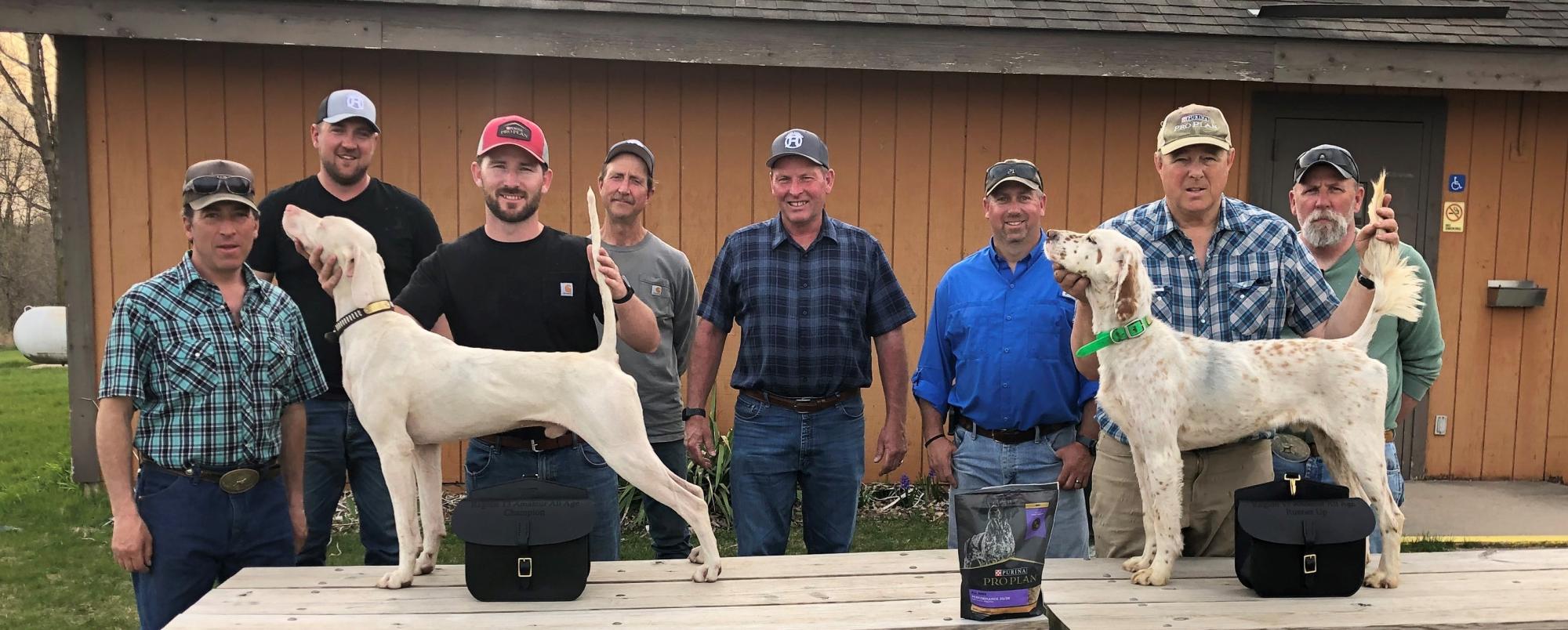 Region 13 Amateur All-Age Championship. From left: Blake Rizzo judge, Mathew Haggis, Chris Cagle, Jr. with Haney's Storm Warning, Jeff Haggis, Chris Cagle senior, Marc McKinley judge, Allen Dunbar with grouse feather Witcher and bill Branham.