Result: 93rd New England Open Championship
Location: East Windsor, Connecticut
Post Date: Aug 9, 2022
Submitted By: John Olfson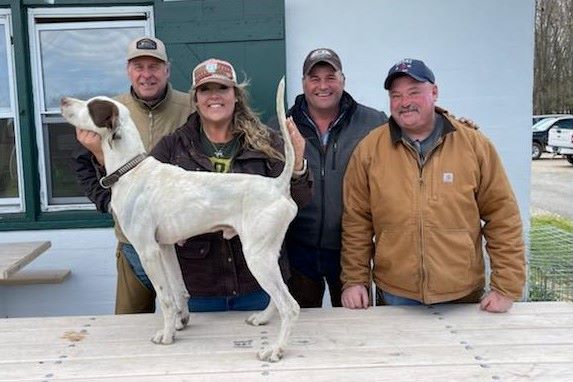 Winner. From left: Judge John Olfson, Scout Peyton Gunbi with Bully Rock, Handler Mike Tracy, Judge Keith Cagle.
93rd New England Open Championship commenced Monday April 25th at 8;00 AM in cool overcast conditions. The Championship is hosted by the New Britain Field Trial Club and Association of New England Field Trial Clubs. It is the 1st leg of 3 consecutive events which we promoted as "New England's Spring Fling Triple Header".
Roots of the trial date back to the late 1920's when the Championship was held in the Concord-Carlisle, Massachusetts area. Aside from 2 years at the Concord-Carlisle, Massachusetts area, 1 year at Penacook, New Hampshire, and a lone year at Rockville, Connecticut, the New England Open Championship has had only 5 other sites. Beginning in 1933 and for the next 17 years the Championship was held at Hall of Famer(1959), Lee White's farm in Scotland, Connecticut which held grouse, woodcock, wild pheasant, and wild quail. Eventually, after those grounds were no longer available, the trial struggled to find a suitable location, moving to Andover, Mass., for 6 years, Ipswich, MA 9 years. Then beginning in 1967 the event settled in at Hall of Famer (1987) Harry Townshend's Ragged Hill Farm in Pomfret, Conn., where it thrived for 47 years. In 1972 for the first time in the event history the Directors conceded to allow the limited use of horses by the handlers and this move brought in a record entry at that time of 51 dogs. Hall of Famer Harold Ray (2006) won with the setter Tomoka. After Harry's passing the event moved to its present day location the Dr. John E. Flaherty Field Trial Area in East Windsor, Connecticut.
Under the joint effort of the Dr. John E. Flaherty Field Trial Clubs Association, and it's devoted President Dick Frawley, as well as the State of Connecticut Department of Energy & Environmental Protection, and Eastern District Wildlife Biologist Ann Kilpatrick, the grounds were in as good of condition as could be expected with several spots having improved drainage, and stability. We are thankful and appreciate this continued joint effort.
Judges John Olfson of West Hartford, Conn., and Keith Cagle of Shelton, Conn., named pointer male Bully Rock Champion. Running in the 11th brace he was always forward, his 10 find effort was the strongest race I've ever seen. Mike Tracy handled him with help from scout Peyton Gunby. Very impressive showing, taking edges, making snappy moves, he hunted deeper into the course than any other dog. This came after seeing runner-up pointer female Miller's Heat Seeker the day before lay out an outstanding performance. She was handled by Mike as well to an 8 find huge race effort. This makes Bully Rocks effort even more impressive to me since after seeing Heat Seeker I thought no way anything could beat it.
Special thanks to professionals Matt Basilone, Doug Ray, as well as Janette Tracy. Each had some nice dogs. Matt's effort with Fort River Lucky Charm setter male was fun to watch. His owner Gary Tavares was in the gallery and had a lot to be proud of.
We thank Greg Blair and Purina for their continued support. We are proud to award ProPlan Sport to the winners. We all appreciate Purina's effort and support of all sporting breeds, they are far and away second to none.
The source of event history mentioned came from a publication Gene Casale provided, 50th Golden Anniversary New England Bird Dog Championship which was written by Frank E. Foss.
East Windsor, Conn., April 25 - One Course
Judges: Keith Cagle and John Olfson
NEW ENGLAND OPEN SHOOTING DOG CHAMPIONSHIP [One-Hour Heats] - 42 Pointers and 7 Setters
Winner-BULLY ROCK, 16749790, pointer male, by Bully Bragg-Bullerina. William & Muriel Primm, Karen & Erwin Saniga, owners; Mike Tracy, handler.
Runner-Up-MILLER'S HEAT SEEKER, 1674886, pointer male, by Just Irresistible-Miller's Bring the Heat. William & Muriel Primm, Dennis Hood & Jack & Fran Miller, owners; Mike Tracy, handler.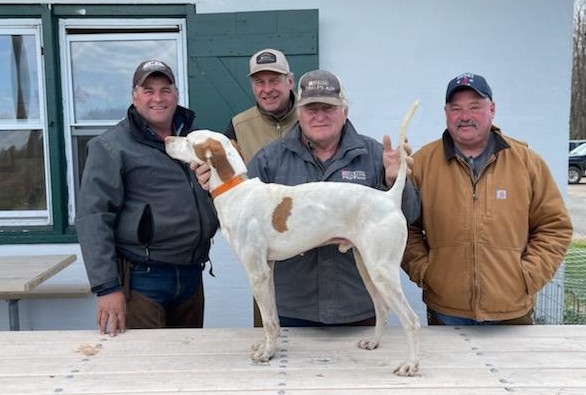 Runner-Up. From left: Handler Mike Tracy Judge John Olfson, Scout George Tracy with Miller's Heat Seeker, Judge Keith Cagle.