Result: U. S. Complete National Amateur Championship
Location: Caret, Virginia
Post Date: Sep 8, 2022
Submitted By: Jameson Crandall
On Friday, March 11th with blue skies and pleasant temperatures in the high 40', eight braces of the championship stake were run. Overnight, conditions cooled significantly as a cold front moved in producing gale winds and sideways snow and sleet. This postponed the second day's running. The trial concluded on Sunday. Just as quickly as conditions deteriorated, they once again returned to sunny and bright for the last day's running.
Historic Blandfield Plantation is located in Essex County, Va., on the Rappahannock River. Blandfield consists of approximately 4000 acres. 600 acres are pristine marshland, part time residence to migratory waterfowl. 700 acres are open farmland, and the remainder is mature timberland, thinned longleaf pine stands, and various sorghums and grains for quail and wildlife. Originally 100,000 acres, Blandfield was land granted by the English crown in 1683 to one Major Robert Beverly. It remained in the Beverly family for nine generations. In 1983 Blandfield was acquired by the Wheat family who have been intent on preservation of the historic mansion, good stewardship of the land, and improving wildlife habitat. They also built a modern but rustic hunting lodge on the banks of the Rappahannock River for patrons to stay in. The plantation boasts some of the best waterfowl and upland hunting in the east. The mansion and lodge are also often used for weddings and corporate events.
Upland manager Dave Pomfret created exceptional quail habitat on the plantation and groomed the land for traditional southern style quail hunts. He also hosted a number of field trials there over the years, from his biannual Old Dominion Vizsla Club trial, to many championships and other club's trials. Dave is greatly missed across the county. He and Blandfield will forever be synonymous to those who field trialed and hunted on these cherished grounds and his loss is a great one to our community.
Thank you to Grace Anne Lawson for allowing us to run our championship on the plantation. Grace Anne also drove the dog wagon for each brace. The dog wagon is a converted pickup, which doubles as a gallery wagon, with bench seating up high above the dog boxes. Sharon Townley prepared all of the lunches and a handlers dinner. Her meals are always great and received with gratitude. This time the pheasant sliders and seafood bisque really stood out. She has been involved in the chairmanship of countless trials and we couldn't have done it without her. Steve Graham put our birds with the help of Garrett Pries. Thank you to everyone who contributed to the successful running of this trial. The USCSDA's top sponsor, Purina, gives their support to the winners and to the organization annually. The winners receive Pro Plan and their support and donations are greatly appreciated. Thank you, Purina, for your continued support!
The judges for this year's National Amateur were Howard Shultz of Beallsville, Maryland and Roger Dvorak of Elkton, Maryland. Riding behind these gentlemen for the entirety of the stake, it was apparent how observant, fair, and dedicated they were. Their time, efforts, and attentiveness are appreciated. Combined, their years of experience with pointing dogs and field trials are not far from centennial.
The Winners
Ringo's Sweet Heart is a granddaughter of owner Verlene Stephenson's first field trial dog, Ringo's Star. In 2007 Ringo won the USCSDA National Open Championship. In 2018, his daughter Shadow's Carolina Molly (Heart's mother) won the USCSDA National Amateur Championship. Heart continues the family tradition. She is a six-year-old liver and white pointer built of functional confirmation, with easy gaits and handsome semblance. Heart minds her commander respectfully and handles with little verbal beckoning. Each time she points she stands tall with poise and steadiness. Heart was braced with HiRollins BK Dontjuno (Warren Parrot) in the third brace, on the first day of the championship. It was cool and sunny when they broke away at 11:00 AM. At nine minutes Heart was standing at the end of the long breakaway field. After an orderly find, she was released and was pointed out heading toward a distant part of the preserve commonly called the "all age course". She was found pointing there at 15 minutes, in tall cover where a single was flushed. For the next several minutes Heart was intermittently seen at the front, hunting edges of the bean field and digging into habitat where higher cover and young pine trees presented. The brace mate had not been seen and was no longer in contention. At 23 Heart was found on point at the end of a deep finger of the field. At 29, just before the first ditch crossing she was standing again. Each time, Heart was pointing with style and intensity. After the first ditch crossing the course heads east toward a section known as the pheasant field. Heart hunted the edge of the large pheasant field at a forward walking shooting dog clip. Her fifth find was after the end of the field, where a dirt road separated it from the area of young pines. She and her handler proceeded on from here to Heart's final find at 51 minutes. This time she was pointing a small covey, which was alert and walking around on top of the pine needles. For the final few minutes after the find, Heart charged forward through the pines and cover toward the end of the course. The large gallery was silent and watching. She could be seen periodically in the distance, her tail cracking as she continued seeking birds. When the judge hollered "time" it was evident that Heart had just completed a performance of the winning kind.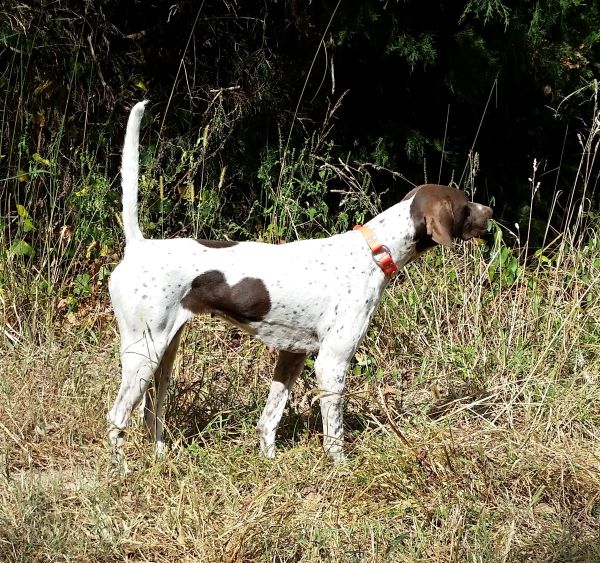 Ringo's Sweet Heart Winner of the U. S. Complete National Amateur Championship
Super Storm is a chiseled, orange and white male setter. He is out of 6X Champion Pennstar and by 8X Champion Straight Forward; two of the most notable dogs produced and campaigned by the Watts/Brenneman team. He is a five year old, owned and handled by Thor Kain of Pennsylvania. Thor and his strong string of setters have been earning a lot of recognition in the USCDSA recently with multiple championships and end of year awards.
Super Storm ran in the second to last brace of the championship with another male setter, Chippoke's Cracker Jack (Lee Flanders). Super Storm was found on point with Jack backing at 13 minutes in the all age field after a fast and competitive break away. The handlers turned the pair loose together again a few moments later after a steady find. They hunted on and Super Storm pointed again at 21 in the bird field before the first ditch crossing. Not much later, at 25, he was backing his brace mate, still in the bird field before the crossing. At 36 he was found on point by his scout on a far woods edge before the entrance to the pheasant field. With twenty minutes left he was still hunting with enthusiasm and running hard to the front. He continued around the course, searching each objective and never slowing or tiring. At 50 minutes, Super Storm was found on point deep in the piney finish on an edge where the thinned pines turn into thick hardwoods. The handler produced a covey. Once they were back on course, Super Storm used the last minuets of the hour to show his endurance, finding himself an obedient but distant couple of hundred yards to the front when time was called.
Caret, Va., March 22 - One Course
Judges: Roger Dvorak and Howard Shultz
U. S. COMPLETE NATIONAL AMATEUR CHAMPIONSHIP [One-Hour Heats] -
19 Pointers and 9 Setters
Winner-RINGO'S SWEET HEART, 1668688, pointer female, by Southbound Ben-Shadow's Carolina Molly. Verlene Stephenson, owner and handler.
Runner-Up-SUPER STORM, 1675530, setter male, by Pennstar-Straight Forward. Thor Kain, owner and handler.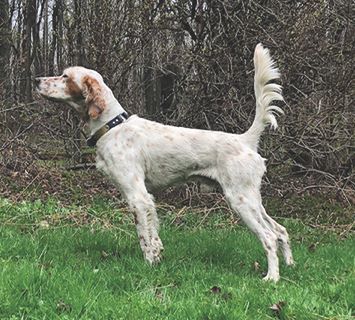 Super Storm Runner-Up in the U. S. Complete National Amateur Championship