Result: Lake States Field Trial Club
Location: Meredith, Michigan
Post Date: Sep 12, 2022
Submitted By: Denise Peters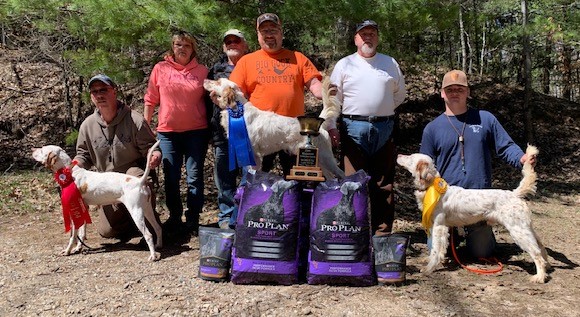 John Hadaway Cover Dog Classic. 2nd place Shady Hills Zeena with handler Marc Forman, Deb Nihart, Stake Manager Bryan Wood, 1st place Dun Rovens Zip with handler Richard Hollister Sr., Judge Ron Williams, 3rd place Grouse Ridge Larry with Richard Hollister, Jr.

On May 6 and 7, 2022, the Lake States Field Trial Club hosted the last spring trial at the Gladwin Field Trial Grounds with temperatures not compromising for spring here in northern Michigan. However, the fact that we had not had rain, made the conditions very dry and challenging for all dogs competing. This spring brought outstanding entry numbers for all clubs this year.
This trial, as always, a Purina sponsored event was an outstandingly attended event for our club. As a club we had an awesome number of helpers, mostly accrued from entrants and visitors to our trial. Our most awesome Stake Manager and our 1st VP Bryan Wood, kept track of all helpers so that we could officially thank them. Besides our judges, we had directors, members and many participants along with their guests help with moving cars and walking braces for us. Those folks were: President of our Club Mike Brown; 2nd VP Roger Johnson; Directors: Brent Peters, Mike Singleton and wife Deb, Richard Hollister (also our horse wrangler) and son Ricky, Scott and Tammy Chaffee; Members: Harold and Fran Holmes, Wayne and Marlene Fruchey; and other participants and guests: Ken Moss, Marc Forman, Deb Nihart, Bruce and Jenny Minard, Bill Siemer, Jim McGrady, Ben Batey, Charlie Hubbard, Ken Delong, Tammi Savage, Mike Bandos, Ron Badley, Bob and Diane Wheelock, Dale Ash, Chuck and Theda Langstaff, Abraham Downer, Rob Ellis, Ron Williams and...apologies if we missed anyone. An additional thank you to all our judges for taking their time to judge our stakes and our well wrangled horses supplied by the Hollisters.
Friday morning we kicked off the John Hadaway Cover Dog Classic with Dave Heavlin and Ron Williams in the saddle in judgement. We were blessed to have 39 dogs hit the starting line and give their best efforts in the dry conditions. First place was Dun Rovens Zip (owned by Mark and Tom Fernandez and handled by Richard Hollister Sr.). Per information provided by judge Heavlin... "Zip scorched the course. He ran the back side of a hill with his bell fading in and out...mostly out. When he ran out of the backside of the hill he showed to the extreme front. His grouse find was well located with nice high style. Shady Hills Zeena (owned by Deb Nihart and handled by Marc Forman) took second place and ran a moderate race with little to no handling. She was a very front running dog and looked good on a woodcock find where Marc was there to flush her bird for her. Grouse Ridge Larry (owned by Paula Giulitto and handled by Richard Hollister Sr.) took third, running a moderate race the first half and then after his grouse find, where he had the bird pinned 10 feet in front of him with good style; opened up and ran a big race the rest of the course."
Saturday morning we enjoyed 10 fine looking puppies on the puppy course with Rob Ellis and Chuck Polmatier sitting in judgement. First place went to May's Legacy of Justice, owned and handled by Ken Delong. Second place went to Grouse Hill Bella, owned by John Capocci and handled by Marc Forman. Freedom and Bella were braced together and complimented each other with nice big casts. They showed and carried themselves well, both finishing with about the same speed as they started. Third place was awarded to Hifive's Roll the Dice, owned by James McGrady and handled by Bruce Minard. Ice handled flawlessly with Bruce having to talk little to the dog. Ice didn't run quite as big or fast as the first and second placed dogs, but was consistently working the cover. The judges noted that it was tough competition among some really great looking puppies. Ken Delong and Tammi Savage were gracious and volunteered to be our stake managers for the morning. Thank you!
After the conclusion of our open shooting dog stake on Saturday, we had lunch at the tubes. We awarded our winners of the open shooting dog and puppy stakes at that time. Thanks to our chef's Mike and Deb Singleton for the great weekend tailgates. They mentioned that we had 30 souls for lunch on Friday and 40 on Saturday. Probably a record for our club.
Our open derby judges Frank Illijanic and Kevin Stewart had the privilege of looking at 22 energetic young hopefuls for 2022. The judges reported that they were looking for the dogs who had the ability to keep up the run the full half hour and handled with future potential. First place went to Highbank's Diamond Lucy, owned and handled by Bill Nelson. Lucy ran a strong forward race and didn't let down through the heat and hunted with style and intensity. Meredith Grade Kati, owned and handled by Mike Singleton took second with a forward race, handling with style and speed for the full half hour during the heat. Third place went to EJ Jonesy, owned by Taylor Kagley and handled by Scott Chaffee. Jonesy stayed forward with style and intensity and had a stop to flush on a grouse. This group will challenge all who came before, for sure.
A huge thank you to PURINA for their contribution of dog food and for their continued sponsorship.
Meredith, Mich., May 6 - One Course
Judges: Dave Heavlin and Ron Williams
JOHN HADAWAY COVER DOG CLASSIC - 9 Pointers, 29 Setters and 1 Irish Setter
1st-DUN ROVENS ZIP, 1686123, setter male, by Dudn Rovens Drifter-Waymaker Hello Rocky. Mark & Tom Fernandez, owners; Richard Hollister, Sr., handler.
2d-SHADY HILLS ZEENA, 1667955, pointer female, by Erin's War Creek-Brave Heart Cassie. Debra Nihart, owner; Marc L. Forman, handler.
3d-GROUSE RIDGE LARRY, 1673191, setter male, by Long Gone Boston-Grouse Ridge Merri. Paula Giulitto, owner; Richard Hollister, Sr., handler.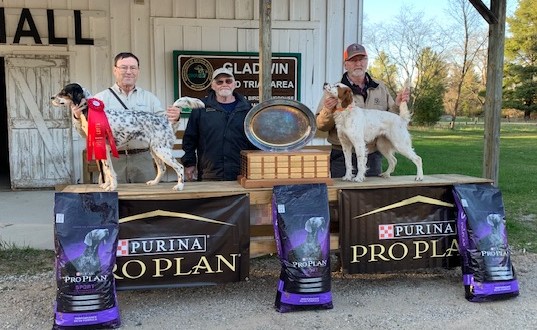 Bob Doran Open Puppy Classic. 3rd place Hifive's Roll the Dice with handler Bruce Minard, Judge Chuck Polmatier, Bill Nelson, 1st place May's Legacy of Justice with owner/handler Ken Delong, Judge Rob Ellis, 2nd place Grouse Hill Bella with handler Marc Forman.

Judges: Robert Ellis and Charles Polmatier
BOB DORAN OPEN PUPPY CLASSIC - 7 Pointers, 2 Setters and 1 Brittany
1st-MAY'S LEGACY OF JUSTICE, 1695469, pointer male, by Faith's Maximum Justice-Chasehill Mighty May. Kenric J. DeLong, owner and handler.
2d-GROUSE HILL BELLA, 1699351, pointer female, by Silvler Ko Kane Ty-Smoke'em Up Jill. John Capocci, owner; Marc L. Forman, handler.
3d-HIFIVE'S ROLL THE DICE, 1696787, pointer female, by Hifive's Powerline-Hifive's Top Shelf. James J. McGrady, owner; Bruce Minard, handler.
Judges: Frank Illijanic and kevin Stewart
DEL TODD OPEN DERBY CLASSIC - 6 Pointers and 16 Setters
1st-HIGHBANK'S DIAMOND LUCY, 1691443, pointer female, by Chippoke's Bud-Chasehill Mighty May. William Nelson, owner and handler.
2d-MEREDITH GRADE KATI, 1692672, setter female, by Jetwood-I'm Blue Who. Mike Singleton, owner and handler.
3d-E J JONESY, 1693374, setter female, by Ponderosa Mac-Eldridge's Beauty and Beast. Taylor Kagley, owner; Scott Chaffee, handler.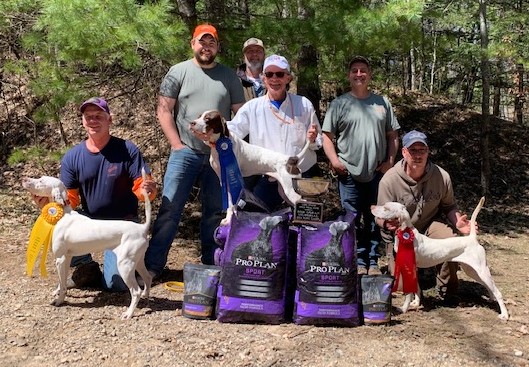 Dell Todd Open Derby Classic. 2nd Place Meredith Grade Kati with owner/handler Mike Singleton, Stake Manager Bryan Wood, 3rd Place E J Jonesy with handler Scott Chaffee.