Event: Double Deuce Zeke Wins Fletcher Classic
Result: Wolverine Bird Dog Club
Location: Highland, Michigan
Post Date: Sep 22, 2022
Submitted By: David A. Fletcher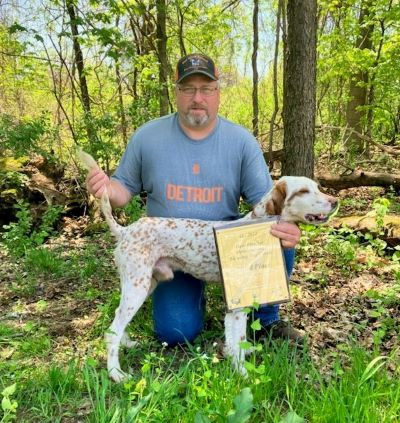 Grouse Ridge Larry with Richard Hollister, Sr., third in the Dave Fletcher Open Shooting Dog Classic
The Wolverine Bird Dog Club, with more than a 40-year history of holding open country field trials over Southern Michigan venues held forth over good courses at the Highland Recreation Area, near Milford, Mich., May 14-16. with their Spring 2022 program. Three walking stakes, Open Puppy, Open Derby and the Fletcher Open Walking Shooting Dog Classic were offered, and additionally three Horseback stakes followed, Open and Amateur Shooting Dog and Open Derby. The Fletcher Classic had a gratifying entry of 30 dogs. The event, with a total of 77 entries in 6 stakes, was completed in the two weekend days.
Weather was a major factor for this trial. Temperatures were just over the eighty mark both days, with thunderstorms and lightning on Saturday with intermittent showers, and the lightning halted the running for a short period. Both days had a scorching sun, making things a bit too hot for the dogs, although there were several places along the course route with water containers in place where a dog could be immersed. Scenting seemed affected by the heat, and considerably more difficult than during the previous weeks over this venue.
This trial was well managed by a group consisting of club President Jim Cipponeri who marshaled, acted as stake manager and also planted a few birds. Jim's wife Connie again used her excellent hand printing for the running order sheets at the drawing. Major bird planter was Paul Tutro who worked hard at his task two full days, and rode his own horses. Bryan Wood faithfully read the starters at the line every brace. Secretary Fletcher collected the entry money, wrote the checks for purses and other matters and acted as trial reporter. Morning donuts came from Paul Tutro and Robert Ellis. Help came from others, Mike Brown who went to Milford Saturday and brought sandwiches for the attendees. On Sunday Greg Tereck, a long time Michigan trialer, now on crutches, came with his bride "Scottie" and furnished Subway style sandwiches, and other goodies for the group. Rich Hollister filled in for reporter/photographer Fletcher when his camera showed memory full. Pictures for this report were taken from what sources were available and not all stakes had a salvageable picture.
Judges for the Fletcher Classic were John Hall of Dexter, Mich., a long time Brittany trialer and very active with all the local Brittany events. Will Langley, in addition to providing the horses, judged with John Hall in the Fletcher Classic and both were experienced and attentive to the entrants. Also judging were Rich Hollister and son Ricky, Sandy McLean, Mike Brown, and Bill Klenner.
We again extend our thanks to Purina for their support.
OPEN WALKING PUPPY
With 12 starters, cream rose to the top and judges were aware of the best prospects in the starting field, and gave three placements.
Highland, Mich., May 14
Judges: Richard Hollister, Sr. and Richard Hollister, Jr.
OPEN PUPPY - 6 Pointers, 4 Setters and 2 Brittanys
1st-BUCK OF PINEY WOODS, 1696648, pointer male, by Bo of Piney Woods-Grouse Hill Prima. Richard Warters, owner; Robert Ecker, handler.
2d-BLACKHAWK'S ROLLIN RASCAL, 1696391, pointer female, by Blake's Big Red Hawk-Fire Field Bea. Paul Tutro, owner and handler.
3d-PINE STRAW'S COVER QUEEN, 1698320, setter female, by Pine Straw Black Hawk-Pine Straw's Tupelo Honey. Robert Ellis, owner and handler.
THE FLETCHER CLASSIC
An entry of 30 competitors gave some importance to the stake among walking handlers. It was not a good day for scenting or multiple bird finds, and heat in the eighties was a deterrent to good scenting. The winners stood out and earned their placements. Judges related the winners all had superlative hunting, handled well and worked the front of course. Birdwork was with style and intensity and good manners at flush.
THE FLETCHER CLASSIC - The Running
In scribe's opinion a brief description of the running is a necessity in a Championship or Classic. Here is a very brief description of what happened in each brace.
Dunroven's Midnight Ike (Ecker)-Emmy (M. Hughes). A nice pair to watch hunting, but no birds.
Quick (McLean)-Sage (D. Hughes). Another pair that hunted hard and forwardly. Quick pointed at 8, was not mannerly at flush and was up. Sage had a pair of mannerly finds at 12 and 29.
Rumble (Hollister)-Ramapo Doc (Ecker). Hard hunting dogs, no birds, and Doc was taken up near time.
Shooter (DeLong)-Sass (M. Hughes). Another pair that hunted hard without finding birds It was evident scenting might be very difficult.
True Grit (Ecker)-Lucky (D. Hughes). Grit was taken up on a second unproductive. Lucky missed a back and was also leashed.
Spec (M. Hughes)-Dolly (Cook). Great hunting by this pair. Spec was birdless and Dolly logged a stop to flush.
Tupelo Honey (Wheelock)- Sammy (D. Hughes) Honey logged a pretty find and two nice backs in a good hunting and handling effort. Sammy hunted well, pointed a dead quail and added an unproductive.
Luther (Brown)-Meg (Colgazer). Luther ran well, had a very stylish find and finished well. No report from judges on Meg.
Bo (Ecker)-Mickey (M. Hughes). Bo hunted well, but was birdless. Mickey had a very stylish find and searched the course in great fashion.
Annie (Renius)-Angel's Envy (Wheelock). Annie was very wide the initial 15 minutes. She logged a great find at half time then shortened up a bit in the latter minutes. Envy had an excellent hunting effort, pointed in great form moved on her bird, and was ordered up.
Zeke (M. Hughes)-Bullet Proof (Ecker). Zeke won the stake with excellent hunting, a very good find, and was hunting forwardly every minute. Bullet proof was lost to judgement.
Leroy (D. Hughes)-Miss Pennstar (Ecker). Leroy had a very good hunt and pointed a dead Quail. Miss Pennstar was lost.
Rye (Gomes)-Larry (Hollister). Rye scored an unproductive, had no other birdwork and hunted with excellence. Larry was the third place dog with two finds, two backs and a very level, forward hunting search.
Jack (Ecker)-Cooper (M. Hughes). Jack hunted the course forwardly and had a single find. Cooper was lost.
Lola (Munden)-War Paint (Ecker). Lola hunted well and logged a stop to flush. War Paint was the second place dog and hunted the front of course exceptionally well and had a pair of excellent finds.
Judges: Will Langley and John Hall
DAVE FLETCHER OPEN SHOOTING DOG CLASSIC
13 Pointers, 16 Setters and 1 Brittany
1st-DOUBLE DEUCE ZEKE,1673940, pointer male, by Double Deuce Peter-Funseeker's Holiday. Doug McMillen, Jr., owner; Mark Hughes, handler.
2d-GLASSILAUN WAR PAINT, 1667331, setter male, by Sugarknoll War Paint-Neely's Hot Pepper. Jamie Nee, owner; Robert Ecker, handler.
3d-GROUSE RIDGE LARRY, 1673191, setter male, by Long Gone Boston-Grouse Ridge Merri. Paula Giulitto, owner; Richard Hollister, Sr., handler.
OPEN WALKING DERBY
An entry of 17 young hopefuls made it a good 'glimpse of the future stake". Judges reported all placed dogs had birdwork and gave indications of their potential as Shooting Dogs of the future.
Judges: Sandy McLean and Mike Brown
OPEN DERBY - 10 Pointers, 5 setters and 2 Brittanys
1st-PONDEROSA COPPER PENNY, 1690593, setter female, by Ponderosa Mac-Eldridge's Beauty and Beast. Robert Ellis, owner and handler.
2d-MIKE'S HOPPED UP VERSION, 1695106, pointer female, by Miller's Upgraded Version-Miller's Special Edition. Carlos Escalante, owner; Mark Hughes, handler.
3d-MAY'S LEGACY OF JUSTICE, 1695469, pointer male, by Faith's Maximum Justice-Chasehill Mighty Mae. Ken DeLong, owner and handler.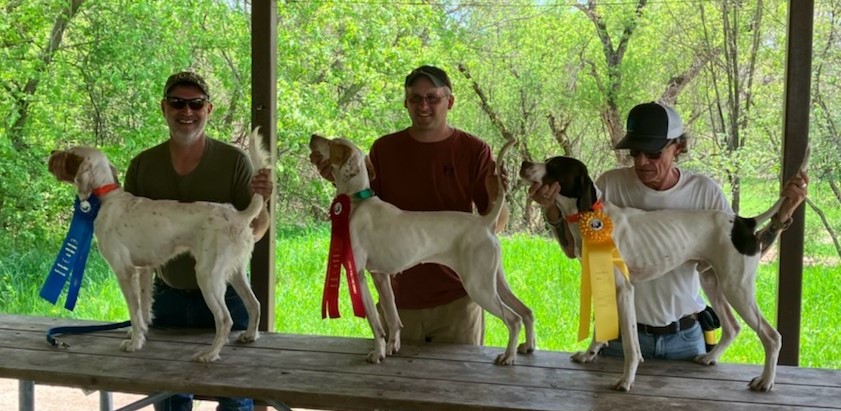 Open Derby. From left: Rob Ellis with Ponderosa Copper Penny, Mark Hughes with Mike's Hopped Up Version, Ken Delong with May's Legacy Justice.
OPEN HORSEBACK SHOOTING DOG STAKE
Merle, the winner bordered on all-age in ground coverage and added a nice find. Second, Quick, ran forwardly, covered lots of ground and logged a pair of finds. Steller Wind, third ran forwardly in great fashion showed us a nice broke find and bracemate backed her.
Judges: Mike Brown and Bill Klenner
OPEN SHOOTING DOG - 5 Pointers and 4 Setters
1st-WICKED HIPPIE, 1684804, pointer female, by Lester's Sunny Hill Joe-Wicked Quick. Sandy Maclean & Kelsey Hajek, owners; Sandy Maclean handler.
2d-WICKED QUICK, 1674810, pointer female, by Dunn's Tried'n True-Dunn's Get Out Sue. Sandy Maclean, owner and handler.
3d-STELLAR WIND, 1678050, pointer female, by Easy Terms-Quickmarksman's Erin Penny. Jim Cipponeri, owner and handler.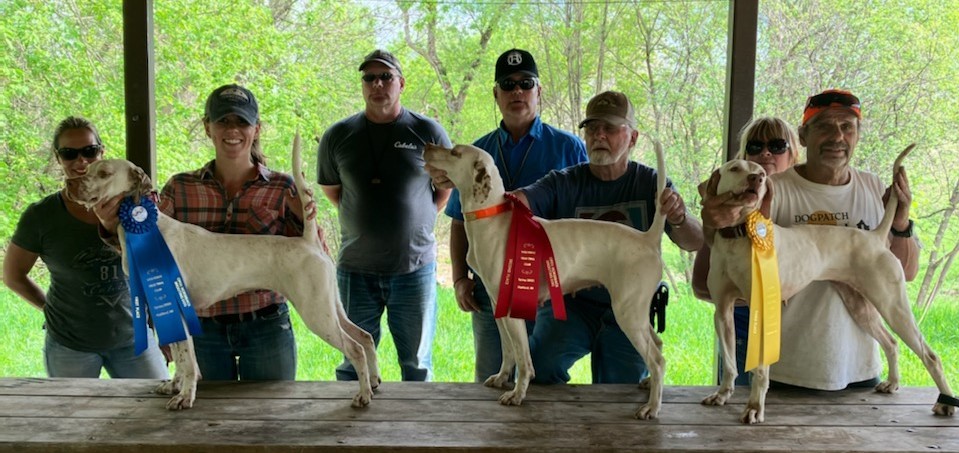 Open Shooting Dog. From left, standing: Maria Sposita, Kelsey Hajek, Mike Brown, Sandy McLain, Jill Klenner with Wicked Hippie, Connie Cipponeri with Wicked Quick, Jim Cipponeri with Stellar Wind.
OPEN HORSEBACK DERBY
Judges did not give a performance report on Ike, Sandy McLeans first place winner.
Judges: Richard Hollister, Jr. and William Klenner
OPEN DERBY - 3 Pointers
1st-WICKED TWISTER, 1697325, male, Miller's Speed Dial-Rebel's Touch Of Class. Sandy Maclean and Kelsey Hajek, owners; Sandy Maclean, handler.
AMATEUR HORSEBACK SHOOTING DOG
Two placements were given. Joe Colgazier's Meg was first and Ron Sposita's Louie second. and both were without birds, placed on ground race.
Judges: Richard Hollister, Jr. and William Klenner
AMATEUR HORSEBACK SHOOTING DOG - 2 Pointers and 4 Setters
1st-FLAMBEAU RIVER MEG, 1670686, setter female, by Grouse Busters Zeke-Cornerwood Mya Storm. Joe Colglazier, owner and handler.
2d-DUKE'S HOLD MY BEER, 1684677, pointer male, by Sugarknoll War Paint-Sizzlin Julie. Ron Sposita, owner and handler.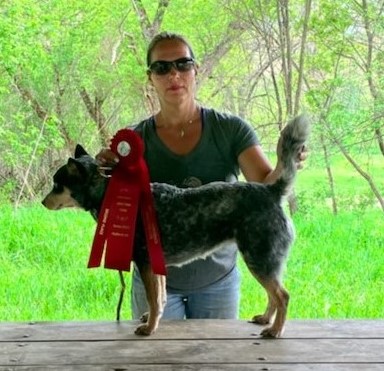 Maria Sposita with Billie.