Event: Meeting and Awards
Result: Associated Field Trial Clubs of Florida
Post Date: Oct 3, 2022
Submitted By: Petie Brown
Just the facts
Club members gathered for our annual meeting March 27th with Don Wood presiding and Dr. Paul May leading off with a prayer for those members no longer with us physically, but ever present in spirit.
Jim Goza was a long time field trailer, a mainstay of the club who lived for the All-Age and pulled the dog wagons he built over the years. My father used to say, there was no one he felt more comfortable out on the grounds with, because Jimmy could fix anything. Jimmy was one tough Mississippi farm boy balanced by his gracious wife Barbara, whose "dirty rice" recipe has kindly been passed on to the club.
Harry Green, a lifelong Florida State fan, having played football there, was a longtime AFTCF member, prior to moving back to Kannapolis, N. C. taking all that Carolina wit and charm with him.
Frank Fonseca was introduced to field trialing by Don Wood and he went on to have a national win with Funseeker's Rebel, handled by Fred Dileo. Frank and his lovely wife Mercy were valuable club members whose lineage is still present in many club member's dogs. We miss Frank's sportsmanship, and Mercy's Cuban black beans and rice that added to the festivities.
Looking to the future, we were grateful for a lengthy update from Cason Pope with the Florida Fish and Game Commission, starting with the burn program that appeared on track and tilling the food plots, which will be planted with Sesbania and Egyptian wheat. Casen reported a good past season bird crop, which was helpful going into the breeding season. He noted that the food plots and chopping bring in a lot of bugs for the young birds.
Purina and their representative Greg Blair have graciously supported our trials in the past giving Purina ProPlan to our winners, as well as, sponsoring a Purina Points dinner during the Everglades trial.
Beth Brown gave the treasurer's report showing a decline in funds over the past few years, citing a number of factors, primarily hotel and gas prices. The club reimburses those costs and provides a small stipend to judges for their time in the saddle. In light of current economics, it was voted to increase the entry fees by $5 for both 30 minute stakes and the one hour stakes. Training fees will remain at $20 a day or $200 for the entire season.
The Florida Fish and Wildlife Commission, FFWDC works diligently to maintain and improve the 6,000 acres of piney woods, suitable for a growing wild quail habitat. Presently the weather is hot, and the season starts September 16th. For those that travel south from afar the weekend does not allow sufficient work on the dogs before having to pack up and head home, so Kenny Muzynski has kindly asked, and agreed to pay for, the Monday after our trials to be available, so we do not have to load up and rush out in the dark feeling exhausted. He hopes many will enjoy the extended weekends as well and feel free to contribute to the cost. The Babcock/Webb field trial grounds are attached to "the big area," which is also open for training and hunting. The grounds are located close to I-75, and amenities such as gas stations, restaurants, shopping centers and hotels are surprisingly near. Rolling in after work to set up for a weekend of training, without all the pressure of putting on a trial, is about as relaxing as it gets (when you own dogs and horses). For those retired that love this sport it is truly a dream. For those interested in judging a trial and combining it with training please note the dates.
For those unfamiliar, the campgrounds around the airconditioned clubhouse include stables, kennels, showers, and a large covered picnic area with a fire pit. The clubhouse is spacious enough to include four sofas that have often been used by resting judges, along with a large poker/drawing table, restrooms, and a full kitchen. We have enough room to comfortably dine indoors when necessary.

All-Age. Laura Dykstra with Myakka Time Shifter, Beth Brown with Myakka Maxed Out and Don Wood with Funseeker's Coppertop.
2021-22 AFTCF Dog of the Year Awards
All-Age
1st Myakka Time Shifter, Pointer Beth Brown 310
2nd Myakka Maxed Out, Pointer Beth Brown 202
3rd Funseeker's Coppertop, Pointer Don Wood 160
Shooting Dog
1st Double Down Trumpster, Pointer Dave Vernasco 328
2nd Kahlua lll, Brittany Mike Tiberii 204
3rd Myakka Freddie the Freeloader, Pointer Beth Brown 124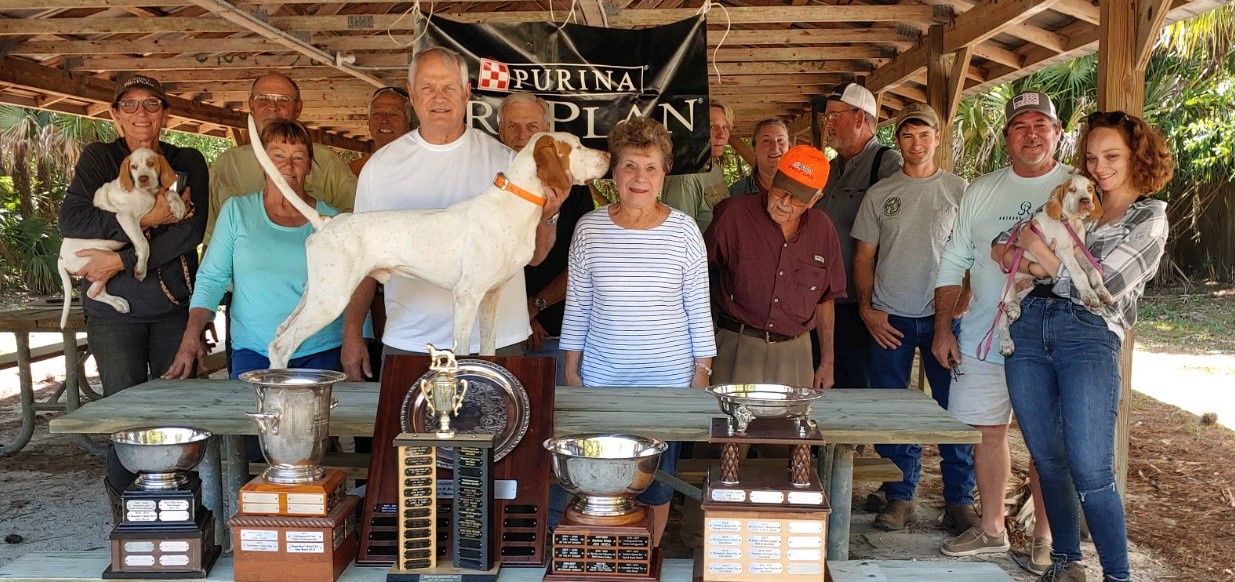 Shooting Dog. Dave and Diane Vernasco with Double Down Trumpster surrounded by supporting club members and third from right Cason Pope with the Florida Fish and Game Commission.
Derby
1st Funseeker's Double Trouble, Pointer Don Wood 198
2nd Holopaw's Speed Shift, Pointer Ken & Justin Muzynski 178
3rd Holopaw's Rear Axel, Pointer Ken & Justin Muzynski 158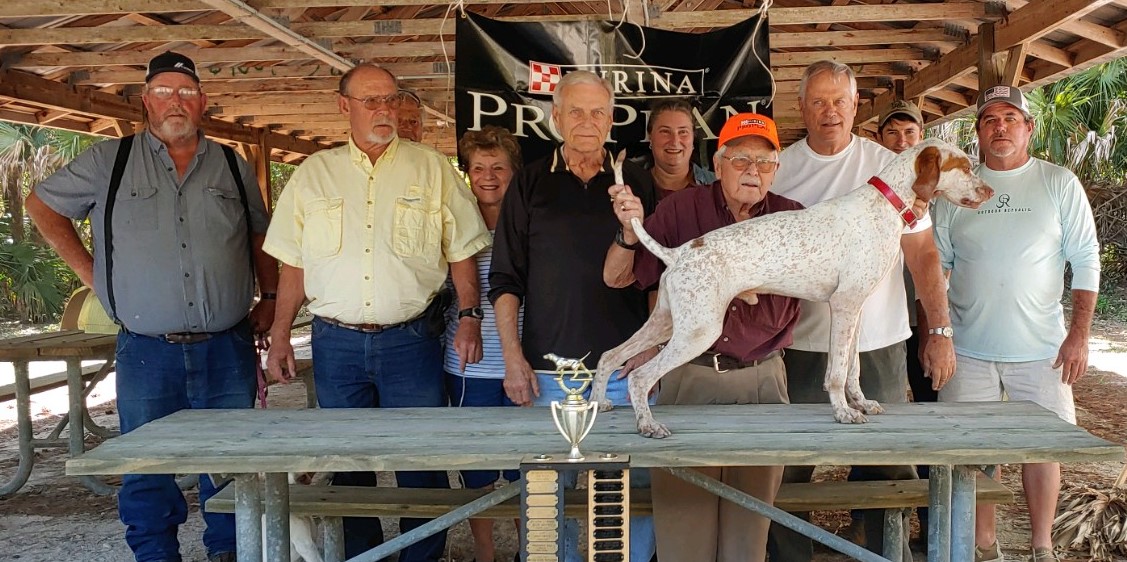 Derby. Front row: Don Wood with Funseeker's Double Trouble. Second row: Paul Daniel, Roger Shelswell, Paul May, Dave Vernasco, and Scott Ford. Back row: Mike Tiberii, Diane Vernasco, Susan Daniel and Casen Pope.
Puppy
1st Lou, English Setter Jim & MaryAnn Womack 50
2nd Smitty, Pointer Matt Ford 40
3rd Speck, Pointer Matt Ford 30
Congratulation to Dave Vernasco on his High Point Dog of the Year. Going back to Frank Fonseca's affiliation with the club, his champion Funseeker's Rebel and Don Wood's Tex, who sired multiple litters, mostly raised by Deb McEwen. Dave's, Trumpster, is an exciting dog to watch and true to his strong lineage.