Result: Region 14 Amateur All-Age Championship
Location: Winnet, Montana
Post Date: Oct 3, 2022
Submitted By: Alex Rickert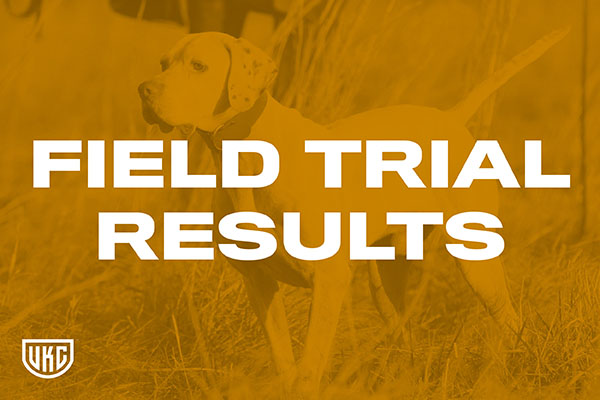 The Big Sky Field Trial Club hosted the Region 14 Amateur All-Age Championship in conjunction with the Big Sky Open Shooting Dog Championship on the expansive native sagebrush pastures of the King Ranch near Winnett, Mont.
The grounds and bird numbers were good considering the extended drought the state has been experiencing. The weather was good on Friday morning of the Shooting Dog Championship, but as the weekend progressed the weather continually worsened. Winds began Friday afternoon, continuing all weekend, and culminating with a spring blizzard by Monday evening.
We would like to first thank the King family for their generous hospitality, allowing us to recreate on their ranch. The family is an exceptional steward of their land. Even with the extended drought we have been experiencing, their ranch had cover for the native game and bird numbers were promising.
Our judges were Ashby Morgan of Hudgins, Va., and John Outlaw of Warsaw, N. C. We were pleased to be able to acquire the service of these two gentlemen that brought experience to the position and knew what they were looking for. They rode in extreme conditions without fail and gave every contestant their attention. Thank you to all the participants from across the west that braved the forecasted weather to compete over the exceptional grounds.
This year's winner was Edelman, pointer male owned and handled by Gordon Jones of Draper, Utah. Edelman has been a consistent threat in recent years, but this weekend was his coming out party. Edelman as his name implies is small, white, fast, and a bit edgy! On this weekend Gordy delivered and Edelman completed things.
THE RUNNING
First brace was ran on the 4th morning course coming back to camp. Perkins Rebel Within and Chris Perkins was paired with Edge's Talus Ridge and Gordon Jones. Both dogs broke away well towards the ridge, Rebel continued on forward and showed well. Ridge maintained a forward race and had a nice find at 30 on huns. A few minutes later Ridge had another encounter with birds that ended his day. Rebel shortened as the hour progressed but maintained his forward effort.
The 1st brace of the afternoon paired Name Like Mike with Mike Robbins and Chalk Creek Cedarbug with Tyler Steins. The course consisted of 45 minutes into a headwind before turning back down wind. Both dogs showed well for their respective handlers. Mike put down a commendable performance in these trying conditions, reaching to the limits while responding to his handler. Alas, both dogs efforts went unrewarded.
The 2nd brace of the afternoon brought R C's Bobtail and Mike Mathews to the line with Touch's Diamante and Austin Turley. Diamante won this title in 2015 in Mortlack, Sask. Both dogs broke away down wind, their course would maintain this bearing for the next 45 minutes. Both Bobtail and Diamante were enjoying hearing the wind whistle. Bobtail responded at times to his handler but Diamante had become and self employed. At 45 Bobtail decided to style up while both handlers were attempting to gather their dogs for a turn. Diamante took a real good look at Bobtail while he proceeded to close on him, ending his afternoon. Bobtail continued on, pointing birds at about 50, a breech of manners ending his day.
High Prairie Gypsy with Chad Hanson and Emmalita with Austin Turley started on course one Monday morning. Both dogs started well. Emmalita suffered an unproductive at 5. By 30 their efforts were waning. Emmalita suffering a second unproductive at 35 and Gypsy was becoming unresponsive. By 50 Hanson had seen enough for the day.
The second brace of the morning paired Edge's Hidden Canyon and Mike Robbins with Redeemed and Shannon Nygard. Both dogs started strong, needing some assistance to make an early turn. Unfortunately for Redeemed and Nygard, Redeemed found the front of a rider that was going back to camp. Canyon showed well to the front, making some good moves but not encountering game.
The third brace of the morning paired Touch's Amazing Greyce and Austin Turley with Promethus Fireball and Dave Noell. Both dogs made the difficult start of this course and were beginning to show well when point was called for Fireball. Birds were produced, and this encounter ended Fireball's effort. Greyce was reaching to the limits. Point was called for Greyce at 28. Handler called Huns for the dog but none were officially seen. When released, Greyce disappeared to our left heading to the front. At 51 handler showed her to the front but she had been counted out.
The final brace of the stake paired Touch's Hailstone and Alex Rickert with Edelman and Gordon Jones. Both dogs broke away going to the big ridge. Hailstone was raining hell down on the course and Edelman was showing well, consistently to the front. Both dogs continued like this for their hour. At time, neither dog was seen. Continuing down course Edelman was found standing. Sharptail were the catch of the day for Edelman. A catch reminiscent of his namesake's in Superbowl LI.
Winnet, Mont., April 10
Judges: Ashby Morgan and John Outlaw
REGION 14 AMATEUR ALL-AGE CHAMPIONSHIP [One-Hour Heats] - 12 Pointers and 2 Setters
Winner-EDELMAN, 1682222, pointer male, by Miller's Light Cruzer-Heard Hill's Queen Mary. Gordon Jones, owner and handler.