Result: California Quail Championship
Location: Reno, Nevada
Post Date: Oct 5, 2022
Submitted By: Jeff Gilbertson
The California Quail Championship is put on by the Pacific Coast field trial club this year the venue was in Reno, Nev., it hasn't been put on in the last two years due to COVID and a personal accident on my part right now I'm residing in South Carolina and I traveled to Reno to NV put on this trial. Please excuse the delays in the report when I got done with my travels and got back to South Carolina it was mid-July and I found that my computer was not working after spending 4 weeks and no luck fixing it I had to get another computer just now have it up and operating. Pacific Coast fuel trial club consist of myself Jeff Gilbertson Tom Griffin Lori Steinshouer, Mike Wilkin and the World Famous "Bradley Dirt Bag" LaVerne who took care of getting the dogs to the line on time and many other project assigned to him I want to mention this special thank you to Jarry Walton for helping acquire the grounds and handling the bird planting in the mornings without him it wouldn't have been possible to put on the trial and Purina for sponsoring the Ads and supplying dog food to the winners.
Twenty-one dogs were drawn for this championship 20 competed the trial was scheduled to start on the 28th of April it didn't start until the 1st of may which makes it the first points trial of the year for the 2023 year the Judges this year word Bill Owens from Santa Barbara, Ca., and Jeromy Skousen from Ontario, Oreg., both are very familiar with judging all age dogs in the West Coast this year the trial was attended by Randy Anderson from Oklahoma Bridget and Jim Lediington from Idaho, Lori Steinshouer, Mike Wilkins, Jarry Walton, Bradley LaVerne from Reno Nevada, Alex Mauck from Oregon and Will Dunn from Kentucky this was Will's first trip out West and I'm sure he enjoyed himself and he mentioned that he will be back next year And if I missed any one I'm Sorry.
During the trial with my residence being in South Carolina now and the trial being called the California quail championship I felt it was best that I hand the trial off too someone on the West Coast Jerry Walton has always had a great interest in the trial and with deep regret I decided to hand it over to Jerry.
Something I noticed in the trial chairman sometimes the weather conditions do not make it equal for all dogs the second day of running the winds were in excess of 35 miles an hour it blew over the porta potties it wasn't fair for man, dog and horse to be out on that course if I had to do it over again I would have postponed the second day of running.
It finished as a great trial with lots of local people expressing their gratitude for the trial I hope everybody had a great time.
The Winner and Runner-Up
This year's Champion was Far West Builder's Ace an pointer male four years old owned and handled by Mike Wilkins was run in the seventh brace very much in tune with his handler Ace was taking in the countryside put down a great forward race at 8 he was backing his bracemate at 45 he how to find all in order finished the hour well.
The runner-up championship was in the second brace Mauck's Wayeast Dalle a 3-year-old setter female owned and handled by Alex Mauck. Dalle's performance was a strong forward race very attractive on the ground with one find at 32 the birds came up in two waves six in the first wave five in the second wave dog remained intent all throughout and one non productive Alley finished the hour well Alex did OK.
THE RUNNING
Brace 1 Hardfork (PM/L. Smith) and Lester's Stemwinder (PM/R. Anderson). First brace started after the completion of the western Open Championship at 3:00 PM we left camp held out to the flats both dogs covering the ground nicely up in the junipers over the top of the juniper at 8 underneath a large tree Stemwinder was on point with Hardfork backing Anderson flushed the bird for the dog all was in order at 12. Hardfork had a find Smith produced 2 birds all order both dogs finished yeah hour both dogs covered the ground well Stemwinder being the wider of the two.
Brace 2 Mauck's Way East Alley (ESF/A. Mauck) and Bonner's Bulletproof (PM/Anderson). The brace started off at 4:16 PM at 10. Bonners Bulletproof was trying to make game the bird flushed. The dog didn't stop at the flush Bulletproof's day ended in the harness, Alley's brace was detailed earlier.
Brace 3 Dunn's Ever'n Onward (PM/W. Dunn) and Painted Owyhee Breeze (PF/B. Ledington) as mentioned earlier it was very windy this morning both dogs are having a hard time keeping in tune with their handlers dogs did well Ever'n Onward picked up at 40 Breeze picked up at 54.
Brace 4 Touch's Fire Away (PM/Anderson) and Tian's Butterbean (PM/Messnard). Both Dogs picked up early due to the extreme wind conditions.
Brace 5 Hewey (GSP M/B. Blum) and Born On Fourth July (PM/J. Gilbertson) this brace left from camp both dogs Weld in the front Blum pointing out his dog whether 4th of July had a short absence short absence was found 12:00 o'clock to the front on course hunted hard and to the front finished the hour Blum had enough and picked his dog up at 35.
Brace 6 Dunn's Sneak'n In (PM/Dunn) and Lewey (GSP M/Bulm) this course was the back course both dogs left well handlers were having a hard time speaking to their dogs with the wind both dogs were picked up within 20 minutes.
Brace 7 Far West Builder's Ace (PM/M. Wilkins) and Painted Owyhee Toad (PM/B. Ledington) start it off at 8:04 beautiful morning no wind both dogs filling up the country at 28 Toad had a find Far West Builder's Ace backing all in order Far West Builder's Ace was mentioned earlier.
Brace 8 Highground Toby (ESM/L. Steinshouer) and Mauck's Jack (ESM/A. Mauck) both dogs have have their running shoes on this morning. Toby take to the high ground Jack is to the front at 12 Jack has a nonproductive, Toby has crossed the front went down on the right side was never seen after that Steinshouer asked for the tracker at 40 yet but he had been ridden by on course. On Point standing behind a rock, Jack finished the hour going well.
Brace 9 Double M's Deliverance (PM/Messnard) and Miller's Eletto (PM/Anderson) started at 10:41 both dogs off and running at 14 Anderson decides to pick the dog up at 18 Double has a nonproductive after that the handle and dog get separated the dog comes back to the front and has a fin at 41 the scout flushes the bird all is in order at 48 Mesnard picks up the dog.
Brace 10 Dunn's Tried'n True (PM/W. Dunn) and Como Thunder PM Anderson 12.36. Both dogs picked up at 15.
Brace 11 High Ground Gidget (ESF/L. Steinshouer) and Rockin J's Amy (PF/Jarry Walton) this was the last brace of the trial starts at 2:02 pm it started off in the back course both both dogs grabbing the front and running well. Amy had a find it 12 in the rockpile all in order Steinshouer has a find at 16 all in order bost dogs running well at 30 Gidget and Stein shower are separated from each other at 30 Walton showing his dog to front showing very well at 45 Steinshouer and Gidget are back to the front, time is called Steinshouer has her dog Walton and his scout are looking for Amy at 20 after time Walton asked for the tracker.
The trial was a success and it was good to see Mike Wilkin win this trial he'd been working at it for many years it was also great effort to put on this trial traveling from South Carolina to Nevada and back to South Carolina was an adventure but it was a commitment and I had to follow through on the commitment I wanna thank all who attended and like I said sorry about this thing getting out so late just had many computer issues finally got a new computer.
Reno, Nev., May 1 - One Course
Judges: Bill Owen and Jeremy Skousen
CALIFORNIA QUAIL CHAMPIONSHIP [One-Hour Heats] - 15 Pointers, 3 Setters and 2 German Shorthairs
Winner-FAR WEST BUILDER'S ACE, 1678276, pointer male, by Honky Tonk Attirail-Addition's Pike Creek Sue. Mike Wilkin, owner and handler.
Runner-Up-MAUCK'S WYEST OWYHEE DALLEE, 1687695, setter female, by T's Gunslinger-Hidden Jasmine. Alex Mauck, owner and handler.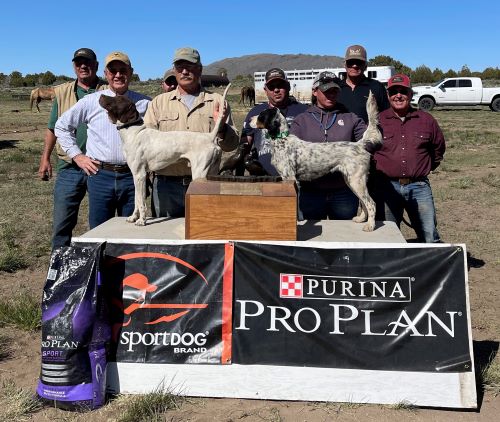 From left: Far West Builder's Ace with Jim Leddington, Mauck's Wyeast Owhee Dallee with Bridget Leddington. Back, from left: Jeff Gilbertson, Mike Wilkins, Jeromy Skousen (judge), Bradley Laverne ,Bill Owen (judge) Alex Mauck.