Result: National Brittany Open Grouse Championship Association
Location: Meredith, Michigan
Post Date: Oct 18, 2022
Submitted By: Kenny DeLong
Open Derby Winners (from left): Denise Peters (judge), Speed Dialing Kaia with Neil Minard, Vitali's Grouseringer with Scotty Forman, and Grouse Hill Bella with Marc Forman. (Back row): Bruce Minard and Brent Peters (judge).
Our summer trial went very smoothly, but both dogs and people endured brutally hot and humid conditions, while the grounds themselves were quite dry after many days without rain. As always, the contributions of many help make the weekend a success. We are grateful for the support of Greg Blair and the folks at Purina--winners really love that Pro Plan! The Hollister family of wranglers provide great, woods-wise horses, and are pretty darn friendly to boot. Chuck and Theda Langstaff kept things moving and handled a lot of administrative duties.
A hearty 'shout-out' to Mike Singleton, who stepped up as stakes manager and whatever else was asked of him. In addition, we greatly appreciate the efforts of many of the field trailers who pitched in and moved vehicles and marshalled when necessary.
Saturday featured the Open Shooting Dog Qualifier. Scenting conditions were extremely tough, and the oppressively hot weather really took its toll on the twenty dogs. When it was all over, Judges Kenny DeLong and Lonnie Rademacher agreed that Brent Peters' setter male "Indy" had taken the top spot. Indy ran in the 9th brace, the hottest part of the day, and put down a strong, sustained, forward race, attacking the likely cover and punctuating his half-hour with staunch stands on woodcock at 2 and 19. Second place went to Tom Fruchey's "Stan". This setter male ran in the 2nd brace in the morning, putting down a nice even, searching race that was rewarded in the 27th minute with an excellent stand on a small brood of 3-4 young grouse. Judges awarded the yellow ribbon to Joe Colglazer's setter female "Meg", whose race was more moderate, but stood for a running grouse at 10 on course 6.
On Sunday Brent and Denise Peters scrutinized nine braces of Derby dogs in a very competitive stake where bird work was scarce. The pointer female "Kaia" ran strong, forward, and was aptly handled by Bruce Minard to the Blue. Scotty Forman took second place with "Rush" a powerful setter male. Younger brother Marc handled his smart pointer female "Bella" to the third-place spot.
Bruce Minard and Ken Moss judged the Continental Breed Open Shooting Dog, and it ended up being a "family affair". Kenny DeLong handled his young Britt "Shooter" to first place, and his mother "Chancey" to third. In between, (Shooter's) littermate "Bullet" was handled smoothly to the red ribbon by Christy Helmes.
Placements were well received, pictures taken, and Pro Plan distributed on Saturday evening and Sunday afternoon as well. We are thankful for the hard work of our judges, the support of all who entered, and the blessings of our Lord.
We at NBOGCA look forward to seeing everyone at our Fall trial in early October.
Meredith, Mich., August 27
Judges: Ken DeLong and Lonnie Rademacher
OPEN SHOOTING DOG - 3 Pointers and 17 Setters
1st-BAXTER'S INDIAN ARROWHEAD, 1685299, setter male, by Baxter's Apache John-Baxter's Mary Katherine. Brent & Denise Peters, owners.
2d-STAN THE MAN, 1683677, setter male, by Ghost Train Cody-Ghost Train Sassy. Tom Fruchey, owner; Tom Fruchey, handler.
3d-FLAMBEAU RIVER MEG, 1670686, setter female, by Grouse Buster's Zeke-Com
Joe Colglazier, owner; Brent Peters, handler.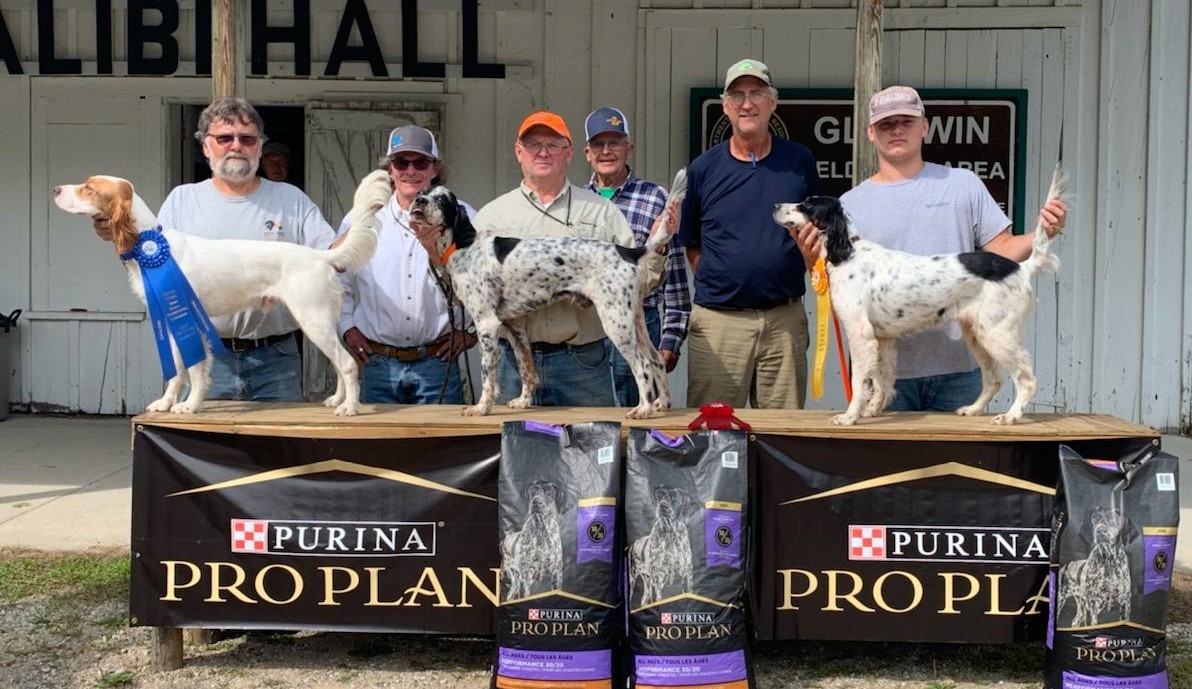 Open Shooting Dog Winners (from left): Baxter's Indian Arrowhead with Brent Peters, Stan The Man with Tom Fruchey, and Flambeau River Meg with Ricky Hollister. Back row: Kenny DeLong (judge), veteran field trialer/breeder Wayne Fruchey, and Lonnie Rademacher (judge).
Judges: Brent Peters and Denise Peters
OPEN DERBY - 7 Pointers, 9 Setters and 2 Brittanys
1st-SPEED DIALING KALA, 1696795, pointer female, by Miller's Speed Dial-Phantom's Santo Sun. John Paul Jones, owner; Bruce Minard, handler.
2d-VITALI'S GROUSERINGER RUSH, 1695212, setter male, by Woodville's Yukon Cornelius-Outcast Stardust. Gary Vitali, owner; Scott Forman, handler.
3d-GROUSE HILL BELLA, 1699351, pointer female, by Silver Kokane Ty-Smoke'm Up Jill. John Capocci, owner; Mark Forman, handler.
Judges: Bruce Minard and Ken Moss
CONTINENTAL BREED OPEN SHOOTING DOG - 7 Entries
1st-K DEL'S MAGNUM HOT SHOT, 1685770, Brittany male, by Magnum High Velocity-D Del's Eagle's Chance To Soar. Kenric DeLong, owner and handler.
2d-K DEL'S EAGLE MAGNUM BULLSEYE, 1685769, Brittany male, by Magnum High Velocity-K Del's Eagle's Chance To Soar. Christy Helmes, owner and handler.
3d-K DEL'S EAGLE'S CHANCE TO SOAR, 1639339, Brittany female, by K Del's Eagle's Flyboy Roy-Chance's Hope. Kenric DeLong, owner and handler.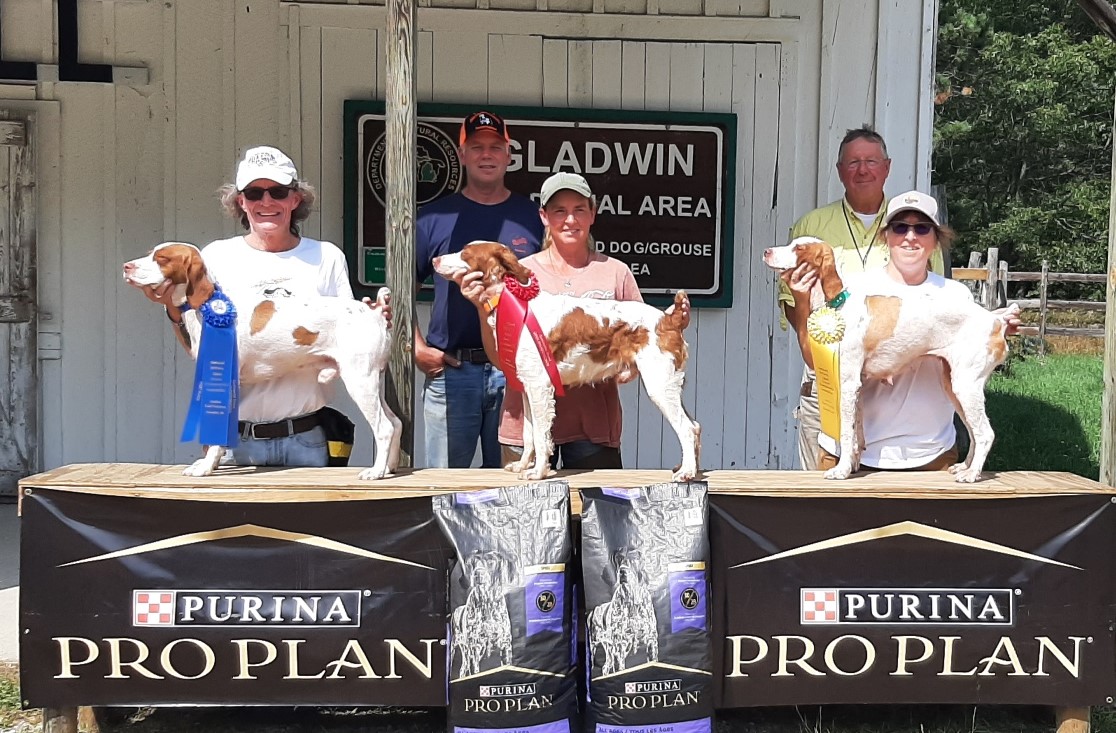 Continental Open Shooting Dog Winners (from left): K Del's Magnum Hotshot with Kenny DeLong, K Del's Eagle Magnum Bullseye with Christy Helmes, and K Del's Eagle's Chance to Soar with Tammi Savage. (Back row:) Bruce Minard (judge) and Ken Moss (judge).