Result: Northern New England Open Woodcock Championship
Location: Fryeburg, Maine
Post Date: Nov 1, 2022
Submitted By: Barry Bassingthwaighte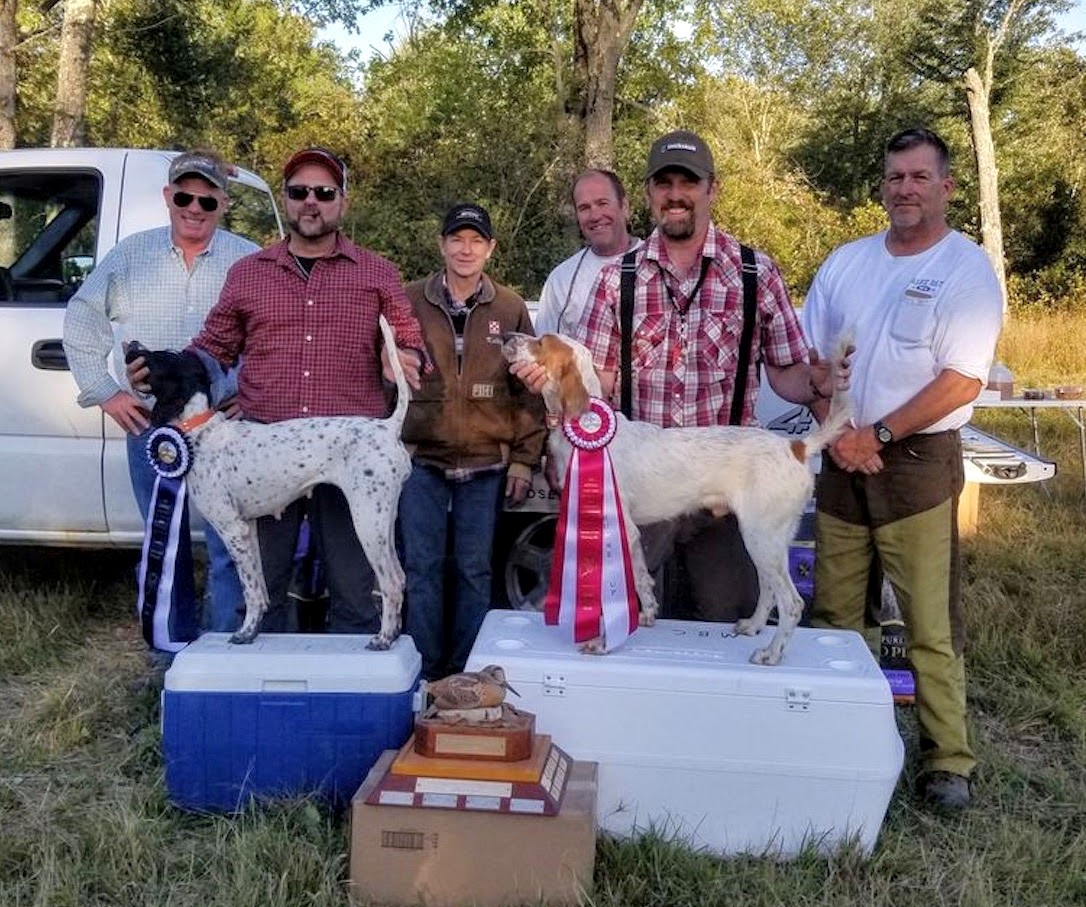 Northern New England Open Woodcock Championship. From left: Judge Jamie Nee, Robert Ecker with Blue Ribbon's Harper Bella, Maine Bird Dog Club President, Kellie Short, David Theroux, owner of runner-up Champion, Neo with Adam Dubriske, and Barry Bassingthwaighte, judge.
The first White people to pass a winter in Pequawket (Pequawket was the Abenaki Indigenous meaning "Crooked Place" were John Stevens, Nathaniel Merrill, and Limbo, a Negro slave, Limbo's gravestone can still be found behind the Fryeburg Library and was one of the first slaves freed on Underground Railway. These men endured the harshest of elements, in the winter of 1762 pastured cattle on the great meadows, feeding them on the hay that they cut and stacked the summer before. At the beginning of winter, they drove 105 cattle and 11 horses from Gorham to Pequawket, camped with them on the high land, and fed them all winter. Much hay was cut on the meadows near where Capt. Brown built his house, in what was first named Brownfield.
These men lived on hasty pudding --corn cooked in water or milk and sweetened with maple sugar. Having many cows they had milk in profusion, enough so that they said of it, "it ran downhill." Merrill is said to have made his breakfast on two quarts of milk, thickened with fifteen (!) partridge eggs.
The trails were poor, marked only by spotted trees. The means of transportation other than "shanks mare" [i.e. walking] was horses.
I give you this small history to tell of this year's New England Woodcock Championship.
Partridge and Woodcock were plentiful over the two days. Over the two days, no less than 75 birds were seen over the 13 braces and that, in my judging companion Jamie Nee's words, is conservative. The trails were in great condition. The hard work put in by the club was evident. Jamie and I shank mare-d 15 miles on Friday and 17 miles on Saturday. "A horse! A horse! My kingdom for a horse."
I will say that watching these contenders demonstrated the handlers' commitment in training these dogs in the cover they had to work. I've had my dogs on the ground across Canada in the provinces of Manitoba, Saskatchewan, and Alberta. And in the US: the states of Ohio, Wisconsin, Arizona, California, Texas, Georgia, West Virginia, and more. Each of these places presents different challenges to both dog and handler. The dogs at the NE Woodcock CH. all demonstrated boldness and the utmost desire to find birds. Impressive was the minimal handling at times to have these dogs work in the desired range, while still hammering out to the front and reaching out to where birds could be found.
Our Champion 9th brace
Winner-Blue Ribbon's Harper Bella, pointer female, Robert Ecker handler, owned by Marty Festal. Harper was let go in the 9th brace, which was the 3rd brace of the second day. It was obvious from the start that Harper was going to show what a champion run should look like. She broke away fast and to the front, the bell fell silent, and black and white pointer scored her first find at 1:30 of the brace. It wasn't long after that the finds kept coming, showing a forward, fast, and at times out on a limb performance. She notched more finds at 5, 9, 11, 13, 14, 34, 41 and showed her stamina, desire, and impeccable style up to the find at 55, all on woodcock. Jamie Nee and I were truly impressed. Jamie said, "One of the best cover dog ground races I've ever seen. Would have won it regardless with only three or four finds. That's how good the ground race was."
Runner up: 7th brace.
Neo, setter male. Handler Adam Dubriske, owner, David Theroux
Neo was let go in the 7th brace, the first brace of the second day. Neo was fast forward and reached out to where you would want a bird dog to go. Dubriske handled the dog with grace and minimal interference. His first find was notched at 13, deep and out on the limb. Multiple grouse were seen flushing and Neo handled the situation in true championship style. His second find came at 46 out front and he held it with style and staunchness. Again point was called at 51, the marshall informed us that the woodcock was seen leaving before handler and judge could arrive. Had it not been for Harper's performance two braces later, there would have been no doubt that Neo could have been named champion. He set a very high bar.
THE RUNNING
Brace 1 Wild Apple Snake Charmed (PF/Doherty) and Mac (ESM/McNulty). Snake Charmed showed exuberance and momentum from the start, unfortunately, this was her downfall as she had a breach of manners on a find at 17. Mac showed a determined race, a stop to flush at 26 and finds at 32, 38 and 48.
Brace 2: Ramapo Mountain Doc (PM/Ecker) and Elhew Snakewood (PM/Doherty). Both dogs scored birds, Doc at 33 with grouse and Snakewood at 11. Doc's run was sporadic at times. Unproductives were Snakewood's downfall.
Brace 3; Jerry on Fire (PM/Ecker) and Elhew Snakewood (PM/Doherty). Jerry was on fire, maybe a bit too much as the tracker was called for at 31. Snakewood had a stop to flush, but slowed and was picked up at 50.
Brace 4; Elwood (PM/Robinson) and Frank (ESM/Hays). Divided finds were scored at 7 and 12, Elwood showed strong forward running but nonproductive at 17 and 15 were his undoing. Frank was not reaching out to the front enough. Both dogs finished the hour.
Brace 5: Bo of Piney Woods (PM/Ecker) and Paucek's Little Tommy Tucker (ESM/Warters). Bo exhibited a nice forward race staying out front. He had an unproductive at 18 and nice stylish find scored at 23. Tucker went birdless and showed a short but steady front race.
Brace 6: Hattie (ESF/Kennedy) and Paucek's Castiel (ESM/Short). Hattie after a find at 3 and an unproductive at 14 was not running to the handlers liking and was picked up at 42. Cass with 3 unproductives and 2 backs did show intense style and promise and finished the hour.
Brace 7: Elhew Snake Dancer (PF/Doherty) and Neo (ESM/Dubriske). Neo's championship-worthy run is described above. Snake Dancer showed promise but had no bird work.
Brace 8: Wild Apple Hard Cider (PM/Doherty) and Porky (ESM/Bly). Cider was picked up at 42, Porky suffered an unproductive at 2. He looked staunch and then loosened, indicating the bird may have left. He had a grouse find at 42 and a woodcock at 55.
Brace 9: Lightening Flash Moose (ESM/Dubriske) and Blue Ribbon Harper (PM/Ecker). Harper's outstanding run is described above. Words on paper cannot describe what a joy it was to watch this dog perform. Moose failed to back and was picked up at 14.
Brace 10: Dequann (ESM/Bly) and Fionn (ESM/McNulty). Dequann had a find at stylish find on a woodcock at 45, and showed promise and determination, but as the afternoon sun climbed it played a factor on birds and dogs. Fionn had a determined race. McNulty chose to pick up at 53 after an unproductive.
Brace 11: Coal Creek Rip (ESM/Dubriske) and Sterlingworth Jack (ESM/Ecker). Judges gave an Honorable Mention to Sterlingworth Jack (Neo's sire!) owned by Jim and Anne Millett and Dr. Peter Millett. A Solid performance that could have won many other trials had it not been for the outstanding races of our champions. An unproductive at 26 was followed by stylish solid finds at 37, 42, 47 and 50. Both dogs finished the hour.
Brace 12: Also receiving the judges' Honorable Mention was Ricky (ESM/Tony Bly) who was braced with Dunroven's Midnight Ike (ESM/Ecker).
Last year's runner-up Ricky turned in a fine performance with finds at 19 and 21 with forward charge, staying in the pocket. Rickey carded again with finds at 24, 36 and 44. Great style, staunch and classy.
Ike was on his own determined mission showing a lot of momentum, perhaps too much as Ecker elected to pick up at 9.
Brace 13: Super Storm Nell (ESF/Dubriske) (bye dog)
After scoring a find at 12 on woodcock, Nell set into a shorter, sporadic race, showing lots of style but not good enough for this day. Pickup at 20.
A big thanks and appreciation to the Maine Bird dog club for putting on a spectacular event. Special thanks to Deb Kennedy and Kellie Short who worked tirelessly and saw that the judges were treated like royalty.
Fryeburg, Me., September 16
Judges: Barry Bassingthwaighte and Jamie Nee
NORTHERN NEW ENGLAND OPEN WOODCOCK CHAMPIONSHIP [One-Hour Heats] - 9 Pointers and 16 Setters
Winner-BLUE RIBBON'S HARPER BELLA, 1682768, pointer female, by Bud of Piney Woods-Blue Ribbon Bella. Martin Festa, owner; R. J. Ecker, Jr., handler.
Runner-Up-NEO, 1689990, setter male, by Sterlingworth Jack-Sandland Miracle Maggie. David Thereoux, owner; Adam Dubriske, handler.
Jean C. Sanderson Open Derby
By Deborah Kennedy
Kelly Hays and Rob McMullen had their work cut out for them in judging ten talented derbies on the championship grounds in Fryeburg on native grouse and woodcock. The birds were a bit jumpy after the previous two full days of championship performances but enough stayed around to give the young dogs a chance to strut their stuff.
First-place honors went to a powerful and classy going orange and white pointer male, Elrumhew, who had two finds and a strong, forward race.
Taking the red ribbon was Kix, a fast little black and white setter female who had two finds and a blistering race.
Third-place honors went to Libby, another sprightly setter female who had three finds.
The club is grateful for all the support given by Purina. This event simply could not happen without them. Famed field dog photographer, Nancy Whitehead, donated copies of her gorgeous book, In the Field to the judges of the championship and the derby. Thank you, Nancy!
THE RUNNING
Brace 1: Sandy, BF Sloan; Soda Pop (ESF/Dubriske). The fast, young Brittany hit the cover hard. She ran out of pocket at times while her brace mate occasionally came from behind. Neither dog had bird contact.
Brace 2: Leia (ESF/Hargreaves) and Penny (ESF/Nichols). Leia started strong but ran out of steam. Penny had a strong, forward race. Neither dog had bird contact.
Brace 3 Elumhew (PF/Dubriske and Yeagermeister (ESM/Short). Elrumhew's run is covered above. Yeagermeister hit the cover and ran a good forward race.
Brace 4 Kix (ESF/McCullen) and Grey Ghost (ESM/Dubriske). Kix is covered above. The flashy running Ghost didn't find a bird this day.
Brace 5 Stitch (PF/Doherty) and Libby (ESF/Dubriske). Stitch ran hard but couldn't connect with a bird. Libby is covered above.
Judges: Kelly Hays and Robert McCullen
JEAN C. SANDERSON MEMORIAL OPEN DERBY - 2 Pointers, 7 Setters and 1 Brittany
1st-PARTRIDGE HOLLOW ELROMHEW, 1695675, pointer male, by Barker Elhew Genesis-Redrum's Brave Heart Sue. Giuseppe Papandrea, owner; Adam Dubriske, handler.
2d-LONG GONE KIX, 1694018, setter female, by Long Gone Studly-Paucek's Black Pearl. Long Gone Kennels, owner; Robert McCullen, handler.
3d-LONGMEADOW LIBBY, 1700767, setter female, by Caladen's Davinci-Woodmont Virginia Shelby. Ben Dillard, owner; Adam Dubriske, handler.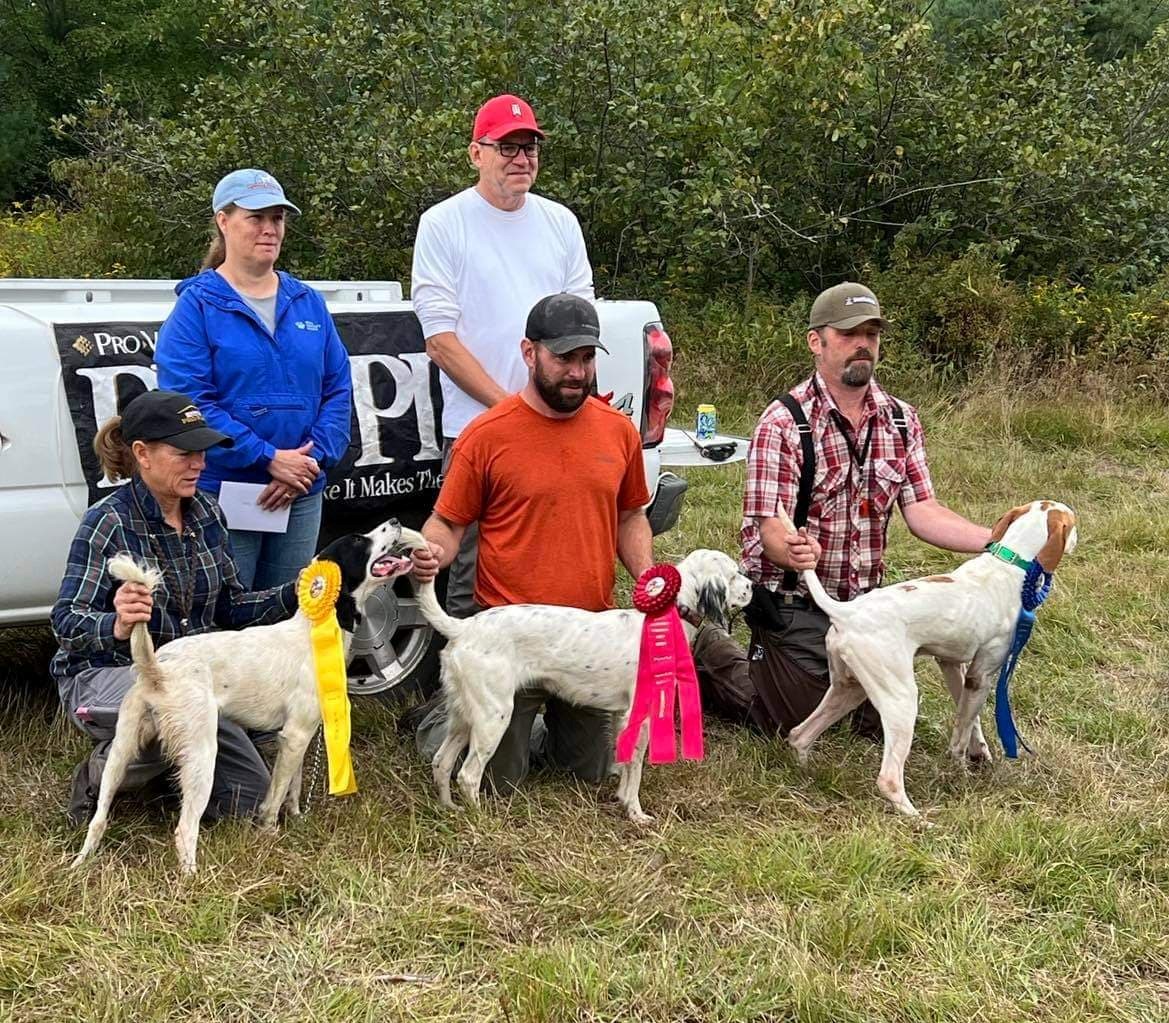 Jean C. Sanderson Memorial Open Derby. From left: third place Libby, (handled by Adam Dubriske) is being posed by Kellie Short, second place Kix is being posed by owner-handler, Rob McMullen, and Adam Dubriske is posing Elrumhew. Standing, Judges Kelly Hays and Robert McMullen.