Event: Wild Bird Season Opener
Result: Atlantic Sportsman's Club
Location: Nova Scotia
Post Date: Nov 16, 2022
Submitted By: Ian Corbett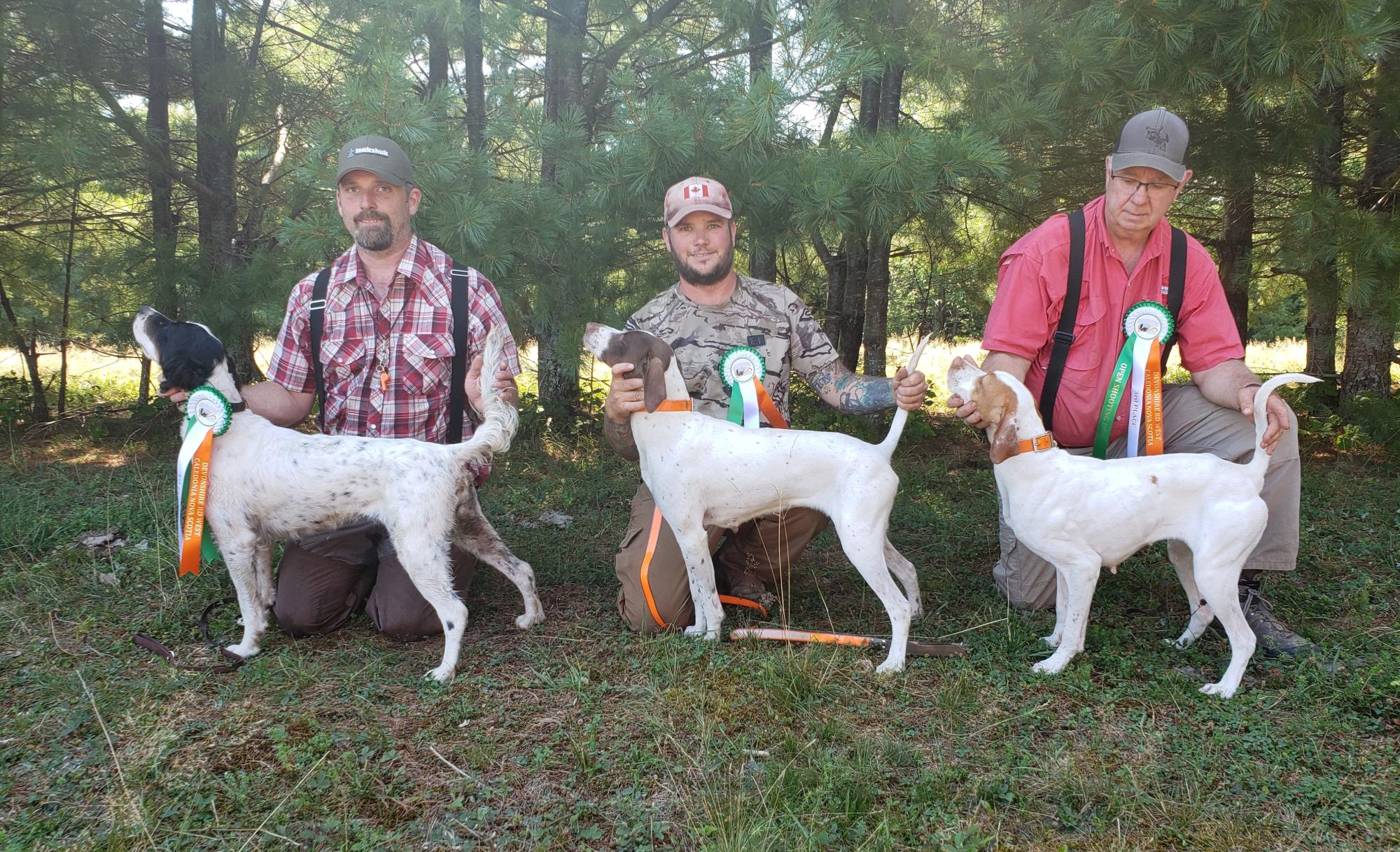 Saturday Open Shooting Dog (from left): Adam Dubriske with Super Storm Nell, Donald Henderson with Cairds Remi, and Robert Little with Cairds Dreaming of Jeannie.
The Atlantic Sportsman's Club held their Wild Bird Season Opener at West Caledonia Nova Scotia on August 20-21. It was two days of jammed packed fun running hour stakes through old farmsteads alder runs and field edges searching for Grouse and Woodcock. We were blessed this year with good numbers of grouse. There was much debate while organizing this trial with the heat of the summer and the prospects of the three courses holding up over the two days of running hour heats. Decision was made to run them in the opposite direction on the second go around hoping to push the birds back and forth with each rotation. We also decided to layout the courses 15 minutes too long so the second round would provide fresh cover. This format worked out quite nicely with the exception, The Boyle Farmstead (Course 2) was barren over the two days. It's a dry course and the grouse and woodcock moved out a week or so earlier. The grouse left to the accompanying Foley Farmstead and greeted many of us roadside over the two days. Fortunately, The Donnellan and Menchan Farmsteads provided lots of excitement if you were drawn on either those courses. Plans are in the works to address course 2 as I write. We are working towards building two hour courses at the Menchan Farmstead for next year and we apologize to those who drew course 2.
A few days before the trial we enjoyed some rain filling the brooks and ponds on the courses for the dogs to cool down from the heat. Each course also had water stations in place if needed. The daily stake out area was along the Donnellan Farmstead field edge providing ample area and shade. The dogs were well cared by the handlers and there was no issue with the heat, well except for the handlers and Judges who powered through to complete their duties.
Open Shooting Dog First Place August 20th
First place Super Storm Nell, setter male owned by Thor Kain and handled by Pro Trainer Adam Dubriske ran the first brace of the trial on The Donnellan Farmstead. Breakaway was at 7:30 am under clear skies with heavy dew in the woods. It was one of those mornings you could hear a pin drop at 50 yards. His brace-mate was Elmer's Always Been Crazy (BRIT M) owned and handled by Donald Henderson broke off hunting the edges of the path while Super Storm Nell pushed forward. Both dogs started searching with Super Storm Nell digging into the hillside on the left while Elmer hunted close. At the 6-minute mark just entering the Christmas tree lot to the left, Elmer was still hunting close and Super Storm Nell was on the hillside pushing 150 yards and heading to the lower field. Just before the path up to the field Grouse started to lift from the ground and trees. I'm thinking perhaps 6 birds or more. Elmer stopped and marked the bird's flights. Super Storm Nell at this point was 250 yards to the left but closing in fast to the pond where grouse have been known to hold up for the night. As we moved forward Elmer continued to hunt close. Adam Dubriske pushed forward to get into a better position to hear his bell and that was a smart move because it stopped hard on the slope above the pond. Adam Dubriske headed in I'm sure thinking a single Woodcock or maybe a grouse. When judge Lester Turner and Adam found Super Storm Nell standing, he looked fantastic! Adam moved in and grouse were lifting from all corners. He claims perhaps 20 birds were moved in front of him. Lester told me she looked incredible standing on his toes and high. These birds were flushing down toward Elmer, Donald and me. Elmer stopped on top of a large rock, I first thought he's marking birds but he had his own in a tree just above the rock. It was a sight to see! And I have no idea how he got up there because this was a large rock. Anyway, it was something to witness! After all this confusion and excitement everything was in order, and we continued through the cut to the backside of the course. At the 15-minute mark, we switched up and I watched Super Storm Nell devour the course in pursuit of more birds. He was rewarded with a beautiful woodcock find at 24, high on both ends before and after the shot. This was one of the more exciting performances I have seen in some time. He finished strong!
Second was Cairds Remi pointer female owned and handled by Pro Trainer Robert Lyttle is no stranger to the winner's circle capturing the U. S. Complete National Shooting Dog Championship in 2020. She always lays out an eye-catching race but at times is a handful, the good ones usually are! She ran in the fourth brace on the Donnellan Farmstead under ideal conditions. (second round on the course) She was let loose with her brace-mate Mooselook Mac Handled by Jack McNulty. Both dogs headed down the field with Remi taking the edge and Mac running along the hilltop. Both dogs entered the lower field cover searching the likely spots. Remi swung to the right taking a nice 200-yard cast and continued forward with Bob keeping her in the pocket before the big swing right. Bob knew he'd be in trouble if she headed up the "highway" to the Murphy Farmstead. She responded to his calls and made the bend heading to prime cover where earlier in the day we moved 2 broods of grouse (15 plus birds) Bob I'm sure was crossing his fingers, maybe even his toes for a few singles and not that double brood shacked up together! Near time Remi stopped 80 yards or so to the left buried in a super thick wet muck hole. We were lucky to find her! A few steps forward a grouse lifted out 20 yards then another! Everything is in order and Bob with a big smile, me too.
Third Cairds Dreaming of Jeannie, pointer female owned and handled by Pro Trainer Robert Lyttle ran on Course 3, The Menchan Farmstead in the 9th brace on Saturday under scorching temperatures. She broke away hard to the left of the course with her bracemate Belle setter female owned and handled by Jonathan Wilkins in tow. At one point I thought I heard Belle's bell deep and to the right of the course and Jeannie to the left. As we started down the trail heading to the farmstead Jeannie's bell could be heard to the left. She made a couple casts upfront and stopped hard just to the left of us out 75 yards. Bob had a good idea of where she was standing. After a few moments, I spotted her standing to the right in an opening. She was stunning to see! High-headed and poker-straight! At one point her eyes were closed drinking back the scent! I looked to the right of her and spotted the woodcock nestled in a hollow Bob swung around to the left and flushed her bird. Jeannie lifted her head and watched the bird rocket through the canopy still high and tight! She finished her hour strong. On another note, so where was Belle all this time? Well, she was standing deep to the right of the course. Jonathan Wilkins gambled on a last-minute search and just wasn't deep enough. Her tracker was called, and she was located 80 yards standing from where we searched.
Open Shooting Dog First Place August 21st
Neo, setter male owned by David Theroux was the hard-luck dog on Saturday not posting a find after carding a great effort on the ground. However, on Sunday he upped the game with casts in excess of 300 yards covering every corner of the Donnellan Farmstead searching for birds. He's powerful and at the same time glides through the cover effortlessly. At 22 on the backside of the course, his bell stopped out 100 yards. His Handler Pro Trainer Adam Dubriske had a good idea of where he was and with some help from Pro Trainer Robert Lyttle directed us to the general area. We searched for a few minutes and Seamus Smith (called upon to Scout) spotted him standing. He looked fantastic! I moved around to the right for a better view and flushed a grouse. Neo never made a budge when the gun was fired. As Adam moved in to collar him back to the course another grouse blasted out of a tree just inches from Neo. Everything in order. He finished strong and I turned to Seamus and said, "you just witnessed a Championship performance" This dog is going places under Adam's whistle.
Second place in the Open Shooting Dog Mooselook Fionn MacCool setter male owned and handled by Jack McNulty was unleashed on the Menchan Farmstead. He ran his heart out in the heat of the day never giving up. At the 15-minute mark he headed to a water hole just off the path to the left heading along the edge of Donnellan Field where both Woodcock and Grouse tend to seek shelter from the heat. After a quick roll around the water, he was off again searching and at 20 stopped hard, but no bird was moved. Sent on and minutes later he again locked up solid and this time a woodcock blasted out under the pines. Everything in order and Jack fired his pistol Mac finished his race hunting. His registration name is fitting, Fionn MacCool is an Irish Warrior Legend and his dog fought hard and did not give up!
In the Mix and Hard Luck Dogs
First, the hard-luck dog Baker River's Mountain Man, setter male owned by Brad Roth handled by Adam Dubriske carded an unproductive at 10 and a nice woodcock at 22 only to move near time on a grouse. He laid out a decent race.
In the Mix Coal Creek Rip setter male handled by Adam Dubriske was rewarded with a nice WC at 13 and a stop to flush on another at 15. He was missing for 7 minutes which took away from his efforts. Overall impressive to watch.
Coy, pointer male handled by Robert Lyttle was laying out a beautiful forward race. Sharp on the ground covering all the likely spots. He rolls through the cover. At 26 he was found stopped in the middle of a brood and when I saw him, he was very loose. Everything happened so quickly and Bob fired and continued on. He asked me if we were good, I responded I didn't see what happened in the confusion.
The Derbies
The Atlantic Sportsman's Club Open Derby was dominated by these two beautiful prospects, Partridge Hollow Elrumhew pointer male was rewarded first Place owned by Giuseppe Papandrea and handled by Adam Dubriske and Lady Lucy Lou setter females second place owned by Jonathan Wilkins and handled by Robert Little. Judges Jack McNulty/Donald Henderson duo on Saturday's Stake and Austin Parsons/Donald Henderson on Sunday's Stake looked over the 5 entries with the same results. The judges reported to me these two laid down very strong races and were in complete decision with their placements.
Congratulations to the winners and hopefully these two will continue their winning ways throughout their career.
Nova Scotia, Canada, August 20
Judges: Ian Corbett and Lester Turner
OPEN SHOOTING DOG - 11 Pointers, 9 Setters and 1 Brittany
1st-SUPER STORM NELL, 1687466, setter male, by Blast Zone-Bridgewater Mt. Pemi. Thor Kain, owner; Adam Dubriske, handler.
2d-CAIRDS REMI, 1675238, pointer female, by Daddy's Little Boy Butch-Hog Hill Katie. Robert Little, owner and handler.
3d-CAIRDS DREAMING OF JEANNIE, 1684574, pointer female, by Sugarknoll War Paint-Sizzlin Julie. Robert Little, owner and handler.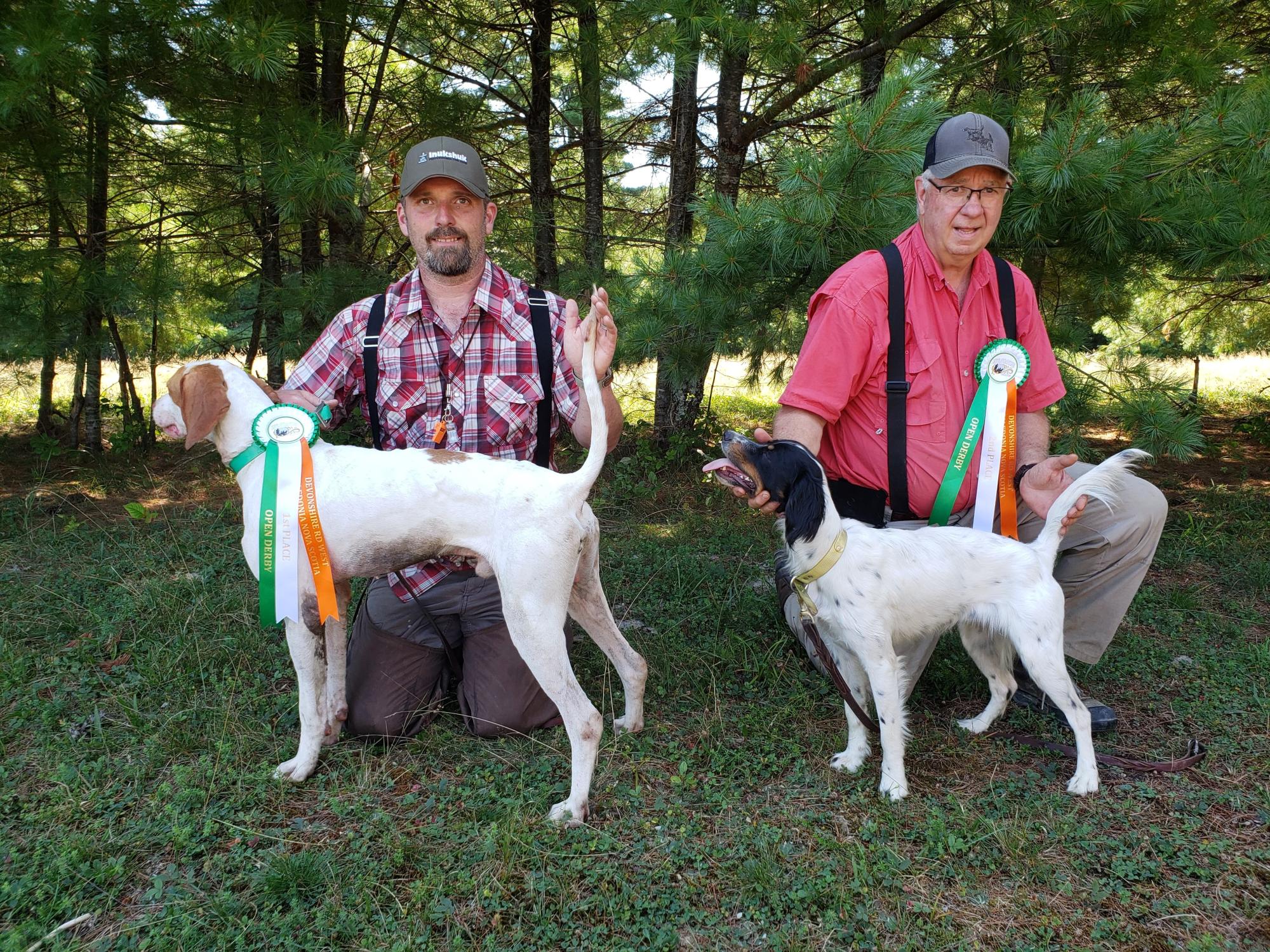 Saturday Open Derby (from left): Adam Dubriske with Partridge Hollow Elrumhew
and Robert Little with Lady Lucy Lou.
Judges: Donald Henderson and Jack McNulty Ramgeley
OPEN DERBY - 1 Pointer and 4 Setters
1st-PARTRIDGE HOLLOW ELRUMHEW, 1695675, pointer male, by Barker Elhew Genesis Jeter-Redrum's Brave Heart Sue. Giuseppe Papandrea, owner; Adam Dubriske, handler.
2d-LADY LUCY LOU, 1699312, setter female, by Long Gone Porky-Magic Mist Sydni. Jonathan Wilkins, owner; Robert Little, handler.
Judges: Ian Corbett and Austin Parsons
OPEN SHOOTING DOG - 6 Pointers, 7 Setters and 1 Brittany
1st-NEO, 1689990, setter male, by Sterlingworth Jack-Sandhill Miracle Maggie. David Theroux, owner; Adam Dubriske, handler.
2d-MOOSELOOK FIONN MACCOOL, 1668853, setter male, by Long Gone Buckwheat-Long Gone Pebes. Jack McNulty, owner and handler.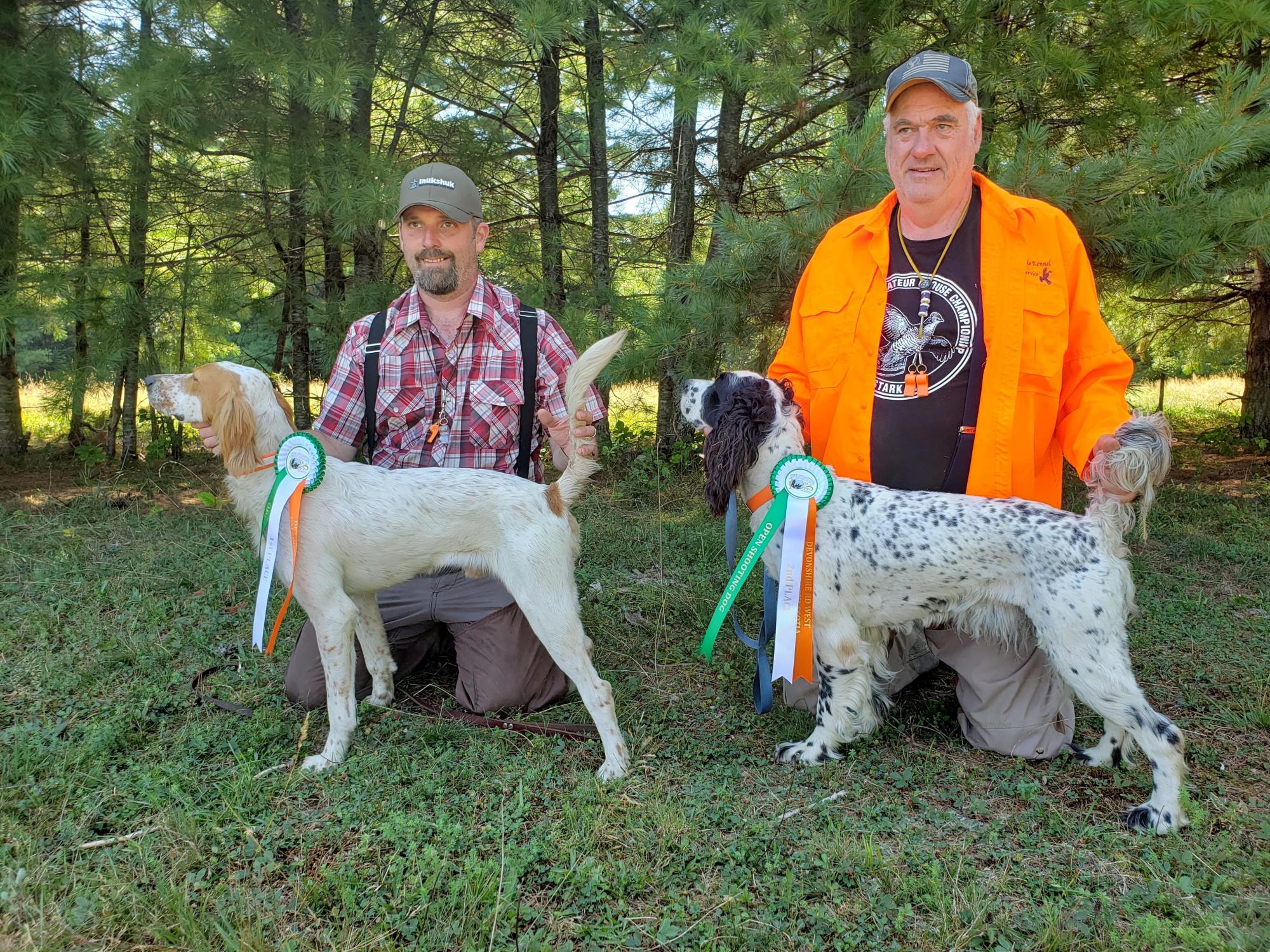 Sunday Open Shooting Dog. From left: Adam Dubriske with Neo, Jack McNulty with Mooselook Fionn Maccool.
Judges: Donald Henderson and Austin Parson
OPEN DERBY - 1 Pointer and 4 Setters
1st-PARTRIDGE HOLLOW ELRUMHEW, 1695675, pointer male, by Barker Elhew Genesis Jeter-Redrum's Brave Heart Sue. Giuseppe Papandrea, owner; Adam Dubriske, handler.
2d-LADY LUCY LOU, 1699312, setter female, by Long Gone Porky-Magic Mist Sydni. Jonathan Wilkins, owner; Robert Little, handler.
In Conclusion
Over the last few years, the Atlantic Sportsman's Club have struggled to find suitable facilities for lodging and meals during their weekend events. This year we decided to try the iconic Mersey Lodge situated 50 minutes from the grounds. Christopher Clarke on Friday evening provided us with some historical insights on the lodge while Austin Parsons and Jack McNulty prepared the BBQ meals. Breakfast Saturday morning was prepared by Ian Corbett. Lunches on the grounds were again prepared by Austin Parsons. Saturday night banquet was prepared by Austin Parsons and Jack McNulty. It's wonderful to see people step up and help so everything goes smoothly.
Thank you, Austin and Jack. I wish I could report the Mersey Lodge was ideal however not providing meals and the 20-minute gravel road drive is an obstacle we will not repeat. These events don't happen without judges taking their time to look over the entries. I thank Lester Turner for Judging along side with me on Saturday's Shooting Dog and Austin Parsons on Sunday. Both are great guys with loads of experience judging. Donald Henderson and Jack McNulty stepped up and judged the Derbies along with Austin Parsons on Sunday. Thank you.
These events don't happen without the support from the trial community. A huge thank you to Pro Trainers Robert Lyttle and Adam Debriske for making the trip to Nova Scotia and their dog's owners. Without them trials are not possible. Lastly, we thank the Foley family for allowing us to use their property and without their continued support hosting trials would be difficult. The Foleys want to remind everyone their properties are private and please do not hunt or run your dogs without permission.
Hopefully we will see everyone again this fall for the Irish Wild Bird Classic on November 12th.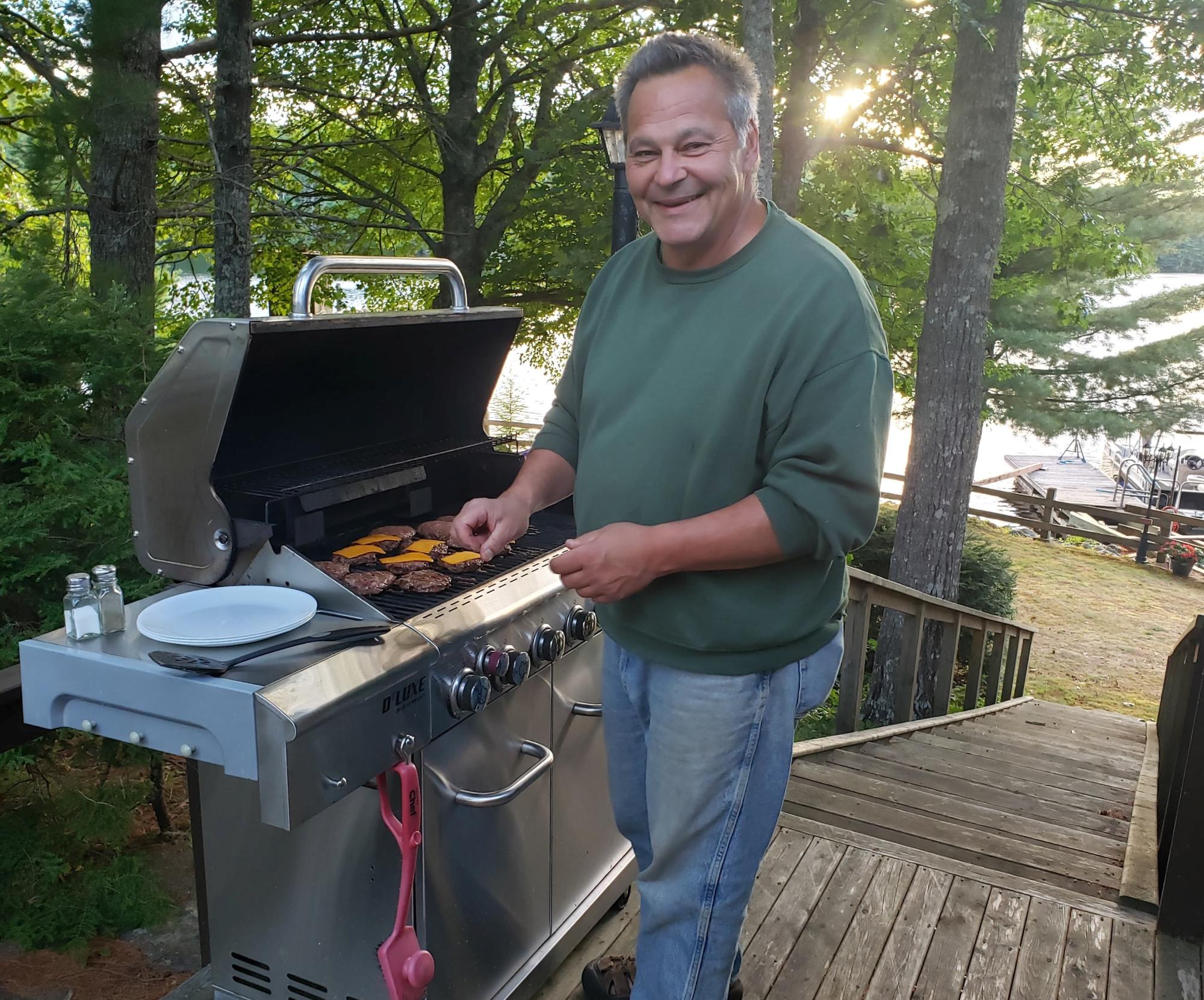 Austin Parsons.